In:
With Covid-19 cases dropping and health protocols relaxing on cruise ships, Royal Caribbean is going to bring back some benefits.
When Royal Caribbean restarted cruises in mid-2021 following the Covid-19 shutdown, it paused certain benefits and amenities in its customer loyalty programs.
These changes were meant to be temporary, and now five of them are coming back for guests to enjoy.
In an update on the Crown and Anchor Society website, Royal Caribbean listed the benefits coming back.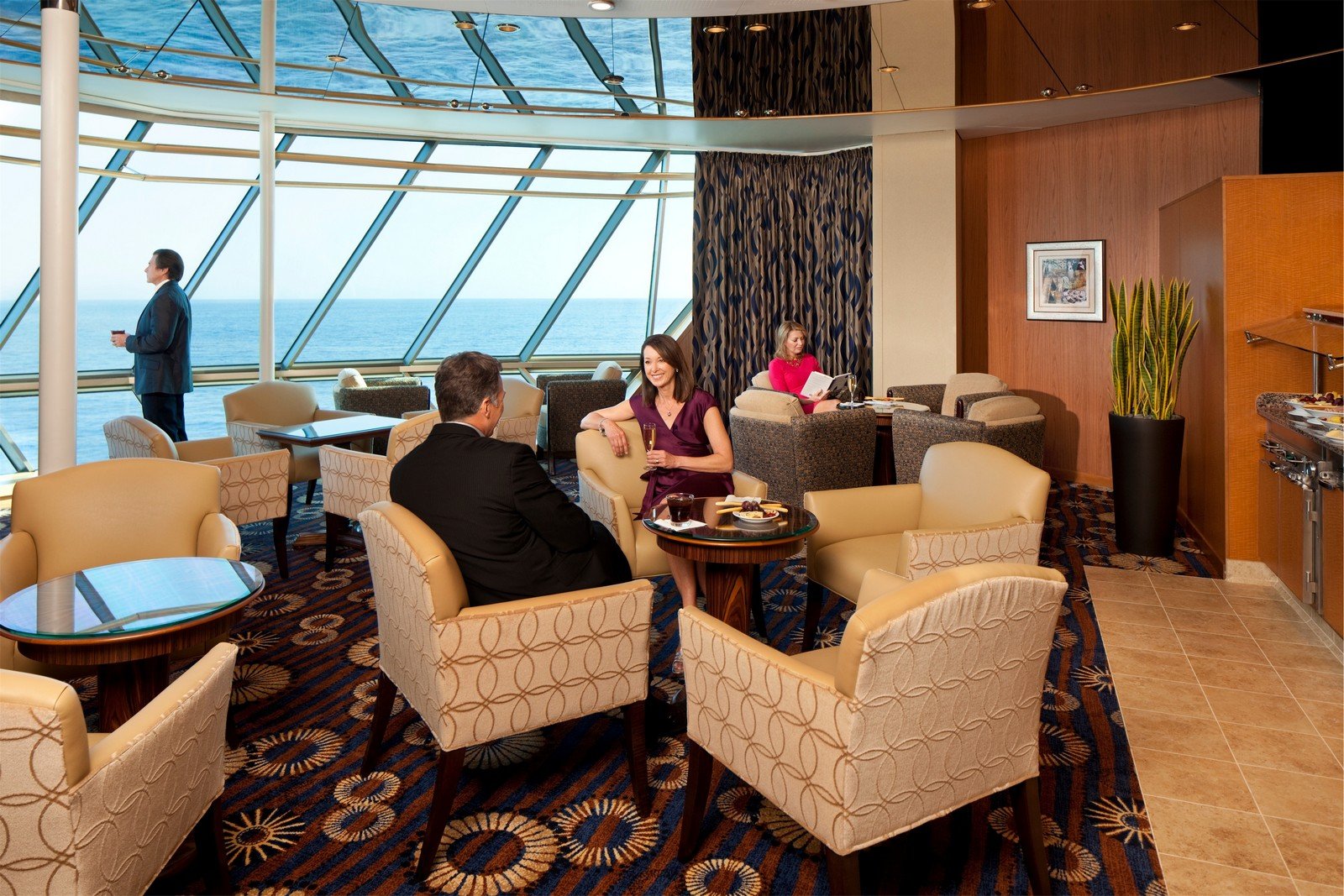 Reinstated benefits beginning on sailings departing March 15, 2022 and onward:
Private Departure Lounge and Continental Breakfast (Gold and above)
Top Tier Event (Platinum and above)
Chef's Choice Gift (Diamond and above)
Personalized Gift/Amenity (Diamond Plus and above)
Priority access to dedicated seating at theater, ice shows and AquaTheater events (Diamond Plus and above)
The reason these were suspended was to promote social distancing and the result of other Covid-19 related protocols.
Back in July 2021, Nancy Ramos, Royal Caribbean International's Director of Onboard Branding, Communications & Loyalty, said the company hoped to bring back benefits as soon as they could, "as soon as we can lift this restriction and this capacity limit, we will and it will be like it was pre pandemic."
Suspended benefits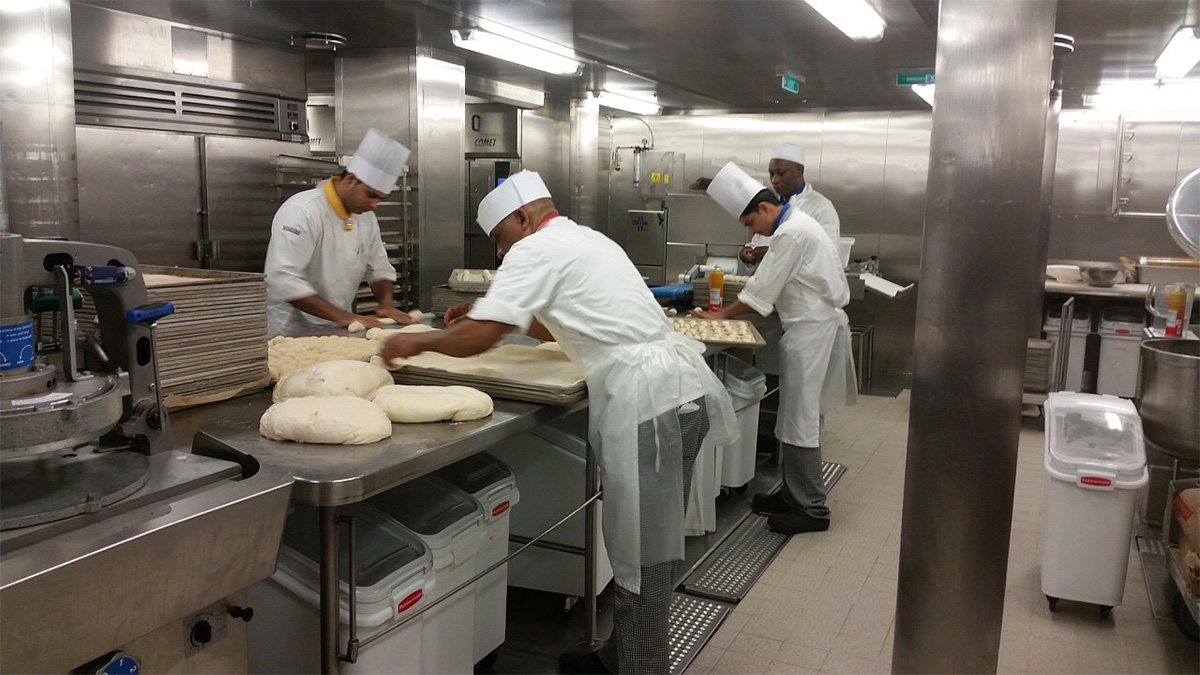 Not all Crown and Anchor benefits will return quite yet.
Three benefits remain suspended or modified:
Meal with an Officer — This experience, for our Diamond Plus (340 points and above) and Pinnacle Club members, has evolved to a Cheers with an Officer. This event will still take place in the Main Dining Room.
Entertainment Tour — This tour has been reimagined, allowing our valued Diamond and above members to learn more about the amazing Royal Caribbean productions and entertainment team.
Behind-the-Scenes Galley Tour — This benefit for our Diamond Plus and Pinnacle Club members has been temporarily suspended to ensure the health of our guests and crew.
Other benefits remaining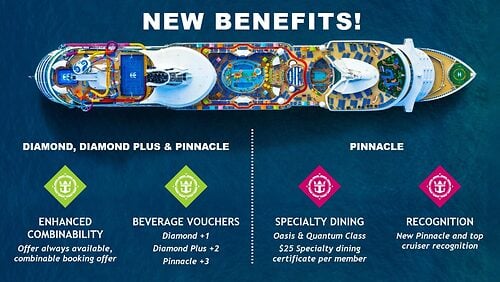 With some benefits coming back, other enhanced benefits are still here to stay.
According to the Crown and Anchor Society website, benefits added or improved in 2021 will remain in place:
Diamond, Diamond Plus and Pinnacle Club members beverage vouchers for drinks up to $13
Flexible Arrival for Pinnacle Club and Suite guests
Pinnacle Club members can eat meals in Coastal Kitchen. However, reservations are required and can only be made with the Maître d' once onboard.

Pinnacle Club members sailing on Oasis and Quantum Class ships will also receive a $25 dining voucher per member, per sailing to enjoy at any Specialty Restaurant of their choice.

Reimagined Events & Access
Diamond Plus and Pinnacle Club members priority access to dedicated seating in venues up to 45 minutes prior to showtime.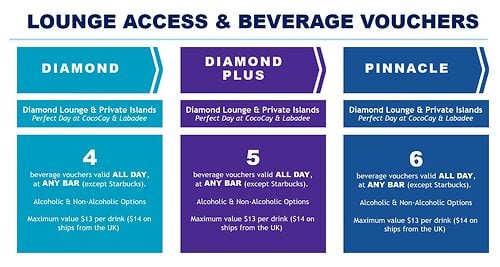 In regard to the Pinnacle Club Lounge, Royal Caribbean says it is "working through the Suite and Concierge Lounge access for Pinnacle Club members," and will "share more details in the days to come."
In the meantime, Pinnacle Club Lounge access will remain.