In:
Nassau is one of the busiest cruise ports in the world, receiving around 3 million cruise passengers per year. And while Nassau is best known for crystal clear beaches and world-famous resorts, the port offers plenty of activities for all interests.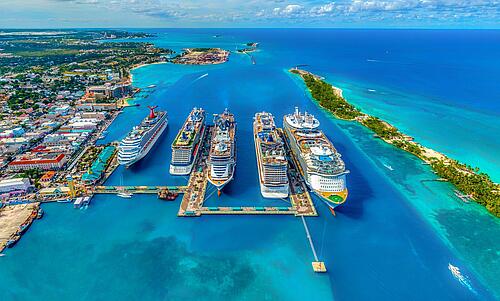 Unlike some ports, Nassau is a port day you want to prepare for before arriving. Many guests that try to "wing it" on their day in Nassau end up disappointed and unsure of the best way to spend their day.
Likewise, many cruise passengers skip Nassau altogether and stay on the ship, believing that there is nothing worth seeing or doing on the island. This assumption could not be more incorrect!
Whether you're looking for a beach day, hoping to try local foods, or learn about Bahamian history and culture, there are plenty of exciting activities to choose from in Nassau.
Nassau's best activities can be broken down into a few categories:
Adventures on and in the water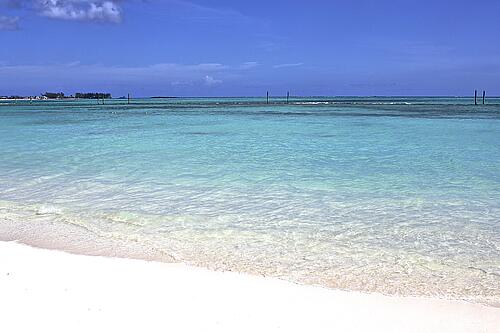 New Providence Island, where Nassau is located, has plenty of beaches to choose from. Most beaches are free and open to the public, and some are located just a short walk from the cruise terminal. Here are some of the most popular and recommended beaches in Nassau:
Cabbage Beach is a free, public beach on the north side of Paradise Island. It is considered one of the best beaches in the Bahamas due to its soft sand and clean, clear blue waters. Chairs and umbrellas are available to rent from locals.
Cable Beach is another famous beach in Nassau, and is located in front of many major hotels and resorts.
Junkanoo Beach is the closest beach to the cruise terminal, and thus a popular spot for cruise passengers. Junkanoo Beach is not only convenient due to its proximity to the cruise ships, but it has restroom, shower, and changing facilities available. There are also several bars and restaurants located nearby.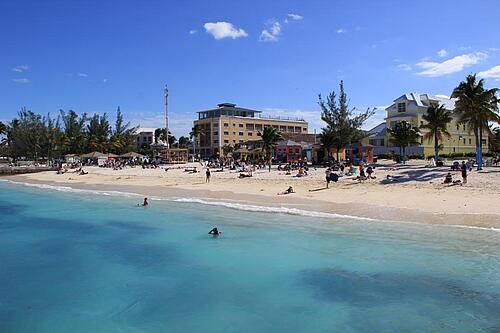 Saunders Beach is located 2.5 miles away from the cruise terminal and is a quieter, calm beach ideal for families. Saunders Beach has restroom facilities and a playground available, although guests will have to bring their own towels or chairs to the beach, as rentals are not available. 
Love Beach is around 9 miles away from the cruise port, but offers a tranquil beach day away from the crowds. Chair rentals are available and the Nirvana Beach Bar is located on the beach, offering food and drinks.
Jaws Beach, which was the filming location for Jaws III, is further away from the other beaches mentioned above, but offers a beach day away from the hustle and bustle of the resorts and downtown area. Bringing snorkel gear to Jaws Beach is a must, as there are sculptures and Hollywood memorabilia located underwater. The beach is located next to Clifton Heritage Park, a protected area with trails, beaches, rocky shorelines, and picnic areas.
The beaches of Nassau offer varied amenities, so be sure to check what is offered or located nearby at each beach.
One common issue faced by those visiting public beaches is the lack of restroom facilities. Many beaches are lined with hotels and resorts, but their facilities are only available to guests. One way around this is to find a nearby restaurant or bar when you need a restroom.
Pearl Island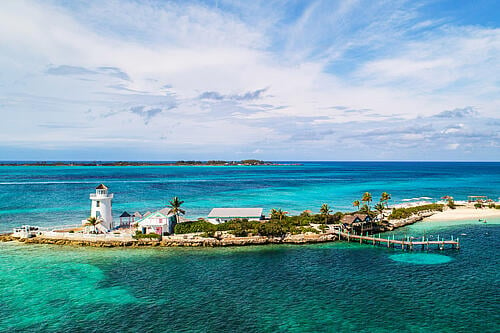 Pearl Island is located eight miles east of Nassau. Guests will travel to Pearl Island via boat from the cruise port and spend the day relaxing on the island's beaches, enjoying a traditional Bahamian lunch, walking around the island's paths, and participating in water activities.
Transportation, lunch, kayaks, paddleboards, beach chairs, water mats and trampolines, showers, and bathroom facilities are included in the day pass for guests. Guests can also access the island's lighthouse at no extra cost. The excursion usually costs around $100.
A snorkeling tour is also available for $15 extra and lockers can be rented for the day for $10. You can book a day pass to Pearl Island on the Royal Caribbean Cruise Planner or Pearl Island's website.
Guests looking for a more exclusive experience at Pearl Island can reserve a VIP Cabana. Cabanas include sun chairs, an all-inclusive drink package, butler service, and lunch. The cabana also has a fully stocked cooler, complimentary towels, a power outlet, and ceiling fan.
In addition, guests have access to water maps, kayaks, paddle boards, snorkeling, and a floating trampoline. Prices for the cabana usually run around $240/per adult, and online reservations are for a maximum of two guests, although larger parties may be accommodated.
Blue Lagoon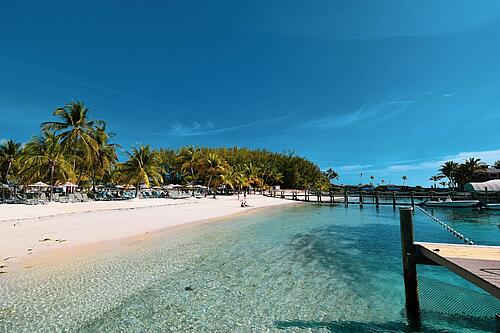 Blue Lagoon Island is another small island north of downtown Nassau. The boat ride from the cruise port to Blue Lagoon is included in the fare, which is usually around $85-100.
The island has several beaches, small lagoons, hammocks, beach chairs, umbrellas, and games. Water sports (kayaks, snorkeling gear, paddleboards, etc.) come at an additional cost.
Guests interested in seeing marine life can book excursions such as the "Dolphin Encounter and Beach Day" or "Sea Lion Encounter and Beach Day". During these excursions, guests can get up close and personal with animals to observe them in their natural habitat.
Other tours available at Blue Lagoon Island include a segway and eco nature walking tour. Those looking for a VIP experience can choose to book the VIP Blue Lagoon Island Beach Day.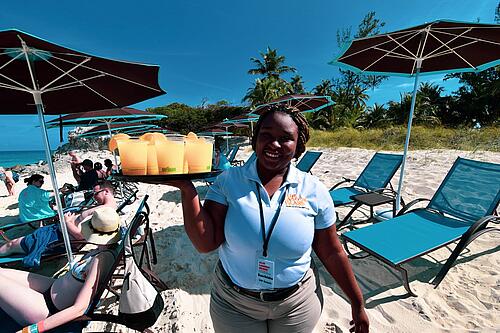 As a VIP guest on Blue Lagoon Island, guests will receive lunch as well as unlimited Bahama Mama cocktails and non-alcoholic beverages. VIP guests will have a lounge chair in the adults-only VIP beach. Snorkeling equipment is included for VIP guests.
Lunch is included in the excursion to Blue Lagoon as well, where you can enjoy hamburgers, chicken, veggie burgers, Caribbean rice, and a salad bar.
Balmoral Island
Balmoral Island is located a thirty minute boat ride from the cruise port and offers a picture-perfect beach day to guests with clear water, beach chairs and umbrellas, and two fresh-water pools.
Paddleboards, kayaks, and snorkel gear are available to rent, and the island also offers nature tours with dolphins and stingrays. Tropical beach bars, food, and a Starbucks are available on the island for an extra cost.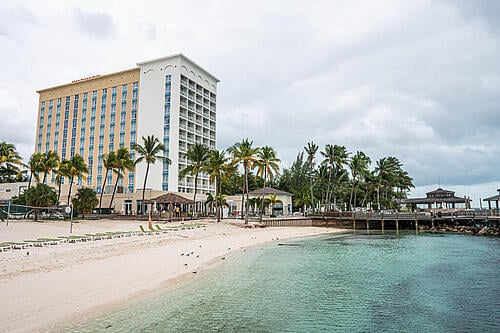 Several hotels and resorts in Nassau offer day passes, which allow cruise ship guests to access the resorts' amenities for the day. Some day passes are all-inclusive, whereas others give guests a monetary voucher for food and drinks. Most day passes range from $70-125.
There are several hotels and resorts offering day passes in Nassau:
There are a few advantages to a day pass as opposed to going to a beach on your own. First, not all public beaches in Nassau have restrooms or cover if it starts raining. Second, if you take advantage of the all-inclusive food and drinks, plus the pool and beach access, day passes can be a good deal.
Atlantis Paradise Island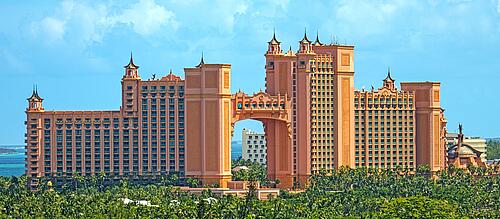 Many cruise passengers are eager to visit Atlantis Paradise Island, a resort with 3,805 rooms, a waterpark, shopping areas, casino, and a 154-acre waterscape. The waterscape includes lagoons, pools, and habitats for marine animals.
Amenities and activities at the resort are split into two categories: areas open to the general public and areas available only for guests or day pass visitors.
Free areas to visit at the Atlantis include the casino, indoor shopping areas, and several dining venues. You can also visit Marina Village, an outdoor shopping, dining, and entertainment space located around the Atlantis Marina, at no extra cost.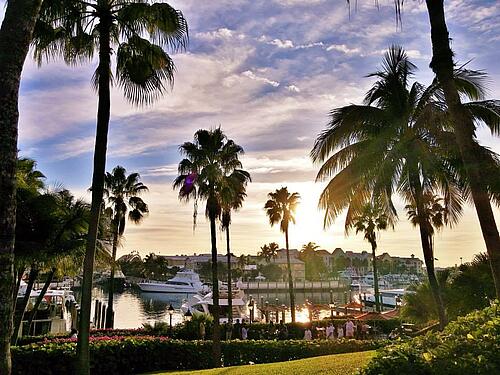 Those looking to experience the rest of the resort can purchase day passes. There are a few types of day passes available, some of which give access just to the beach whereas others have access to the beach and waterpark.
Those looking for an exhilarating day may want to reserve a day pass to the Aquaventure Oasis Waterpark at The Atlantis. This is a 141-acre waterpark with pools, waterslides, river rapids, and splash pads for kids. Waterpark guests also receive access to the Marine Habitat, a series of aquariums with over 50,000 aquatic animals.
Baha Mar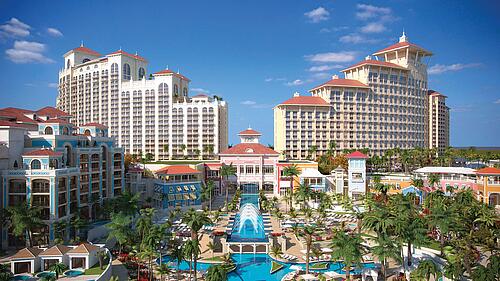 The Baha Mar is another luxury resort located on Paradise Island. Located on the resort is the 15-acre Baha Bay waterpark which offers a limited number of day passes.
Baha Bay includes 24 waterslides, a lazy river, FlowRider, infinity pool, wave pool, kids-only pool and slide area, and an outdoor casino. Day pass holders also have beach access.
General admission to Baha Bay is currently $160, while junior admission (guests under 48") is $65.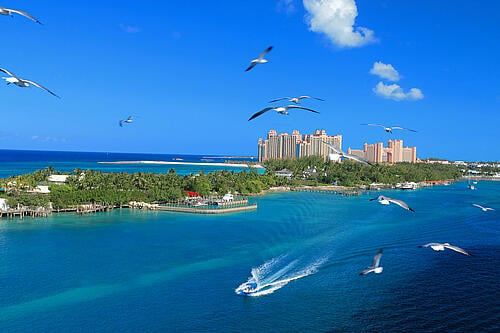 Boat tours
Passengers looking to set sail and explore Nassau from the sea have plenty of options. Royal Caribbean offers tours such as the Discover Nassau Harbor Cruise, which brings guests on a scenic catamaran ride around Paradise Island as they learn about the history and culture of Nassau. A hybrid sea and land tour is also available, where guests start the tour on a catamaran and end with a land tour of downtown Nassau.
A kid-friendly boat tour is Blackbeard's Pirate Revenge, which takes guests around Nassau in an 18th century pirate ship replica. The boat's crew are dressed as pirates who tell pirate tales, share history, and provide an immersive experience for guests onboard.
Snorkeling and scuba diving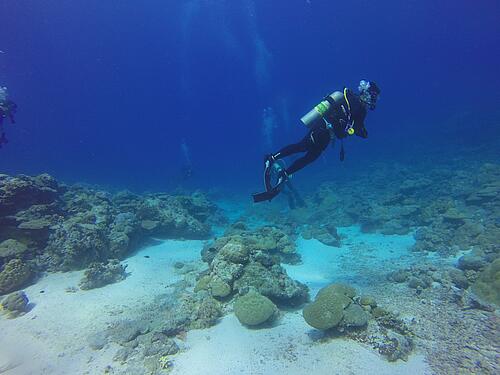 There are plenty of scuba diving and snorkeling opportunities in Nassau. Visitors to Nassau can choose to bring their own snorkel gear or book a snorkeling excursion through Royal Caribbean or an outside provider.
Royal Caribbean offers the Nassau Sail & Reef Snorkeling tour, which brings guests on a sailboat to coral reefs near Spruce Cay and Athol Island. The benefit of booking with a tour as opposed to snorkeling on your own is that you do not have to pack snorkeling gear with you for the cruise. However, if your itinerary visits several islands where you want to snorkel, it might be worth it to bring your own gear as opposed to booking excursions or gear rentals.
Scuba diving opportunities are also plentiful in Nassau. Stuart Cove is the main diving provider on New Providence Island. They offer Discover Scuba dives for first-time divers as well as dives for certified divers to the coral reels, shipwrecks, and walls around the island. Stuart Cove is also the diving provider for Royal Caribbean shore excursions.
Bahamian food tour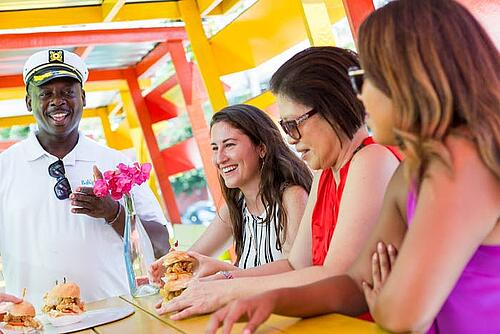 Photo by Tru Bahamian Food Tours
A huge aspect of discovering new cultures is trying new foods, and Nassau offers plenty of opportunities to do so.
Royal Caribbean offers the Island Food & Culinary Insight tour, which takes guests on an air-conditioned ride around Nassau to taste local food and drinks. The tour makes stops at Tasty Teas, the World Famous Fish Fry, Potters Cay Dock, and John Watling's Distillery. Guests on this tour will have the opportunity to taste dishes like conch fritters, Bahamian teas, and fresh seafood.
There are tours offered by outside providers as well. One of the most popular providers is Tru Bahamian Food Tours, who offers a selection of tours geared toward discovering Bahamian cuisine.
The most popular tour is the Bites of Nassau Food Tasting & Cultural Walking Tour, during which guests stop at six tasting locations around downtown Nassau to taste local foods including steamed chicken, Caribbean rice, and rum cakes.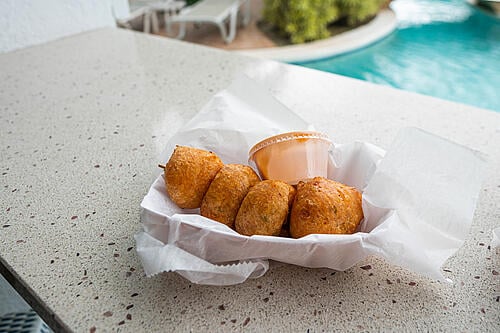 You can, of course, do a food tour on your own by walking or taking a taxi to the popular bars and restaurants in Nassau. 
A must-see spot to include on a food tour is the Fish Fry, a strip of restaurants and vendors specializing in seafood including conch, grilled shrimp, fried snapper, and lobster tails. The main fish fry in Nassau is conveniently located near the cruise port at Arawak Cay.
Visit the Rum Cake Factory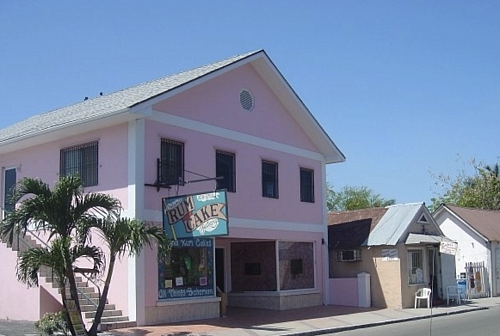 The Bahamas Rum Cake Factory was established in 2000 and has since been named the Official Rum Cake of the Bahamas. This is a popular spot to taste traditional Bahamian rum cake and buy a delicious souvenir for friends and family.
The factory is a short walk from the cruise port. Guests will be greeted with the strong smell of fresh cake (and rum). There is a small window inside so guests can see how rum cakes are made.
Free samples are available as well, so you can taste several flavors before choosing your favorite. Flavors include pineapple, chocolate, caramel, Irish cream, Kentucky honey bourbon, and the original rum cake with pecans.
This is a quick stop with most guests in and out in fifteen minutes.
Take a tour of John Watling's Distillery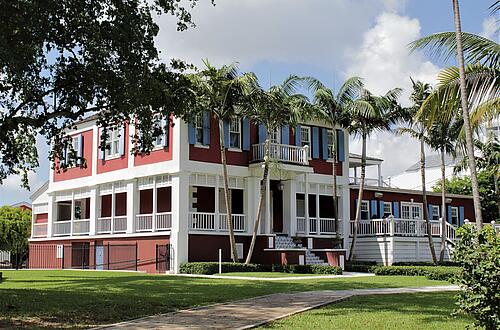 John Watling's Distillery is a distillery located on a historic estate founded in 1789. A free, short distillery tour with tastings is available.
Hand-crafted cocktails available include the Canchera Rum, which is made with amber rum, Bahamian honey, lemon juice, and club soda, and Skylarkin', made with pale and coconut rum, coconut pulp, coconut water, and nutmeg.
Downtown Nassau is home to several museums which can be a nice activity to do on days with poor weather or after you return to the cruise port from a shore excursion. These museums are all walkable from the cruise port, and most are relatively small, so visiting each museum will not take too much time.
Pirates of Nassau Museum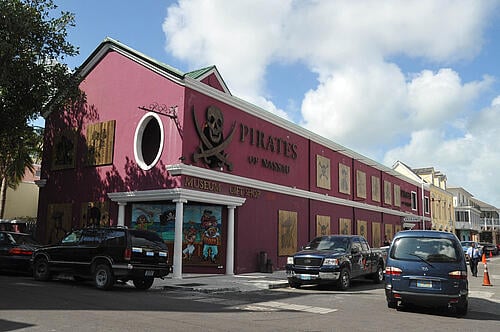 Nassau was at the heart of piracy from 1690 to 1720, when Nassau was taken over by English privateers who became lawless pirates. The Pirates of Nassau Museum allows guests of all ages to relive history, learn about piracy, and even step foot on a replica of a historic pirate ship.
Admission is $13.50 for adults and $6.75 for children 4-17.
Pompey Museum of Slavery & Emancipation
A small yet informative museum, the Pompey Museum of Slavery & Emancipation takes visitors through the story of Pompey, a slave who started a rebellion in 1830 in Steventon, Exuma.
The museum has a series of educational panels providing stories and descriptions of slavery in the Bahamas throughout history, and its impact on the culture and traditions seen in the Bahamas today. There is a small entrance fee to visit the museum.
National Art Gallery of the Bahamas
Guests interested in Bahamian art and culture may want to visit the National Art Gallery of the Bahamas. Culture, folklore, and history are demonstrated at the museum through local art. The museum has new exhibits fairly often as well.
The entrance fee is $10 for guests and free for children under 12.
Educulture Junkanoo Museum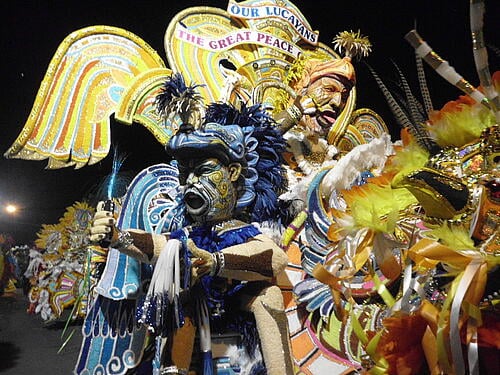 Junkanoo is the most popular festival in the Bahamas. A colorful street parade with music, dance, and costumes, Junkanoo takes place on Boxing Day and New Year's Day each year.
Guests wanting to learn more about Junkanoo can do so any day of the year at the Educulture Junkanoo Museum. The museum has costumes, traditional fabrics, music, and informational panels on display for guests to learn more about the festival's history and influence in the Bahamas. There is a small fee to enter the museum.
The Heritage Museum of the Bahamas
The Heritage Museum of the Bahamas takes visitors on a journey from pre-historic times in the Bahamas to today. The museum has relics and artifacts on display, such as an extensive sample of items in a Bahamian grocery shop in 1900 to an exhibit of tools used during slavery.
A small fee is required to enter the museum and optional guided tours are available.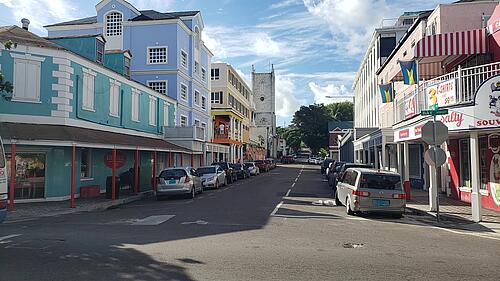 A free activity to do in port is walk around downtown Nassau. Royal Caribbean and outside providers offer historical walking tours of Nassau, although the sites are all easily accessible on your own. Plenty of Nassau's most historic sites are located just a 5 or 10 minute walk from the cruise port.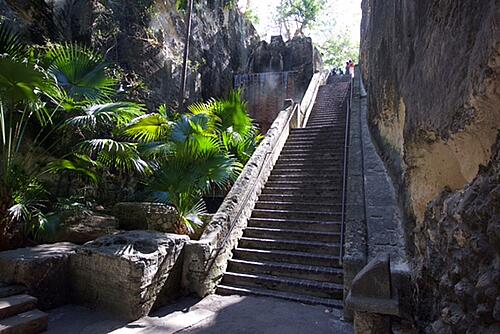 Popular sites to visit include:
The Queen's Staircase, a 66-step landmark carved out of limestone in 1793, providing a direct route from downtown Nassau to Fort Fincastle. The staircase was named after Queen Victoria. Located in a lush, limestone alley with a waterfall, the Queen's Staircase is easily accessible from the cruise port.
Fort Fincastle, a historic fort built in 1793 to protect Nassau from pirates. A relatively small fort at 126 feet, Fort Fincastle is free to access, although entering the inside of the fort comes at a small fee. (The inside of the fort has been closed due to Covid-19, although that can change at any time).
Rawson Square, a public square lined with government buildings and home to activities and festivals throughout the year
The Straw Market, a large flea market selling souvenirs including handmade Bahamian straw products such as purses and hats, as well as cheaper, factory-made items like t-shirts and bracelets. Be sure to haggle on the price before buying anything at the Straw Market.