In:
Nassau, Bahamas is one of the most common port stops on a Royal Caribbean cruise, and offers a variety of activities for all interests and budgets. Whether relaxing on the beach, walking around the city center, or trying out a day pass at a local resort, I try to find a new activity to do every time I visit Nassau.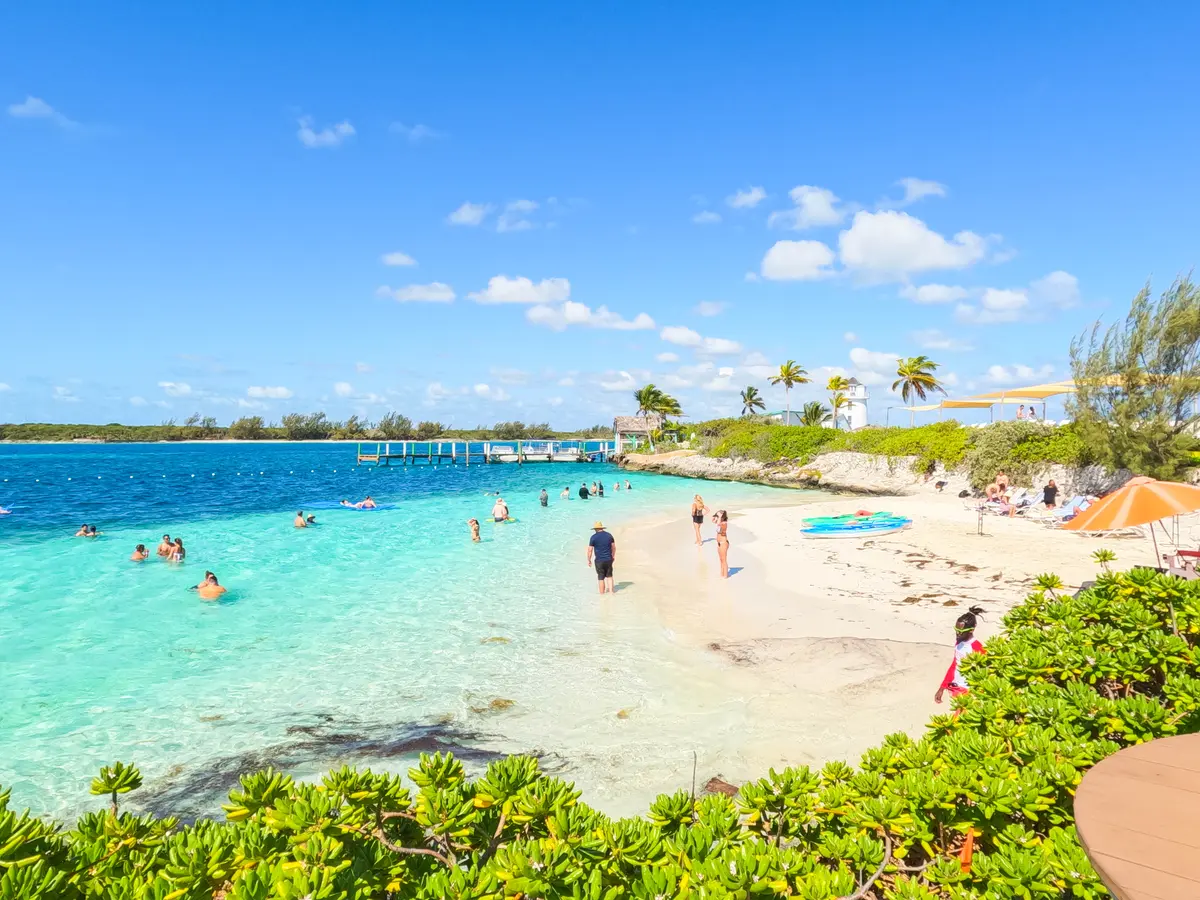 On my recent weekend cruise on Freedom of the Seas, I booked an excursion to Pearl Island during our stop in Nassau. While I did not know much about Pearl Island prior to booking the excursion, I was excited to see what the island had to offer.
Booking options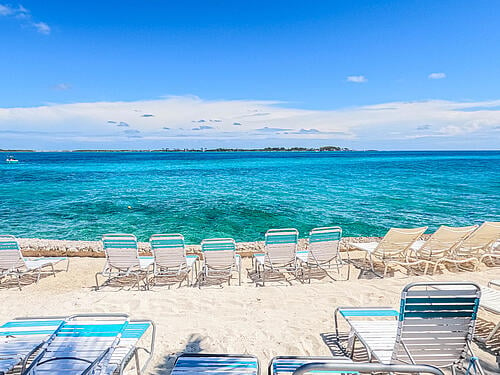 There are three types of tours to book at Pearl Island: Pearl Island Beach Escape, Pearl Island Beach Escape & Snorkel, and Pearl Island VIP Cabana for 2. Each tour is five hours long including transportation.
I decided to book the Pearl Island Beach Escape excursion. I booked the tour directly through Royal Caribbean for $92.99, although the price briefly lowered to $83.99 a few weeks prior to the cruise.
The Pearl Island Beach Escape tour includes transportation, water sport gear, beach chairs and umbrellas, lunch, and access to climb the island's lighthouse. The snorkeling tour, which is priced around $20 more than the Beach Escape, includes a 30-minute guided underwater tour of a protected reef on one side of the island.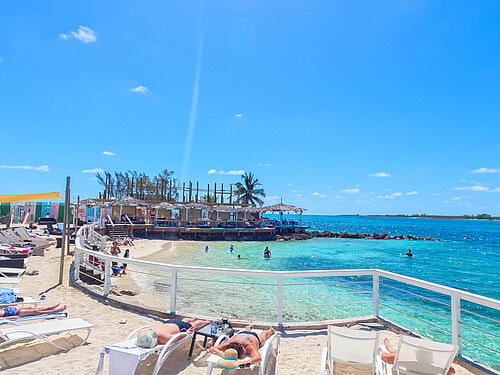 VIP cabanas are also available to book through the "Pearl Island VIP Cabana for 2" shore excursion. Each private waterfront cabana comes with butler service, complimentary towels, a power outlet, ceiling fan, 30-minute guided snorkeling trip, and fully-stocked cooler.
The cabanas also come with an all-inclusive drink package, which includes sodas, beer, wine, and cocktails. While cabana guests will indulge in the same lunch as other guests on Pearl Island, they are served lunch directly in the cabana.
The cost of a VIP cabana at Pearl Island is $480 total for two guests.
It appears you are able to book a Pearl Island tour directly on the island's website, although booking through the cruise line seems to be a much better option. The price is comparable to what Royal Caribbean offers, but when booking independently the website states that the boat will depart from the Paradise Island Ferry Terminal as opposed to right near the cruise ships. When factoring in the cost of a taxi to and from Paradise Island, it will probably end up being more expensive to book directly through Pearl Island.
How to get to Pearl Island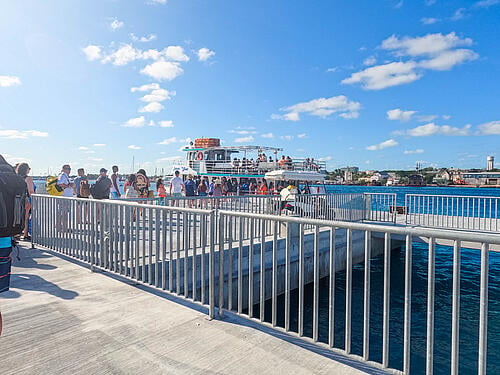 Booking an excursion to Pearl Island through Royal Caribbean includes roundtrip transportation from the cruise port to the island. Fortunately our tour boarded the boat that would take us to Pearl Island very close to where we disembarked the ship, so there was no need to walk very far.
Pearl Island is located just 30 minutes by boat from the cruise terminal, passing through Nassau Harbor and the luxury homes, resorts, and golf courses along the way. As most of the ride is within the harbor itself, the water should be fairly smooth.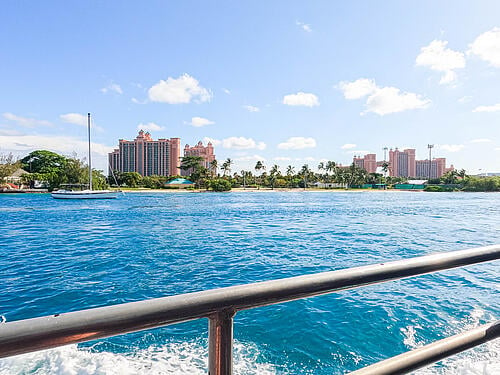 The excursion description does say that the ride to Pearl Island will include a half-hour "commentated harbor cruise" where guests can learn more about the island and its history, but this did not occur on my excursion. This did not matter to me, but it should be noted that Royal Caribbean's description did not entirely match what we experienced on the tour.
Island layout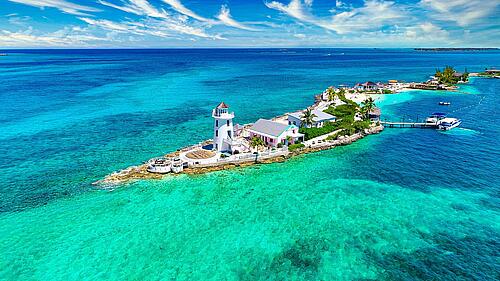 Pearl Island is small and narrow and the majority of the island has a rocky coastline. Crystal clear water surrounds the island in various shades of turquoise.
Technically there is only one beach on the island, but bushes and plants somewhat separate the beach into two areas: one main beach and one smaller beach located near the VIP cabanas. The beaches have mostly calm seas, making for a nice swim for visitors of all ages.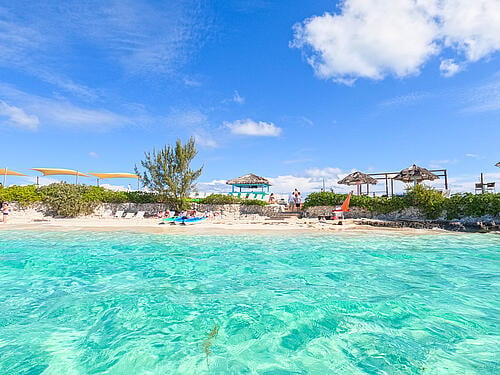 On the western side of the island is Pearl Island's iconic lighthouse, which is open to visitors and offers panoramic views of the ocean and surrounding islands. This is also where lunch is held and where the snorkeling tour begins.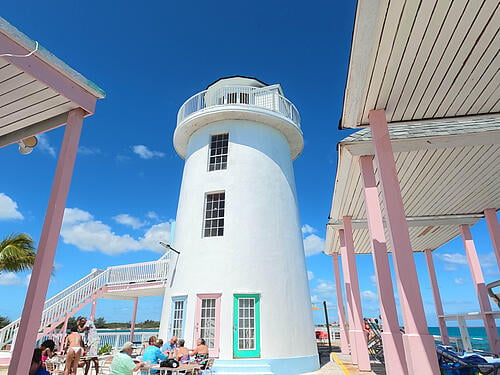 The eastern part of Pearl Island is where you'll find the beaches and cabana areas as well as the island's bar.
Throughout the entire island are a ton of beach chairs, many of which have umbrellas or shade structures. Chairs are on a first-come, first-serve basis, so if you want to be in a specific location or have the most shade possible, be sure to reserve a spot on the island right away.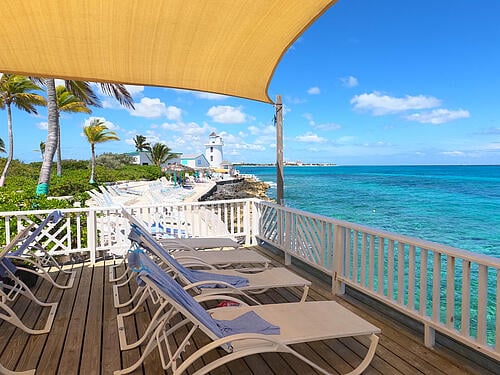 Luckily, there should be no shortage of chairs to find as the island limits capacity. In fact, the island seemed pretty empty when I was there, even after a group from another cruise ship arrived midway through the day.
Food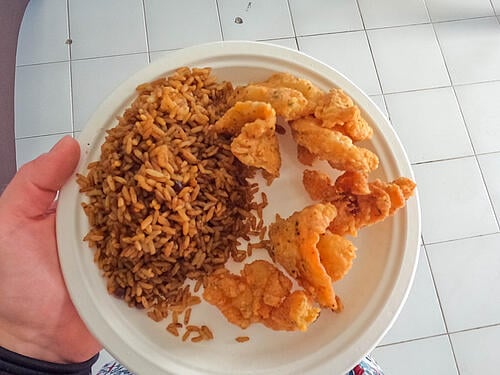 A Bahamian style lunch is included in the excursion cost, which was available starting at 11AM. Lunch included coleslaw, beans and rice, BBQ chicken, and fish fingers. Iced tea and water were also available. The food was served in a full-service buffet-style, where the staff member placed the dish on your plate.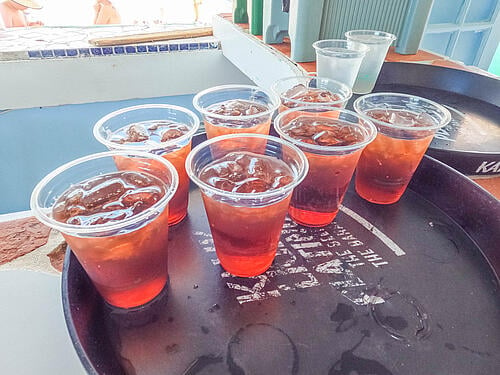 I wasn't sure what to expect with the lunch at Pearl Island, but I found it to be quite tasty. The fish fingers were exceptionally crispy and flavorful and the rice, while a bit dry, had a good amount of spice and beans mixed throughout.
Outside of the complimentary lunch, there were snacks for sale at the bar including chips and cookies.
Drinks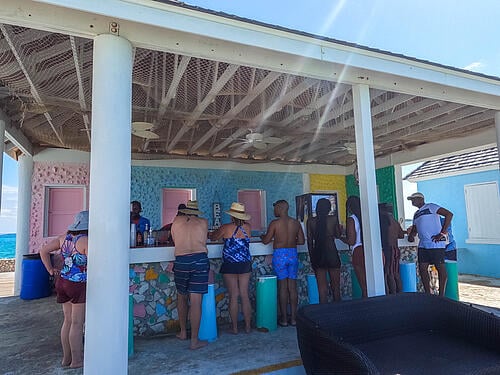 When researching details about Pearl Island prior to booking the excursion, I had read a few reviews stating that drinks were expensive. While I did not plan to drink much while on the island anyway, I was a bit disappointed to hear this. After reading reviews, I was expecting drinks to be around $15+.
However, I really should have done more research because this was not the case at all once I arrived! I was pleasantly surprised to see a drink menu with reasonable prices, with beers around $6, mocktails $8, and cocktails between $9-12. Soda, water, and juice is also available.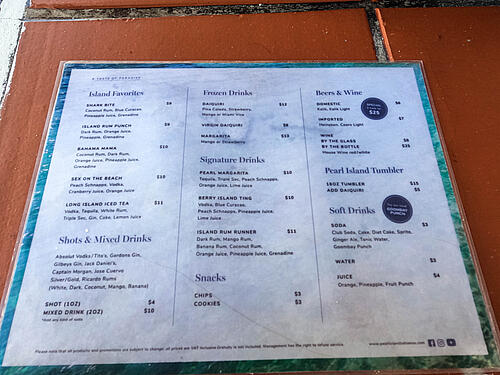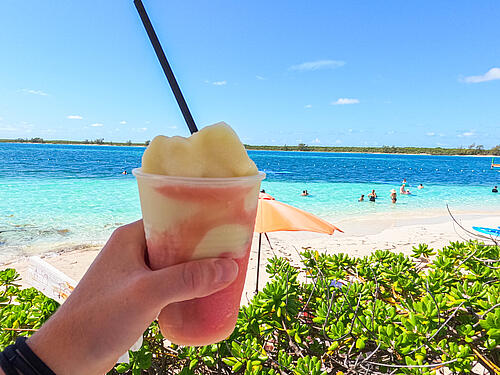 I ordered a Miami Vice (half piña colada and half strawberry daiquiri) and it really hit the spot on a warm, sunny day in the Bahamas!
Highlights & Comments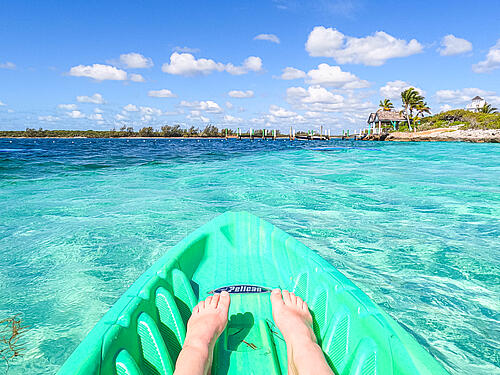 A nice highlight of my day on Pearl Island was taking advantage of the water sport activities available. Outside of the snorkeling tour, all water activities are available free of charge.
I initially planned to use a standup paddle, but due to the winds making the beach a bit choppier than usual, only kayaks were available. Kayaking was a whole lot of fun. Even though I could only go out so far due to ropes blocking off the beach, it was definitely a highlight of my time on the island.
Outside of kayaking and standup paddling, there were floating beach mats available in the water and a few games to play on the beach.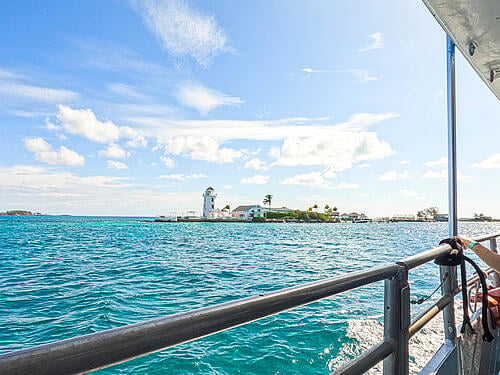 My only complaint was that my time on the island seemed to pass by way too quickly! When factoring in a slightly delayed departure from the pier and travel time to the island, we were only there for around 3.5 hours. An extra hour or two would have been nice, and if I had more time I would have explored the lighthouse.
Additionally, due to the short time spent on the island, I was glad I did not book the snorkeling excursion. Those that did the snorkeling tour did not have nearly as much time to relax and enjoy the island's beauty.
As a whole, Pearl Island exceeded my expectations and I had a wonderful, beautiful day relaxing amongst the island's crystal clear beaches, kayaking, and enjoying food and drinks. I always enjoy discovering new things to see, do, eat, and experience during my day in Nassau, and my time on Pearl Island was the best day I've had in Nassau yet.