In:
From time to time, Royal Caribbean tries out a new specialty restaurant concept, with Playmakers Sports Bar & Arcade the latest addition to the fleet.
The idea is simple, capitalize on the popular sports bar and pub food trend and offer Royal Caribbean guests some simple, yet tasty food with plenty of opportunity to watch or play.
Royal Caribbean felt so strongly about Playmakers, that the restaurant is at the heart of the re-deisgn of the Boardwalk neighborhood on Symphony of the Seas.  With as much buildup as this restaurant as had, I had to try it out for myself.
Atmosphere
When you hear of a sports bar that offers great food, tons of televisions and games abound, undoubtedly land-based restaurants of similar ilk must come to mind.  It is only natural for any new restaurant one may try to be compared to other similar venues.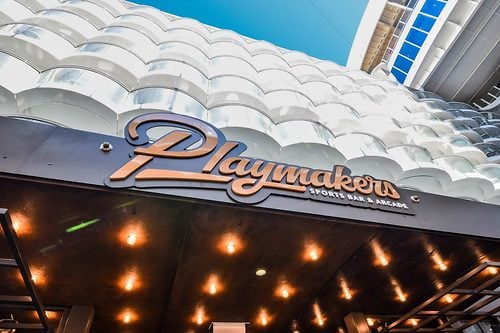 Located in the Boardwalk, Playmakers Sports Bar & Arcade takes up one entire side of the neighborhood and features an open-air venue that is designed to tempt guests to walk in and check things out.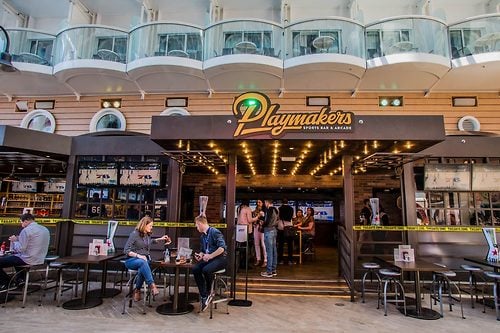 The restaurant features plenty of seating, inside and outside.  The outdoor seating is your typical table and chairs, while indoors there is a variety of seating.  Bar seating, booths, benches, high tops and more.  This is a casual dining venue, first and foremost.
At each table, you may find a game like Connect 4 or a peg game board.  Speaking of games, Playmakers is also home to a mini-arcade.  Skeeball, video games and more are part of the restaurant experience.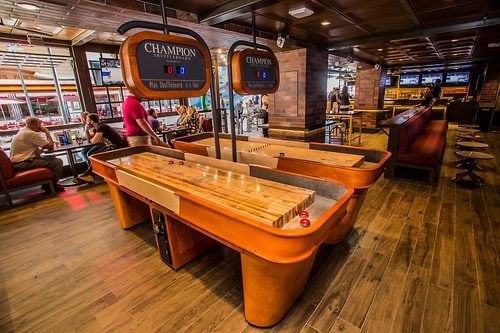 Given the name, it should come as no surprise that there are lots of televisions around the restaurant to watch sporting events. Royal Caribbean says there are 30 televisions around Playmakers.
Eats
Playmakers wants you entertained while you are there, ordering plenty of food and drinks.  Royal Caribbean created a whole new menu to enjoy while you spend time inside.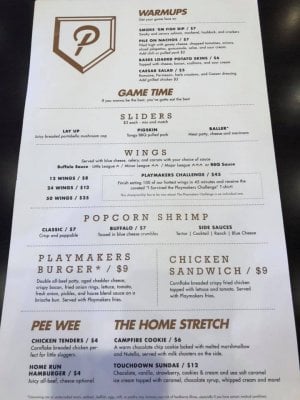 When you talk about a sports bar, beers and cocktails are going to be a big part of the experience.  Playmakers offers a lot of domestic and international beers, including a good amount of craft beers.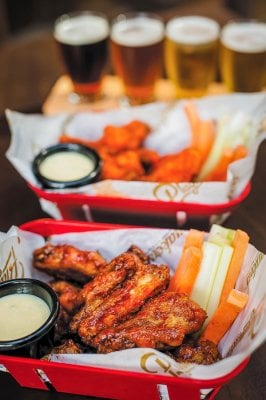 If beer is not your style, there is a full bar at Playmakers as well.  Any guest can drop in by the bar and grab a drink without having to dine there.  A large bar allows guests to stop in to get a drink and go, or stay and enjoy a game or two.  You can also order food from the bar, which provides flexibility if "just one drink" turns into "I can't believe this game went to double overtime!".
While the drinks are a big component to what Playmakers offers, the food served up is what will likely bring many to try Playmakers.
Being a sports bar, Royal Caribbean came up with a menu that reflects the kind of casual comfort food you might find at popular restaurants of a similar theme.  Burgers, wings, fried chicken and the like are at the heart of the menu.  No surprises on this menu, but that should not be a surprise in itself.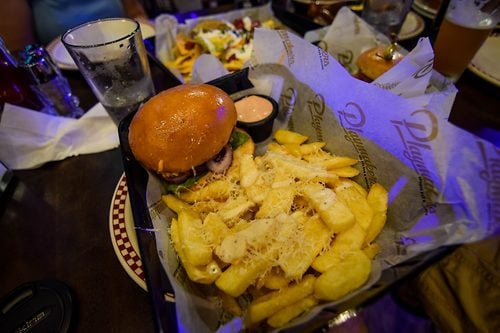 The Playmakers menu is priced a la carte, which means you only pay for what you order.  Like Izumi, that means you can drop in for a snack, or opt for a full meal.  That kind of flexibility is a major strength of Playmakers, since not everyone who wants to enjoy specialty dining wants a drawn-out meal.  
We stopped by Playmakers on a few occasions to sample some of the menu.  Depending on if you are going for just a small bite or a big meal, there is plenty to choose from.
The best item on the menu has to be the Playmakers Burger.  A double beef patty on a brioche bun makes arguably the best burger served on Royal Caribbean's fleet.  Yes, better than even Johnny Rockets across the Boardwalk.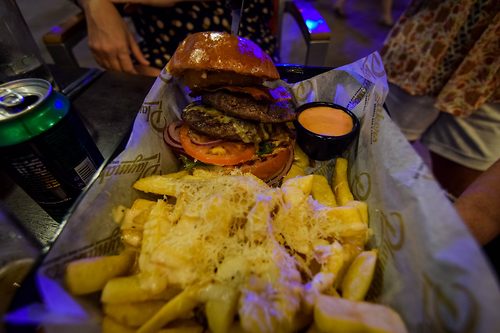 If wings are your thing, you can choose between 12, 24 or 50 wings across four different buffalo sauces.  If you are feeling dangerous, try the Playmakers Challenge: 100 of their hottest wings to be eaten in 45 minutes or less.  If you can do it all by yourself, you can get a special t-shirt to commemorate the accomplishment.
A perfect option for eating at the bar for part of a game might be their sliders. Choose between a portobello mushroom, pulled pork or meat patty, or go for a combination of them all.
In addition to all of that, there is still nachos, loaded potato skins, chicken sandwich and more.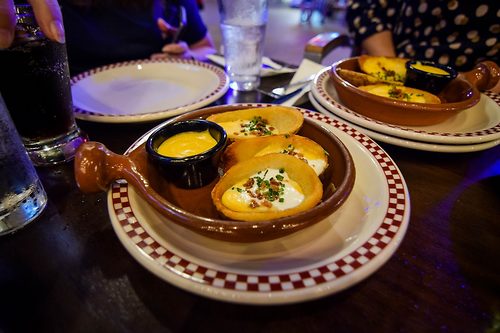 In addition, there is a mini-arcade that comprises part of the restaurant.  The appeal may be a combination of giving the kids something to do while their parents watch a game, or perhaps an opportunity for adults to engage in some competitive shenanigans after a few drinks.  Eitherway, there are plenty of games 
Overall
Playmakers Sports Bar & Arcade is not a revolutionary idea, but it is a great representation of what a modern sports bar is all about.  Royal Caribbean seemed to have read the tea leaves of what is popular these days, and came up with a fun casual experience that fits nicely into the Boardwalk.
What we love best about Playmakers is the extensive menu, ample television viewing opportunities, and inclusion of games.  It is a dead simple concept, and it works.
Price-wise, there is decent value with the offerings on the Playmakers menu.  Other than the sliders, everything on the menu offers a large serving and I think in many cases, you can easily share the food with others.  
Without a doubt, the experience is as critical to the draw of Playmakers as the food.  Royal Caribbean bills Playmakers as the spot to watch your favorite team play.  
While there are a lot of televisions and ample spots to watch a game, the realities of television contracts, blackout rules and international viewerships limit how much you might want to actually watch.  Without getting into a lengthy discussion of how Royal Caribbean can legally show a game, it is important to note that the television programming tends to show primarily international competitions that most Americans may find less than enticing.  Cricket, soccer, and international basketball are quite commonly shown.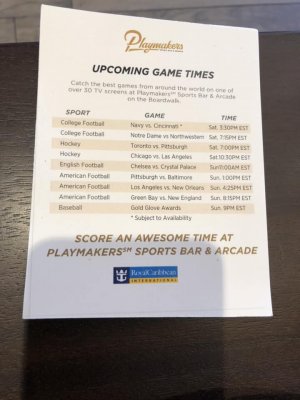 Thanks to Ron Hiller for this photo.
That being said, on football Sundays, college football Saturdays and other evenings, you will find more familiar games shown.  It is impossible to know which games will be shown on your sailing, but Royal Caribbean does make an effort to showcase the more popular sporting events, especially during the playoffs.
In a nutshell, Playmakers is a good choice for a casual meal, preferably while watching a sporting event.  The clichéd saying, "come for the game, stay for the food" holds up, and I think the food stands on its own even if there is only cricket or curling on the TVs. 
What are your thoughts on Playmakers? Leave us a comment and tell us about it below!