In:
Odyssey of the Seas may be the fifth Quantum Class cruise ship, but she offers a few things you cannot find on her sister ships, or even any other Royal Caribbean ship.
With every new Royal Caribbean cruise ship, there are at least a few things that the cruise line adds that are brand new to the fleet.
Royal Caribbean certainly puts its tried-and-true offerings onboard, but it also mixes things up with new innovations when the opportunity presents itself.
Here are a list of six things you can only do on Odyssey of the Seas
Zone Zero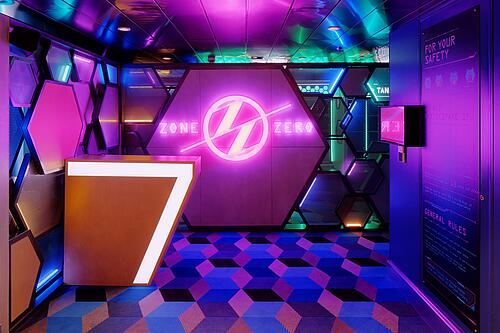 Tucked away in the corner of the SeaPlex is Royal Caribbean's first foray into immersive virtual reality, with Zone Zero.
Royal Caribbean already offers a virtual reality helmet experience on the Sky Pad, but Zone Zero puts your entire body into a virtual world.
Guests put on a full virtual reality suit, with sensors on their hands, legs, and feet.  The bulk of the hardware is contained in a backpack you wear as well.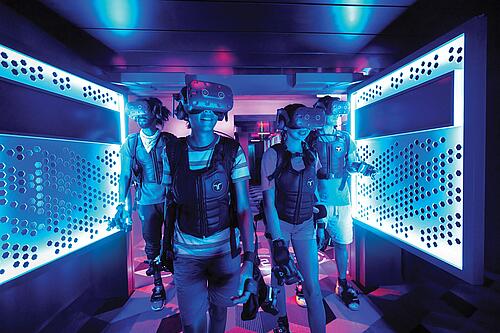 Guests then literally walk through a virtual world and fight pirates as a group, where they can see each other in virtual world. If you move your arm, your avatar moves its arm. It is incredibly impressive.
Zone Zero has a charge of $18 per person.
Go on a Quantum Ultra class ship in North America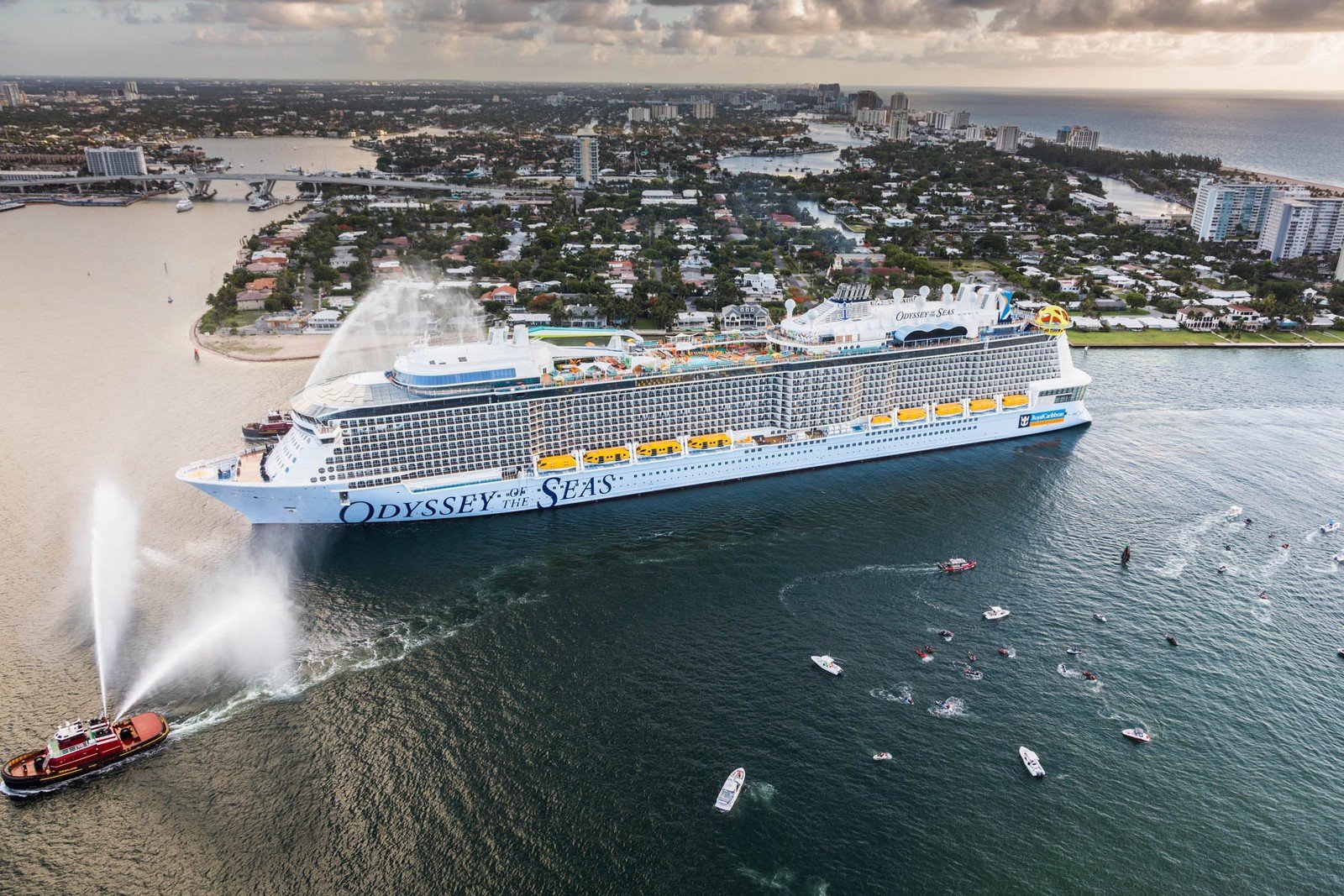 Spectrum of the Seas may have been the first Quantum Ultra Class ship, but she went to Asia immediately leaving the western hemisphere without the opportunity to sail on her.
With Odyssey of the Seas, this is the first chance for many to experience the extras a Quantum Ultra class offers.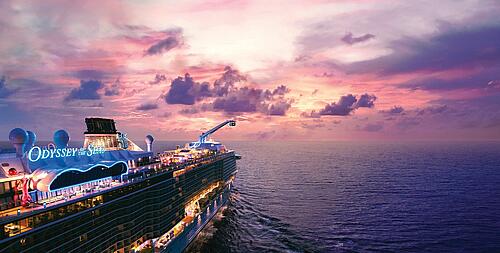 If you are wondering what the difference is between a Quantum Ultra and Quantum Class ship are, the answer is in the details.  It is more a sub class than a true different class.
Between the new dining options, revamped public areas, and a splash of new activities onboard, there is just enough to differentiate Odyssey from Quantum, Anthem, or Ovation.
Quantum Ultra Class firsts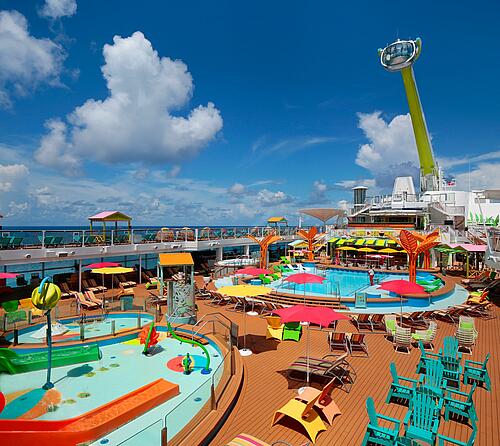 Onboard Odyssey, you will find certain features to the first to be offered on a Quantum/Quantum Ultra class ship.
On the top deck is Royal Caribbean's new approach to the pool deck, which has a Caribbean-inspired look to it with the Lime and Coconut.
Royal Caribbean Group's Chief Product Innovation Officer Jay Schneider thinks the implementation of the open deck on Odyssey took it essentially to the next level.
The SeaPlex has also been redesigned, opting to swap out the pods found on other ships for new activities in those areas.
This SeaPlex is the largest indoor and outdoor activity center at sea.
Adventure Ocean on Odyssey of the Seas also has the new update to the supervised kids program.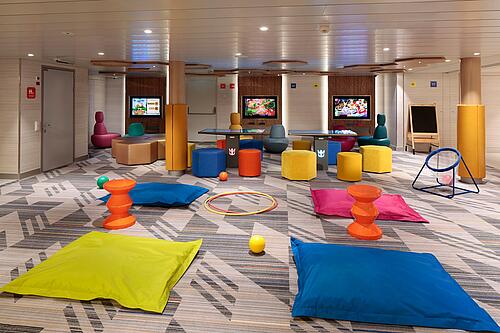 The robust program for kids up to 12 years old is designed for young travelers to chart their own adventures from one vibrant, open space to the next. At Hangout, kids can kick back and play with the latest game consoles, digital interactive tables, board games and more.
Teens have two spaces just for them. Social180 offers the latest in music, games and movies as well as an outdoor deck called The Patio.
Playmakers Sports Bar & Arcade in SeaPlex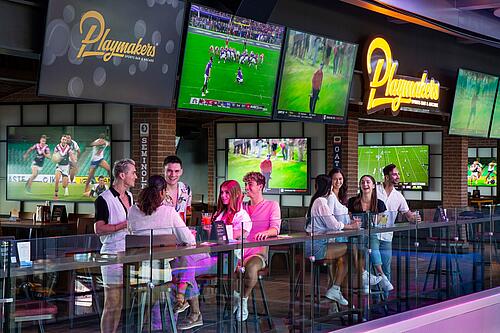 Speaking of the SeaPlex, Odyssey of the Seas is the first to offer Playmakers Sports Bar & Arcade onboard.
Located in the SeaPlex, it has a great spot not just for watching your favorite team on one of the many televisions, but to check out the action below. Bumper cars, pickleball, basketball, and more are performed throughout the day.
This is one of the best implementations of Playmakers on any ship because it evokes the sports bar feel the most of any location.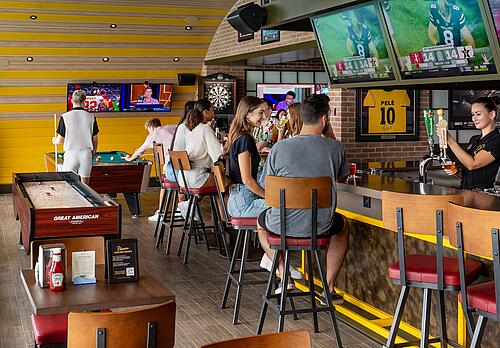 There are 56 TV's you can watch, which means you can catch any game that is on from pretty much any seat.
Playmakers also has a giant TV screen that hangs over the SeaPlex sports court.
Oh, and then there is the menu.
Chicken wings, nachos, onion rings, burgers and chicken sandwiches make up a really tasty set of choices.
Then there is the impressive array of beers you can choose from, a welcome change from the usual Royal Caribbean selection.
New wine bar concept
When Royal Caribbean decided to revamp Giovanni's specialty restaurant, they also took a stab at the nearby wine bar.
Instead of Vintages, Giovanni's Italian Wine Bar took over  the area, and offers a smaller bar menu, such as fried lasagna bites. These small plates are meant to go really well with a glass of wine.
For wine aficionados and those that are looking to grab a quick bite, the new wine bar offers something different.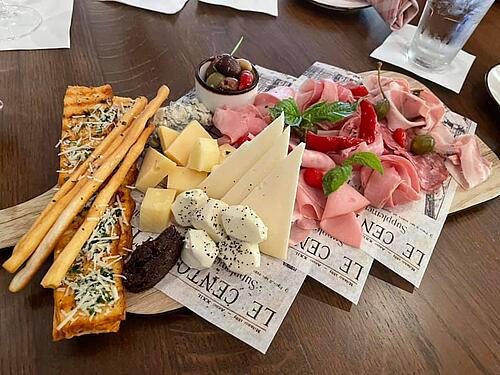 Pro tip: If you cannot get a reservation at Giovanni's Italian Kitchen restaurant, you can go to the wine bar and order the same food there without a reservation.
Read more: How Royal Caribbean reimagined its signature Italian restaurant
The Book
Of course there are new shows that you can only see on Odyssey of the Seas.
In Two70 you will find "The Book: Seven Chapters, One Adventure"
This original production loosely tells a story of a librarian who explores the chapters of a book through song, dance, and music. It features lots of different elements and performing styles intertwined to create an act you have never seen before.