In:
Royal Caribbean's Crown and Anchor Society is arguably one of the best loyalty programs in the cruise industry.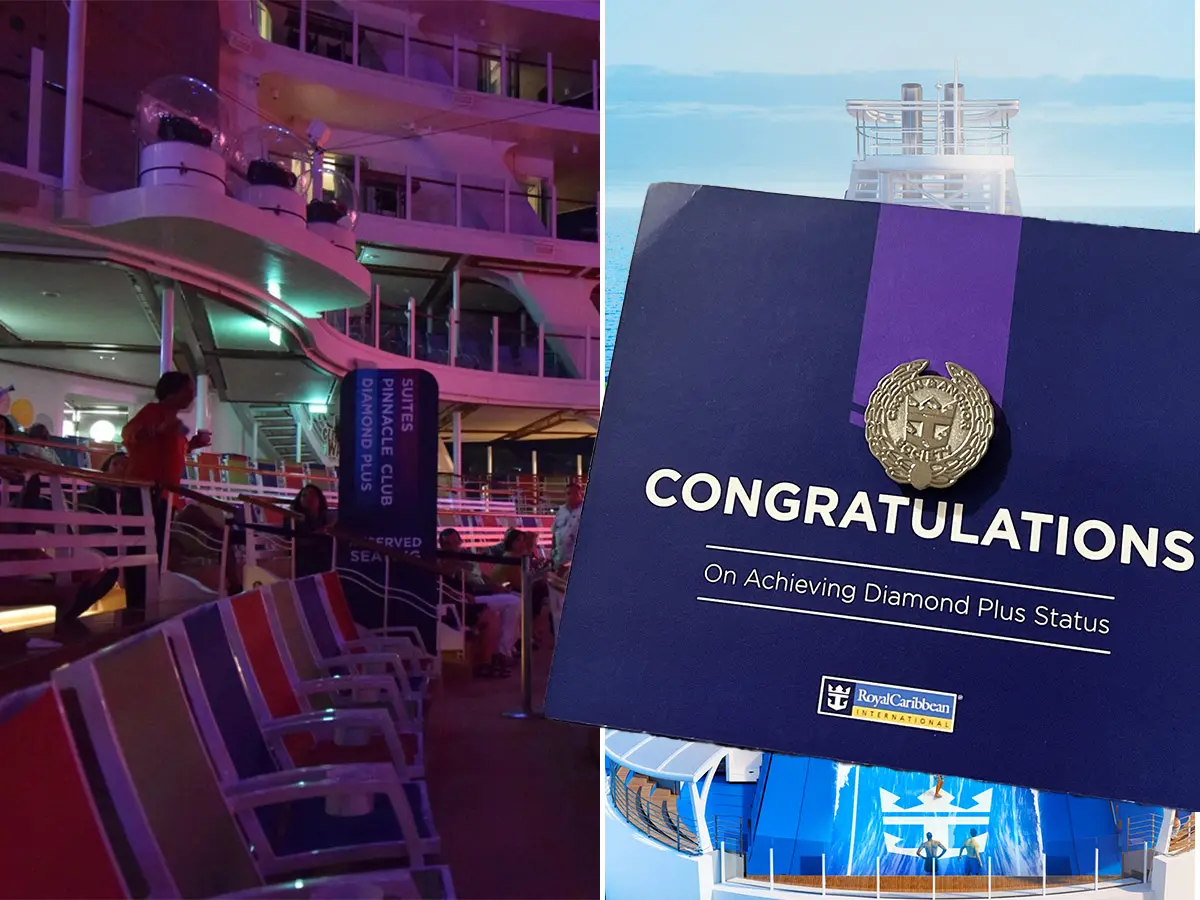 Rewarding loyal customers is a common practice not just in the cruise industry, but in the travel sector as a whole. Airlines, hotels and car rental companies all have some-sort of loyalty program that rewards customers who continue to choose their brand over and over again.
After just one cruise, you can start accumulating points towards earning status with Royal Caribbean. Typically, each night spent on a Royal Caribbean cruise will earn you one point towards your loyalty status. If you stay in a suite or cruise solo, you can earn double points towards your status. 
Below is a breakdown of the Crown and Anchor Society's status levels, starting with the lowest tier of Gold Members.
The highest tier of membership you can reach with Royal Caribbean is dubbed the Pinnacle Club, which you achieve after earning 700 points. Loyalty can pay off in the long-run and this is especially true with Royal Caribbean's Crown and Anchor Society. As you move through the program's totem pole of statuses, the benefits become more lucrative. 
Royal Caribbean's loyalty program has some incredible perks that would be considered not under-the-radar benefits. In particular, top-tier members earn daily, complimentary drinks for Diamond members and above. These members also receive access to a special Diamond Lounge, which hosts nightly appetizers and daily breakfast with specialty coffees. Pinnacle Club members even receive a complimentary cruise!
Of course, these are all major perks of choosing to cruise with Royal Caribbean time and time again. But, most Royal Caribbean cruisers might not even know about all of the other perks that are available through the Crown and Anchor Society. 
Here's a list of our favorite under-the-radar perks of the Crown and Anchor Society.
Complimentary internet
Cruising with access to Wi-Fi onboard is crucial for many, especially those of us who cruise often. Internet can be expensive to purchase onboard. The Surf and Stream package, which is the fastest service onboard, starts at $25.99 per day, per device. If you want to purchase internet for a 7-day cruise, this means you'll be spending around $180 for access to the internet throughout your voyage. 
All members of Crown and Anchor Society are eligible for complimentary discounted Internet onboard. Platinum and Emerald members will receive a 15% discount any onboard internet purchases; even Gold members (who only need 3 cruise points) can receive a 10% discount on internet purchases. 
Once you reach Diamond status, you start to receive even better benefits with complimentary internet access. Diamond guests receive one complimentary day of Surf + Stream while Diamond Plus receive two complimentary days. This can also transfer to a discount of equivalent value, from $25.99 for Diamond to $51.98 for Diamond Plus. 
Top-tier Pinnacle Club members receive free unlimited Surf and Stream internet on their cruises for the entire duration of their cruise, which amounts to huge savings on each cruise!
BOGO specialty dining
There's plenty to eat and drink onboard a Royal Caribbean cruise, but I've found that I am increasingly drawn to the specialty dining experiences while cruising. I enjoy the change of pace, the ambiance, the high-quality food and the impeccable service.
Crown and Anchor Society's top-tier members can receive complimentary speciality dining onboard their cruises. Diamond Plus and Pinnacle Members each receive a BOGO deal to buy any specialty dining restaurant on the first or second night, and receive complimentary dining for the second guest. (Note, this does exclude Izumi Hibachi and Teppanyaki, Chef's Table and Hooked Seafood). 
Considering every member receives this discount, you can save pretty big money with this complimentary BOGO offer. For example, my husband and I each have this BOGO voucher, which means we can essentially get an entire specialty dining meal comped between the two of us. 
I've also found that as long as you pre-pay for the specialty dining on the first or second night, the hosts will normally let you dine at a later date as long as it's been paid for during the voucher timeframe. 
Platinum members and above can each receive a complimentary coffee beverage with a purchase of a specialty dining purchase. 
Finally, top-tier Pinnacle members receive Coastal Kitchen access and daily breakfast in a specialty dining restaurant throughout their cruise. Coastal Kitchen is designed as a top-tier dining option for suite guests, so this is a very nice benefit to receive. 
Priority access and seating for events
Royal Caribbean is known for building mega cruise ships that can hold thousands of people onboard. They don't call 'em the world's biggest cruise ships for nothing!
With so many people onboard, it can sometimes be difficult to find seating at popular shows, events and entertainment offerings. Some of Royal Caribbean's biggest ships require reservations for shows, but others do not require any reservation - and events can be equally as popular. 
Diamond Plus and Pinnacle Club members of the Crown and Anchor are given propriety access and seating at theater shows, Ice shows and AquaTheater events. This can be a huge perk that many overlook because it doesn't have a monetary value; however, it's really nice to arrive to a show right on time and not worry about finding a seat.
I've even had luck with attendants allowing others in my party to sit in the section who were cruising with me but didn't have the same status, if there were open seats. 
Exclusive events
On each Royal Caribbean cruise, you can almost always find Crown and Anchor Society hosting a Top Tier Event during the cruise. This exclusive event normally features free champagne, but I've also been invited to events with morning mimosas and special pastries or baked goods.
Platinum members and above will receive an invite to this exclusive event in their stateroom for a designated date, time and location of the Top Tier Event. 
On my recent Odyssey of the Seas cruise, the Top Tier Event was a special Icon of the Seas reveal, which was highly-anticipated at the time. This was an exciting event with luxurious baked goods and free drinks. 
Not everyone goes to these events, but it's a nice offering that Royal Caribbean wants to recognize loyalty members on each cruise. The free alcohol is a bonus for sure! You can also usually meet the Captain or other Senior Officers during the Top Tier Event. 
If the event fits in my schedule, you can often find me there. Who doesn't like being recognized and thanked for their loyalty?
Complimentary bottled water
While this might seem like a small perk, I always appreciate boarding my cruise and finding complimentary bottled waters waiting for me on the vanity. 
Bottled water is not free onboard, so it's nice to have disposable bottles that can be used around the ship. I often use these to take ashore too so I don't have to lug my personal water bottle around. 
In addition, I travel with LiquidIV (or equivalent hydration packets, like these Propel electrolyte packets) because I want to stay as hydrated as possible. I hate adding these packets to my personal water bottle because I am not able to wash it for a few days. It's much easier to use bottled water to add my hydration or flavor and toss the bottle when I'm done. 
Note, we receive a small commission if you purchase from these affiliate links while it costs you nothing extra. 
Discounts on balcony staterooms
One of the best perks for booking your Royal Caribbean cruise is receiving a Crown and Anchor discount on Balcony and Suite Staterooms. Anyone with a status of Platinum or above is eligible to receive a balcony or suite discount when booking their stateroom. If booking online, you simply need to enter your Crown and Anchor number to have the discount automatically applied. 
I can't tell you how much money this has saved me over the years! I've been able to upgrade my inside guarantee cabin to a balcony for the same price because of this Crown and Anchor discount. A quick look at recent reservations from the last year unveil a savings of $150 on a 4-night sailing and a $326 discount on a 12-night European cruise last summer, just to name a few. 
Upon review, the discount received varies on your loyalty status and when you are booking your cruise relative to the sail date. Those who book more than 6 months in advance receive bigger discounts than those booked within 6 months of sailing.
However, I've also seen prices drop more significantly as a sailing gets closer and after final payments are made, which can be a good time to upgrade or book your stateroom with this discount. 
In fact, I just upgraded from an inside guarantee to a balcony guarantee for just $300, which is the lowest price I've been able to lock-in for an upcoming Iceland cruise. For a scenic cruise, I think this is totally worth it and the balcony discount saved us $326. 
Dedicated Loyalty Service Desk
Waiting on the phone or holding for hours is not a great experience for anyone. When Royal Caribbean runs certain sales and promotions, the call center can get very busy, which can make it difficult to get ahold of anyone. 
Royal Caribbean's Diamond Plus and Pinnacle Club members can call (800) 526-9723 to reach the dedicated line for Crown and Anchor members. Those outside of the US and Canada should call (541) 285-9723. 
The desk is not open 24/7, so be sure to call during business hours: M-F from 9am-10PM EST and weekends from 9am - 8pm EST.
Just recently, I tried to call on a Sunday evening to upgrade my inside stateroom to a balcony, as I mentioned above. It was a 2-hour wait so I gave up. Two days later, the sale returned and I called during business hours to the dedicated loyalty desk. The entire call took 8 minutes and I had already made the payment to upgrade and received confirmation. This is a HUGE timesaver and benefit that might fly under most peoples' radar. 
Status Match Program
If you're a member of Royal Caribbean's Crown and Anchor Society, you can also receive some pretty awesome status match perks with other cruise lines and travel companies. 
Royal Caribbean Crown and Anchor members can receive reciprocity benefits with sister-brand Celebrity Cruises. Those with a status of Platinum or above will receive status match when sailing on Celebrity cruise ships. 
For example, as a Diamond Plus member, I just sailed on Celebrity for the first time and received Elite-level benefits, which included free drinks, discounted internet, free laundry, and more. I absolutely loved my first Celebrity cruise experience and receiving benefits was a huge perk for the onboard experience. 
There are other companies that will provide some level of reciprocity with your Crown and Anchor status as well. Most notable, your Crown and Anchor status will be matched at MGM Rewards. Emerald and above will receive Gold status at MGM while lower tiers will also receive some status perks. Simply visit an MGM Rewards desk at any MGM Rewards destination to validate your status. 
Finally, all of Crown and Anchor Society members can receive Hertz Gold Plus Reward points as well. For the purposes of this article, I followed instructions through Royal Caribbean's website and entered information on Hertz's website to sign up. The link from Royal Caribbean pre-populated a few fields during the sign-up process.
Hertz Gold Rewards includes Skip the Counter and E-Return access, which can save time at the airport. You will earn points with rentals and receive Ultimate Choice benefits.
Complimentary Photos
While phones are becoming very sophisticated with picture-taking capabilities, there's a hint of nostalgia when it comes to taking and purchasing cruise photos. Personally, I love getting the welcome abroad picture which has the sail dates, itinerary and ship because it's a great memory keepsake. 
Diamond members and above each receive a complimentary photo of any size during every single cruise. The 8x10 pictures are upwards of $25 onboard now. I always pick out a picture on the last day of the cruise (or two pictures if I am sailing with my husband who also gets a free picture).
Gold through Emerald members receive a discount on photos in which buying 1 photo earned a 50% discount on a second photo. 
With so many cruise pictures, I decided to get this photo album where I can keep all of the cruise pictures in an orderly fashion (this one fits up to 8x10 photographs). I was running out of space to hang up all of the photos; and let's be honest, some of those cruise pictures are NOT wall worthy!
This photo album has sticky pages, so I can simply place the printed cruise photos in there without needing to tape or glue anything. I know I won't have time to scrapbook these days, but it really is a nice keepsake to have all of your cruise photos in an easy album.
You also have an option to download the digital file of your photo, which can often make more sense than lugging home a physical photo. 
Single Supplement Reduced Cruise Fare
If you're someone who cruises solo, paying double occupancy can be a huge blow to your budget. Royal Caribbean provides top-tier loyalty members with discounts for reduced cruise fares for single supplement rates.
Diamond Plus members with 340+ points and Pinnacle members can received a reduced rate for solo cruising from 200% to 150%. For solo cruisers, this can amount to big savings!
Complimentary and Discounted Laundry 
It can be tough living out of a suitcase, especially if you've traveling for a while. Royal Caribbean does not offer any self-service laundry options; instead, you have to send in your laundry to be washed and folded by crew members. Platinum and above members receive anywhere from $5 to $10 discounts on wash and gold laundry for sailings 5+ nights or longer.
Diamond Plus and Pinnacle members can receive one free $34.99 wash and gold bag on cruises longer than 5+ nights. This is a super nice perk, especially on those longer itineraries where you desperately need some clean clothes.
My husband even likes to send out his laundry towards the end of the cruise so he can bring home a bag of clean clothes, meaning we don't have to wash them when we get home. He simply places the clean clothes in a separate packing cube from the dirty clothes, which our future selves are always grateful for.