In:
Royal Caribbean is testing a new means for Diamond level guests to receive their complimentary beverages each evening.
Onboard Majesty of the Seas, Royal Caribbean Blog reader Nick Vitani shared this photo of a notice given to guests who are at least Diamond level in Royal Caribbean's Crown and Anchor Society.  The note advises guests that a pilot program is in effect, where guests that go to the Viking Crown Lounge for their complimentary Diamond beverages will be required to swipe their SeaPass card.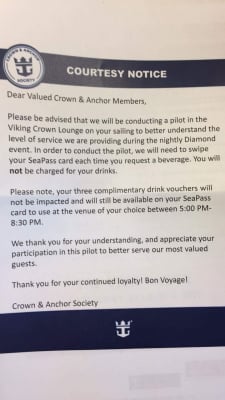 There is no charge for these drinks, but the note states the test is, "to better understand the level of service we are providing during the nightly Diamond event."
Each evening, Royal Caribbean offers complimentary alcoholic beverages in its Diamond lounges for Diamond members and above. In addition, Diamond members and above receive three complimentary drink vouchers to use at bars and lounges around the ship during the same time.  There is no change in how the drink vouchers are being redeemed as part of this test.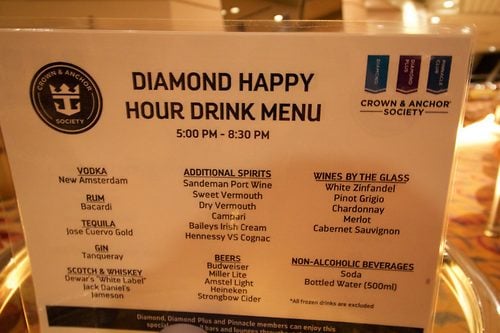 This is the first occurrence of this test we have heard about on any ship in the fleet.