In:
I think Royal Caribbean has arguably one of the best loyalty programs in the cruising industry.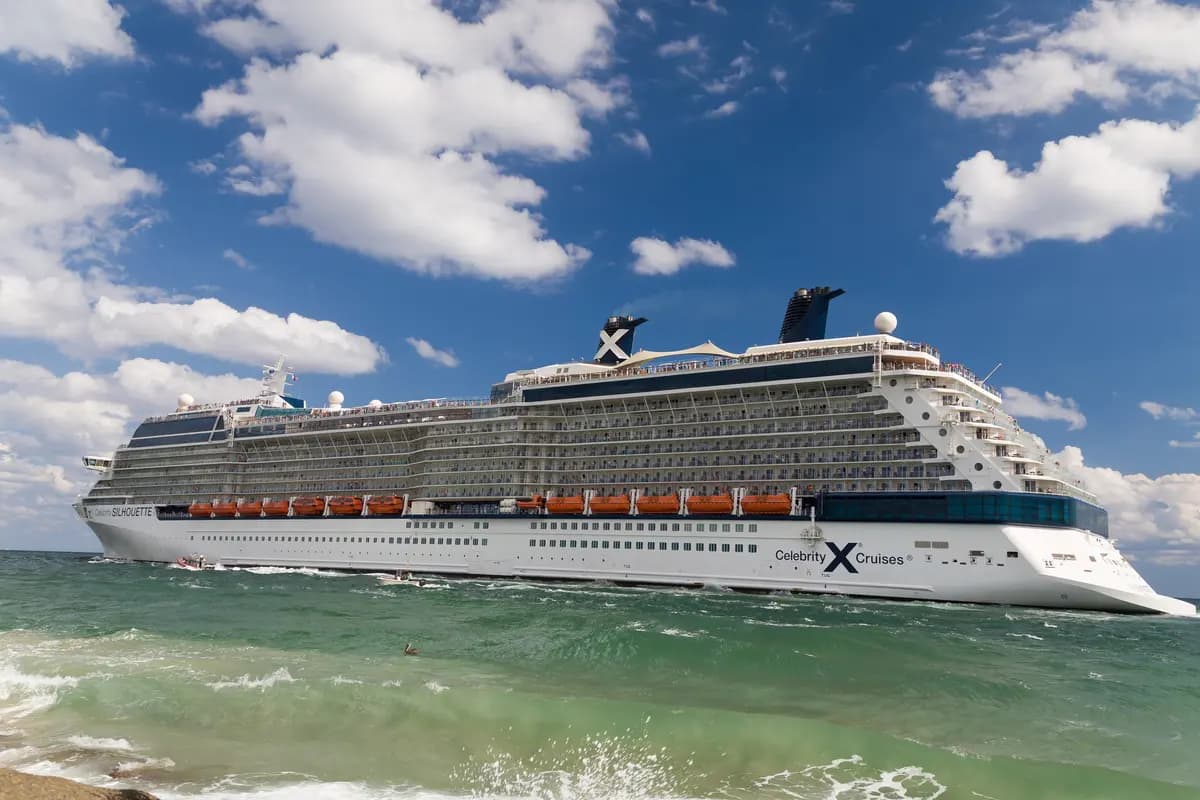 The Crown & Anchor Society is the cruise line's program that rewards cruisers for showing loyalty to Royal Caribbean. After just one cruise, you can start earning points towards different tiers of status with the cruise line. 
As someone who has cruised almost exclusively with Royal Caribbean for my entire life, I am currently a Diamond Plus member of the Crown and Anchor Society. Reaching this status a few years ago, the program's lucrative benefits are a huge selling point when I look to book future cruises. 
Notably, the complimentary daily drink vouchers are a huge perk of having Diamond Plus status. I receive five daily drink vouchers each day of my cruise; for my husband and I, this saves us hundreds to thousands of dollars on each cruise. 
We also enjoy discounted internet, free laundry service, a complimentary photo, BOGO specialty dining and more as Diamond Plus members.
Although I love cruising with Royal Caribbean, I was been eager to try sailing on sister-brand Celebrity Cruises for quite some time; however, I wasn't sure if the onboard experience would feel lackluster without some of the lucrative benefits that I'm used to receiving on Royal Caribbean. 
Because Royal Caribbean and Celebrity Cruises are owned by the same parent company, the two cruise lines actually have a status reciprocity program. Celebrity's Loyalty Match program allows cruisers to receive comparable benefits from Royal Caribbean's Crown and Anchor Program when sailing on Celebrity cruise ships. 
On my recent 4-night spring break sailing, I used my Royal Caribbean loyalty perks onboard Celebrity Silhouette for the first time - and it saved me a lot of money. This was my first cruise with Celebrity, so I didn't know what to expect. 
Here's how the programs compared and how much money the benefits saved me. 
To start, Elite status is the highest tier of Celebrity's loyalty program, Captain's Club, that you can receive through the reciprocity program. 
Royal Caribbean's three highest tiers of loyalty - Diamond, Diamond Plus and Pinnacle - can only receive Elite member status on Celebrity Cruises through the reciprocity program. To reach Elite Plus or Zenith status, you must earn points by sailing on Celebrity's cruise ships and earning the status. 
Similarly, Captain's Club highest members - Elite Plus and Zenith - can only receive Diamond status when sailing on Royal Caribbean cruises.
It's important to note that Royal Caribbean and Celebrity Cruises each have their own points structure. To reach the next tier with Celebrity, I would need to earn at least 750 Captain's Club points on my own; however, I'd continue to receive Elite-level benefits through reciprocity until then. 
Below is a breakdown of how Royal Caribbean's Crown and Anchor status translates to Captain's Club status with the reciprocity status match program. 
Technically, I boarded Celebrity Silhouette as an Elite member with 0 Captain's Club points, as I had not sailed on a Celebrity Cruise before.
When booking this cruise, I wanted to make sure I received the benefits I was entitled to. Enrollment in Celebrity's loyalty program, Captain's Club, was seamless. 
Anyone who is in enrolled in either Royal Caribbean's or Celebrity's loyalty programs will automatically receive benefits while sailing on either cruise line. 
Celebrity's website states that anyone in Royal Caribbean's Crown and Anchor program that is not enrolled in Celebrity's Captain's Club program should confirm enrollment before booking their cruise. I decided to call the Loyalty Service Desk to make sure I was enrolled in Captain's Club before booking my first Celebrity cruise. 
Calling Celebrity Cruises was easy and they quickly confirmed my enrollment in the program. The agent also provided me with my Captain's Club number at this time. Investigating further, I actually found the Captain's Club number on Royal Caribbean's website under Profile -> My Loyalty. I believe this is automatically populated, but I would suggest confirming your Captain's Club number before booking your cruise. 
I provided the Captain's Club numbers for both me and my sister when booking the Celebrity Cruise through our MEI travel agent. I was able to login to Celebrity's travel portal and it showed my Elite status in the profile already. 
Once we boarded Celebrity Silhouette for our weekend cruise, we found an info sheet in the cabin with information about our Captain's Club Elite membership benefits. 
Although the benefits are not necessarily one to one, we were pretty pleased with the Elite benefits that were listed on the sheet. It was a relief to see the Elite status on my SeaPass card and knowing that my benefits transferred correctly. 
Most importantly, I was happy to see on the benefit list that we would still receive complimentary drinks through Celebrity's happy hour for Captain's Club members! In addition, we were invited to join Captain's Club Coffee Lounge everyday from 8am to 10am in Tuscan Restaurant. This was described as a coffeehouse style breakfast with snacks and pastries. 
The info sheet also stated that there would be a Captain's Club Celebration on the final night of the cruise. This invitation said we could join the exclusive event for live music, drinks and special appearances from the Captain and Senior Officers.
Finally, we were invited to a Private Departure Lounge during disembarkation from 7:30am - 9am in Tuscan Restaurant. 
One of the first things I always do when I board a cruise ship is purchase internet for the entire voyage with my loyalty discount. 
Although disconnecting on a cruise is so relaxing, I simply need to have internet for my remote jobs. The flexibility of being able to work anywhere is incredible, but I do need to have high-speed internet purchased when I sail on a cruise to ensure I keep up with work when necessary. 
I am still holding out hope for the day that Internet is free on cruises, especially considering I can get free high-speed internet at almost anywhere these days!
On Royal Caribbean, as a Diamond Plus member, I receive two free days of Internet onboard or a $50 discount for the entire voyage. For this reason, I usually wait to purchase my Wi-Fi until I am onboard shorter cruises to ensure I get my discount, unless I can get a better price in the Cruise Planner beforehand. 
For a 4-night cruise, it's usually around $51.98 for me to have high-speed internet on Royal Caribbean, as it's priced at $25.99 per day. 
Unlike Royal Caribbean, Celebrity Cruises provides a percentage discount on Wi-Fi packages; sadly, high-speed internet is more expensive at $35 each day. As Elite members, we received a 30% discount on our Internet package, which I purchased on the first day. 
Unfortunately, high-speed Internet on Celebrity was almost double what it would cost on a 4-night Royal Caribbean cruise! I received a $42 discount, but it was still nearly $100 for the duration of the 4-night voyage. 
Shockingly, Royal Caribbean and Celebrity Cruises have the exact same Wi-Fi coverage through satellite-provider Starlink. 
In this sense, the price discrepancy between the two cruise lines is quite confusing for me. I was paying nearly double for the exact same provider coverage.
On a longer voyage, the 30% discount would be more sizable (in dollars) than the static $51.98 discount received on Royal Caribbean; however, the increased cost of $10 more each day on Celebrity will likely wash out any major savings when comparing the two. 
For example, a recent 12-night cruise on Royal Caribbean cost me $259.90 for the high-speed service with a savings of $51.98. On Celebrity Cruises, the same Internet would cost me $294 with a savings of $126. Although the savings is more, the overall cost of Internet is still higher. 
I've actually wished that Royal Caribbean would provide a bigger discount on longer cruises for top-tier loyalty members. When I take a 12-night cruise, it would be great to receive a 30%-50% discount on internet service, although any discount is still awesome. 
Technically, you have the potential to save a lot more money with Celebrity's Captain's Club internet discounts, but the increased cost of coverage needs to be taken into consideration. The internet coverage was consistent with what I've experienced on Royal Caribbean cruises, which is expected since the provider is the same. 
Another great perk on our Celebrity cruise that saved us a lot of money was the nightly happy hour with complimentary cocktails. 
Paying for cocktails and alcohol on a cruise can get very expensive. Not to mention, drink packages can nearly double the cost of your cruise and you have to drink around 5 cocktails each day to breakeven. 
Celebrity does not offer the easy-to-use drink vouchers like Royal Caribbean for loyalty perks. Instead, the cruise line has a nightly happy hour that serves complimentary drinks from 5pm-7pm.
This is very reminiscent of Royal Caribbean's old happy hour in the Diamond and Concierge lounge, which was phased out after the pandemic and replaced with daily drink vouchers.
The happy hour was not limited just to a certain lounge. We were able to enjoy complimentary drinks from a set menu throughout the cruise at almost every bar, except the Craft Social and World Class Bar. 
On the set menu for happy hour, you could choose from a variety of simple cocktails and liquors. The bars specifically set out the menu each evening from 5pm-7pm. Throughout the cruise happy hours, we probably enjoyed 10-12 cocktails between the two of us. 
At a minimum, this saved us at least $100-$120 on our cruise! You can have unlimited cocktails during happy hour, so I will definitely choose a later dining time on my future Celebrity Cruise to take advantage of this happy hour. 
My sister and I enjoyed multiple cocktails each evening during happy hour and most enjoyed Sunset Bar. On our final evening, we sipped on a fruity concoction from the bartender while listening to live music while we sailed away from Nassau and back to Miami. 
Oddly, the first day of the cruise was excluded from the Captain's Club happy hour, which was a bit of a bummer.
During the first day of our cruise on Celebrity Silhouette, we were bummed to find out that there was no happy hour for Captain's Club members that evening. 
The flyer in our cabin specifically stated that the Captain's Club Cocktail Hour was excluded on embarkation day for whatever reason. Excluding embarkation day isn't a huge deal, but when compared to Royal Caribbean's daily voucher allowance that starts on the first day, it is notable. 
On a longer sailing, it also isn't that big of a deal; however, we were only sailing on a 4-night cruise, so that meant we had only three evenings to take advantage of our benefits, so it was a bit more restrictive in that sense.
Instead, we purchased martinis at the famous Martini Bar on the first night of the cruise while we watched the bartenders perform impressive tricks with the martini glasses.
The martinis were not cheap, as they were $17 each including gratuities. We decided just to have one drink in anticipation of our happy hour kicking in the following evening. We loved the atmosphere of the Martini Bar and enjoyed the DJ playing music throughout the evening. 
Each morning, we could choose to dine at Tuscan Grill for Captain's Club coffeehouse breakfast, which included cocktails and specialty coffees.
On the third morning of our cruise on Celebrity Silhouette, we decided to try out the Captain's Club breakfast to see what was offered. This was located in Tuscan Restaurant, which is a specialty dining venue. 
I was thrilled to see I could get my morning latte during the coffeehouse breakfast - and even more excited to see mimosas, Bellinis and Bloody Marys on the menu. The breakfast menu was small with simple offerings like pastries, oatmeal and bagels. 
Receiving a free morning latte saved me $7 - something I wish I had known on the first morning of the cruise. I paid for my specialty coffee the first two mornings in the buffet and could have come here instead.
While I wasn't necessarily in the mood for a mimosa on this morning, I was excited to see complimentary morning cocktails on the menu. Theoretically, I could have drank way more for free each day on this Celebrity cruise compared to my 5 drink vouchers on Royal Caribbean.
Between the unlimited cocktails, complimentary specialty coffee in the lounge and the nightly happy hours with cocktails, there would be absolutely no need for a drink package on Celebrity for me. 
On the final day, we enjoyed complimentary access to the Persian Garden thermal spa with our Elite status. 
One of the coolest perks with our Elite benefits was complimentary access to the Persian Garden thermal spa. We were able to access the thermal spa during one port day of the cruise as Elite members. We opted to do this on the final day of our cruise while we were docked in Nassau.
When I asked how much a daily pass during a port day would cost to the thermal spa, we were told it's normally $39.95. 
For the two of us, this was a savings of $80! Whether we would actually pay this much to enjoy the thermal spa is up in the air, but I absolutely loved the ambiance and experience. We relaxed in the warm thermal chairs while also trying the different showers, saunas and steam rooms.
To my knowledge, this is not something offered on Royal Caribbean; but, it's a perk that I really did enjoy on my Celebrity Cruise. 
As Elite members, we also could have received other benefits such as a free scoop of gelato, complimentary laundry, discounts on photos and more.
Elite members receive a slew of benefits onboard Celebrity cruise ships, including some that we didn't even have time to pursue. 
Unfortunately, I wasn't feeling my best on the final evening so we didn't make it to the Captain's Club exclusive event. I wish this had been hosted on another evening so we could see what it's all about, but we will save that for a future Celebrity cruise!
Since this was a short 4-night sailing, we didn't utilize all of the Elite benefits that we were afforded. We had to squeeze in as much as we could! On a weekend getaway, it's not necessary for me to do laundry most of the time. We also didn't take a singe professional photo, and this is not something I would pay for even with a 40% discount. 
I was also very satisfied with the complimentary dessert offerings in the buffet and dining room that I never craved gelato from Cafe al Bacio; however, my sister did receive her free scoop on the last day and felt it was the same quality as we were served in the buffet. 
Although Royal Caribbean and Celebrity Cruises do not offer identical benefits, it's still worthwhile to enjoy the reciprocity perks.
The most important loyalty benefits that I receive on Royal Caribbean include the discounted internet and complimentary daily drinks. I also enjoy the BOGO specialty dining and free professional photo, although these are not make-or-break benefits for me.
Most notably, our biggest savings came from not having to pay for cocktails or specialty coffee - other than our martinis on the first night. We loved the nightly happy hours hosted throughout the ship and appreciated the flexibility of going to almost any bar onboard. 
Additionally, receiving a 30% discount on Internet was appreciated, although the cost of internet was unexplainably more expensive. 
We also enjoyed our complimentary visit to the thermal spa during the ship's visit to Nassau. Since we'd been to Nassau many times, enjoying the spa was a great way to enjoy our afternoon and do something more relaxing onboard the ship.
Overall, I was pleased with the Elite benefits on my Celebrity Silhouette cruise - and it saved us a lot of money. The savings would certainly compound on a longer Celebrity cruise with the reciprocity status matching, which is something to keep in mind.