In:
There's plenty of stunning beaches in the Caribbean, but only St. John stands out as the most beautiful I've ever visited.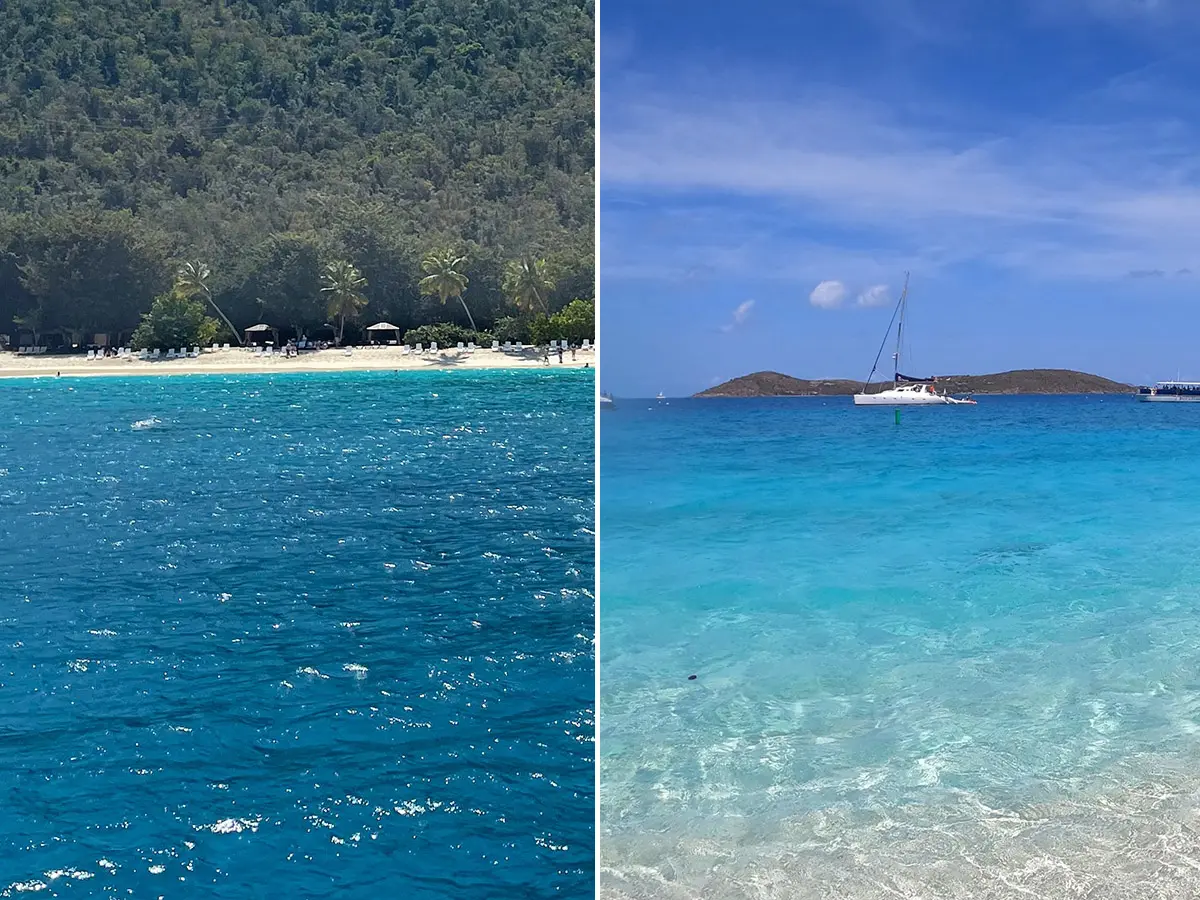 For a lot of people, taking a Caribbean cruise is about escaping to picturesque coasts with white sand, light blue ocean water, and maybe even a drink in hand.
On my recent 7-night Wonder of the Seas cruise, we visited three ports and by far the most beautiful of them all was Honeymoon Beach in St. John.
While we had a great time at the beach in St. Kitts and Perfect Day at CocoCay, I was blown away by the splendor of St. John.  In fact, every time our cruise visits St. Thomas, I look for a shore excursion that can take me to St. John.
Before you make plans for your upcoming St. Thomas visit, here's why I loved every minute of my visit to St. John.
Getting there
St. John is just 6 miles from St. Thomas, which makes it a very close option between the two islands.
There are a few ways to get to St. John: ferry, Royal Caribbean excursion, or private boat.
In the past, I've tried each of the options and there are pros and cons to each method.  For this visit, we went with a private boat charter because we were going with two other families and we wanted to maximize our time.
Wonder of the Seas was docked in St. Thomas from 7am to 2:30pm, so there was a limited amount of time in port. As a result, I wanted to try to squeeze in as much time as possible, and it seemed a private tour would be our best bet.
I looked at a few third-party different tours but ultimately decided to book with Sonic Charters because they had a great fleet of boats you could rent for the day.
Private tours are always going to be more expensive than group tours, but given our party size (12 in total) and our time needs, a private excursion seemed like the best choice.
The boat met us at the St. Thomas marina, which is a very short walk from where Royal Caribbean docks at Crown Bay.  You just walk through the port area, through the parking lot, and then right to the marina.
The boat's captain met us at the marina bar, and we boarded the boat right at 9am to get underway. Our crew consisted of him and Louise.
We departed the marina and headed east to St. John for the short transit.
Our rental included snacks on the way to St. John and back, as well as alcoholic and non-alcoholic drinks.
Snorkeling
Since it was our private tour, it was up to us what we wanted to do. I asked that we visit the beach and have snorkel time too.
Our rental included snorkel equipment for everyone, so nothing extra to pack.
We were taken to a small inlet near St. John that was a well-known for being a place where sea turtles could be found.
Because St. John's water is so clear, snorkeling is incredibly easy for viewing.
We had about an hour of being in the water, and even if you weren't into snorkeling, you could hop into the ocean to enjoy the current.  
My kids had a great time looking for as many undersea creatures as they could spot.
Honeymoon Beach
While snorkeling is fun, what draws me to St. John in the first place are the amazing beaches.
The beaches in St. John are the epitome of what a Caribbean beach day is all about: white sand, crystal blue water, and warm temperatures.
There are a number of beaches you can visit at St. John, including Trunk Bay and Cinnamon Bay.  If you get the chance to visit St. John by land, I highly recommend spending the day here.
Since we were on a boat, Honeymoon Beach is the best choice because our boat can get close enough to shore that we can easily swim.
The soft white sand is perfect to plop down and enjoy the shallow blue surf that washes up.
There's still snorkeling options here, as there is a patch of reef on the west side of the beach. Much of the reef is in fairly shallow water – making it an excellent choice to see fish, corals, turtles and rays up close.
Other destinations in St. John
Our day in St. John was a mere glimpse at what this incredible island has to offer.
If you happen to take a shore excursion that brings you on land, there are a few great spots to visit.
Cruz Bay is where your ferry will drop you off, and it's a small village that has restaurants and shops. You can easily walk around the wharf and streets nearby and take in the Caribbean architecture, along with excellent shopping.
Trunk Bay is the most famous beach in St. John because of the picturesque quarter mile white sand beach. There's a snack bar, along with beach chair rental and restrooms.  Trunk Bay does, however, have an entrance fee (and it's the only St. John beach that has a fee).
Cinnamon Bay is the longest beach you'll find in St. John and incredibly pristine. It's a great choice for families because of how shallow the shoreline is, and it tends to be less busy than Trunk Bay.
Why you should visit St. John on a shore excursion
If you take away nothing else from this blog post, it's that St. John has the most amazing beaches you need to visit.
To be fair, there are a lot of great beaches around the Caribbean, but the combination of water color and clarity, beach conditions, and complete lack of crowds make this the best beach day I've ever had.
Because it's so uncrowded and underdeveloped, it feels like you've arrived in a Bond villain paradise (before things take a turn for the worse in the movie). 
I'm usually more a pool guy than a beach guy, but I'll visit a beach in St. John every time.
The challenge is getting to St. John, as shore excursions are limited (especially if you go through Royal Caribbean).  
The good news is there are many ferry services to get you across, but it does require good planning to ensure you can get back and forth without hassles.