In:
Many Royal Caribbean cruises make a stop in St. Thomas while on an Eastern Caribbean itinerary, but the nearby island of St. John is an enticing and exotic destination cruisers should consider in their shore excursion plans.
St. John is just a few miles away by ferry from St. Thomas, making it an easy commute between the two islands.  Regular ferry service means getting back and forth is a mere formality and that means the pristine beaches of St. John are easily accessible.
On a recent Royal Caribbean cruise, we decided to try a visit to St. John and the good news is it is a great option to consider, especially for those that may feel St. Thomas is a "been there, done that" situation.
St. John Overview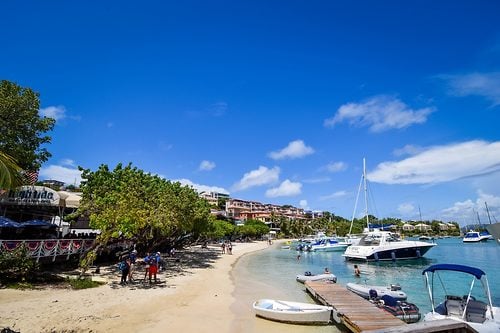 St. John is the smallest and least populated island in the U.S. Virgin Islands.  It tends to be a refuge for cruise visitors and local residents alike, who seek a place to "get away from it all."
The Virgin Islands National Park takes up roughly two thirds of the island, which means visiting St. John is really about taking time to enjoy a beach, nature hike or combination of the two.  The beaches of St. John offer plenty of sun and surf, along with the typical beach activities like snorkeling, kayaking and paddle boarding.
There is a small town where visitors arrive via ferry, Cruz Bay.  This town has some basic offerings, such as restaurants, bars and some shopping.  However, unlike St. Thomas or St. Croix, the offerings in Cruz Bay are limited.  Essentially, people come to St. John for the natural beauty.
Getting to St. John
There are two primary means of getting from your Royal Caribbean cruise ship to St. John.  Both have their advantages and disadvantages, and which option you pick depends on your personal preference.
Royal Caribbean excursion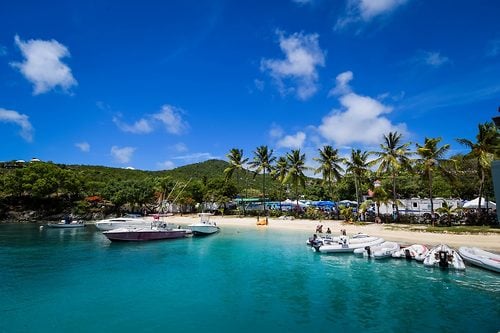 Royal Caribbean offers a few excursions to St. John that will depart from near the cruise ship and take you directly to St. John.  There are tours that will provide round-trip ferry transportation, as well as some sort of an organized tour while in St. John.  In addition, there is also a "on your own" St. John excursion that brings you just to the island and lets you go on your own.
The primary consideration with the Royal Caribbean excursions to St. John is the fact you will take a longer ferry ride.  The ferry from Crown Bay is roughly 40 minutes in length, which is about double that of the other ferry.  
Of course, booking with Royal Caribbean has an added bonus of the guarantee of return, where you know you will absolutely get back to the ship, no matter what.  For many, that peace of mind is important.
On your own
Many residents of the U.S. Virgin Islands regularly go back and forth between St. John and St. Thomas, which means there is regular ferry service offered for a small fee.
There are two primary points of taking a ferry to St. John: Crown Bay and Red Hook.
The Crown Bay ferry is the same ferry Royal Caribbean excursions take.  The benefit is this ferry departs and returns very close to the cruise ship, which means taking a taxi is either unnecessary or significantly cheaper.  Of course, the ferry ride is about double the length and there are less ferries offered throughout the day.
Red Hook is an area on the east end of St. Thomas, with a short 15-20 minute ferry ride to St. John.  While it requires a taxi ride to reach Red Hook, we felt the shorter and more frequently offered ferry rides were worth it.  Ferry service from Red Hook runs every hour, on the hour.  You can consult the ferry website for exact fare and schedules.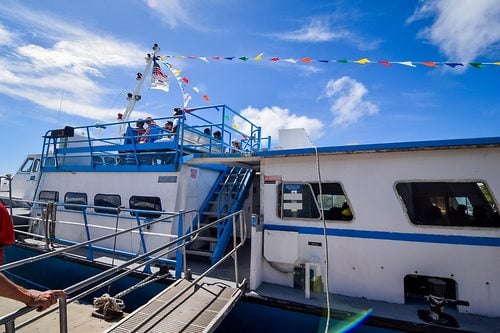 The taxi ride to Red Hook is fairly short as well, although often you will get lumped into vans other other guests, where the driver makes a few stops along the way.  Your experience will vary, but the one way trip should take about 30 minutes (if not less).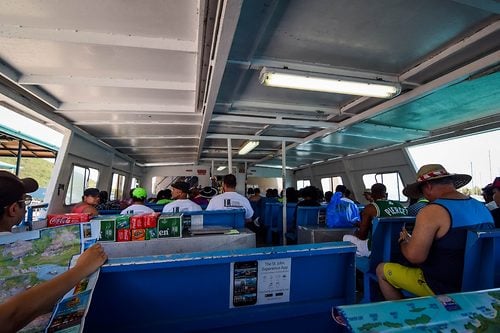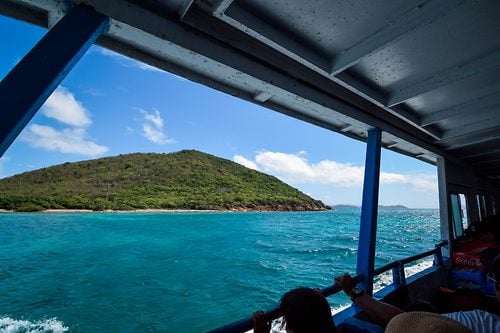 Once at the ferry terminal, you can purchase round trip fare.  Be sure to bring plenty of cash, because taxis and the ferry regularly take cash only.
If you are wondering how long it takes to get from Crown Bay to Red Hook and then take the ferry to St. John, it depends largely on timing.  How long it takes you to get into a taxi, for the taxi to drop you off and what time you arrive before a ferry departs are all factors you may not have a lot of control over.  If you time things out perfectly, it should take just around an hour.  If you just miss the ferry, figure another an extra 30-60 minutes on top of that estimate.
Arriving in St. John
The ferry will drop you off in Cruz Bay, which is on the west end of the island. There are a few shops and restaurants, but the real attraction of going to St. John is to see the beaches.  You ought to be able to take a taxi to any of the beaches nearby.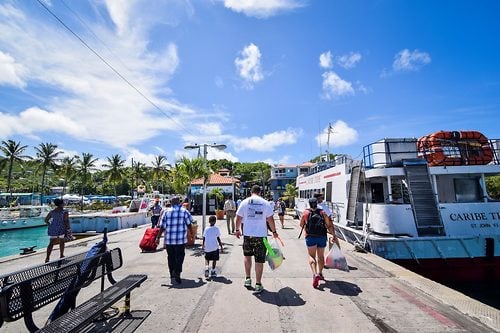 There is a primary road, North Shore Road, that runs along the Northwest coast of St. John and has easy access to the beaches. Most day visitors opt for taxis, but you could also rent a car.  Keep in mind that vehicles drive on the left side of the road in St. John.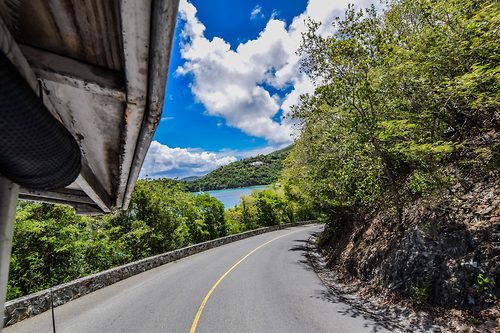 St. John is largely set up as a National Park, and that means lots of beaches to consider.  By far the most popular is Trunk Bay, which is about a 10 minute taxi ride away.  There are lots of other beaches, including Cinnamon Bay Beach. We chose Cinnamon Bay Beach for the lack of crowds.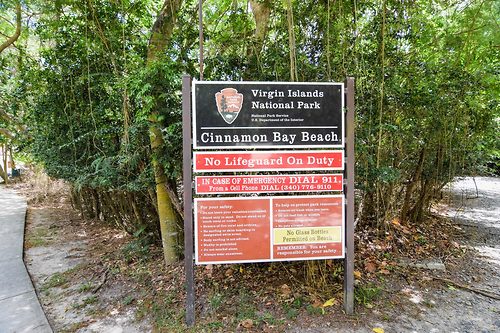 For the purposes of this blog post, we will be discussing Cinnamon Bay Beach, but the experience of visiting any of the beaches in St. John is likely very similar: a beautiful and scenic coastline with white sand and clear, turquoise waters.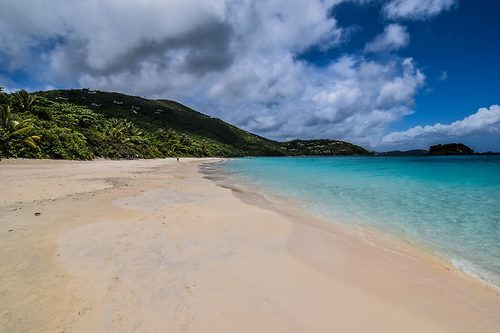 At Cinnamon Bay Beach, there is no beach fee, so feel free to grab any spot you choose.  We were able to rent beach chairs from a company that offers surf rentals as well.  There is not a lot of natural shade, but if you retreat to the back edge of the back, there was some shade provided by trees and shrubs.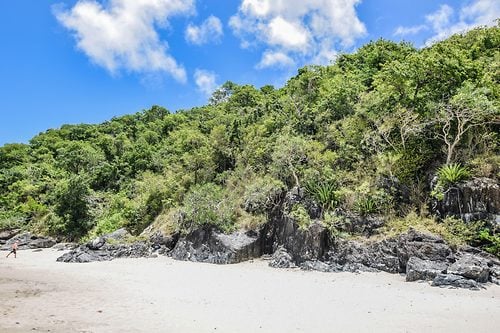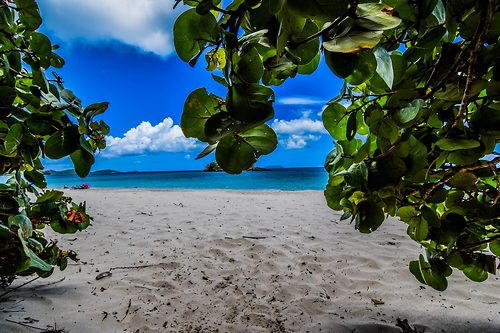 Most of the taxis in St. John make regular stops at each of the beaches, so getting a taxi back is fairly simple and just a matter of timing.
If you are a United States resident, your cell phone will likely work normally in St. John because the island is part of the United States.  We found cell phone coverage to be a "light" the further away from Cruz Bay and the main road you get, but placing phone calls (like to a taxi driver) usually works.
Your Thoughts
Have you visited St. John? What did you think of the experience? If you have visited other Caribbean islands, how do you think St. John compared to those? Any tips of your own to add about visiting St. John? Any questions? Hearing from readers is part of the fun (and is helpful to others), so please share your thoughts in the comments below!