In:
When it comes to going on a Royal Caribbean cruise, enjoying a cold drink at a bar is a real highlight for lots of vacationers.  Forgetting your worries and indulging in a drink or two while at sea has become tradition for many people that sail Royal Caribbean and across their fleet of ships, there are a lot of great places to enjoy a cocktail.  
Today, we're listing our favorite ten bars and lounges across Royal Caribbean's fleet to spend happy hour at.
Viking Crown Lounge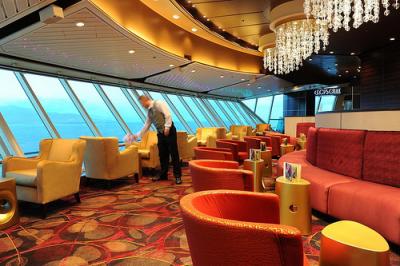 For many Royal Caribbean fans, especially the ones that have been cruising with Royal Caribbean for years, the Viking Crown Lounge is an integral part of what makes a Royal Caribbean cruise.  Located high above the action in the upper most tower of many Royal Caribbean ships, the Viking Crown Lounge offers a great vantage point of the ship and the horizon around you.  
The Viking Crown Lounge offers your favorite drinks along with that scenic view that you really can't get anywhere else onboard.  And given that it's usually on a deck not near many staterooms, the Viking Crown Lounge can often be less crowded than other venues onboard and the perfect place to sit in one of the comfy couches, take in the scenery and have a drink.
R Bar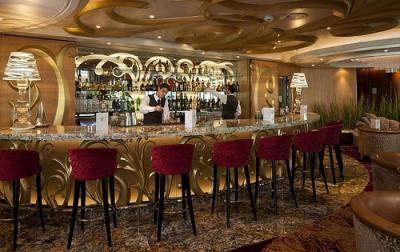 The R Bar is a relatively new bar that is located in recently refurbished Royal Caribbean ships' Centrum area.  While it may not have been around as long as other bars on this list, it's already making a name for itself as a great place to have a drink.
R Bar is all about martinis and for fans of this "shaken, not stirred" cocktail, R bar is the place to be.  Of course, there's more here than just a place to drink.  R Bar is meant to be a throwback to the bars of the 1960s that serve classic cocktails with a modern twist. What we really like about R bar is that the drinks are hand-crafted and it's different than your usual bar.  And of course, being in the Centrum, that means there's plenty of entertainment around you to enjoy with your drink.
Vintages Wine Bar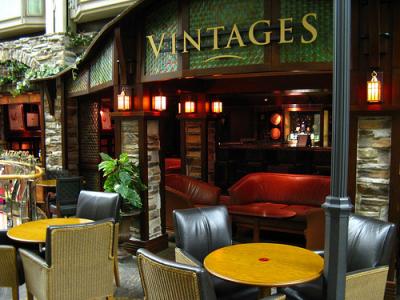 For wine lovers that want more than just the "house red", Vintages is a great choice for an evening drink.  First introduced on Voyager class ships, Vintages Wine Bar has been rolled out to many other Royal Caribbean ships and it's become a big hit.
In addition to ordering glasses or bottles of wine, Vintages regularly hosts wine tasting events where passengers can try something new or indulge in a series of wines that may be a favorite.  Of course, Vintages also has a lot of wines to try and when you're in the mood for a glass of red or white, Vintages is the place to go.
Rising Tide Bar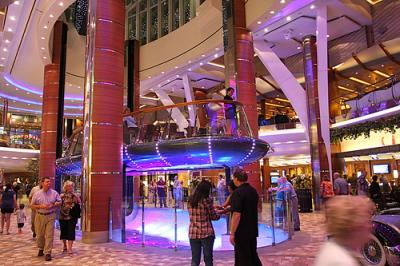 Okay, so we're suckers for bars with unique elements to them and the Rising Tide Bar is your basic bar but what makes it cool is the fact it actually moves between decks!  Rising Tide is proof where you drink can be more important than what you drink and everyone onboard seems to want to drink here at least once.
We've also noticed because Rising Tide is so centrally located and its often what passengers passing by are looking at, it's often the place to be onboard to be seen. There's just something very cool about being on a bar that moves through the air and with a drink in hand, it's a great place to watch all those people that are watching you.
Schooner Bar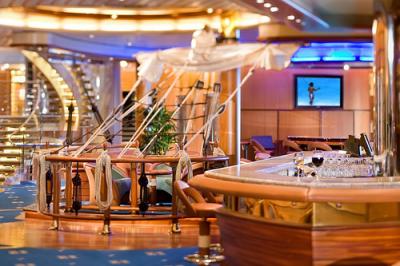 For fans of trivia onboard their Royal Caribbean cruise, the Schooner Bar is the place to put your wits to the test.  In addition to a beautiful lounge area that is themed to classic wooden nautical vessels, the Schooner Bar regularly hosts trivia events of all kinds.
It's hard to not pass by the Schooner Bar in the evening and not see it packed with other guests who are taking in a post-dinner drink while they try to remember which Elton John song clip was just played.  And when there aren't trivia events going on, it's a great choice for comfortable chairs near the window or talkative bartenders. 
On Air Karaoke Bar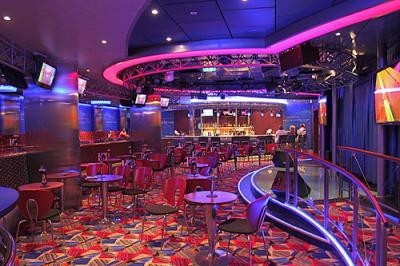 Karaoke isn't for everyone but it's hard to deny the great drink choices here.  Plus, while you may not have the courage to go up on stage and sing your favorite Stevie Nicks song, it's a lot of fun watching others give it a try while you kick bar with a few drinks. After a few drinks, they all do start to sound better.
On some ships, we've found the best deals on drinks onboard, with two-for-one margaritas often served during happy hour on Freedom of the Seas.  Are you a fan of karaoke now?
Champagne Bar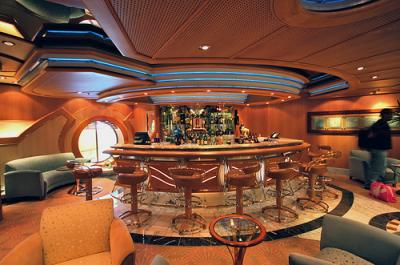 We love to meet up with everyone in our group for a pre-dinner drink and the Champagne Bar is usually a good choice for drinks and maybe even some entertainment.  Since the Champagne Bar is often near the Main Dining Room, it's a great spot for catching up on everyone's day and getting the evening started with a good drink.
After dinner, the Champagne Bar often features live music and it's one of those places that seems to always have a good crowd hanging out in.  
Globe & Atlas Pub/Hoof & Claw/Bear & Bull Pub
I dare you to not have a good time in an Irish pub and Royal Caribbean's versions are usually right on the money.  From the authentic Irish, British and European beers on tap to the live music in the evening, a stop in the pub onboard is often where we go to wind down the night.  The dark interiors with wooden tables really does make it feel like your local Irish pub down the street.
Whether you prefer Guinness or Stella or Newcastle, these pubs usually hit the spot and like so many other bars on this list, the evening entertainment is great for singing along to some classic bar songs.
Boleros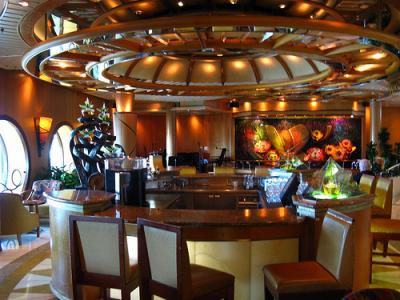 If you're a fan of mojitos or margaritas, the Boleros is the place for you.  This Latin infused lounge serves up some of the best tequila and rum onboard a Royal Caribbean ship.  Like other themed bars, Boleros offers a lot more selection of mojitos and margaritas as well as tequilas than anywhere else.
Of course, no Latin bar is complete without some salsa or meringue music playing live and some dancing if you choose.  Whether it's pre- or post-dinner drinks, Boleros is muy bueno.
Sky Bar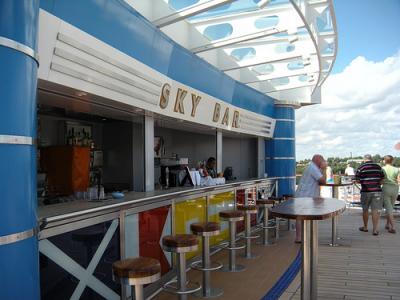 I've noticed onboard Royal Caribbean there's usually a set of cruisers that seem to always be near the pool for most of the cruise and by far, the "cool people" are hanging out at the Sky Bar.  Located at the top of the pool decks, Sky Bar offers a great vantage point to see what's going on in the pool and around the area.  Since Sky Bar is outdoors, there's usually a great breeze and plenty of sun to take in.  
What I really like about Sky Bar is it's one of the best outdoor bars if you're feeling social.  It's kind of like the Cheers of Royal Caribbean, where if you hang out long enough, everyone will know your name (especially if you're buying).