In:
Royal Caribbean's Oasis of the Seas was revolutionary when she debuted in 2009, and more than 10 years later, she is still one of the most beloved ships in the fleet among cruisers.
Her $165 million transformation in 2019 added a thrilling combination of new Royal Caribbean experiences for guests to enjoy.
With so much to like about this ship, here is a look at some of the most frequently asked questions about Oasis of the Seas.
Where does Oasis of the Seas depart from?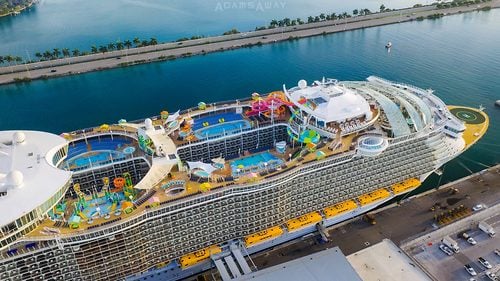 Oasis will offer 7-night Bahamas cruises from Cape Liberty, New Jersey, starting Sept. 5; and 7-night Eastern and Western Caribbean itineraries from Miami, beginning November.
While sailing from PortMiami, Oasis of the Seas sails from Terminal 1.
When was Oasis of the Seas refurbished?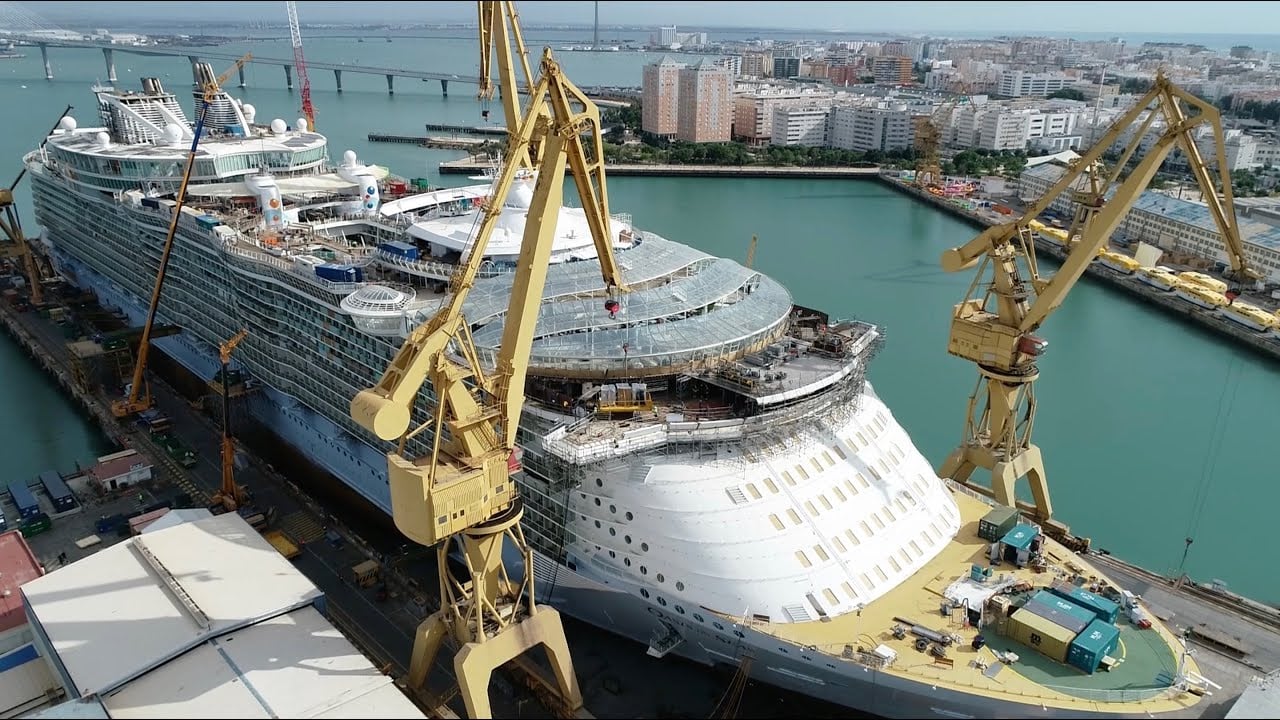 Oasis of the Seas underwent a refurbishment in 2019 as part of the Royal Amplified program, that added a number of changes, including , including the cruise line's first barbecue restaurant, Portside BBQ; and guest favorites, from the tallest slide at sea–the Ultimate Abyss–to popular live music venue Music Hall, and a reimagined, Caribbean pool deck. 
There were quite a few changes made, but here are the most noteworthy ones:
Caribbean-style pool deck makeover, complete with Lime & Coconut signature bar. New day beds, casitas and variety of seating were added.
Ultimate Abyss slide (dry slide)
The Perfect Storm water slides
Splashaway Bay aqua park
Portside BBQ specialty restaurant
El Loco Fresh complimentary Mexican restaurant
Playmakers Sports Bar & Arcade
Sugar Beach candy shop
Spotlight Karaoke venue
Music Hall venue
Bionic Bar
Revamped Adventure Ocean
Mission Control: Apollo 18 escape room
In short, the 2019 upgrades to Oasis enhanced the ship to bring it in line with any new cruise ship available to sail on today. These additions are aimed to keep the ship just as relevant and intriguing as any new Royal Caribbean ship.
How much does it cost to go on Oasis of the Seas?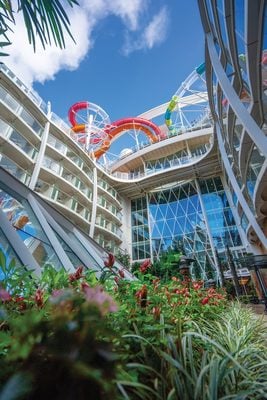 The price for a cruise on Oasis of the Seas will depend on a variety of factors, so pricing can really run the gamut of options.
Many first timers are curious how much does a cruise cost. The total cost is a combination of the cruise fare, transportation, gratuities, beverages, specialty dining, shore excursions, internet, photos and more.
How much a Royal Caribbean costs depends so much on the choices you make before and during the cruise. Many of the extra costs are optional, but then again you are on vacation and indulging is what makes vacation so fun.
With a few exceptions, Oasis of the Seas typically offers 7-night cruises with prices that are budget friendly, as well as more extravagant suite options for those that want to splurge.
Is Oasis of the Seas a good ship?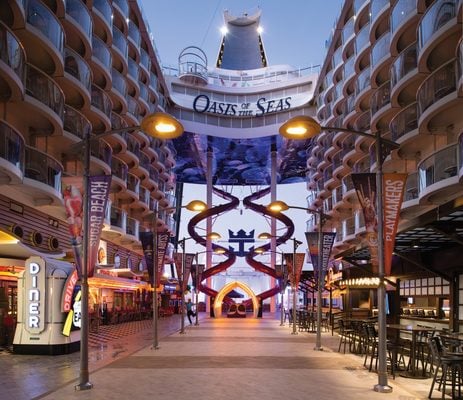 It is very common to be curious if Oasis is a "good ship", especially among new cruisers.
Oasis of the Seas is not only a great ship, she is among the best ships in Royal Caribbean's fleet in terms of the amenities and activities it offers, quality service onboard, and the latest innovations.
The ship is one of the largest ships in the world, with plenty of space to offer things to do onboard for guests of all ages. Water slides, specialty dining, an escape room, pools, ice skating, a Broadway show and more await you on this ship.
Does Oasis of the Seas have formal nights?
Yes, on a 7-night sailing, Oasis of the Seas will offer two formal nights. 
Formal night will be held on Day 2 and 5 on Western itineraries and Day 2 and 6 on Eastern itineraries. 
What times are the shows on Oasis of the Seas?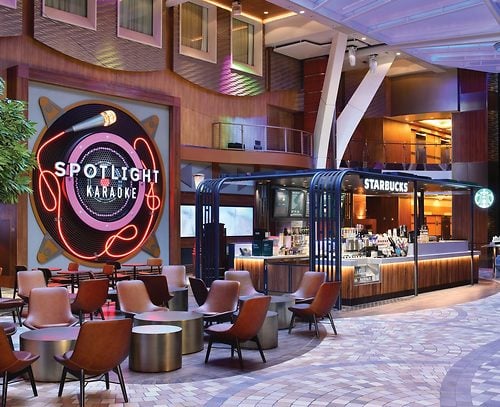 Exact times of shows and activities will vary from sailing to sailing.
To get a ballpark idea of what shows, activities and times are on Oasis, consult a past Cruise Compass. Copies of a recent Cruise Compass are a great way to learn about what your ship offers, as well as get an idea of what to expect in terms of show times.
Royal Caribbean does allow guests to pre-book shows on Oasis of the Seas via the Cruise Planner site.  Around 45-60 days prior to sailing, entertainment for Oasis of the Seas becomes available to book. Reserving a show time has no additional cost, and assures you of a spot in a specific performance.
If you are unable to book a show in advance, there is always a standby line available to wait in, which means closer to show time, any open seats will be available on a first-come, first reserved basis.
What restaurants are free on the Oasis of the Seas?
Windjammer
Park Cafe
Boardwalk Dog House
Solarium Bistro
El Loco Fresh
Sorrento's
Cafe Promenade
Main Dining Room
Johnny Rockets (breakfast only)
How many pools does Oasis of the Seas have?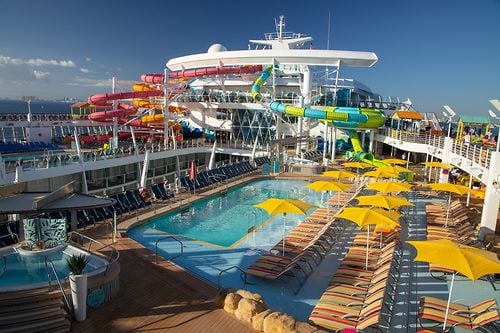 There are four primary pools on Oasis of the Seas, along with a series of whirlpools, and Splashaway Bay aqua park.
The pools are not heated. The Beach Pool is saltwater, and the other pools are fresh water filtered pools.
The pools are located on deck 15 and 16.
What shows are playing on Oasis of the Seas?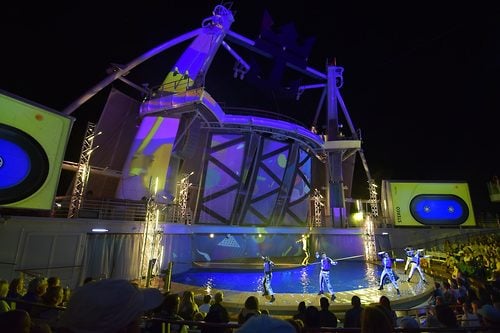 Among the many things to do on Oasis of the Seas are the signature shows. This includes:
Cats, the Broadway musical, in the Royal Theater
One Sky in the Royal Theater
Aqua80s in the AquaTheater
Frozen in Time in Studio B
There is no additional cost to see these shows
Is Oasis of the Seas the largest cruise ship in the world?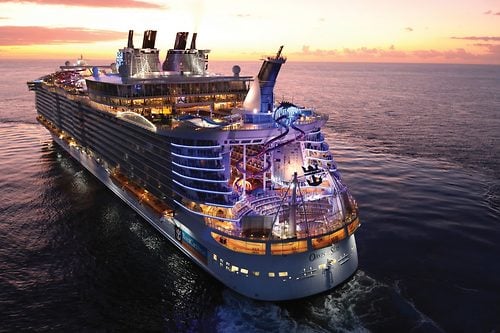 While Oasis of the Seas used to be the largest cruise ship in the world, she no longer holds that title.
Oasis is the fourth largest cruise ship, having been surpassed by sister vessels Allure of the Seas, Harmony of the Seas and Symphony of the Seas.