In:
Among the many changes Royal Caribbean made to Oasis of the Seas during her 2019 amplification was the addition of the first barbecue restaurant to the fleet.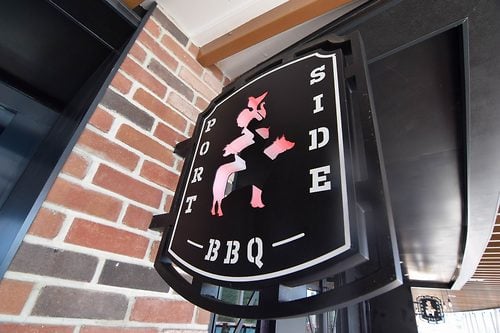 Portside BBQ is a new specialty restaurant that offers slow cooked, smoked meats that are popular across the United States. This is a type of cuisine not well-represented on Royal Caribbean in the past, and aims to fill in that gap for guests.
Portside BBQ is a specialty restaurant that offers items on an a la carte basis, which means there is no cover charge to dine here; instead, you pay for what you order. Unlike most other specialty restaurants, this is a counter service restaurant, where you order your food at the counter and take your order back to your table.
Royal Caribbean placed Portside BBQ on deck 15 of Oasis of the Seas in the former location of the teen club. The restaurant has a bit of a rustic feel to it, with wood floors inside, dark wood tables and brick walls all around.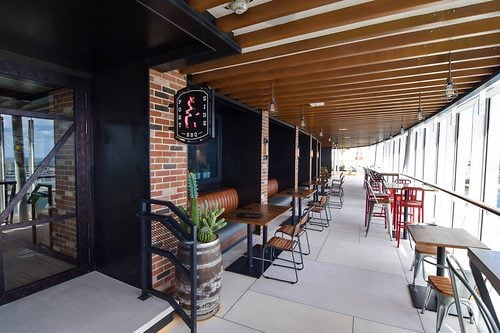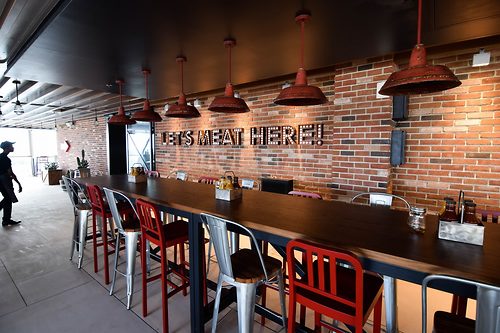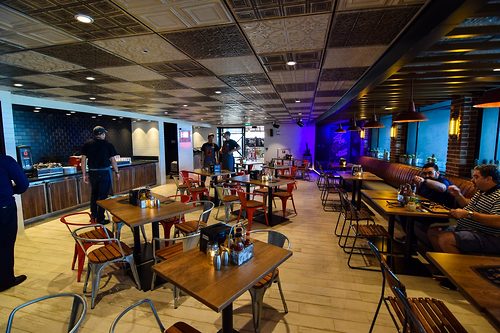 There is outdoor seating, both along the port side of the ship as well as behind the restaurant.  There is a surprisingly large amount of seating available at Portside BBQ, so even at its busiest, you should have no issues finding a spot.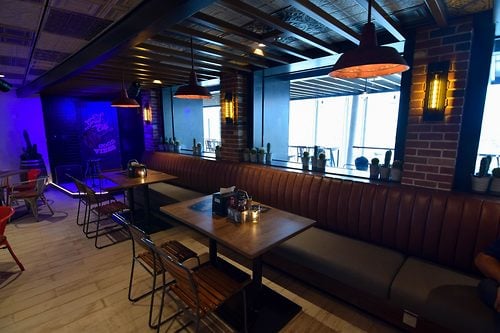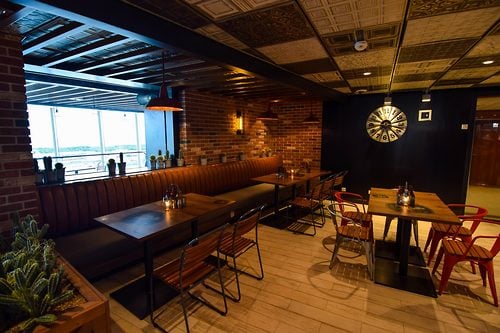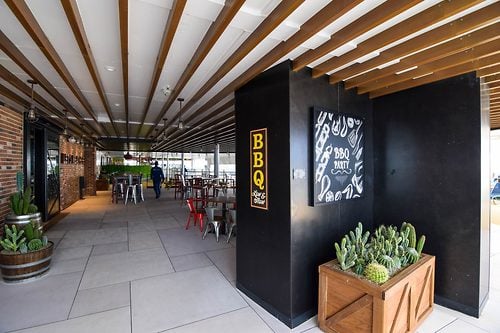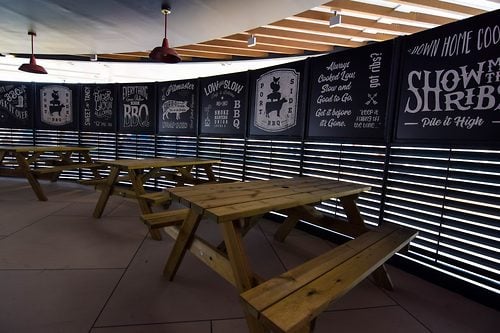 Portside BBQ has three menus to match its serving times: lunch, dinner and late-night.  The lunch and late-night menu is a smaller menu that primarily offers combos, whereas the dinner menu greatly expands the options provided.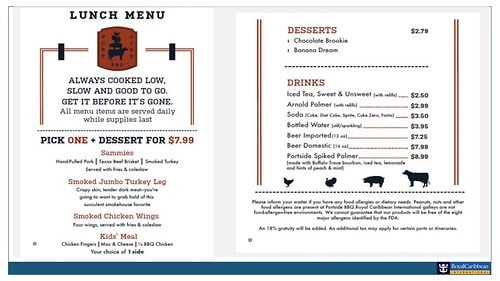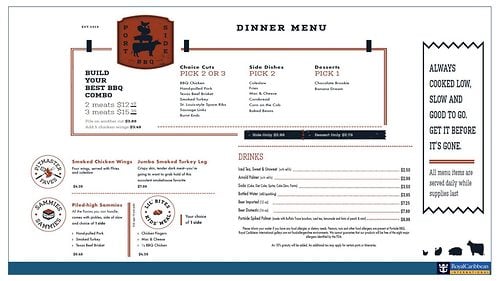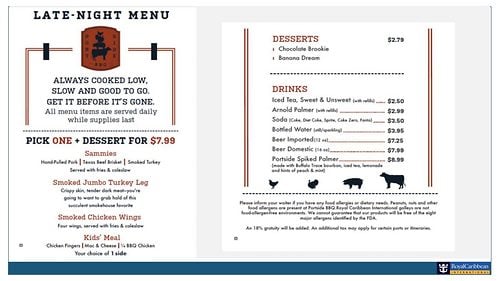 In terms of the food offered, there is a variety of turkey, pork, beef and chicken options to consider. Brisket, smoked turkey, pulled pork, chicken wings, spare ribs and more are available to enjoy. Royal Caribbean aimed to cover the major barbecue categories.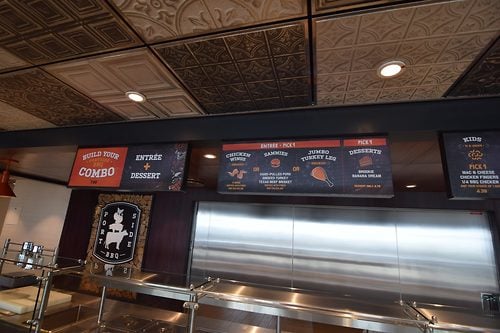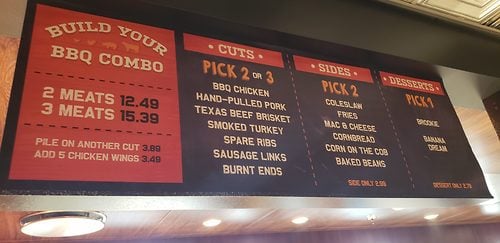 Photo by AshleyDillo
Speaking of the meats, barbecue aficionados know how critical smoking the meat is to a great meal.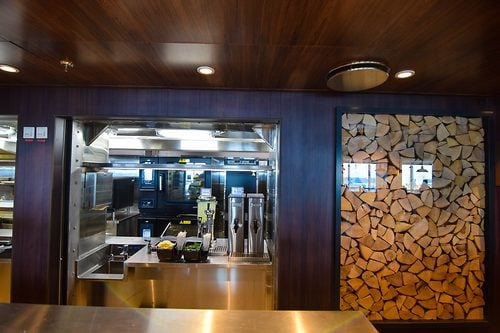 At Portside BBQ, the cruise line introduced a bold hickory flavor that uses smoke from real wood. The Combi Oven Smokers slow cook chicken and burnt ends along with the meats and the oven technology locks in the flavor by improving cooking capacities with reduced moisture loss. Each oven is specifically programmed to perfectly cook all the BBQ items. Hickory wood chips are used in small portions to give just the right smoky flavor, and small batches are cooked throughout the day to provide fresh food for guests, while infusing the air with just enough smoke aromas to spark their appetite.
In addition, you will find traditional bbq sides to enjoy, like coleslaw, mac & cheese, cornbread and more.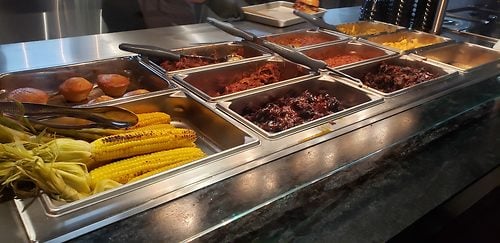 Photo by AshleyDillo
There is also a variety of sauces you can add on your own once the food is delivered.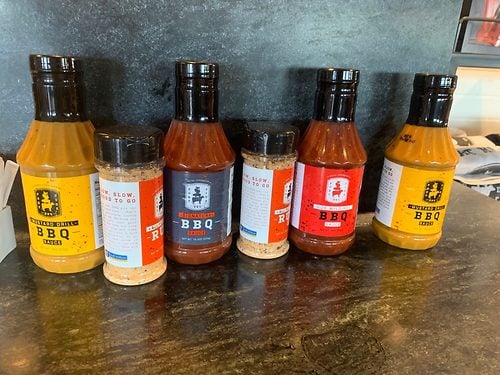 I freely admit that I did not grow up in an area of the United States where barbecue is a way of life, so I am by no means the mayor of any flavor village. That being said, I enjoy a well-cooked and juicy piece of meat as much as the next Yankee.
On my first visit to Portside BBQ, I opted for the beef brisket at lunch, while my table mate went for the pulled pork sandwich.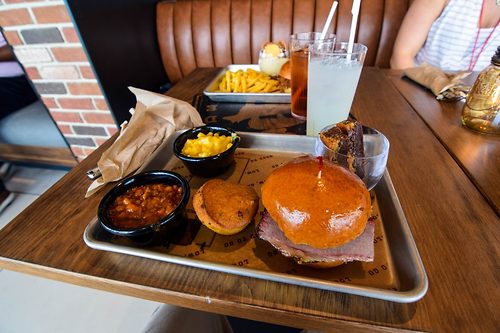 The first thing I noticed about the brisket was how incredibly tender the meat tasted, as well as how flavorful it was.  By default, the sammies are served with coleslaw and pickles, sans any sauce.  Without getting into the "does good BBQ need sauce" debate, I opted to eat the food as it was prepared, and I loved it.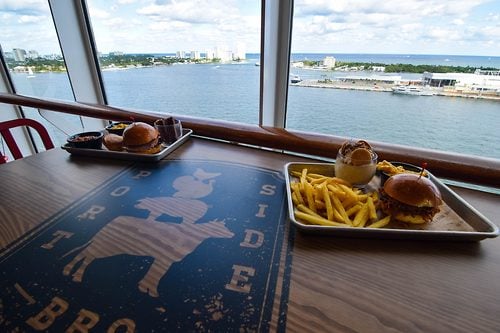 The pulled pork sandwich was described as equally tasty, and hit all the right checkboxes when it comes to great pulled pork.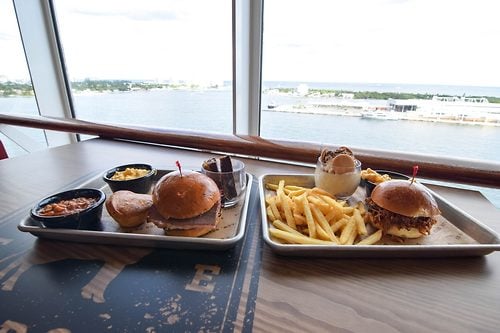 I also sampled the smoked turkey sammie, and was incredibly impressed by the taste of it. In fact, I ended up ordering the smoked turkey over the brisket on later visits to the restaurant because it really hit the spot for me.
Out of sheer curiosity, my daughter decided to try the smoked jumbo turkey leg, and I was leery she wasted $8 on something she would never eat. As it turned out, the turkey leg became her new favorite cruise food and requested we eat at Portside BBQ for lunch every day for the turkey leg. I think it is safe to assume she liked it.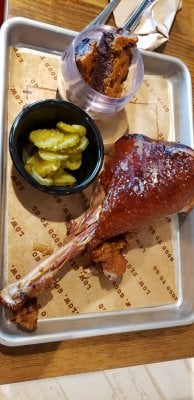 Photo by AshleyDillo
The sides provided were just as compelling.  In fact, I found myself munching on the sides more than I expected to because they were just that good.  Gooey, yellow, and thick mac and cheese is the ultimate comfort food, and I ended up doubling down on mac and cheese on subsequent visits.  The beans where combined with burnt ends, and had a fantastic, tangy flavor.
While you probably come to Portside BBQ for the meats, stay for the dessert. The chocolate brookie is a combination of cookie and brownie, and I cannot come up with the proper superlative to describe the taste, but it is a must-order.  If you love bananas in your dessert, the Banana Dream is also very good.
Looking at the prices of Portside BBQ, it represents a pretty good value all around.  Considering you can get an entree for lunch, along with two sides and a dessert for $8, you get a lot for the money.  At dinner, they include an additional meat or two for a few dollars more.  Stretchy pants optional.  If you are dining with a specialty restaurant package, you can dine at Portside BBQ and be provided a $20 per person stipend per visit, which is ample for enjoying what the menu offers.
Prior to dining at Portside BBQ, I would never have told you I was much of a barbecue food fan, but now I am ready to drive to Texas, Kansas City or Alabama to sample more of this food.  That, or I could just re-book a cruise on Oasis of the Seas.
Disclosure: I dined at Portside BBQ on multiple occasions, although my first meal was provided to me at no cost by Royal Caribbean for purposes of review.  I paid on my own for subsequent visits.
What are your thoughts on Portside BBQ? Leave us a comment and tell us about it below!