In:
When your clothes get dirty, soiled, or just need to be pressed, how do you handle laundry on a Royal Caribbean cruise?
Going on vacation for even just a few days will likely result in a lot of dirty clothes, and you may want your options are to take care of wrinkles, stains, and what to expect if you want to have your clothes laundered.
Laundry options on a cruise ship are limited compared to on land, especially if you're used to doing it yourself.
Since keeping clothes clean and wrinkle-free is something a lot of cruisers worry about, here's what you can expect when it comes to cruise ship laundry.
Self-service laundry options
If you'd like to do your own laundry on a Royal Caribbean cruise, you wont find any facilities to do it yourself.
Royal Caribbean does not offer any self-service laundry options. This includes washing machines or dryers.
Moreover, Royal Caribbean does not provide irons to use in any cruise staterooms.
Keep in mind that Royal Caribbean prohibits passengers from bringing irons onto the ship, because they are a fire hazard. It will be confiscated for the entire voyage.
Paid laundry and dry cleaning options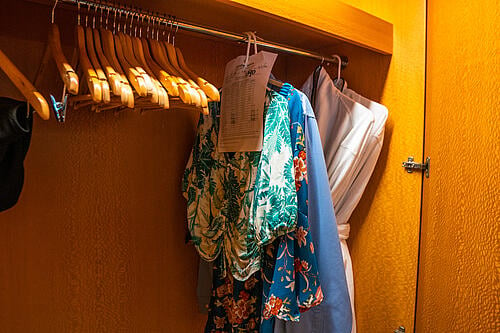 While you wont be able to do laundry on your own, there are paid laundry services available to Royal Caribbean passengers.
Both washing and dry cleaning services are available on all Royal Caribbean cruise ships.
For either option, you need to provide your stateroom attendant with the clothes to be cleaned, as well as a form listening all the garments. Look for a bag and form hanging in your cabin closet that you can use.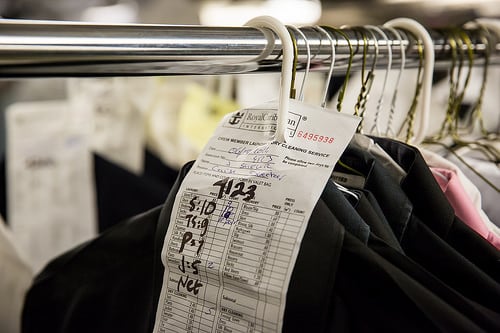 Once you have the form filled out and the clothes in the bag, just leave it on your bed and the cabin attendant will pick it up at their next cleaning.
Royal Caribbean offers:
Wash & Press
Pressing only
Steaming only
Dry Clean & Press
 The cost of the order will be deducted from your SeaPass account.
How much does laundry cost on Royal Caribbean?
The exact price depends on which laundry service you want, if it's expedited or not, and the type of clothing.
Pressing or steaming only will be the least-expensive laundry option, with dry cleaning being the most expensive.
How long does it take for Royal Caribbean to do your laundry?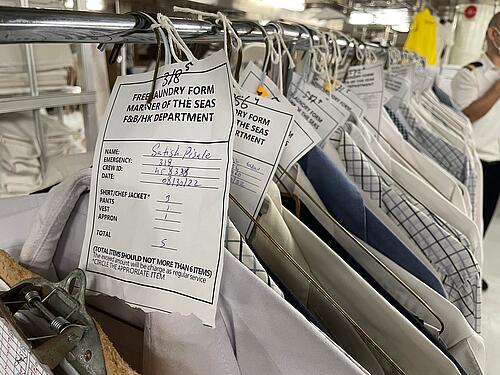 The standard turnaround time for laundry on a Royal Caribbean ship is the next day by 5:30pm. This assumes you drop the clothes off with your stateroom attendant the day before.
Royal Caribbean also offers same day laundry service at a 50% extra charge.
Same day service must be picked up before 11am, so that it can be done before 5:30pm.
Wash and fold specials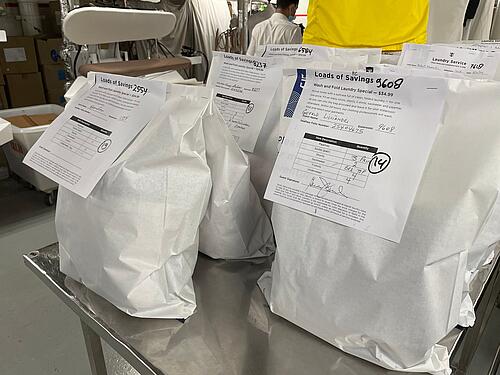 Royal Caribbean ships usually offer a "Wash & Fold" special, where you can get as many clothes washed and folded that you can fit in one bag for a fixed cost.
For $34.99, you get a bag (usually plastic) that you can fill to be washed and folded for $34.99. Royal Caribbean says you can "fit as much as you can into the bag provided."
Just as your stateroom attendant for this special, although it's also advertised in the Cruise Compass as well.
How to get free laundry on Royal Caribbean
One of the best Crown and Anchor Society perks are for passengers that are at least Diamond Plus actually get this for free once per cruise.
Read more: The Crown and Anchor perks you should use on every Royal Caribbean cruise
While not free, there are discounts for the Wash & Fold bag for Gold members and higher (basically anyone that's cruised before).
If you're staying in a suite (Grand Suite or above), you automatically qualify for complimentary clothes pressing for the first formal night only.
Since the first formal night is usually the second night of the cruise, all you need to do is ask your stateroom attendant about the service on the first day so that there is sufficient time for it the pressed and returned to you before formal night.
Read more: What are the Royal Caribbean suite perks?
Laundry hacks to clean clothes yourself
While you wont find laundry machines you can use, there are a few ways to get laundry done on your own without paying the cruise line.
The tried-and-true method is to bring single-packet detergent on the cruise and then fill your sink up with water to wash small loads of laundry.
Wash the clothing in your sink and then hang the clothes to dry in your shower on the laundry line provided by the cruise line. This is best for undergarments and shirts, and kids clothing.
If the clothes don't dry fast enough, there is a hair dryer in the room you can use on anything that stubbornly won't dry.
Some cruisers on longer sailings (or back to back cruises) will bring their own clothes lines so they can dry more clothing at the same time.
Another idea is bring wrinkle-release spray that is useful for keeping clothes looking good after being packed away in your suitcase.