Restaurant Review: Silk on Quantum of the Seas
In:
On Royal Caribbean's brand new Quantum of the Seas, you will find the complimentary restaurant Silk that offers a variety of Asian dishes.
Silk offers Chinese, Japanese, Thai, Vietnamese and Indian dishes in one restaurant.  Being a lover of Asian food, I had to try this on my recent Quantum of the Seas cruise.
Atmosphere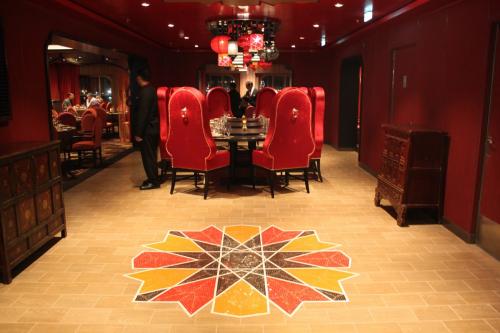 Located on deck 4 on Quantum of the Seas, Silk is located in the aft of the ship across from American Icon Grill.  Walking into Silk is a lot like walking into the other three complimentary restaurants where there is a large foyer that leads into a larger dining room.  
Silk's look encompasses a lot of yellows, oranges and browns in color in a restaurant that has touches of India and the Far East.  When you walk in, you'll definitely know it's an Asian restaurant but without being able to pin point which kind, and that's definitely what Royal Caribbean was going for.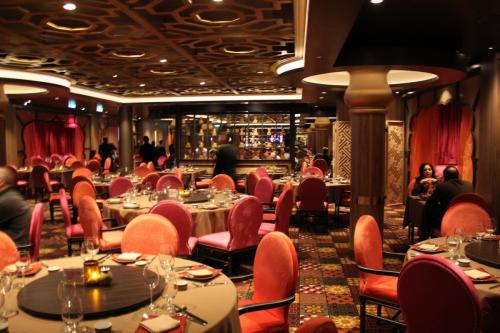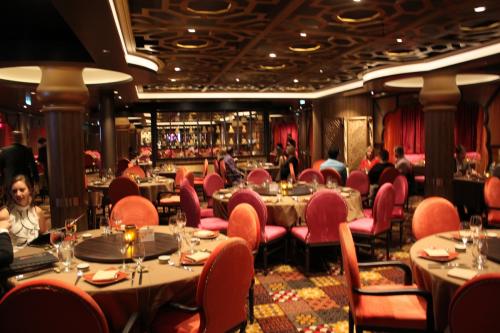 The main dining area is a large room with smaller alcoves on the sides that offer mostly tables and a few booths as well.  Once you dine in any of the complimentary dining rooms, you will start noticing the similar layouts but the decorations and color scheme help keep each from feeling like a copy of the other.
Eats
Once you're seated in Silk, you will get the menu to choose from. There's food from India, China, Thailand and Vietnam but it felt like it greatly skewed towards Thai and Chinese moreso than others.
I was seated at a table with other passengers and we all decided to order one of each of the appetizers to try, which is a great option for the group.  In the middle of the table is a lazy susan that you can put dishes on and share them easily with others.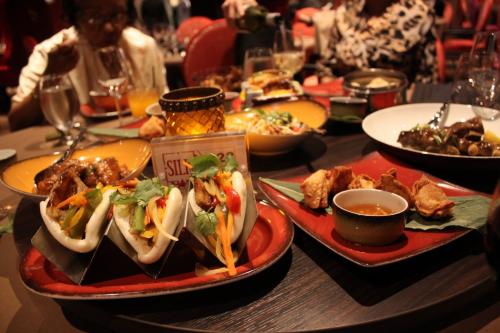 Each of the appetizers were just large enough to probably be able to share with another person.  For our group, it was great to be able to share these dishes and many of them lent themselves for sharing.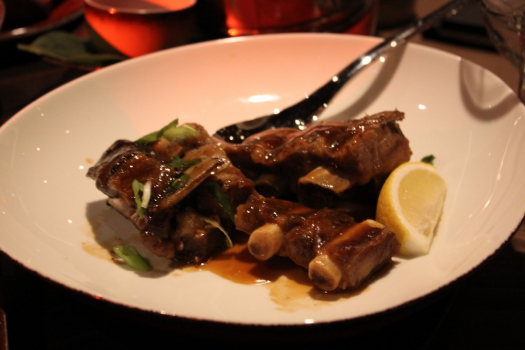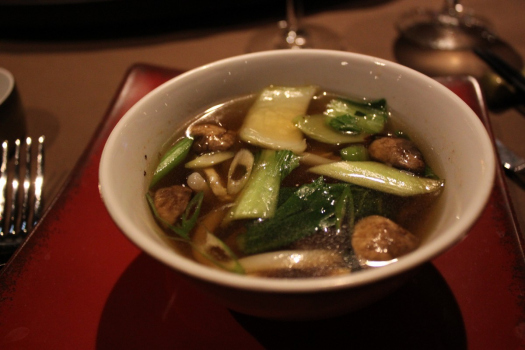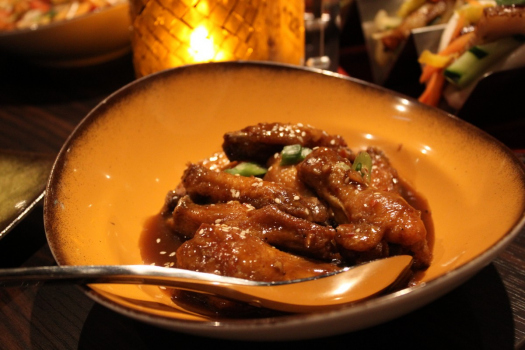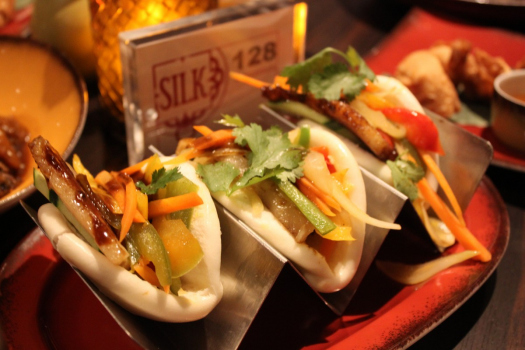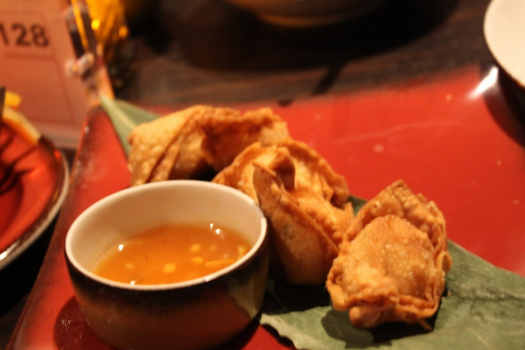 The big winners were the Vietnamese Tacos, Hot Ramen Noodle soup and chicken wings.  I especially liked the green papaya salad, which was a surprise hit.  I just found myself getting more and more of it.  
When it comes to Asian food, some people are concerned about the food being too spicey.  Most of the food was pretty tame in terms of spice and the dishes are more Americanized versions of these dishes rather than authentic recreations.  You can also tell the wait staff to keep it mild when you order.
For dinner, I had to go with the only Indian dish on the menu, the chicken tikka masala.  I'm a self-described Indian food nut and I always sample a lot of Indian food in the Windjammer when I get the chance.
Sadly, the chicken tikka masala was the only Indian dish on the meny on the evening I was there so it was an easy choice for me.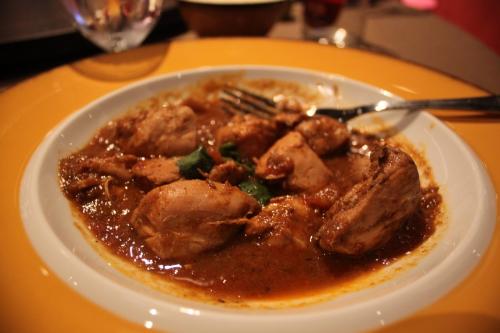 I really liked my choice because it was a good curried chicken dish that had soft pieces of chicken in a great curry.  The coconut jasmine rice was wonderful with the curry (you have to mix the rice with the curry to really appreciate it) and I ate every single morsel of food off that plate.
The other passengers I was dining with had mixed reactions to their main dishes.  I don't think anyone hated their food, but they weren't favorites.  
Overall
I was a little disappointed in my meal at Silk, perhaps because I had such high expectations for it.  If it were up to me, I'd eat nothing but Asian food at home so hearing about a dedicated Asian restaurant on Quantum of the Seas got me excited.
There were definitely a few dishes that were quite good but I left Silk with the knowledge this wouldn't be my favorite restaurant onboard.
My issues aside, I still think I'd be fine eating here on another night, it just wasn't the home run I was hoping for.  Silk offers a mix of good and average dishes.  Since it's complimentary, I'd suggest over ordering so you can sample a little of everything and figure out what you really enjoy.