In:
Of all the specialty restaurants on Harmony of the Seas, perhaps none are as synonymous with the ship as 150 Central Park.  The creation of Miami chef Michael Schwartz, 150 Central Park is an iconic specialty restaurant among the Oasis Class cruise ships, and yet a restaurant I had never visited much in the past.  In fact, I had only been once, so on my recent Harmony of the Seas cruise I wanted to give it another visit.
150 Central Park may look hoity toity, but in reality it is no more formal than nearby Chops Grille.  In fact, the sophisticated charm of 150 Central Park is what makes the restaurant stand out.  With a varied menu and the rise of specialty dining packages, it seems more and more guests are giving 150 Central Park a try, and I wanted to join in.
Atmosphere
As the restaurant's name implies, 150 Central Park is located in the Central Park neighborhood of Harmony of the Seas. In fact, it is smack dab in the middle of the park.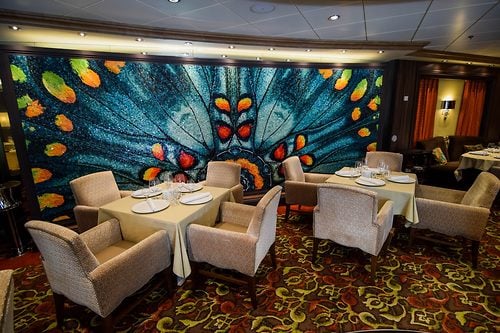 Walking into the restaurant, you will enter a large dining room comprised mostly of tables (no booth seating here).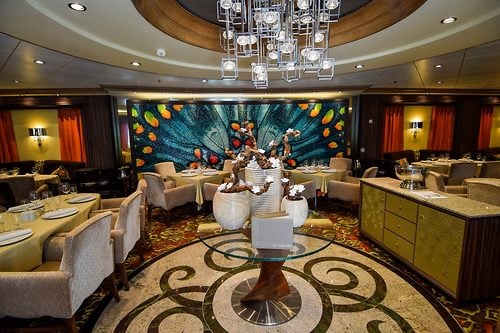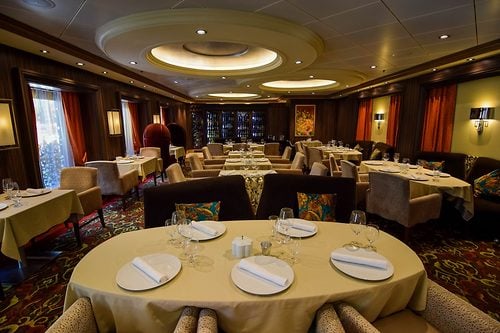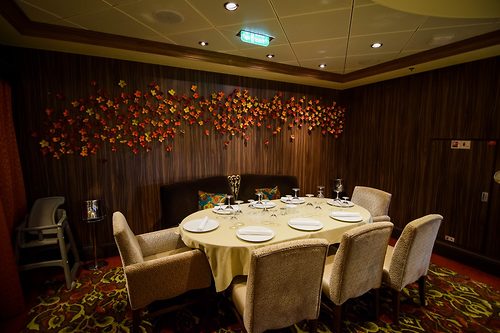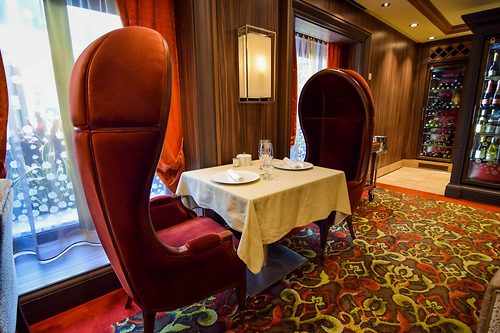 The restaurant's decorations evoke a modern feel, with a refined look to it.  To me, it can best be described with the oxymoron of being casually elegant.
Eats
What drew me to trying 150 Central Park on Harmony of the Seas was a recent experience by fellow blogger, Michael Poole. Michael had raved about his dining experience and the food he wrote about looked quite compelling, so I wanted to give it a try.
150 Central Park has a cover charge, which means all the food on the menu is included in your fare (minus select beverages).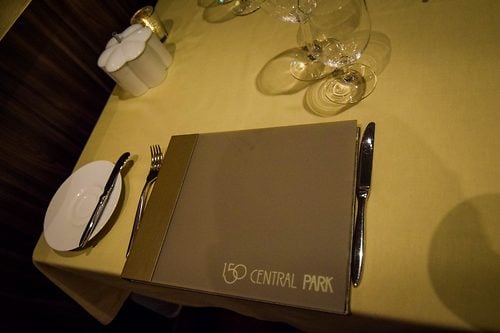 Every meal at 150 Central Park begins with an assortment of breads, butter and six (yes, six!) varieties of salt.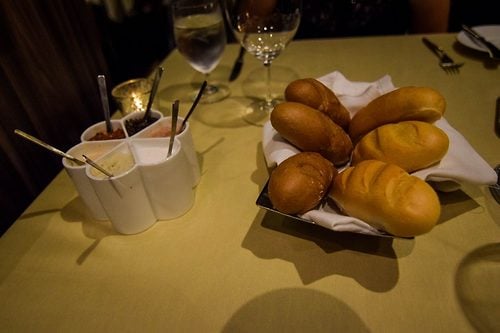 Your waiter explains what each salt is, and they all have various flavors.  Some are tame, while others have some kick to it.  While I doubt anyone ever goes to a restaurant and wishes they had more salt varieties, having this choice was a nice touch and it makes the usual bread appetizer a bit more interesting.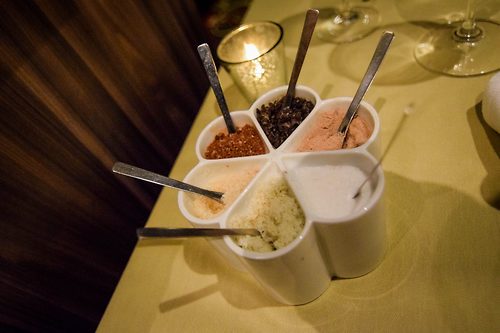 Looking over the 150 Central Park menu, it is among the simplest menus of any Royal Caribbean specialty restaurant.  I was expecting to find more haute cuisine, but there were so many great choices to consider.
My wife and I started off the meal with slow roasted butternut squash soup.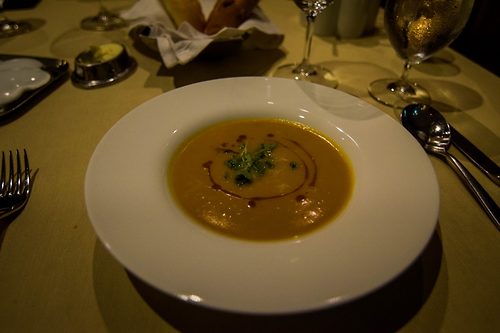 I have not found a butternut soup that I did not enjoy, and this was no disappointment either.  Great flavor.
I also decided to try the veal Bolognese agnolotti.  I wanted to branch out a bit, and I generally always enjoy a good Bolognese sauce.
I had never had agnolotti pasta, which consists of small pieces of flattened pasta dough, folded over and stuffed with veal.  All in all, I really liked this too.
I am a self-described tuna fiend, and when I saw tuna tartare on the menu, I jumped right for it.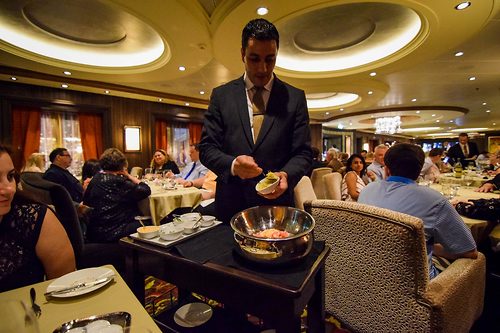 The tuna tartare is prepared table side by your waiter.  Our waiter brought the card to our table and explained what he was doing as he prepared it, and then served it to me.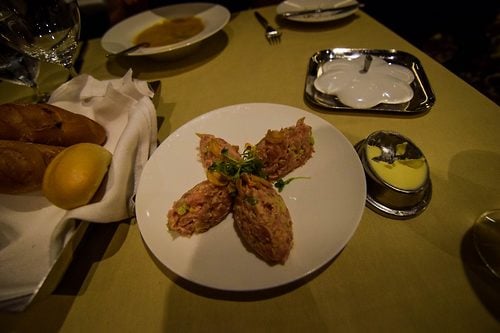 I liked it (and ate the whole thing) although the consistency of it was closer to tuna fish than chunks of tuna.  Still, a very smooth taste and I enjoyed the various ingredients they combined with the tuna to make it all work.
For our entree, my wife and I ordered the 18oz. roast tenderloin of beef.  We had seen photos of it from Michael's blog post, and really wanted to try it out.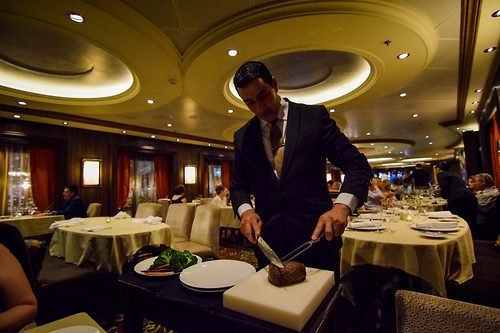 Like the tuna, the beef tenderloin is prepared and carved at your table.  The menu says it is for two guests, and I definitely found there to be enough for both of us.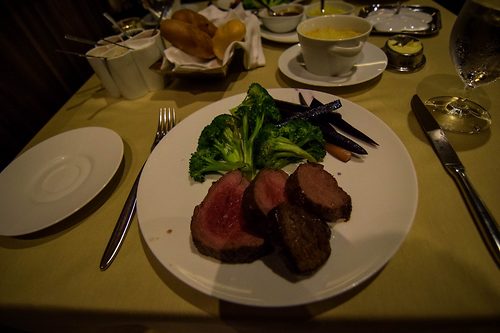 Having previously eaten at Chops Grille the night before, and would later eat at other specialty restaurants onboard, I can safely say the beef tenderloin at 150 Central Park was the best steak I ate on Harmony of the Seas.  Moreover, I think this might have been the best steak I have had in recent memory.  It had incredible flavor and was cooked to perfection.  I later tried to convince my wife to book 150 Central Park again in the sailing purely as an excuse to eat the steak again.
The desserts were up next, and I selected the lychee tres leches.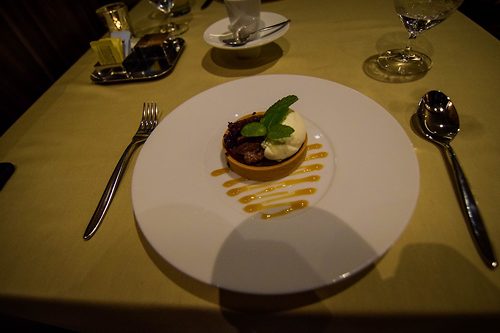 Flavor was great, although not sure it was my favorite thing ever.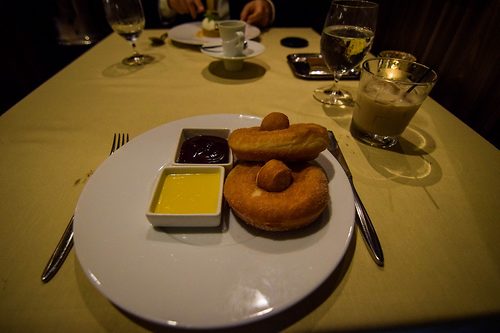 My wife opted for the warm doughnuts.
We both sampled them and thought the doughnuts tasted more like type of doughnuts you might find at a Chinese restaurant, rather than Dunkin Donuts.  Still, a good choice, especially when dipped in the chocolate sauce.
Conclusion
After eating at 150 Central Park, I regretted not eating there sooner on prior Oasis Class cruises.  The steak for two alone is worth the price of admission, and I will be making a point of dining there again on my upcoming Harmony of the Seas sailing.
Service sometimes gets overlooked in my restaurant reviews, but our waiter, Adel, was excellent.  Very attentive, good sense of humor and paced the meal perfectly. 
Overall, I enjoyed the meal quite a bit. I think 150 Central Park is a perfect choice for a night out to celebrate a special occasion, but the food holds up for any excuse to dine out.  Do not make the mistake I did of assuming it is some sort of fancy restaurant for those that are super-adventurous eaters and prefer to dine in formal wear. 
Cost: The cost for 150 Central Park on Harmony of the Seas is $45 per guest for dinner.