In:
I have a little secret, and it is something you probably are keenly aware of if you have been reading Royal Caribbean Blog for a while.  I have some serious favorites among Royal Caribbean specialty restaurants.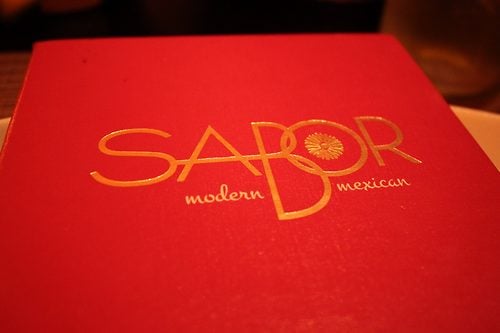 But when it comes time to discuss some of the best choices for specialty dining, there are a lot of great choices out there.  Still, relative newcomer Sabor Modern Mexican continues to win my heart since it opened just a few years ago.
If you are wondering why, there are lots of reasons for that.  The restaurant boasts, in my opinion, the best guacamole I have ever eaten - some even better than guacamole in Mexico.
And truth be told, we make multiple reservations at Sabor Modern Mexican whenever we cruise on a Royal Caribbean ship that offers this restaurant in the name of "research" and seeing what is different, new and just plain tasty.
Atmosphere
Stepping into Sabor Modern Mexican for the first time, you will likely be struck by a couple of things.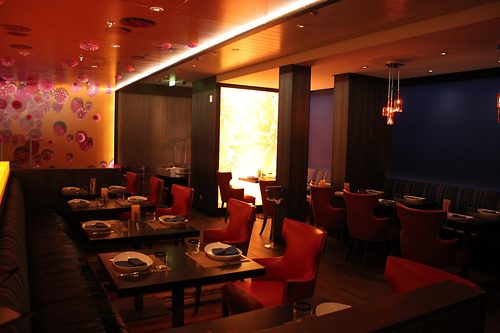 First, while Sabor Modern Mexican is a Mexican restaurant, it looks nothing like the kind of Mexican restaurants most folks dine at.  Royal Caribbean designed Sabor Modern Mexican to not be just another Tex-Mex spot.  Rather, they wanted to offer more authentic and fresh options.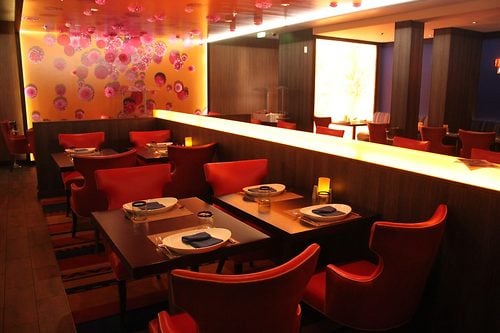 I really love the colors of Sabor, with lots of dark reds, bright yellows and deep blues.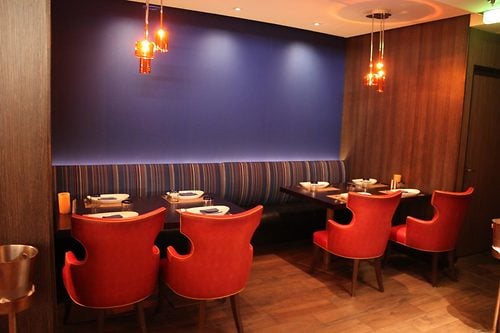 Second, you are very likely to notice crew members if you happen to glance around (especially at dinner).  It is always a good sign when you see crew members dining at a given restaurant, because it indicates they like it enough to go there on their time off (and on their dime).  
For a restaurant that is not that large in size, they fit a lot of tables and booths in.  
There is even a main table that will make you feel like the guests of honor, if you happen to dine here.  I am told there is nothing special to do to dine there, just request it if your dining party is large enough.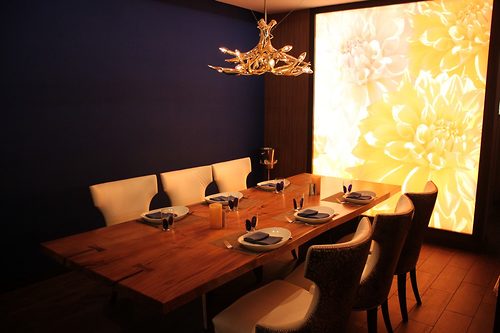 The other design element that you are likely to spot is the use of flowers.  Specifically, the dahlia flower, which is the official flower of Mexico. 
Eats
In Spanish, the word "Sabor" means flavor, and Royal Caribbean designed this menu to be a fiesta for all your senses.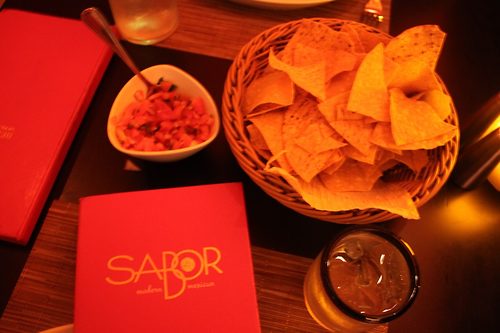 An easily overlooked aspect of your Sabor meal are the beverages.
Sabor features a number of specialty drinks, including two hand-crafted margaritas that are made table-side.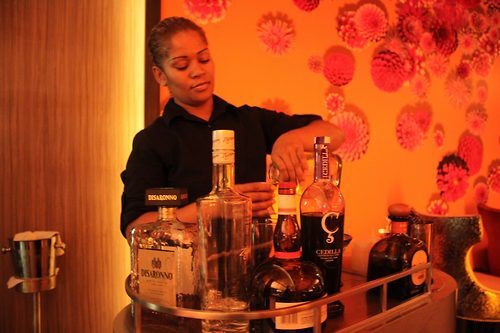 There are no mixes here, the margaritas are a blend of tequila and fresh juices mixed with unexpected garnishes. 
The Sweet and Spice Margarita and the Sabor Grand Margarita are the premier choices, but you can pick from another half-dozen cocktails that are just as tasty and creative.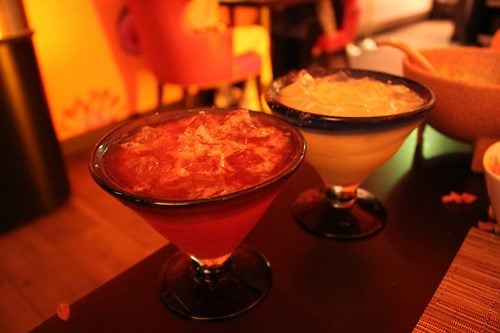 If you fancy yourself a margarita fan, I think you will really enjoy the variety of margarita choices.  You have the traditional margaritas (Sabor Grand and Simply Perfect), but there are also the avocado and jalapeno-cucumber margaritas.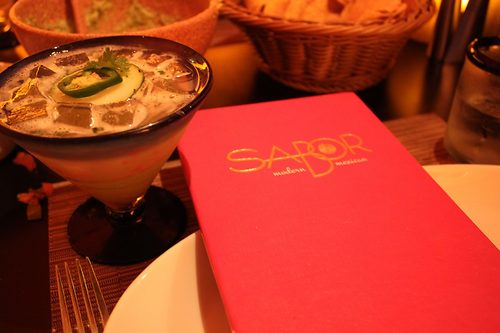 Sabor is also a wonderful place to try tequilas, because their tequila flights are exquisite and quite potent.  They are a tremendous value and really do the trick.
To help soak up some of those drinks, you will be served chips and salsa upon being seated.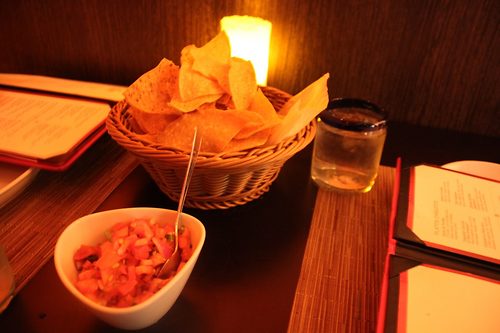 The chips are definitely not from a bag and the salsa is freshly made pico de gallo that I recommend keeping some always around to garnish your other dishes (in addition to crazily dipping your chips).
Of course, if we are talking about Sabor, then there is always one word that comes to mind: GUACAMOLE!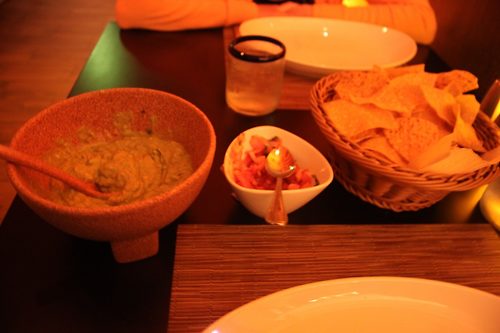 Sabor has built its reputation among Royal Caribbean fans (including this one) for its amazing hand-crafted guacamole.
A crew member will wheel over a cart to your table and ask how you would your guacamole prepared, so it suits your tastes.  You can get it extra hot, extra mild, no tomatoes, extra limes....whatever you like.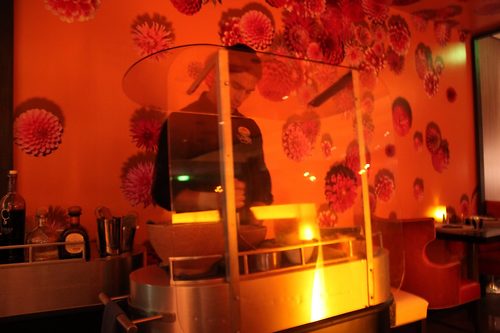 Regardless of how it is prepared, the stuff comes out simply outstanding.  Excellent flavor and texture combined with super-fresh ingredients.  It is the gold standard of guacamole I judge all other guacamole against.
Perhaps the worst thing I can say about Sabor is at this point in the meal, it is really difficult to exercise some self control to not fill up on just the food and drink I have described up to this point.
Moving onto the dishes, there are a lot of choices.  Sabor Modern Mexican has a simple cover charge, so you can order as many dishes as you want.
Our two favorite appetizers are the sopa de tortilla and queso fundido.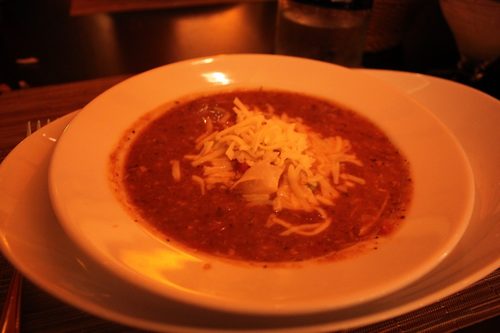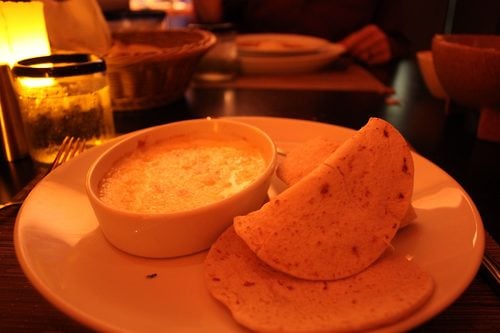 Both are great starters.  Even on a hot Caribbean day, the soup really hits the spot with its bold flavor.
The queso is more firm than your average cheese dip, and the dipping tortillas are an excellent contrast to the traditional chips you might use as well.
While I often wax poetically about the virtues of Sabor's guacamole, the "sleeper hit" of the menu has to be tuna crudo tacos.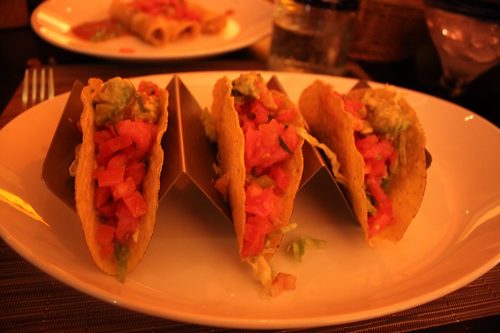 The recipe is simple enough: 3 crispy corn tortillas, fresh tuna, salsa mexicana, guacamole.  
The thing is, they taste amazing and I could easily order just these and be happy.
I also tried for the first time the spicy chicken flauta, which are rolled tortillas, filled with a spicy chicken.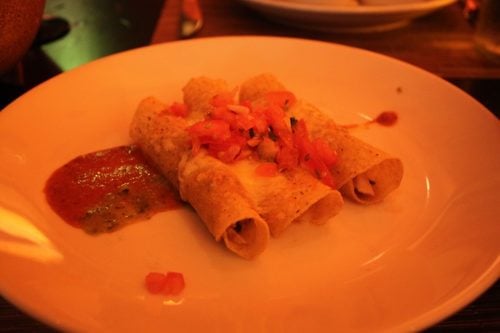 It is served with sour cream, salsa verde and tomatoes and onions, but this is the perfect dish to take some of that salsa you have on the table and drench these bad boys in it.
While it is safe to say the tuna tacos are still my favorite, the flautas are another great choice.
Speaking of great choices, Sabor's quesadillas are really quite tasty.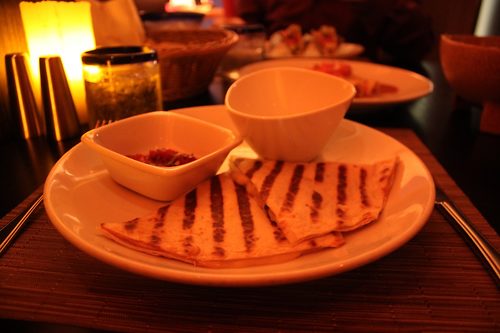 If you ask me, what makes a quesadilla different than just "Mexican grilled cheese" are the cheeses used.  In the tres quesos quesadilla, there is melted Monterey Jack, queso fresco and Chihuahua cheeses. It is a really solid combination.
If you like a little more variety in your quesadillas, try the El Juarez.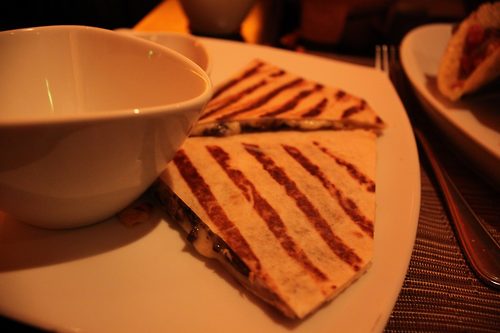 Portobello mushrooms, roasted poblanos and Oaxaca cheese are great for vegetarians or people that just like something tasty.  Again, use that salsa liberally to really turn up the flavor.
If there is one aspect of the Sabor Modern Mexican meal that goes unheralded and unrequited, it has be the desserts.
Sabor serves up a dessert sampler plate of a few different desserts and each is worthy of a plate of its own.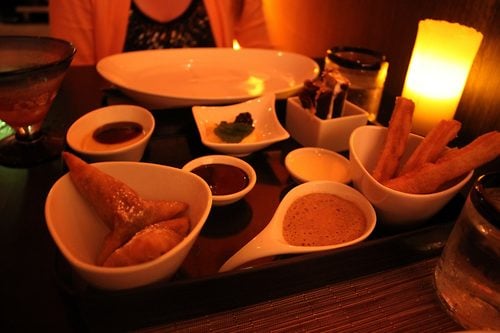 Unlike children, I do not have any problems choosing favorites. 
The chocolate banana empanadas and the chocolate crepes are, well, amazing.
The empanadas are warm, gooey blend of chocolate and banana in a fried casing.  Apologies for the drool on your keyboard.
The crepes are best described as "Mexican devil dog cakes".  It was worth the likely week of exercise required to burn away those calories.
Overall
As you can tell, I really love this place.  Sabor hits all the right notes with me, with its offerings of traditional and modern Mexican food.
I could be satisfied with just parts of this menu as a meal, so to combine them all only leaves me lamenting my stomach is not larger.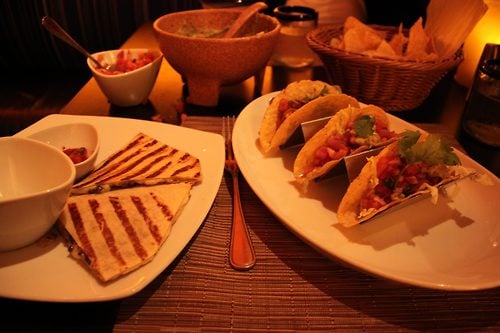 Arguably the main issue with dining at Sabor is the same issue nearly all specialty restaurants have: is it worth the extra cost?
In general, I think Royal Caribbean does a tremendous job with its specialty restaurants.  They offer food that is either nonexistent elsewhere on the ship or nowhere near the same quality. In fact, specialty restaurants are now a part of the cruise experience, just like shore excursions have been for years.  Yes, it costs extra, but it is a big part of the experience.
When you consider how many dishes I absolutely loved - the guacamole, salsa, tuna tacos, quesadillas, dessert sampler - it really justifies the additional cost because the meal at Sabor is a home run.
There are also ways to save on the cost of your Sabor meal: lunch is regularly cheaper than dinner ($5 less at last check) and there were special discounts offered if guests booked a reservation at one of the guacamole demonstrations held around Navigator of the Seas.
Add some fun cocktails, festive atmosphere and table-side fun, and you have a memorable Royal Caribbean meal.
Is Sabor Modern Mexican one of your favorite Royal Caribbean dining destinations? Leave a comment and tell us your thoughts!