In:
Cruise lines follow trends when designing, adding, and removing activities to their ships, and Royal Caribbean is no exception. Golfing simulators, inline skating, and a boxing ring are just some of the cruise ship activities Royal Caribbean has implemented and later phased out.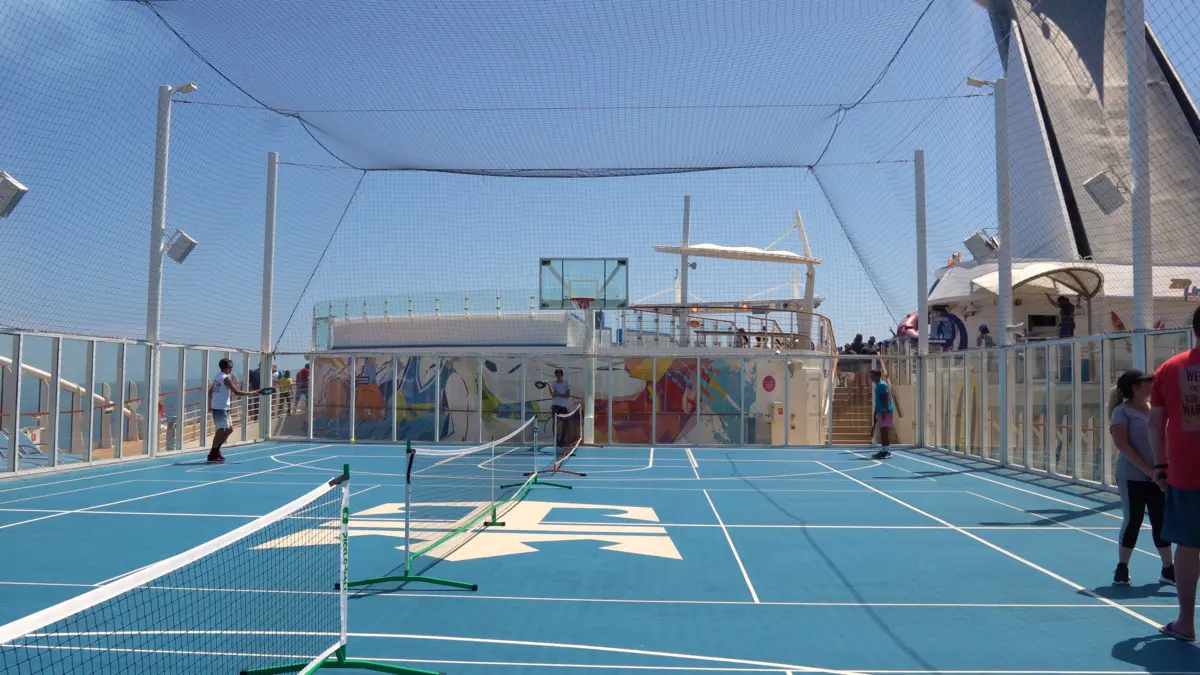 The latest trend? Pickleball.
It's no secret that pickleball is soaring in popularity throughout the United States; this racquet sport is the fastest growing sport in the nation.
In fact, it's estimated that over 36 million people played pickleball in the United States between August 2021 and August 2022, and now you can play it onboard Royal Caribbean cruise ships.
What is pickleball?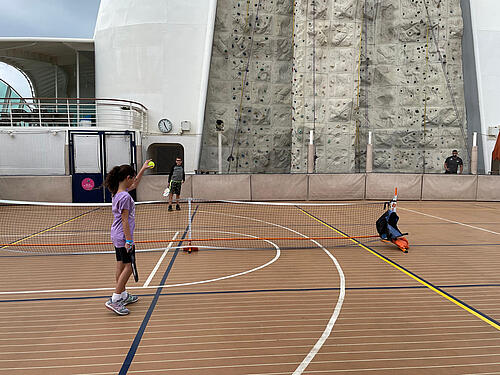 Pickleball is a paddle sport that combines elements of tennis, ping pong, and badminton. The game is played with a paddle and a hollow plastic ball on a 20x44 foot court and can be played in singles (2 players) or doubles (4 players).
The sport is easy to learn and accessible to a wide range of age groups and fitness levels, from kids to seniors, which is one of the reasons it has grown so quickly.
The basic objective of the game is to hit the ball to the other side of the court and prevent your opponent from hitting it back to your side. Points are scored when the opponent fails to return the ball (or hits it out of bounds). The first team to reach 11 points wins, as long as they are 2 points ahead.
Pickleball is a relatively new sport, having been invented in 1965 on Bainbridge Island, Washington. The sport's official rulebook was published in March of 1984, and by 1990 the game was being played in every US state.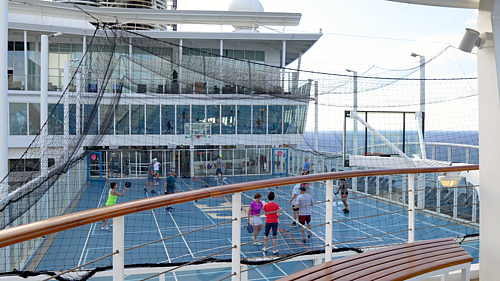 Today, the game has a professional league, the Professional Pickleball Association (PPA), and the PPA Tour has received investments from celebrities including LeBron James, Mark Cuban, and Patrick Mahomes.
And while you won't be finding any professional pickleball tournaments on a Royal Caribbean cruise, you will find many opportunities to try this popular sport.
How can I play pickleball on a Royal Caribbean cruise?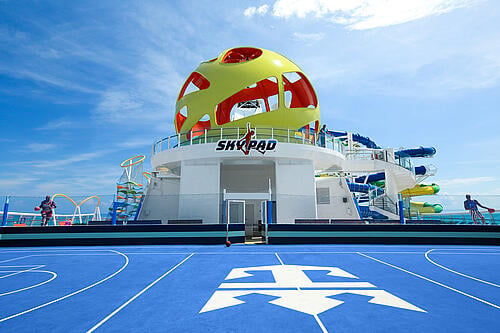 Pickleball is an activity included in your cruise fare and equipment is provided (although you could also bring your own).
To find when pickleball is offered onboard, check the Cruise Compass or Royal Caribbean app. More often than not, Open Play Pickleball is offered in the mornings of your cruise, from around 8AM to 11AM. It's located on the outdoor Sports Court (or indoor SeaPlex on Quantum Class ships).
Related: 15 free things to try on your next cruise
"Open Play" means you simply show up to the court, grab a paddle and ball, and start playing. If the court is full when you arrive, you'll have to wait for the court to open up. Because of this, we recommend showing up as soon as the activity begins to guarantee an open court.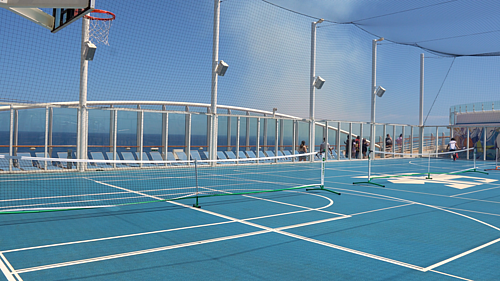 It's important to note, however, that not all Royal Caribbean ships offer pickleball. Smaller, older ships are less likely to offer the sport compared to the newer ships in the fleet. Additionally, the courts used are not pickleball-specific courts; they are used for a variety of other sport activities.
Here are the 16 Royal Caribbean ships that offer pickleball:
Explorer of the Seas
Independence of the Seas
Jewel of the Seas
Liberty of the Seas
Oasis of the Seas
Serenade of the Seas
Why you should play pickleball on your next Royal Caribbean cruise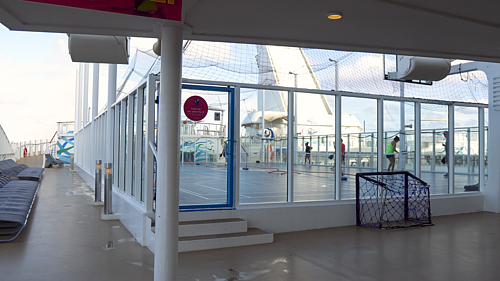 Meet new people
Like many sports, pickleball can be a fantastic way to meet new people. It's a social sport, and playing with other passengers can foster new friendships. You may find yourself playing with the same passengers day after day, and you'll likely run into your new friends around the ship throughout your sailing.
Playing pickleball on a Royal Caribbean cruise can be a great way to meet fellow passengers as a solo traveler, too. Cruising solo on Royal Caribbean may seem daunting, but you'd be surprised at just how easy it is to connect with others onboard. Sports like pickleball, basketball, and volleyball can be a wonderful way to connect with a diverse range of passengers.
Related: 5 things that surprised me about going on my first solo cruise
Stay active
Cruises are synonymous with lounging by the pool and indulging in unlimited food and drinks, but many passengers prefer staying active on a Royal Caribbean cruise. And unlike running around the jogging track or using a stationary bike at the gym, pickleball feels more like fun than exercise.
A fun way to pass the time
Sea days are a popular time to play pickleball on a Royal Caribbean cruise. Starting a morning at sea with a few games of pickleball can help pass the time as your ship sails from place to place. While activities like trivia and watching live music area always fun, switching up your cruising routine with a game of pickleball can make your cruise more unique.
What should I wear to play pickleball?
When playing pickleball on a Royal Caribbean cruise, it's important to wear comfortable athletic clothing that allows for flexible, fast movements.
Here are some of our top suggestions of what to wear:
Athletic shorts/pants: Bringing a pair of comfortable, elastic shorts or workout leggings is recommended when playing pickleball. Wearing jeans or tight pants can lessen the flexibility of movement needed when playing pickleball.
Closed-toed shoes: Closed-toed shoes are required on Royal Caribbean's sports courts. Sneakers are your best choice, as they are designed for athletic activities. Bringing sneakers with shoelaces is recommended as well, as laced shoes are required on other onboard activities like the zipline.
Baseball hat/sunhat: Pickleball courts are located on the upper decks of Royal Caribbean's cruise ships. The sun can get strong on these decks, so we recommend wearing a hat to block the sun.
Sunglasses and sunscreen: Just like a sunhat, wear sunglasses to protect your eyes from the sun while playing pickleball, and definitely remember to put on sunscreen!
How will pickleball's growing popularity affect the cruising industry?
It's likely we'll continue to see pickleball being offered on Royal Caribbean cruises. As the sport continues growing more popular, cruise lines will continue to market the activity on their ships and in promotional materials.
A great example of marketing pickleball is through a personal story from Vicki Freed, Royal Caribbean International Senior Vice President of Sales.
Freed began playing pickleball in her neighborhood during the pandemic, and during this time, one of her neighbors suggested going on a cruise. Once Freed mentioned how Royal Caribbean's ships have a pickleball court onboard, her neighbors were immediately drawn to book a cruise.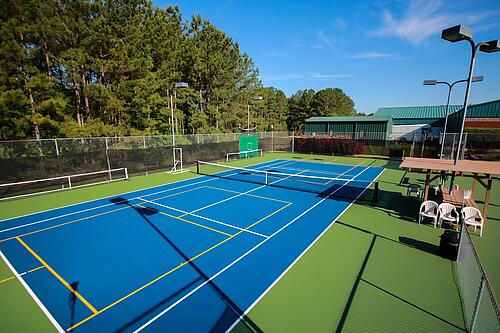 Soon enough, her group had 12 suites booked onboard a weekend cruise on Freedom of the Seas. They played pickleball every morning and had such a great time that they are already planning a second trip!
For pickleball-enthusiasts, having a court onboard can be a deciding factor between choosing one cruise over another, and Royal Caribbean certainly sees the possibilities of marketing pickleball on their ships.
Other cruise lines have followed this trend as well, with Holland America named the Official Cruise Line of the Professional Pickleball Association. All Holland America ships feature pickleball courts and complimentary beginner pickleball lessons are offered fleetwide.
During these lessons, instructors teach the rules of pickleball to guests, allowing them to enjoy the game throughout the cruise.
While no pickleball lessons are being offered on Royal Caribbean ships, watching a few YouTube videos should allow you to understand the basics of the game before you get onboard.
What other sports activities are available onboard aside from pickleball?
Outside of pickleball, there are many other popular sports activities available on Royal Caribbean cruise ships for no extra cost:
Sports like basketball, volleyball, soccer, badminton, and dodgeball can all be played on Royal Caribbean's Sports Court. Check the Royal Caribbean app for open play times for these sports. There are often tournaments available as well, along with specific times for kids and teenagers onboard.
Every Royal Caribbean ship has a rock climbing wall, too, and several have bungee trampolines and FlowRider surf simulators, all of which can be fun ways to exercise during your vacation.
On cold or rainy days, you can also enjoy a selection of indoor sports activities, including ice-skating, bumper cars, laser tag, and dance classes.
Other activities to enjoy on a Royal Caribbean cruise include:
Waterslides
Shuffleboard
Escape Rooms
Scavenger hunts
Pool games
Mini golf
The Ultimate Abyss slide
Carousel
Trivia
Game Shows
Entertainment productions
For more information on fun things to try on your next Royal Caribbean cruise, check out these articles: