In:
Many of our readers may have taken the first step in trying to better themselves with a New Year's resolution to lose weight and eat healthy (or healthier).  It is an admirable decision that takes a lot of hard work to reach the goal that they may have in mind, but a Royal Caribbean vacation does not mean those goals have to fall to the wayside.
Eating healthy on a Royal Caribbean cruise is far from an oxymoron.  Rather, it is a state of mind that is definitely achievable with the right kind of planning, and a little motivation.  While Royal Caribbean cruises are well-known for their amazing indulgences, there is no reason you cannot have a great time and still lose weight on your trip!
It is also worth noting that I am not a nutritionist, doctor or health official.  I do not even play one on television.  This post is about sharing tips and strategies I have learned over years of cruising that one can use to help reduce weight gain onboard.
Determine your goals before you leave
Before you take a bite of any food onboard, or even step onto the ship, it is important to define what measures of success you want to achieve.  For some people, it might mean losing weight while onboard, while others may simply endeavor to "minimize the damage done" onboard. Regardless of what your opinion, you should have a goal in mind.
Depending on what your objective is, how you dine onboard will reflect those ambitions. There is quite a wide gamut of ways to eat healthy onboard, so it is important to know what you are aiming for before starting.  Trying to ensure no weight gain is going to be much different than trying to drop ten pounds.
Regardless of what your goal is, everyone's body is different and weight loss regiments are also equally specific.  One strategy might work for one person, while that same methodology might not work for another.  Your best bet is to figure out before your cruise what works best for you.  Is it a low-carb diet? Avoiding fats? Avoiding meat? Speaking with your doctor or nutritionist might be a logical first step.
With that in mind, let us jump into some general strategies for keeping those pounds off while onboard!
Spend lots of time on the sports deck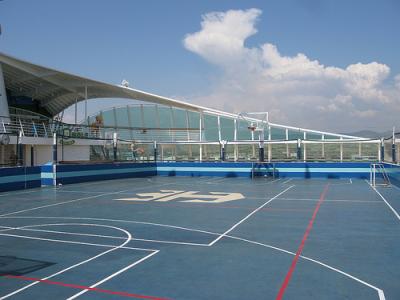 Before we even talk about one morsel of food, one solid strategy to keeping the weight off is engaging in physical activities.  Royal Caribbean ships offer quite a bit of onboard activities, including lots of sports activities on the sports deck.  Every Royal Caribbean ship offers a multi-purpose sports deck that has plenty of physical fun, including basketball, dodge ball, soccer and rock climbing. 
Likewise, there is a complimentary fitness center on every Royal Caribbean ship that offers free weights, weight machines, treadmills, exercise bikes and more.  There are also optional fitness classes that can really get your cardio going, albeit for an additional cost. Heck, taking the stars instead of the elevator helps a little bit too.
The more time you can spend on the sports deck and expending plenty of energy, the more calories you will burn and that is a great way to offset a lot of what you may end up eating onboard, healthy or not.
Ask for food not on the menu
Do not assume what is on the menu is the only food available to you.  When dining in the main dining room or even the Windjammer, you can always ask the wait staff for something else that is more suitable for your diet.  Assuming they have the ingredients onboard, I have found the culinary team extremely helpful in accommodating these sorts of requests.
You might order a dish on the menu, but with a different preparation (no salt or grilled instead of fried). I always order a serving of Indian curry with my main dining room dinners because I prefer Indian cuisine, and they tend to be a healthier choice too. On some cruises, I requested a plate of chopped vegetables for a Mediterranean salad be prepared each morning in the Windjammer. 
Your best bet is to speak to the head waiter and discuss options.
Skip the alcoholic beverages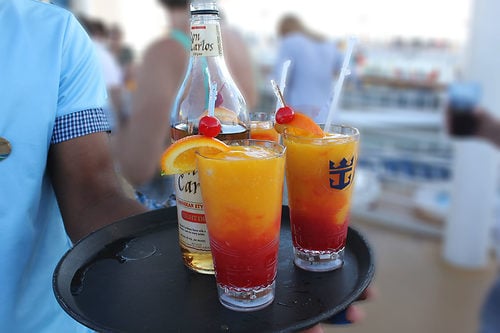 Generally speaking, alcoholic beverages are one big area of the cruise experience worth skipping to keep those calories off.  Cocktails and beer have alcohol in them, which the body will convert to sugar and nearly every diet and nutritional regiment I have ever encountered has recommended limiting your sugar intake. It may not be nearly as fun to follow this suggestion, but it is a great way to cut down on a very common area of empty calories.
There is also an added bonus for skipping the booze: you will save a considerable amount of money too.  Royal Caribbean drink prices are not exactly inexpensive, so by skipping the drinks not only are you limiting your sugar intake, but you are also saving a lot of money.
It is worth noting that some diets do allow for a glass of red wine or two per day as part of a nutritional day. Depending on your goals and weight strategy, this might be one way to leave a little indulgence in your day.
The best variety will be in the Windjammer...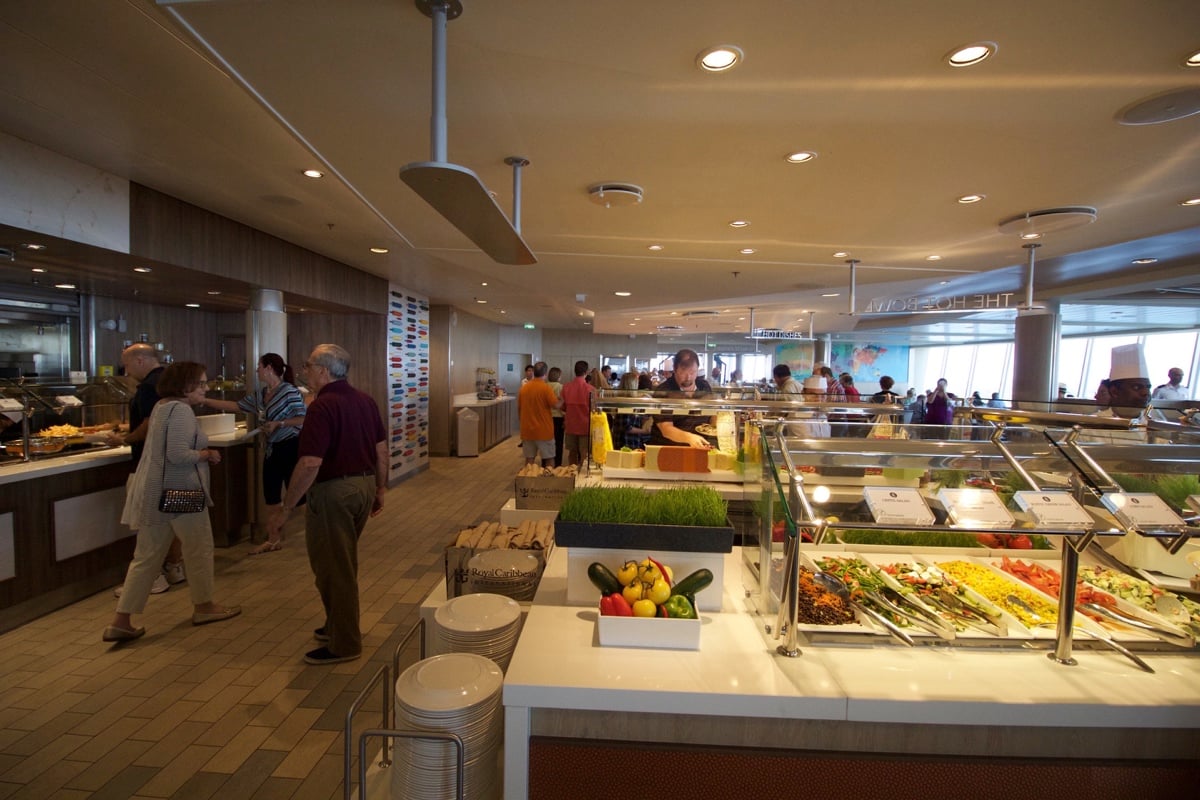 Ordinarily, buffets are not the place someone on a diet is recommended to visit, but the Windjammer buffet is also the best spot to find the greatest variety of choices. I feel one of the stumbling points of any diet is the feeling of, "there is nothing for me to eat here."  At the Windjammer, you will find plenty of unhealthy foods, but also more healthy options than anywhere else onboard.
For breakfast, the egg station is your best bet for a cooked-to-order omelet. You can get most kinds of omelets here (unless you are on an Oasis class ship, then head to the main dining room).  For lunch and dinner, there will be grilled fish, curries, steamed vegetables and lots of salad choices.
I freely admit the Windajmmer is a double-edged sword and there are lots of other foods that will be very tempting.  Stay strong, soldier!
...or skip the buffet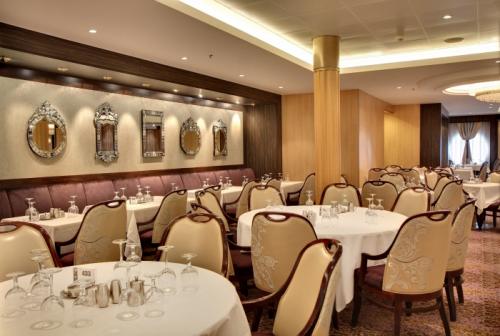 If the buffet is too much of a temptation island for you, then you might find refuge in the main dining room for breakfast and dinner (lunch on sea days).  
The main dining room has a menu that you can choose from, and it also allows for more customizations.  As mentioned earlier, speak to the head waiter about any dietary restrictions you may have and they are quite accommodating.  Keep in mind that requests should be made as early as possible. Often, the dietary request will be ready for the next meal because the chef needs to prepare the items ahead of time.  Nonetheless, the staff in the dining room work very hard to accommodate guests' needs.
Another advantage of the main dining room is portioning is easier and self-control is easier than in the Windajmmer.
Check out the Tutti Salad bar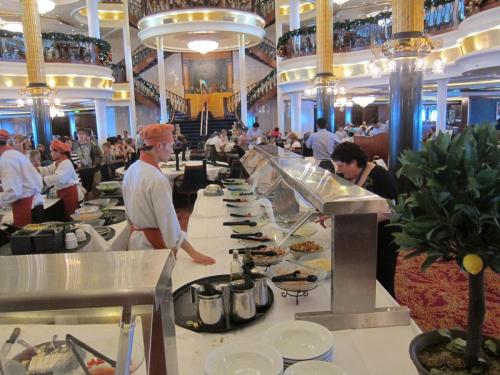 On sea days, make a point to eat lunch in the main dining room.  You will find a custom salad station, known as the Tutti salad bar.
This is the kind of all salad bars, with fresh ingredients that are prepared just the way you like it.  You tell the staff what you want in the salad, and they will chop it all up for you. Because of the wide array of ingredients available, it is a bit hit with those looking to find healthier choices.
Your ideas
Have you tried to eat healthy while onboard a Royal Caribbean cruise? Share your experiences in the comments!