In:
Royal Caribbean's cruise ships offer an incredible amount of food and dining venues onboard.  Guests will discover fresh, delicious and authentic cuisine catered to a range of tastes and preferences. Whether you are a foodie or just enjoy classic comfort food, there is a lot of great dining choices to choose between.
We get a lot of questions about dining and eating on Royal Caribbean, so we have answers to some of the most commonly asked dining questions. Grab your fork and knife and let's dive into these common Royal Caribbean dining questions.
What food is included with my cruise? Is there food I have to pay for?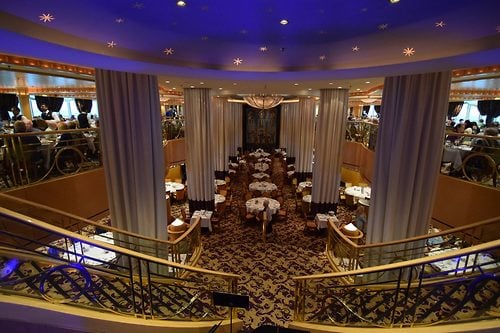 A Royal Caribbean cruise offers complimentary food as well as specialty dining. This means there are venues onboard your ship that serve unlimited food that is included with your cruise fare, along with some additional options that have an extra charge.
In short, there is ample opportunity to enjoy breakfast, lunch, dinner and snacks inbetween without additional cost. The exact complimentary venues will depend on the ship you sail on, but here are some common ones that pretty much every ship has:
Main dining room
Windjammer buffet
Grab and go spots for food, such as Cafe Promenade, Cafe Latte-tudes, Sorrento's, Boardwalk Dog House, Park Cafe, etc.
Johnny Rockets (for breakfast on Oasis Class ships only)
In addition, Royal Caribbean offers its guests the choice to dine at specialty restaurants. Most specialty restaurants have a simple cover charge that includes most of the food on the menu, although there are a couple of specialty restaurants that forgo the cover charge and simply charge you for what you order.
Pro Tip: If you are interested in trying more than one specialty restaurant, you can save a lot of money with a specialty dining package.
Is dinner the same every night?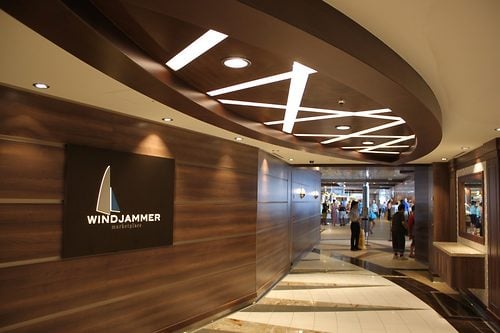 No, the main dining room and Windjammer buffet both alternate their menus each evening to ensure there is something different. Complimentary dining venues change their menus daily.
Specialty restaurant menus do not usually change.
Do I need to make reservations for our meals?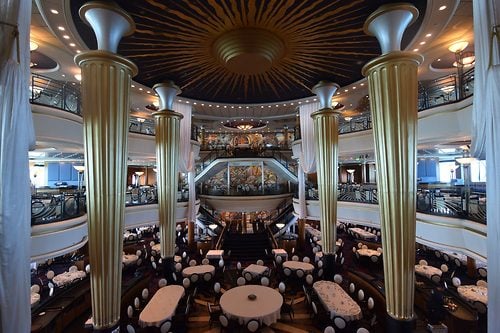 Depending on which dinner option you choose, the answer to this question may differ. For dinner, guests can choose between traditional dinner or My Time Dining at the time of booking their cruise.
If you are booked for traditional seating at dinner, then there is nothing to reserve ahead of time for the main dining room dinner.  Simply arrive at the designated dining time and you will be seated at the same table each evening.
If you are booked into My Time Dining, then you have the choice of making reservations in advance. With My Time Dining, reservations are recommended for each evening, but you have the option to choose a different time each day of the cruise. We recommend making reservations in advance via Royal Caribbean's Cruise Planner site to ensure quick(er) seating, particularly if you prefer to dine at peak dinner times (6:30pm - 8:00pm).
For specialty restaurants, you certainly want to make reservations.  Walk-up seating may be available, but it is common for specialty restaurants to get booked up. To make sure you get a table, you can make your arrangements online by going to Royal Caribbean's Cruise Planner site.
Does Royal Caribbean offer unlimited drink packages?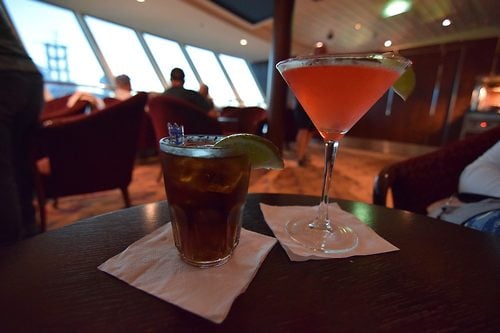 Yes, Royal Caribbean offers unlimited drink packages that include alcohol, as well as some that are just non-alcholic beverages.
There are three basic drink packages to consider:
Drink packages can be purchased before the cruise via Royal Caribbean's Cruise Planner site, as well as onboard. 
Pro Tip: Booking a drink package before your cruise is the best option financially, as the drink packages are usually discounted when bought online.
Can I use my drink package anywhere on the ship?
Yes, Royal Caribbean's unlimited drink packages work at any venue onboard the ship.  This includes any bar, restaurant or lounge, including the Windjammer, main dining room or specialty restaurants.
The only exception is drink packages are not accepted for room service or minibar orders.
Pro Tip: Drink package benefits extend to Royal Caribbean's private destinations of CocoCay and Labadee.
Can I bring drinks on my cruise?
Guests can bring up to 12 standard (17 oz) cans, bottles or cartons per stateroom. Distilled water or specialized beverages such as, milk for medical purposes, dietary or infant use, are permitted.
Guests may also bring up to two 750 ml bottles of wine or champagne per stateroom.  
Guests cannot bring liquor or fortified wines at any time.  If you purchase wine or liquor in port during your trip, Royal Caribbean will store it on board for safekeeping and return it to you on the last day of the sailing.
Pro Tip: Be sure to keep any beverages you bring onboard with you in your carry on luggage.  If you put non-alcoholic beverages or wine in your checked luggage, it will be delayed in delivery to you room by security.
Do I need to tip?
Prepaid gratuities are automatically added to your reservations. Some guests choose to recognize particularly exceptional service with an added cash gratuity throughout their cruise.
Is there room service?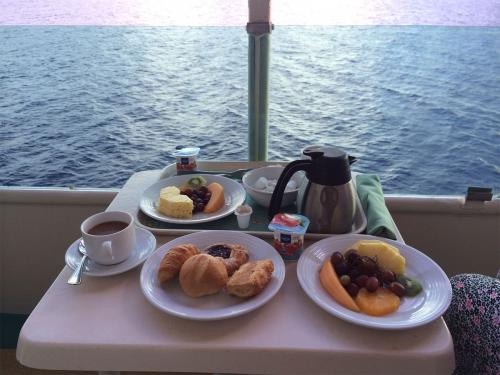 Yes, there is room service available but it has a $7.95 per order service fee.  The service fee is per order, so you can order as much food as you want in each order and only pay the service fee.
There is a complimentary continental breakfast room service option.
Room service is available 24 hours per day.