Spotted: Flight simulator shore excursion option in Nassau
In:
Royal Caribbean is offering guests a new shore excursion that allows them the chance to (virtually) fly a Boeing 737 airliner!
The Fly A Jet Experience Jetline Simulation Bahamas shore excursion is available for guests with a stop in Nassau, Bahamas.  It allows guests to feel what it is like to pilot a B737-800NG aircraft.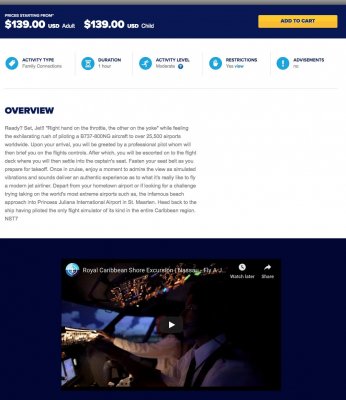 "Upon your arrival, you will be greeted by a professional pilot whom will then brief you on the flights controls. After which, you will be escorted on to the flight deck where you will then settle into the captain's seat. Fasten your seat belt as you prepare for takeoff. Once in cruise, enjoy a moment to admire the view as simulated vibrations and sounds deliver an authentic experience as to what it's really like to fly a modern jet airliner. Depart from your hometown airport or if looking for a challenge trying