In:
Bimini, Bahamas may not be as popular of a cruise port as nearby Nassau or Perfect Day at CocoCay, but the small island chain still has a lot to offer visitors.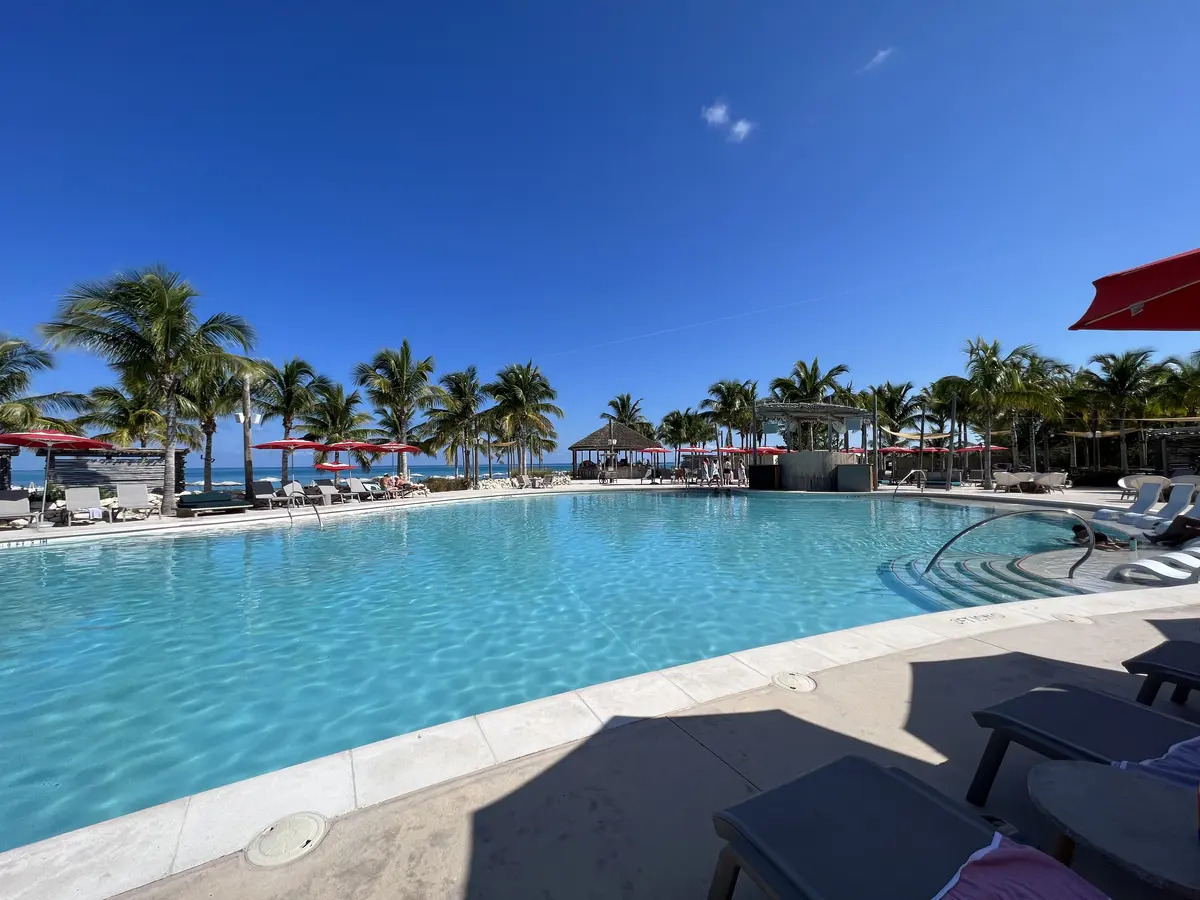 Located just 51 miles off the coast of Florida, Bimini is a chain of islands with turquoise waters, white sand beaches, and laid-back culture. It's so close to Florida, in fact, that you can easily take day trips to the islands' stunning beaches from Miami or Fort Lauderdale!
If your upcoming cruise visits Bimini, it's helpful to know what there is to do in port to make the most of your day. From snorkeling around a shipwreck to jet skiing along the coast, here are the 21 best things to do in Bimini, Bahamas.
Go to the beach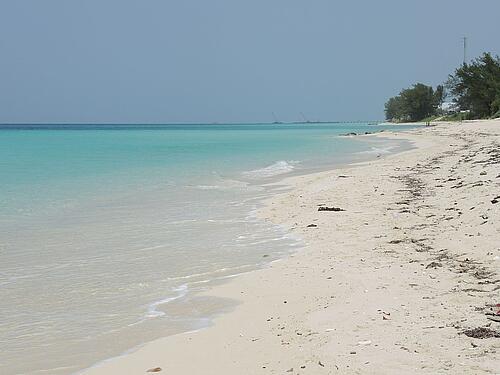 Photo credit: Pietro (license)  
Like most cruise destinations in the Caribbean, visiting the beach is a popular activity. Many of the best beaches on Bimini are found on the western shore of North Bimini.
One of the most popular beaches is Radio Beach, which is located closest to Alice Town, Bimini's largest town. At Radio Beach you can expect clear blue waters and soft white sand, and the beach has excellent snorkeling opportunities.
Related: 11 of the most beautiful beaches in the Caribbean
Beach chairs and umbrellas are available to rent at Radio Beach and you'll find bars and restaurants nearby. Outside of Radio Beach, visitors can enjoy other beaches such as Blister Beach, Paradise Beach, and Spook Hill Beach.
Day pass at Resorts World Bimini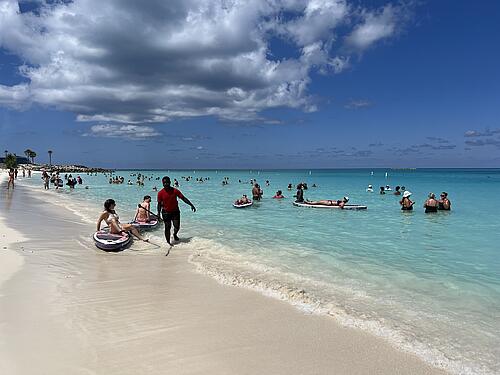 Resorts World Bimini is an upscale resort featuring facilities such as a beach club with pools, a casino, DJs, cabana rentals, and beach access. Located only ten minutes on foot from the cruise port in Bimini, many visitors choose to spend their day lounging in the sun at Resorts World.
To access Resorts World guests must purchase a day pass, which is around $40 USD per adult and $30 USD per child. The day pass gives visitors access to amenities at the Hilton at Resorts World as well as the beach and pools at Resorts World.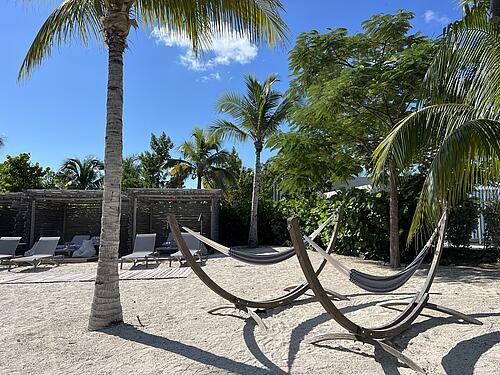 For those looking for a Las Vegas-style pool party experience, Resorts World is a great option. Several restaurants and bars are on-site for added convenience.
Note that Resorts World Bimini Beach is home to Virgin Voyages' Bimini Beach Club, but passengers from other cruise lines can use the facilities when a Virgin Voyages ship is not docked.
Go snorkeling
Snorkeling is an easy way to get up close and personal with the diverse aquatic life in The Bahamas, and Bimini offers a wide array of snorkeling opportunities.
If you're looking for a guided snorkeling tour, you can book a day trip through Bimini Scuba Center for $99. During this tour you can visit underwater destinations like the S.S. Sapona Shipwreck and Rainbow Reef.
If you don't want to shell out money for a snorkeling tour, feel free to bring your own snorkeling gear to the island. We recommend this mask for snorkeling, as it offers a full-face view and is easily packable in a day bag.
Visit the S.S. Sapona shipwreck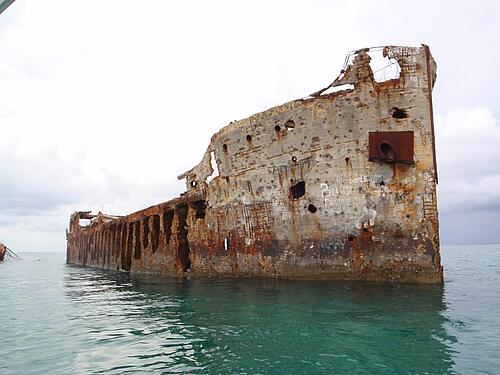 Photo credit: Ines Hegedus-Garcia (license)
A few miles off the coast of Bimini is the S.S. Sapona, a half-submerged shipwreck providing world-class snorkeling and diving opportunities.
Following a hurricane in 1926, the S.S. Sapona was left damaged, and it was later used for bombing practice during the Second World War. Because the wreck is only half-submerged, snorkelers and divers can explore both above and below the water.
Related: Bahamas cruise guide
The ship's "skeleton" is home to a variety of marine life, from stingrays to sea turtles, schools of fish, and colorful coral. Exploring the shipwreck is sure to be a highlight of any visit to Bimini.
Scuba diving
If breathing underwater is more your style, Bimini offers several scuba diving options to explore under the sea. Certified scuba divers can book dives through the Bimini Scuba Center in North Bimini—dives include tanks and weights.
Diving around Bimini is fantastic. The clear waters allow for great visibility and give divers the chance to spot sharks, dolphins, turtles, and swim near continental shelf walls.
Visit the Road to Atlantis
A popular snorkel site in Bimini is the Bimini Road, often called the "Road to Atlantis."
The "road" is a half-mile underwater rock formation in perfectly straight alignment. Since the road's discovery in the 1960s, some have speculated it could be an ancient road to the Lost City of Atlantis, although we cannot, of course, verify those claims.
Many snorkel and diving tours in Bimini visit Bimini Road, so if you're interested in discovering "Atlantis," this can be an intriguing excursion option.
Rent a bicycle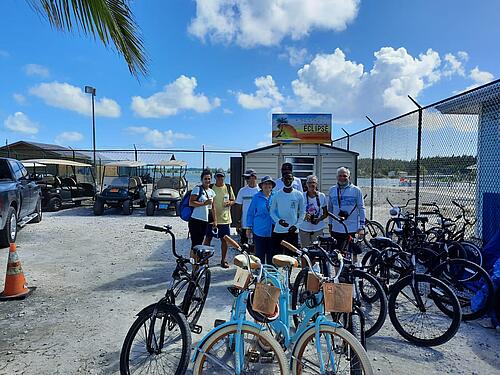 Photo credit: Eclipse Rentals Bimini
Few bike rides are as relaxing as those by the sea, and you can rent a bicycle for just $25 per day in Bimini.
Eclipse Rentals Bimini offers bike rentals and tours around the island. For those looking to explore the entire island of North Bimini, a bicycle can be a fun, eco-friendly option. Exploring by bike allows you to stop at whatever attractions or beaches interest you without having to worry about taxis, shuttles, or tours.
A bicycle is freedom on two wheels, and renting a bike while visiting Bimini is highly recommended.
Explore Bimini by golf cart
If powering a bicycle sounds like far too much exercise on your vacation, consider renting a golf cart. Golf carts are effective means of transportation to get around an island as small as Bimini, and most rentals should cost between $90-110 for the day.
When splitting the cost with a group of four or six, a golf cart is an economical way to explore Bimini. As another plus, it gives you full control over where you would like to visit on the island and how long you want to spend in each place.
Related: 7 ways to have a great time in port without a cruise ship shore excursion
Full Island Tour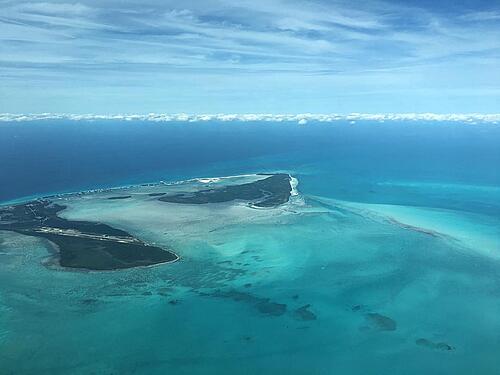 Photo credit: Daniel Piraino (license)
Whereas some cruise passengers prefer exploring ports on their own, many appreciate the convenience of a guided tour. If you're looking for an all-around island tour of Bimini, why not book an organized excursion?
Bimini Island Tours is a local operator that offers tours of North Bimini and South Bimini. Tours bring guests to highlights around the islands, from shipwrecks to beaches, the straw market, and Dolphin House Museum.
Booking a tour means you don't have to plan anything yourself. You can simply disembark your cruise ship, meet the tour guide, and have a memorable, stress-free day in Bimini.
Grab some drinks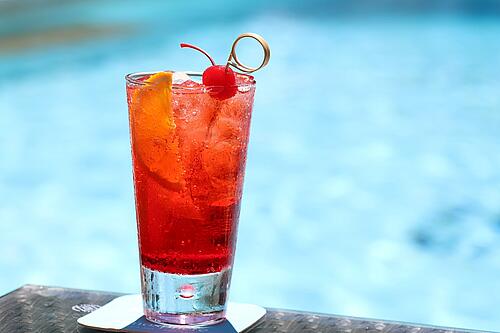 Nothing screams vacation quite like a fruity cocktail near the beach, and grabbing a drink (or a few drinks) is certainly a fun way to spend your day in Bimini.
Whether you're at the beach, eating lunch at a local seafood restaurant, or strolling around town, consider ordering a drink to put you into vacation mode. From fresh piña coladas to mango margaritas, a tropical cocktail will be extremely refreshing in the Bahamian heat.
As another perk, if you don't have a drink package on your cruise ship, drinking in port can save you money compared to buying drinks onboard!
Go fishing
Some call Bimini the sport fishing capital of the world. The islands are located near the warm Gulf Stream in which fish can grow to record size. In fact, there have been dozens of record-setting catches around Bimini.
Whether grouper, snapper, bonefish, billfish, tuna, or wahoo, you never know which species of fish you'll reel in. If you're interested in fishing while in Bimini, we recommend contacting the Bimini Big Game Club to ask questions about fishing opportunities.
Ride the tram
There is a free tram on Bimini that transports passengers to areas of interest along North Bimini. Located just outside the cruise pier, boarding a tram is easy and convenient, and it lessens the amount of walking required in the heat.
You can take the tram to Kayak Beach, Fisherman's Village, Resorts World Bimini Beach, and Paradise Beach. Note that if you are interested in venturing further south to Alice Town and Radio Beach you must take a taxi (around $5 per person) or rent a golf cart.
Visit the Dolphin House Museum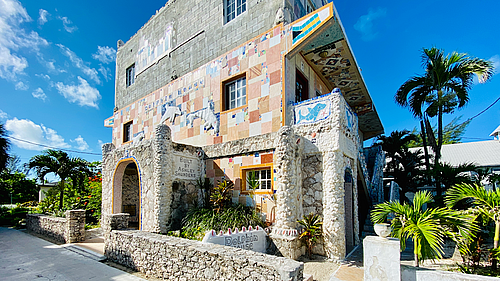 Photo credit: Dolphin House Museum
The Dolphin House Museum is an ocean-inspired museum in Bimini that is a must-visit upon venturing into Alice Town. Built by local Ashley Saunders, the museum features artwork made from ocean materials including conch shells and sea glass.
For $10 per person, visitors can tour the museum and learn more about the building's history and craftsmanship from Saunders. As a plus, the building's roof features one of the most beautiful views in all of Bimini—it's the perfect spot for that Instagram shot.
Book a jet ski tour
There are few aquatic activities as adrenaline-inducing as jet skiing. Zipping through crystal clear water at over forty miles an hour is undoubtedly fun.
Passengers interested in jet skiing while at Bimini can book a tour through Bimini Blue Adventures, or through the cruise line if offered. While on the tour, visitors can ride the length of Bimini's stunning coastline, offering a truly unique way to experience the islands.
Kayaking
If jet skiing sounds a bit too thrilling, why not try kayaking? Tour operators such as Bimini Blue Adventures offer kayaking tours, and you may be able to book a kayaking tour through your cruise ship as well.
While kayaking off the coast of Bimini you can enjoy pristine waters and view aquatic life up close. Because of the clear waters, it's possible you'll see several types of fish and stingrays while kayaking, and it can be a lot of fun for visitors of all ages.
Related: Top 10 cruise ship shore excursion mistakes to avoid
Try local cuisine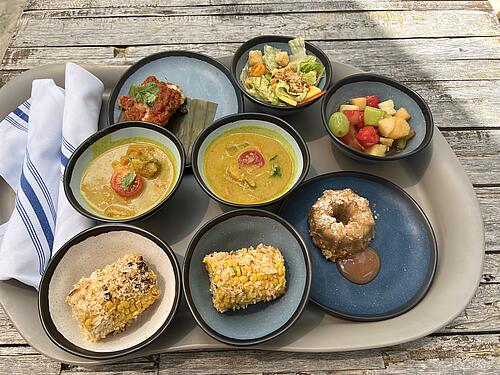 Trying local cuisine is a highlight of visiting any cruise port, and Bimini is no exception. From seafood to baked goods, your taste buds are sure to be delighted on your visit.
Here are some of our top food recommendations in Bimini:
Bimini Seafood Company: this restaurant in Alice Town offers a Conch Bar, freshly caught seafood, and mouthwatering sandwiches
Nate's Bimini Breads: a local bakery famous for sweet breads, from cinnamon raisin swirl to guava and cheese, banana nut, and coconut bread loafs
Big Mike's Fresh Conch Salad: the perfect spot for beachfront conch salads and grilled meats
Bimini Nature Trail
Located on South Bimini island is the Bimini Nature Trail, a one mile looped pathway perfect for flora and fauna enthusiasts. Signage along the trail teaches visitors about the area's wildlife and plant life, including the Bimini Boa and White-crowned Pigeon.
Unfortunately, visiting the nature trail while on a cruise ship can be challenging, as it's not located on the same island where cruise ships dock. Nonetheless, if you find yourself in South Bimini near Bimini Cove Resort & Marina, the trail is a nice way to learn more about the islands' natural world.
Swim with sharks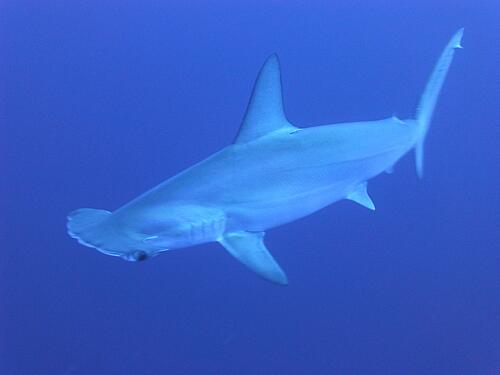 Yes, you read that correctly: you can swim with sharks in Bimini.
For most beach goers, sharks are something you want to avoid. Bimini, however, is home to a vast array of sharks, from hammerheads to tiger sharks, lemon sharks, nurse sharks, and bull sharks.
If you're crazy enough to want to see these sharks up close, consider booking a swimming with sharks tour. On these tours, boats bring passengers out to reefs known for shark activity, and allow snorkelers to swim above the sharks.
Sure, it might be a little scary, but it's sure to be exhilarating. 
Shopping at the Bimini Craft Center
Those in search of souvenirs should visit the Bimini Craft Center. This Bahamian straw market is where you can find a variety of knick knacks to remember your time in Bimini, from t-shirts to hats and bracelets.
It's best to carry cash with you while shopping. Bahamian and US dollars are widely accepted.
Bimini Museum
Next to the Bimini Craft Center is the Bimini Museum, a complimentary museum which aims to preserve the history of the islands.
Inside the museum are artifacts, relics, stories, and pictures that tell the story of Bimini's history, including memorabilia from Ernest Hemingway who once called Bimini home.
Visiting the museum in between shopping and the beach can make a nice addition to your day on the island, as it allows you to gain a better understanding of the region you are visiting.
Visit the legendary fountain of youth
Explorer Juan Ponce de León once heard rumors of a magical spring on Bimini that restored youth to the elderly who bathed in or drank the spring's waters. Upon reaching Bimini from Puerto Rico in 1513, however, he neglected to find such a stream.
Nonetheless, there is a Fountain of Youth on Bimini today, although we can't guarantee that it will reverse aging. Today's Fountain of Youth is a small well carved out of limestone rock by groundwater several thousand years ago.