In:
The picturesque islands of The Bahamas are among the world's most commonly visited cruise ports. A neighbor to the United States, the proximity and beauty of The Bahamas makes the country an attractive destination for cruise ships, and you'll find nearly every Royal Caribbean ship offering cruises to this island nation.
Whether you're planning your first cruise or are a seasoned cruiser, there's a pretty big chance you'll be sailing to The Bahamas at one point or another. Knowing the ins and outs of what it's like to cruise in The Bahamas, from understanding where you'll visit to knowing what to pack, can help make your cruise experience the best it can be.
Let's take an in-depth look at everything you need to know before booking a cruise to The Bahamas.
In this guide: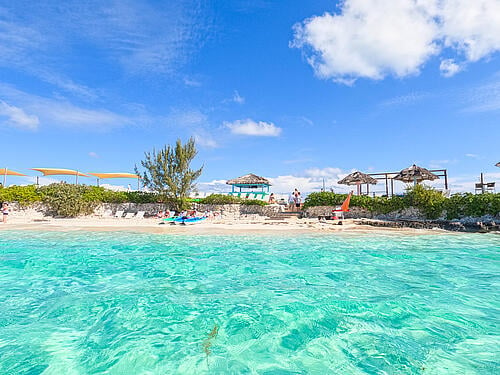 A major reason to go on a Bahamas cruise is to enjoy the country's world-class beaches. Turquoise waters, soft sand, and amazing snorkeling are available at any cruise port in The Bahamas. Whether you choose to lounge on a beach chair, enjoy a day pass at a resort, book a catamaran tour, or snorkel at a shipwreck, you'll find plenty of crystal-clear beaches to discover.
The proximity of The Bahamas to Florida means you can reach the islands on even the shortest of itineraries. Weekend cruises to The Bahamas are extremely popular for this reason, allowing for a quick getaway to relax and unwind.
In addition, visiting the Bahamas means tasting delicious local cuisine, such as conch fritters and rum cake, and observing local culture.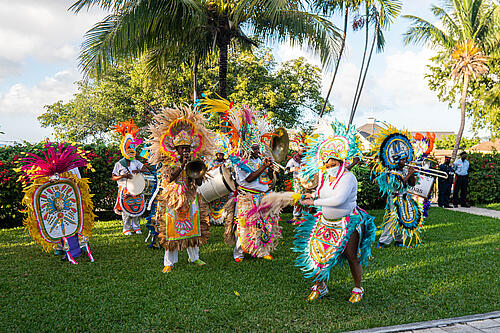 Plus, cruises to The Bahamas are offered on nearly all Royal Caribbean cruise ships and on itineraries as short as two nights to nine nights or longer! Because of this, you'll see a huge range in cruise fares, so you'll be able to find the perfect cruise for any budget.
Perfect Day at CocoCay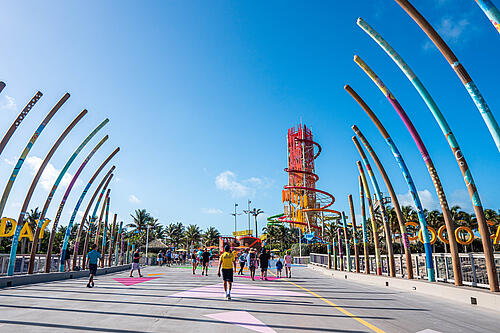 Perfect Day at CocoCay is Royal Caribbean's private island in The Bahamas, and it's a favorite port for many cruisers. The island is packed with activities for all interests, from the tallest waterslide in North America to the largest freshwater pool in the Caribbean.
Perfect Day at CocoCay has three main beaches: Chill Island, Harbor Beach, and South Beach. These beaches are free for all guests to enjoy and are lined with complimentary beach chairs and umbrellas.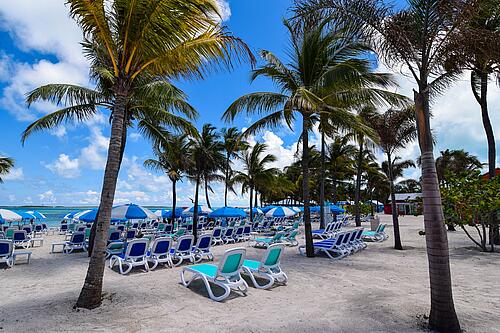 Guests looking to splurge can purchase a day pass to the Coco Beach Club, an exclusive, private beach club with an infinity pool, overwater cabanas, and an upscale Mediterranean-inspired restaurant.
A major perk of cruising to Perfect Day at CocoCay is that the island offers more than enough to do (and eat!) without spending anything extra. If you're on a budget, Perfect Day at CocoCay makes for a cheap yet incredibly fun day in port.
Our Perfect Day at CocoCay tips:
Nassau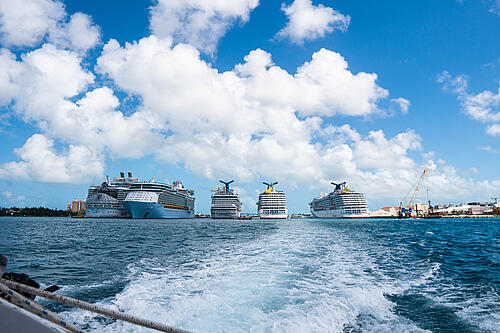 Nassau is one of the world's busiest cruise ship ports. Located on New Providence Island, Nassau is the capital of The Bahamas and is known for its upscale resorts and plethora of beaches.
Most passengers visiting Nassau will opt for a beach day. There are a few beaches located within walking distance from port, the most easily accessible being Junkanoo Beach.
Many visitors to Nassau take a taxi to Paradise Island, where they'll find the famous Atlantis Resort and pristine Cabbage Beach. Day trips to nearby islands, such as Blue Lagoon and Pearl Island, can also be great options when spending the day in Nassau.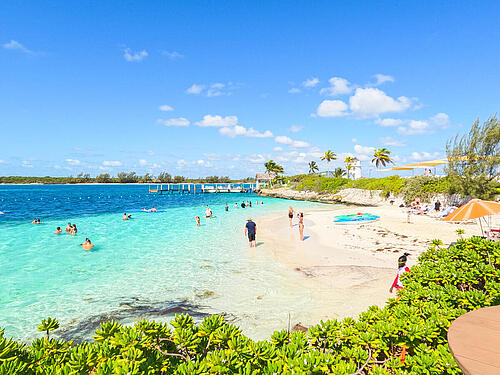 Nassau also offers plenty of history to discover, too, with historic forts, monuments, and museums showcasing the island's history.
Related: Best things to do in Nassau on a cruise
Grand Bahama Island (Freeport)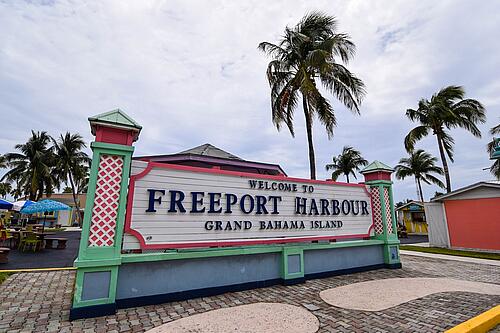 Grand Bahama is the most northwestern island in The Bahamas, located only 64 miles from Palm Beach, Florida. Cruises on Grand Bahama dock in the city of Freeport, the second largest city in The Bahamas with a population of around 24,000 people.
Like other Bahamas cruise ports, most passengers will spend the day on Grand Bahama Island at the beach. Beaches are located outside the port area, so an excursion or taxi ride is necessary to reach the island's best beaches. 
Nature lovers can enjoy a tour of Lucayan National Park, where they'll kayak through mangroves and learn about the park's diverse ecosystem and geology. Tours of downtown Freeport are also available, which bring passengers to local markets and nearby beaches.
Other passengers may prefer to simply explore the port area, where there are plenty of food, drink, and shopping opportunities.
Bimini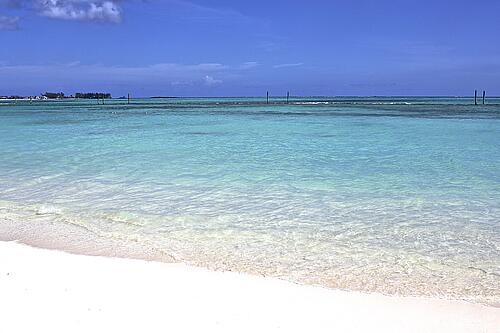 Bimini is the closest island in The Bahamas to the United States, located around 50 miles from Miami, and comprises two main islands: North Bimini and South Bimini. The cruise port is on North Bimini, which is home to beaches, resorts, restaurants, and local shops in the island's main town of Alice Town.
While Bimini is not the most common port stop on Royal Caribbean Bahamas itineraries, it offers a low-key, relaxing getaway for visitors looking to sunbathe, snorkel, or ride a golf cart around the island.
Popular shore excursions in Bimini include snorkeling at the SS. Sapona, one of the Caribbean's most famous shipwrecks, spending the day at a beach resort, and tasting local cuisine.
Shorter cruises
If you're searching for a short getaway, you'll find several Royal Caribbean ships offering 3 and 4-night cruises to The Bahamas. These itineraries visit both Perfect Day at CocoCay and Nassau, Bahamas, and are offered on Voyager or Freedom Class cruise ships.
These itineraries happen weekly (Monday-Friday for 4-night cruises and Friday-Monday for 3-night cruises) and are offered most commonly on Independence of the Seas, Freedom of the Seas, and Liberty of the Seas.
Southeast coast cruises
You don't have to fly to Florida in order to cruise to The Bahamas. Several Royal Caribbean ships sail from the ports of Cape Liberty and Baltimore to The Bahamas.
Most cruises departing from the northeast will stop at a few ports along the southeast coast of the United States before visiting The Bahamas, such as Charleston, South Carolina and Orlando, Florida. These itineraries tend to be 7 or 8 nights.
Related: Guide to cruises from New York
Miscellaneous itineraries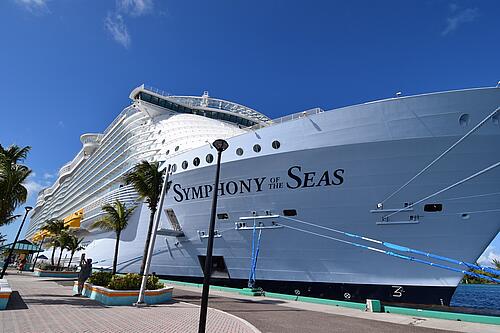 Outside of short getaways and cruises from the northeast, you'll find a variety of other itineraries visiting The Bahamas, most commonly with a stop at Perfect Day at CocoCay.
Both Western and Eastern Caribbean cruises often include a visit to The Bahamas in combination with stops in ports like Cozumel, Roatan, San Juan, St. Maarten, and Labadee. 
Weather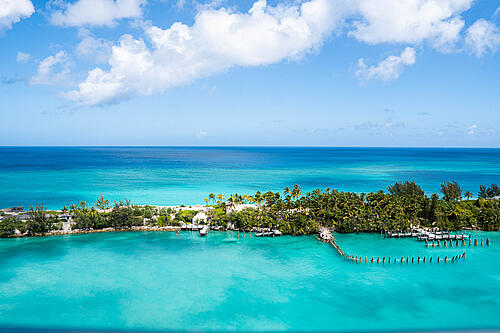 While The Bahamas is a year-round cruising destination, it's important to remember that The Bahamas is located much further north than Caribbean cruise ports like Labadee and St. Thomas. In fact, The Bahamas is not technically even located within the Caribbean! Because of this, the islands can be prone to more temperature fluctuation than more southerly islands.
That being said, you'll more than likely encounter comfortable temperatures at any time of year on a Bahamas cruise. Drier weather can be expected between November and April, with the rainiest months between June and September.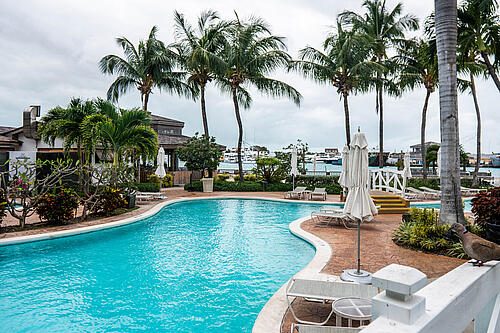 Hurricane season officially runs from June 1 to November 30, with the highest chance of storms between August and September. However, you shouldn't necessarily avoid booking a cruise during hurricane season. Cruise ships will not sail through a hurricane. Instead, itineraries will be adjusted to avoid the storm.
Related: Cruising during hurricane season: Should you do it?
December and January can occasionally encounter colder temperatures due to the possibility of a cold front bringing choppy seas, strong winds, and temperatures in the 60s or low 70s.
While there's no perfect time to cruise The Bahamas in terms of weather, the months of March, April, May, and November can see comfortable temperatures with less chance of rain.
Crowds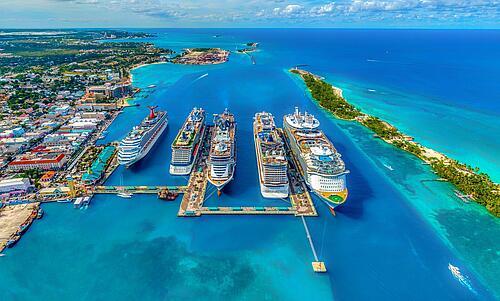 The Bahamas is a popular tourist destination at any time of the year, and you can usually expect multiple ships in port on any given day. Nassau alone can accommodate up to 7 cruise ships at one time!
The busiest times to cruise The Bahamas coincide with the school holiday calendar, so expect more crowds onboard and in port during spring break, summer, Thanksgiving, and Christmas, as well as during 3-day weekends throughout the year.
Additionally, if you're choosing between a 3-night weekend cruise to The Bahamas and a 4-night cruise during the week, you'll often find that the weekend cruises are much busier. Not only can there be a higher capacity onboard, but weekend cruises often have more of a party atmosphere compared to a relaxed vibe during the week.
Related: I tried my first 3-night weekend cruise, here's how it went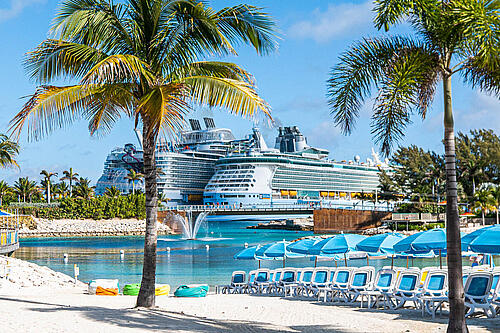 Due to the proximity of The Bahamas to Florida, you'll see a large number of Royal Caribbean ships sailing to the islands year-round. In fact, you can currently book itineraries to The Bahamas on 21 Royal Caribbean ships (out of the fleet's 26 ships!)
Therefore, when planning a Bahamas cruise, you have nearly endless possibilities when picking a cruise ship. If you are looking for the latest and greatest ship Royal Caribbean offers, you can visit The Bahamas on an Oasis or Quantum Class cruise ship. If you'd prefer a more laid-back holiday, you'll find even the smallest Royal Caribbean cruise ships visiting The Bahamas.
Related: 8 questions to ask yourself before picking a cruise ship
One of the best parts of cruising to The Bahamas is that you can often find fantastic deals, especially on shorter cruises. It's not uncommon to find 3 or 4-night Bahamas cruises for as little as $575 for 2 adults in an interior room, including all taxes and fees.
Weeklong cruises often run around $1500-1700 total for 2 adults in an interior cabin on newer Royal Caribbean ships, whereas you can sometimes find prices as low as $1000-1200 for 7-night Bahamas cruises on older ships.
Because there are so many ships sailing to The Bahamas at any given time, you might even find cheap last-minute discounts available on sailings departing in the next few days or weeks.
Outside of cruise fare, you'll also want to budget for gratuities as well as any cruise add-ons you plan to purchase, such as shore excursions, beverage packages, and dining packages.
Cruise add-on advice: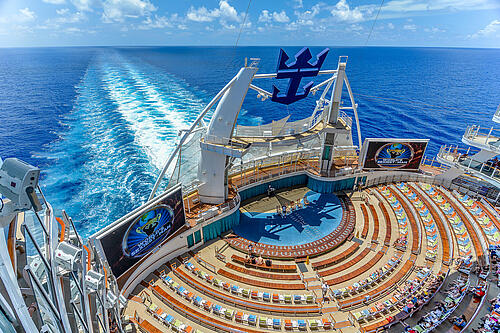 Packing for The Bahamas usually means packing lightweight, breathable clothing perfect for a warm day at the beach or sunny day onboard. A swimsuit is a must as well as sundresses, shorts, and t-shirts. It can get extremely warm in the summer months, so packing breathable, more loosely-fitting clothing is recommended.
If you're visiting The Bahamas in the winter, it's a good idea to pack a lightweight jacket and a pair of jeans. While you'll most likely encounter favorable temperatures, there can be occasional cold fronts leading to temperatures around 70°F. This can feel chilly when at sea or near the beach, so packing layers can be helpful.
For a more in-depth look at what to pack (including a packing list!) read our guide on what to pack for a Bahamas cruise.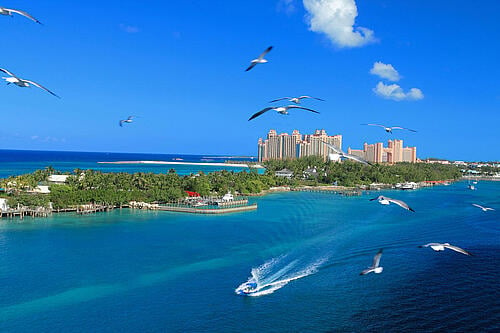 What currency should I use in The Bahamas?
The official currency of The Bahamas is the Bahamian Dollar, and the exchange rate between USD and Bahamian Dollar is 1:1. There's no need to take out Bahamian Dollars ahead of time, as you can make purchases in USD (although you might receive change back in Bahamian Dollars).
Do I need to purchase shore excursions on a Bahamas cruise?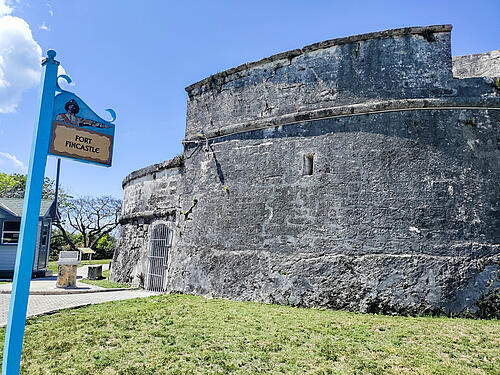 Like in all other cruise ports, it's not necessary to book a shore excursion. However, we recommend having a general plan for your day in port before getting off the ship.
Ports like Nassau and Freeport aren't the best ports for simply walking off the ship with no plan, as it can be confusing to figure out where to go and what to do. Doing research beforehand on what activities are available in port can help you better plan your day.
There are, however, many shore excursions available in Bahamas cruise ports. These usually involve visiting a beach, resort, snorkeling, island hopping, etc. You can book shore excursions through Royal Caribbean, which tend to be more expensive yet offer more security, or through an independent provider.
Planning a cruise? Check out our best tips & tricks: