In:
Celebrity Cruises will soon offer cruises that visit Perfect Day at CocoCay.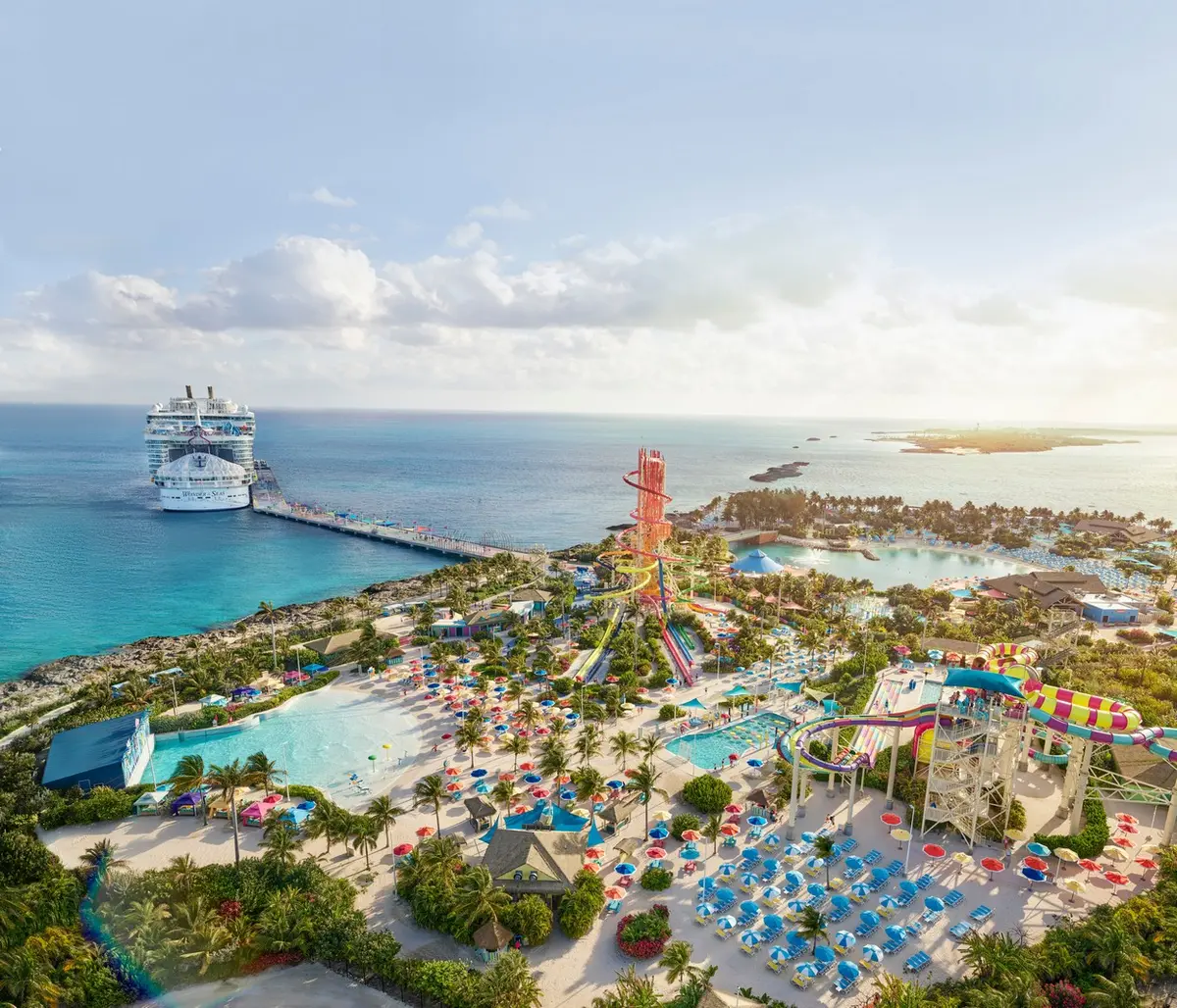 Royal Caribbean International's private island has been a mega success since getting a $250 million makeover in 2019, with high guest satisfaction scores along the way.
Sister brand Celebrity wants to share that experience with its passengers.
On Tuesday, Celebrity said it will start offering weekend cruises to The Bahamas, beginning in April 2024.
Celebrity Reflection will sail 3-night and 4-night cruises from Port Everglades in Fort Lauderdale, Florida.
3-night sailings departing Friday
Key West
CocoCay
Bahamas getaways (Nassau & Bimini)
4-night sailings departing Monday
In addition, Celebrity Beyond will sail from Florida year-round and offer visits to CocoCay.
Beyond is taking over Celebrity Reflection's 6 and 8 night sailings.
Guests booked on Reflection for those 6 and 8 night sailings will automatically be moved to Celebrity Beyond at a protected rate.
Celebrity Beyond, will offer a mix of six and eight-night cruises to places such as Grand Cayman, The Bahamas, Mexico, and the Dutch Caribbean islands of Aruba, Bonaire and Curacao.
Anyone booked on Beyond in Europe will have opportunity to move to another European cruise.
"Our customers are consistently asking for more opportunities to visit this stunning region year-round, have more weekend options so they can getaway easier, and have expressed a desire for a private island destination. By introducing this new program, we can meet this demand and offer something new and historic to all our guests," says Laura Hodges Bethge, President of Celebrity Cruises.
"Perfect Day is a destination like no other, and we are honored to add it to our portfolio."
This will be the first time a non-Royal Caribbean International cruise ship has visited the private destination since the island was relaunched as Perfect Day at CocoCay.
Adding Perfect Day to enhance the cruise experience
If you've heard how well-received Perfect Day at CocoCay has been among the public, then Celebrity's decision to add visits there makes a lot of sense.
Perfect Day at CocoCay has a number of beaches, a water park, beach club, freshwater pool, and helium balloon, along with many other activities to choose from.
Royal Caribbean has touted the overwhelmingly positive guest feedback it has received about the island time and time again.
Royal Caribbean President and CEO Michael Bayley said earlier this year the island was a major success, "The demand for that product [Perfect Day at CocoCay] is exceptionally high."
"CocoCay is the number one destination that Royal Caribbean goes to in the world out of 100 global destinations, because it's a curated experience designed and built to deliver a high-level experience to the customer."
Royal Caribbean Group CEO Jason Liberty talked in May 2023 about how lucrative it's been for the company, "While demand has been strong across all products and markets, we continue to see exceptional strength from the North American consumer. This strength, in combination with the incredible perfect day at CocoCay has resulted in record yields for our Caribbean sailings."
All of that positive feedback had to be enticing to offer Celebrity Cruise guests as well.
More adult experiences coming
If you're thinking a day at CocoCay might not be a good fit for Celebrity's "modern luxury" vibe, keep in mind a major addition is coming.
The new adults-only Hideaway Beach is opening in early 2024.
This will be a new expansion to Perfect Day at CocoCay that offers an area of the island exclusively for the mature crowd.
Royal Caribbean has not announced yet what exactly you'll be able to experience at Hideaway Beach, but the new area is coming to coincide with the launch of Icon of the Seas in January 2024.
The addition of Celebrity Cruises visiting the island along with the new adults-only area opening seems to be perfect timing.