In:
One of the most challenging parts of planning a cruise is figuring out what to do while in port. What activity should I choose? Which beach should I go to? Should I book an excursion offered by Royal Caribbean or explore on my own?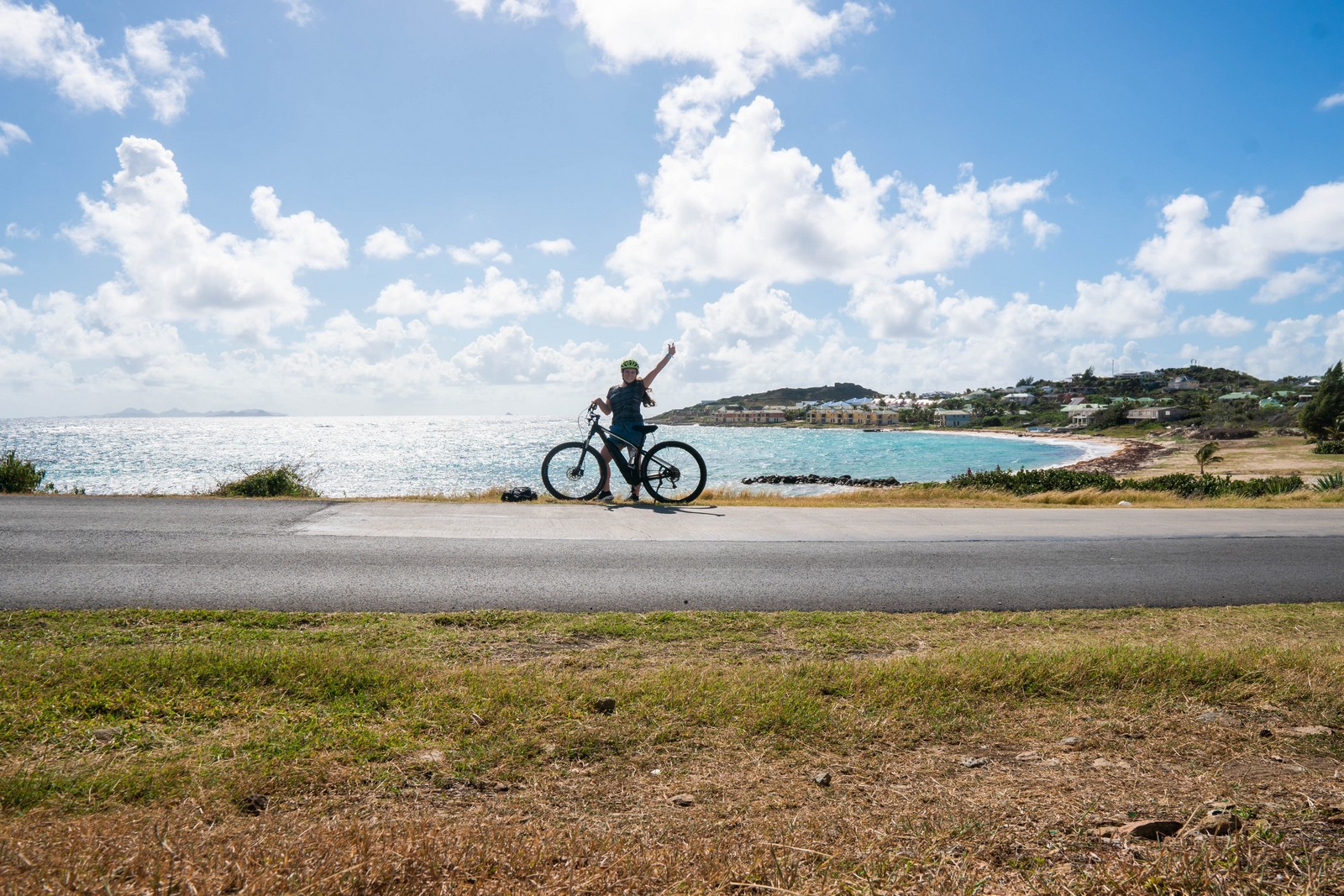 While planning days in port for my 7-night sailing on Harmony of the Seas last week, I kept asking myself these questions. Our original itinerary was switched, leaving me with little time to plan my day in St. Maarten. I wanted to make the most of the day as I had never been there before.
My solution? Go for a bike ride! Not just any bike ride, though. My plan was to loop the entire island on a bicycle to learn more about the island's landscapes, cultures, and people. I felt prepared from a fitness standpoint as I cycle a lot at home, but I had no idea what my day on a bicycle in St. Maarten would entail.
Spoiler alert: it was one of the best days ever.
Rental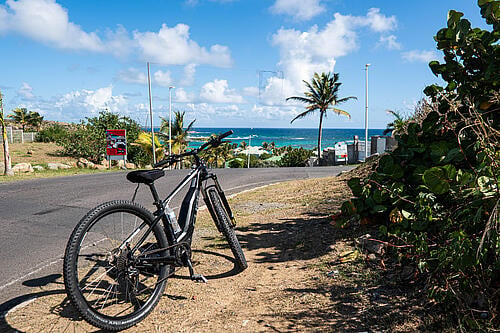 I rented my bike from Tri-Sport SXM, which is the main cycling company and bicycle tour operator on the island. I originally requested a road bike, but they suggested getting an ebike so I could explore more of the island and have some assistance in climbing steep hills.
I met JP from Tri-Sport at the port and he gave me a helpful overview of my bicycle and his recommended route. The total cost of the ebike rental was $55 for the day. The rental came with the ebike, a bike pump, helmet, and a lock.
The Route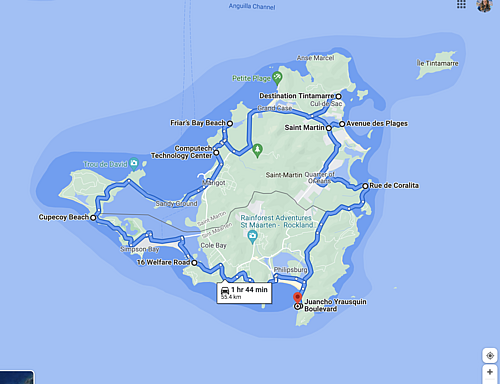 I had an ambitious plan. My goal was to loop St. Maarten counterclockwise, starting and ending in Philipsburg. In doing so, I would cycle between two countries, visit both busy and secluded beaches, and explore the island's culture.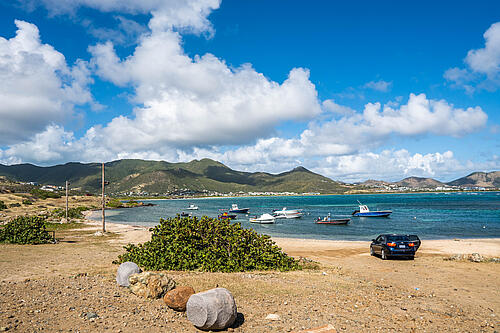 I started the bike ride by cycling north out of Philipsburg and toward the eastern side of the island. This was definitely my favorite section of the ride. Once I got outside Philipsburg, the road heading north was not overly busy and led to some beautiful lookout spots. Crossing the border of the Dutch and French side was fascinating and required some photos.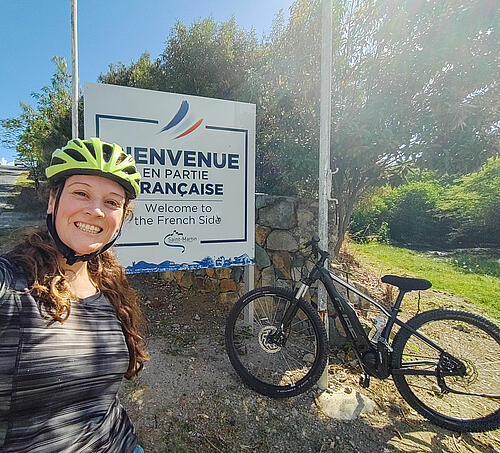 I passed through the small French town of Quarter of Orleans before continuing to Orient Beach. This is one of the most popular beaches on the island, but is quite long, so it's easy to find a secluded spot on the beach. There are also many restaurants, bars, and beach clubs open during the day as well.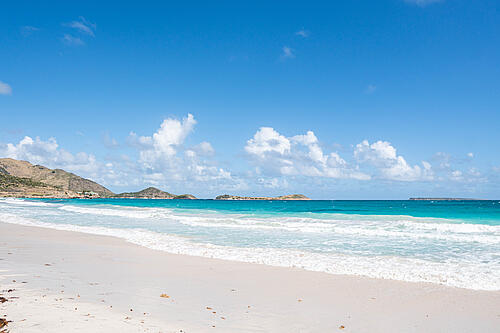 I continued to the north of the island, grabbing a fresh fruit smoothie in the town of Hope Estate before cycling toward Cul-de-Sac. From here you can take a ferry to the nearby island of Isla de Pinel, where hiking, kayaking, and snorkeling opportunities are plentiful.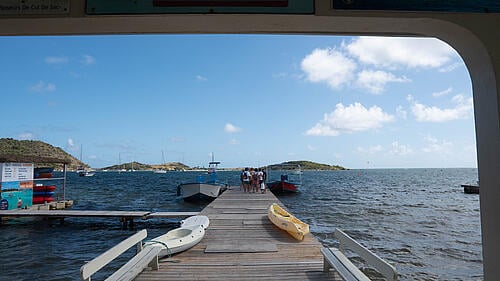 Because I kept stopping to take pictures, I was a bit behind schedule. The next section of road was fairly flat, so I quickly bolted toward the northwest of the island. The road was a bit too busy for my liking, though, so I took a detour to Friar's Bay Beach.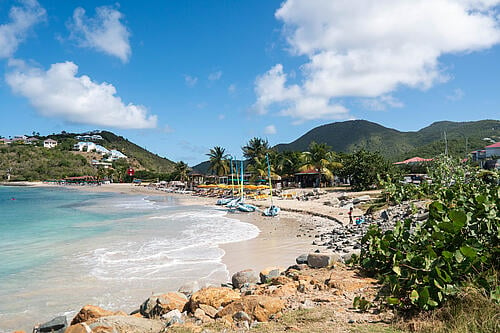 This beach was unbelievably beautiful and not very crowded. As the weather was quite hot, I replenished my water supply, had a quick snack, and relaxed in the shade for a half hour or so.
I wanted to avoid the busy road, so I attempted to find a detour to Marigot. The "road" on Google Maps was the steepest section I had seen all day and was the only point at which I had to briefly walk my bike up the hill!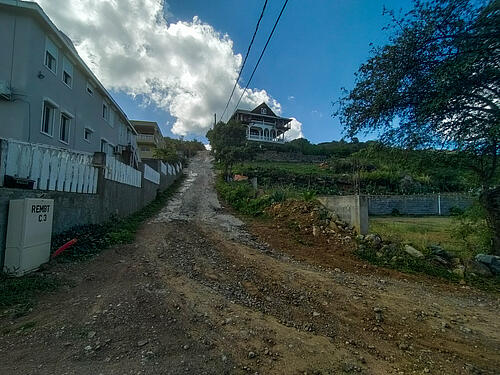 Whereas most riding so far had been a paved road or a well-maintained dirt path, this section was a mix of cobblestone, grass, and dirt! As I struggled up the hill, I chatted with a few locals who were very curious as to how I found myself on this "road". 
Regardless, I was able to avoid the busy road, so I'd take that as a win in my books.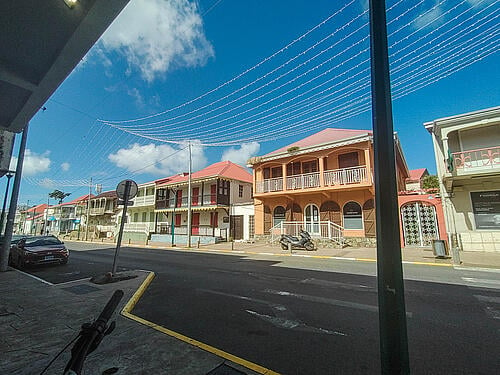 After the "road" I cycled to Marigot, the capital of the French side of the island. I found the French-influenced town to be quite cute and enjoyed wandering through the narrow streets on my bike.
In Marigot I stumbled upon Chez Fernand la French Bakery, which offers a variety of french specialties including patisserie, breads, savory snacks, and ice cream. Having already ridden my bike halfway around the island, I was feeling pretty hungry and French delicacies really hit the spot.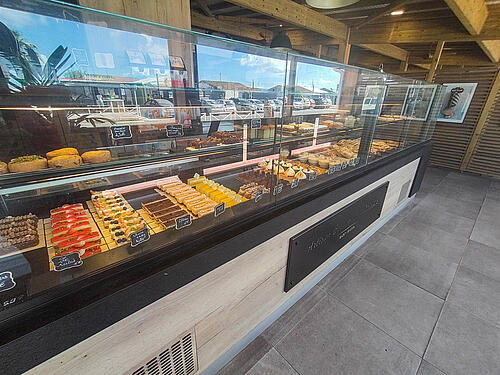 After fueling up in Marigot, I left the main part of the island and started my loop of the laguna. Originally I thought this would be a calm section of road, but it actually ended up being one of the busiest sections of the ride! All drivers were cautious of my biking, though, and the road was fairly flat, so it went by quickly.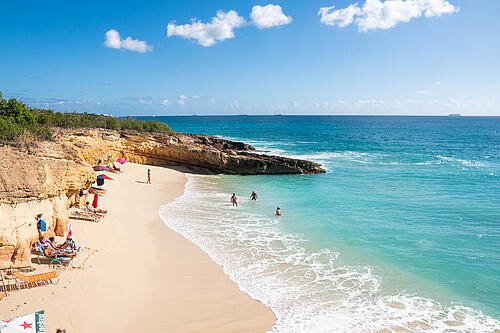 I took a detour down a dirt path to Cupecoy Beach, which has an area with many small inlets surrounded by limestone. I found several empty or nearly-empty beaches here, and it almost felt like a secret hideway on the island.
My last stop was Maho Beach, which is arguably the most well-known beach on St. Maarten. This beach is located right across from Princess Juliana International Airport in St. Maarten, and planes fly right over you as they land on the runway. Tourists flock here to marvel at the close proximity of airplanes and catch gusts of the powerful wind created when a plane takes off.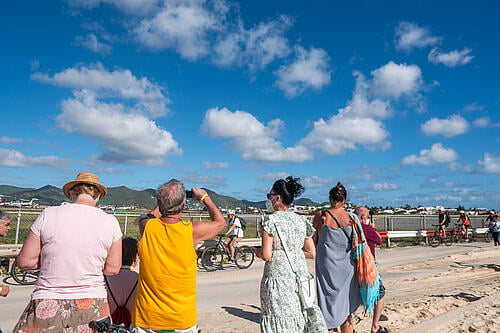 I thought it was a unique beach, although unfortunately no planes were landing when I was there! I would not recommend spending an entire day at the beach, though, as it was really crowded and not as nice as other beaches I had seen on my bike ride.
As it was now late afternoon, I began heading back to the cruise port. So did everyone else, apparently, because this section of the ride was the busiest of the day! I enjoyed taking in my final views of St. Maarten from my bicycle before a mellow ride through historical Philipsburg.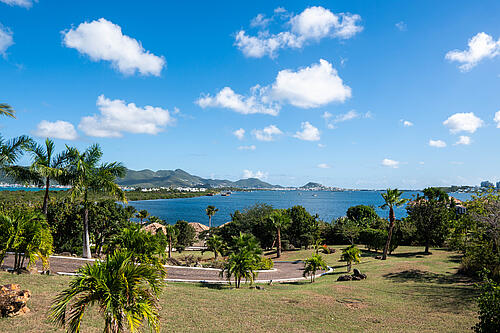 As I returned my bike and walked back to the ship, I could not believe how much fun I had cycling around the entire island. The total ride was around 34 miles up, down, and around hilly terrain, countless beaches, and historical towns. And while I certainly felt tired once I was back onboard, I don't think there could have been a better way to see all that St. Maarten has to offer in a single day!
Safety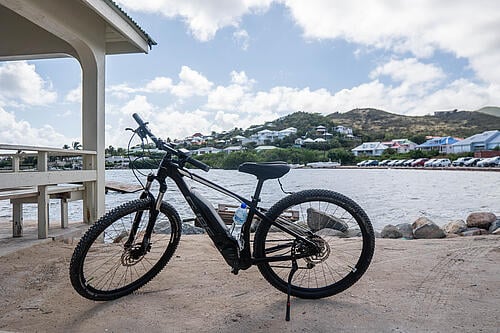 When I googled "renting a bike in St. Maarten," I was shocked by the search results. Many people suggested not renting a bike on the island and saying it would be way too dangerous. Potholes, cars, and distracted drivers would be everywhere!
I decided to take this information with a grain of salt. As there was a reputable bicycle company on the island and St. Maarten has European roots, I figured it would not be as dangerous as the internet implied.
As I started cycling, I realized I was right. I did not encounter one aggressive driver passing me and found that drivers were courteous and patient, even waiting behind me as I struggled on the steepest of climbs. In addition, while there were some potholes on the road, I did not find the road conditions to be any worse than roads I have cycled on at home (with the French side having slightly better road conditions than the Dutch).
The locals on both sides of the island were friendly and helpful. I stopped to take pictures several times and many locals, spotting my bike on the side of the road, stopped to ask me if everything was okay. This definitely added to my feeling of security while cycling solo.
However, I would not recommend renting a bike and exploring on your own to beginner cyclists. While the ride on an ebike is doable for anyone with an average level of fitness, cycling in St. Maarten does require a high level of confidence on busy roads. The main roads are often unavoidable to get around the island, so you may find way more cars on the road than you are used to.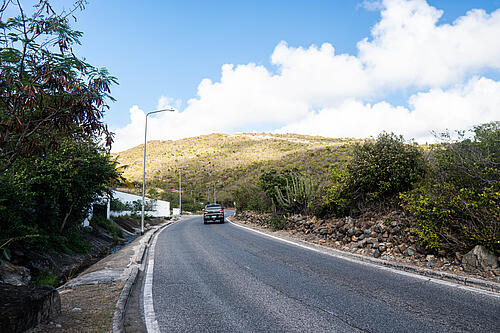 Therefore, the biggest consideration you should make before renting a bike in St. Maarten is your comfort level on busy roads. If you have never biked on a main road before, you may feel uncomfortable with the amount of cars passing you. There is little to no shoulder on the roads, so you have to stay as close to the right curb as possible to allow cars to safely pass.
What made me feel safer throughout the day were the attentive drivers behind me and the fact that all roads were just one lane on each side instead of multi-lane highways.
Guided Tours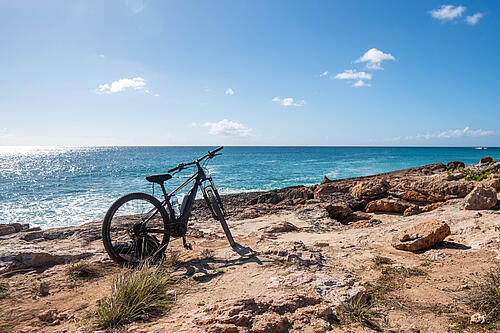 There are two ways to go for a bike ride in St. Maarten: renting a bicycle or booking a guided tour. Many guests may opt for a guided tour, but what options do you have?
Royal Caribbean works with Tri-Sport SXM, and they offer a variety of guided tours, some of which are directly listed as Royal Caribbean excursions in the Cruise Planner.
The most popular tour offered is the Historical Philipsburg by Bicycle and Beach tour, which is a 6-mile guided ride through the Dutch-influenced capital of Philipsburg. This ride is suitable for beginners and families and will give a lesson into the history and culture of the city.
You may also choose to book a guided bicycle tour directly with Tri-Sport, as they offer more challenging rides that you cannot book as a Royal Caribbean shore excursion. One of the rides offered is the Tour de Lagoon, which takes you around the lagoon on the western side of the island with a stop at Maho Beach. These tours must have a minimum of two cyclists booking it, but offer a way to see more of the island in a smaller group.
If you are traveling with kids, I highly recommend booking a guided tour as opposed to riding on your own.
Pros and cons of renting a bike vs. choosing a guided tour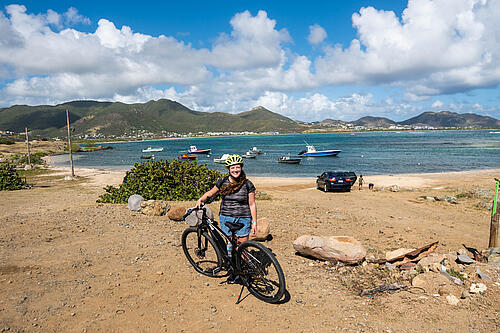 The pros of renting a bike instead of booking a tour are plentiful. Cycling on your own gives you the ultimate freedom to choose where you want to go. If you see something interesting, you are able to stop or switch your route in order to discover it more thoroughly. It also gives you the chance to cycle at your own fitness level, making the ride as challenging or relaxed as you want. I also felt that I was able to interact with locals in St. Maarten very easily as a solo cyclist, as they were generally curious about me, thus giving me a deeper insight into the island.
There are a few cons of renting a bike yourself, though. First, you will not have a local with you to help navigate your way around the island or fix your bicycle if something goes wrong. Second, you will attract less attention from cars on busy roads compared to a larger group. That being said, I did not find either of these problems to be an issue (and I never had a single problem with my bike).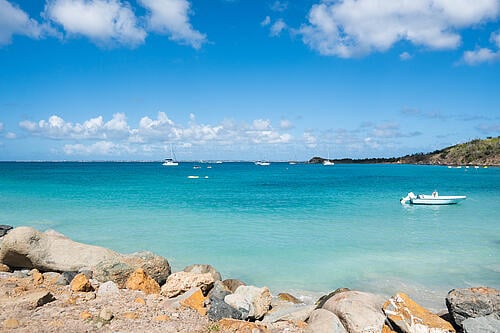 Likewise, there are pros and cons to choosing a guided bike tour. The biggest pro is that everything is taken care of for you. There is no need to map out a route yourself and ask for directions whenever you get lost. You also stand out much more on the roads when with a group. A car that may try to quickly pass one cyclist will likely hold back on passing a group of twenty cyclists.
The biggest con I saw with a guided tour were the crowds. Cycling in a group means, of course, that you are with many other people, so you will not get as relaxing of an experience as in a smaller group or by yourself. Plus, many of the popular tours visit the most touristy spots on the island, such as Maho Beach and downtown Philipsburg. This means that not only are there more crowds in the destination you are visiting, but likely there is a busier road to get there in the first place.
Whether you select a tour or not, be sure to research the average temperature during the time of year you will be in St Maarten. I did this ride in mid-January and it was around 83 degrees. It was definitely doable, but I had to drink a lot of water and take occasional breaks in the shade. The good thing about riding a bike, though, is that you get a nice breeze as you ride which helps to cool you down. Plus, you can always take a break in the ocean! There are tons of markets and restaurants throughout the entire ride, so you do not have to pack much water with you on the bike.
Final thoughts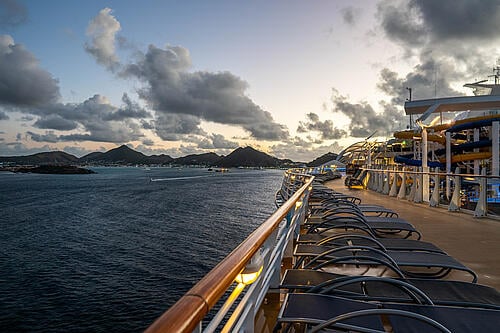 Cycling around St. Maarten put into perspective just how diverse the small island is, and being on a bike allowed me to travel at just the right pace. It was fascinating to see a mix of Caribbean, French, and Dutch influence in the island's cuisine, architecture, and lifestyle.
I've never been more intrigued by the linguistic diversity of a particular place. Not having done much research ahead of time, you can imagine my confusion when I arrived in St. Maarten and heard many locals speaking Spanish instead of Dutch, and that only a small minority of locals speak French.
I will definitely ride a bike again in St. Maarten and would recommend exploring via bike for any guest interested, whether with a guided tour or on your own.