In:
If there is one Caribbean port of call that seems to generate the most questions about what to do there, it has to be Falmouth, Jamaica.  
On a recent cruise to Falmouth, we had the chance to try the Blue Waters Beach Escape shore excursion.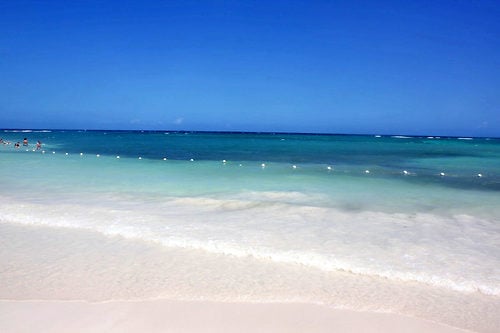 Description
The Blue Waters Beach Escape is a shore excursion sold by Royal Caribbean, that promises guests a beach experience very close to port (only a 10 minute bus ride) with white sandy beaches, blue water, complimentary drinks and food and some other extras too.
Guests meet the tour group in the designated tours area, located close to the Falmouth port gate.  There, guests check-in and are given bracelets for all members in their party.
Guests are picked up in an air conditioned coach bus and driven to the beach, which is a bit under ten minutes away.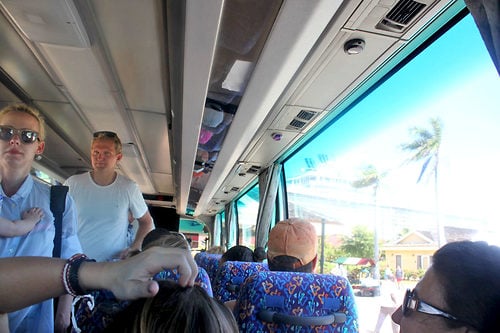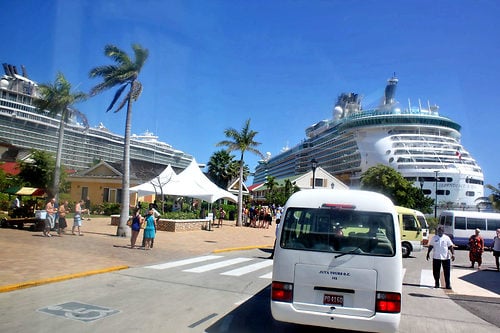 Our bus driver gave passengers a brief overview of Falmouth and Jamaican customs.  The bus ride is quite short, so there is not much to see along the way.
Upon arrival, guests are taken through the entrance area and given a short overview of the facilities and options.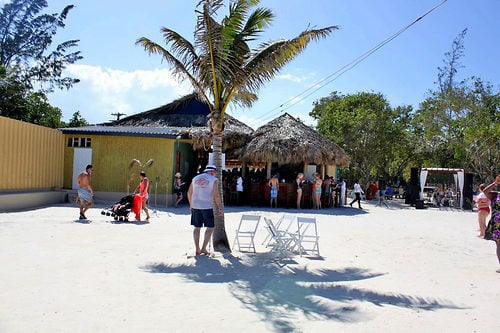 After that, guests are free to choose a seat on the beach and enjoy the area as they see fit.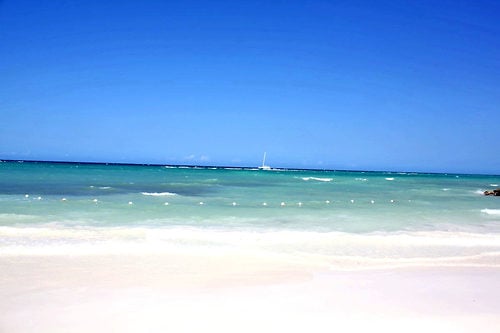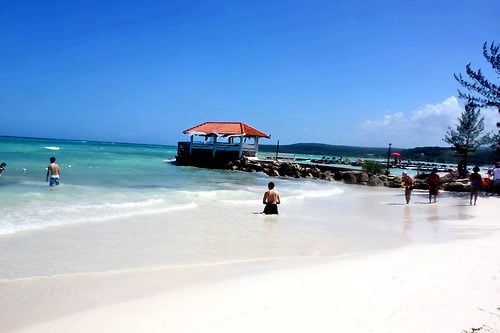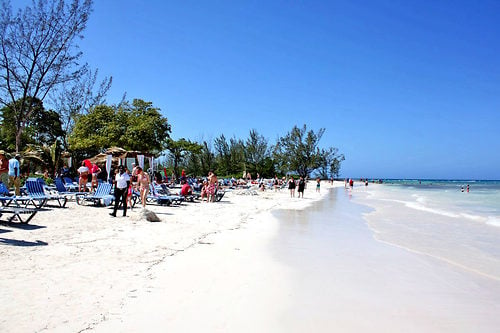 Blue Waters features a beach with designated swim area, as well as these amenities
complimentary Wi-Fi access (signal seems to only be available near the bar)
complimentary beach chair
unlimited Jamaican inspired food
select complimentary drinks
Comments
Our family struggled mightily with what to do in Falmouth and we picked Blue Waters because it was a short ride to the destination and the price was not as expensive as some other options there. With our young children, avoiding a long bus ride seemed like a good idea.
Blue Waters is great for someone looking for a basic beach day and not interested in all the upgraded amenities or options at some of the other all-inclusive resorts in the area, such as the Hilton Rose Hall resort.
The water is indeed blue and a very nice beach experience.
Unfortunately, there were aspects of the excursion that did not sit well with us, but may be fine for you.
Upon arrival, the beach was nearly full and while we were able to get a beach chair, some guests who arrived after us had no chairs available and had to settle for beach chair mats until chairs were freed up by departing guests.  The shore excursion title says, "An exclusive Blue Waters Beach Escape", but clearly this was not as exclusive as one may have thought.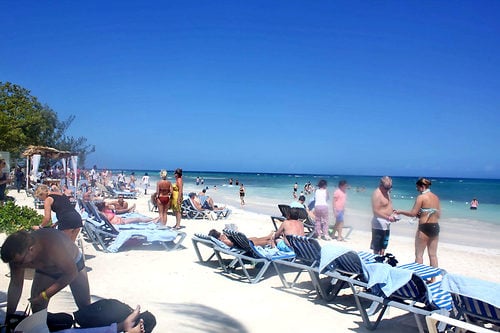 The food is described as, "unlimited food (jerk chicken, pasta) served up by 5-star chefs," and while the food was free, it certainly was not five-star level food.  Jerk chicken, salad, a seafood pasta, hot dogs in a sauce and another option or two were plentiful, albeit not very tasty.  My picky wife and children essentially ate nothing and I cannot say the food was anything remarkable.
Lastly, the Wi-Fi signal was only available near the bar area and there were so many other guests using it, that it was essentially useless.
With all of that being said, I think Blue Waters is a good option for someone that wants a basic beach day, does not need frills and does not want a long ride to/from the excursion.
Royal Caribbean guests on the excursion also have a select menu to choose from that includes a number of unlimited alcoholic beverages.  
I also did like that there were buses running back to the port quite often, so it allowed guests to leave early if they wanted.
Ultimately, Blue Waters is a nice beach, but was too crowded for our taste and the dining options available were also lackluster. As long as guests go in with the right expectations, I think Blue Waters can be a good (and close) option, but it is important to understand what this excursion offers.
Cost: $79.75 per adult or $59.75 per child. Infants are free.