In:
With Royal Caribbean now making regular stops on its Western Caribbean itineraries in Falmouth, Jamaica, many cruisers are looking for good excursion ideas for this port.  On our recent cruise aboard Freedom of the Seas, we tried out the Hilton Rose Hall Resort & Spa Day Pass. (Link contains affiliate link, which means I get paid a finders fee, but no additional cost to you)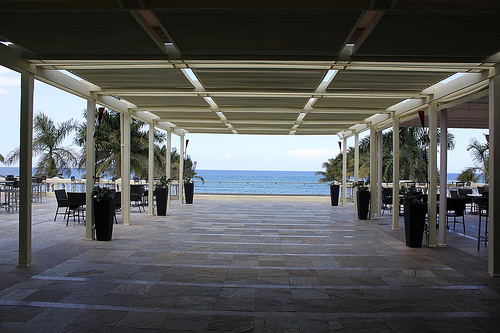 Description
The Hilton Rose Hall Resort & Spa Day Pass is an excursion that is available from Resortforaday.  The day pass offers passengers access to the  Hilton Rose Hall Resort & Spa, about 30 minutes from the Falmouth port.  There, guests have full access to the facilities including the pool, beach, food, beverages, chairs and more.
The resort is located directly on the beach and offers fantastic views and access to the ocean.  The sandy beach has lots of room with beach chairs right on the water.  There is also two pool facilities available for use.  The first pool is your generic swimming pool located near the beach and offers a fantastic view.  The Hilton recently opened a new pool facility, called the Sugar Mill Falls Water Park, which offers a pool, swim up bar, lazy river and a few water slides.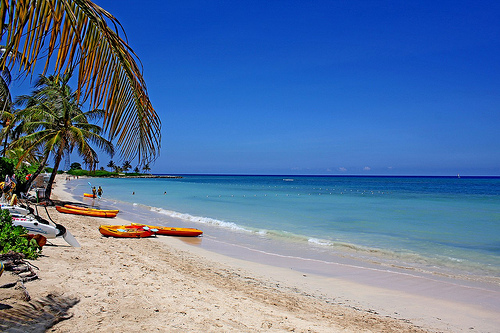 In addition, your day pass includes towels, non-motorized water sports including snorkeling, windsurfing, kayaking, sailing, volleyball, aerobics, and tennis.  There is also an optional transportation package that includes transfer to and from the port.
Comments
The Hilton Rose Hall Resort & Spa is a beautiful resort that is great for those looking for a beach/pool getaway while in Falmouth.  After a quick ride (25 minutes or so), you arrive at the resort where you pay the remainder of your balance (the company we booked with required only a deposit to book the package) and then you're given quick access.  We were happy to see the staff working quickly to get us onto the resort to enjoy the day.
The beach is quite nice and among all of our beach days on our Western Caribbean cruise, this beach was by far the nicest.  It was the least rocky with clear blue water and serene atmosphere.  If your idea of a beach day is enjoying a calm, picturesque view, then this is the beach for you.  There aren't any docks or water toys in the ocean, but that's okay because the nearby water park makes up for it.
The Sugar Mill Falls Water Park is really a glorified pool facility.  To call it a water park is a bit of a stretch, but it's more than just another pool.  It's one of the nicest pools we've been to and frankly, we spent most of our time here.  The pool opens up to a swim up bar, which you can get drinks for free.  There's a lazy river as well, although we found it quite difficult to navigate the lazy river while staying in your group.  There's also one large water slide and two smaller slides.  The Sugar Mill Falls Water Park really compliments the resort well and combined with the ocean access, make the perfect aquatic excursion for families.  If you want serene and calm, you have the ocean.  If you want to burn off energy and have fun, Sugar Mill Falls Water Park is for you.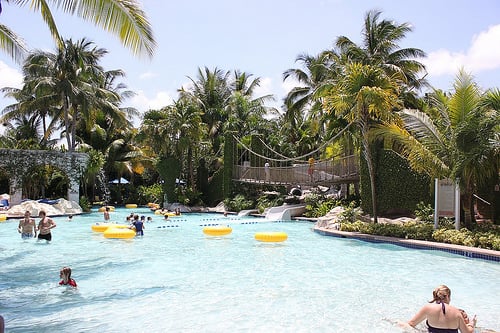 Included in the price of admission is unlimited alcoholic drinks and food.  The drinks aren't top shelf liquor, but they were quite good and we found the bartenders to be rather liberal with their pouring. The staff was also quite nice and really made our stay here feel welcome.  The food wasn't anything special, however.  We found the food to be rather generic resort food and nothing great.  If you were staying here for a week, I'd be concerned but since you really only eat lunch, it's not a deal breaker but it is something to be aware of.
With the cost of the package (we paid $75 per adult), it's a little on the pricey side but acceptable.  All-inclusive beaches in Mexico are somewhat cheaper, but for Jamaica it's in line with other all-inclusive beaches we've been to at other ports.  Like any all-inclusive, the cost makes more sense if you're looking to have a lot to drink.  But even with people in our group that didn't drink, we really enjoyed our time at the resort and if you consider you'll spend about five hours or so at the resort, the price per hour is cheaper than most excursions you can find.
Location: P.O. Box 999 Montego Bay, Jamaica
Website: Resortforaday
Cost: $75 per adult or $55 per child (Age 4-17).  Optional transfer included increases price to $90 & $70 respectively.