In:
Please welcome Rick Cincotta, as our latest guest blogger.  Today, Rick is sharing his review of the Peat Taylor Tours in Falmouth while aboard Royal Caribbean's Oasis of the Seas.
As I sat down to plan out my shore excursions for my upcoming Western Caribbean cruise on  Oasis of the Seas, one destination left me a little stumped. Falmouth, Jamaica. This recently developed port leaves a lot to be desired in the way of shore side activities, if sitting poolside at Margaritaville is not necessarily your cup of te-quil-a. In fact, many cruisers often look to this port as a day to enjoy the ship while the masses disembark for parts unknown. To be honest, that would have been exactly my plan had I not been traveling with my buddy, Mark, who was not only on his first cruise, but was also visiting Jamaica for his first time.
With that in my mind, my first thought was to look for an excursion that included Dunn's River Falls, the infamous natural staircase waterfall, for which I have been to many times. However, my own selfishness was telling me to bypass the falls and find a tour that would include a stop at the Blue Hole, a destination that many experienced travelers have said is a must do in Jamaica. See the problem with docking in Falmouth is that you are about 45 minutes away from the major tourist attractions, which are primarily located in Ocho Rios, where only certain cruise lines (not to be named) dock. As a result, time is very much against you.
So as many of us do, I took my search to the internet to find a reputable tour operator that could bring us to both stops and ensure that we would return to the ship in time for departure. After reading many reviews and making many phone calls, I settled on using Peat Taylor Tours. After discussing my preferences with Peat, he suggested that we visit Dunn's River Falls, the Blue Hole and Calypso River Tubing, which gave me room for pause given that we were only in port from 10 AM – 7 PM. However, Peat promised me that we would be back to the ship with plenty of time to spare to enjoy some patties and Red Stripe before setting sail. With my faith in Peat's hands, I agreed to the $100 per person price and promptly paid my $10 deposit via Paypal.
I received a very detailed email from Peat shortly after reserving the tour, which told me to proceed to the white independent tour operator tent as soon as I could get off the ship. So Mark and I made our way to the gangway at 10:30 AM and easily located the tent, which is located outside of the pier area gates. We informed one of the representatives manning the tent that we were booked with Peat Taylor and he promptly pointed our guide (Carry) and tour van. We were only joined by one two others, which we had connected with online prior to sailing, so this was very much a "private" tour.
Once payment (cash only) was made we began our journey (11 AM for those keeping track) from the "historic" Falmouth area to Ocho Rios, where our first stop would be Dunn's River Falls. During the 45 minute journey, our guide gave us the usual port talk about the area and various points along the way. The drive is very scenic and primarily takes you along the coast, where you can stop for some photo opportunities.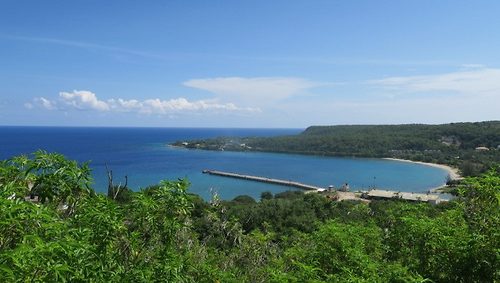 Once we arrived at Dunn's River Falls, we were met by an attendant in the tour bus area, who provided us with our entrance wrist bands and introduced us to our guide for the falls, Wilson, who was very entertaining and full of energy (lots of singing as demonstrated below). Note: We were able to leave all of our belongings in the van and did not have to rent lockers.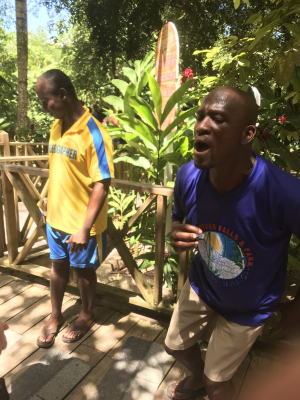 After about 90 minutes of climbing, picture taking, enjoying the natural pools and saying "Ya Mon" more times than I care to remember we made it to the top of the falls.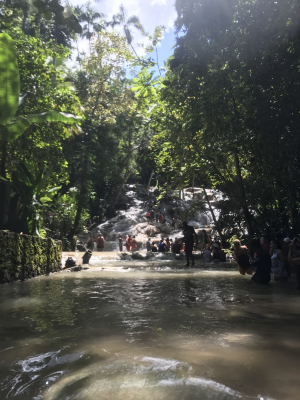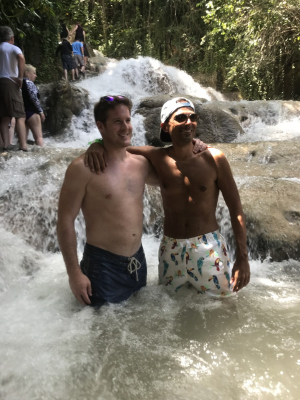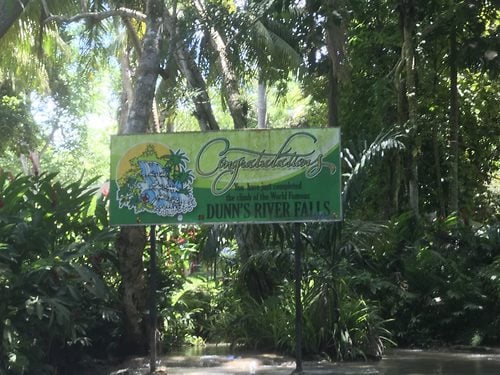 After surviving the walk through the Craft Market on our exit we managed to get back to the tour bus with only $4 Red Stripes in on our hands (no DVDs or illegal substances here).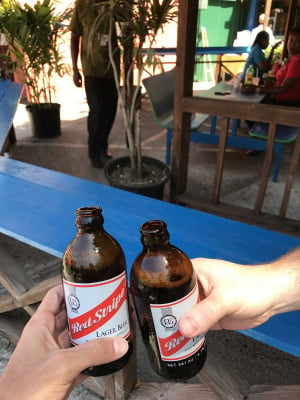 Back in the bus, we opted to bypass lunch (for now anyways) and make our way to Blue Hole. We arrived at Blue Hall at approximately 2 PM (three hours in and counting). This place is really spectacular and the natural beauty of the pools is not done any justice by pictures.
We were introduced to yet another tour guide, Jason, who ensured we were safely diving and took many pictures of us with our own personal cameras (no photo/DVD sales pitch). Our time here (just shy of an hour) consisted of about eight cliff jumps and rope swinging. The jumps ranged anywhere from 15 to 30 feet and really got the adrenaline pumping with the group.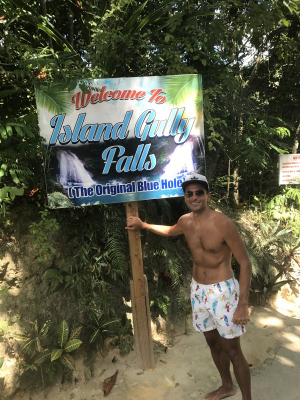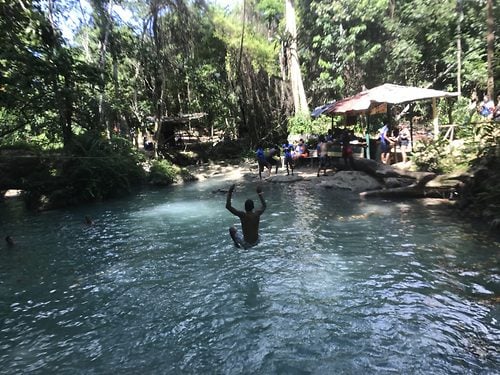 One thing to note, keep your water shoes on. While they are not required, the rocks here are very much still in their natural state and there are no manmade stairs or walkways. Mark and I made the mistake of going foot commando.
Back on the van, we made the quick 15 minute ride to the Calypso River for some relaxing tubing to finish off the day. Once again, we were introduced to a new guide, George, who was extremely helpful and energetic (another a cappella singer). More importantly, he ensured that the group never got stuck and was constantly pushing our tubes to the center allowing us to drift into oblivion without worrying about getting stuck on rocks. The river has just the right current speed to keep you moving, but still providing for a very relaxing experience. Our group of four were the only ones tubing and it truly felt like we were on our secluded island.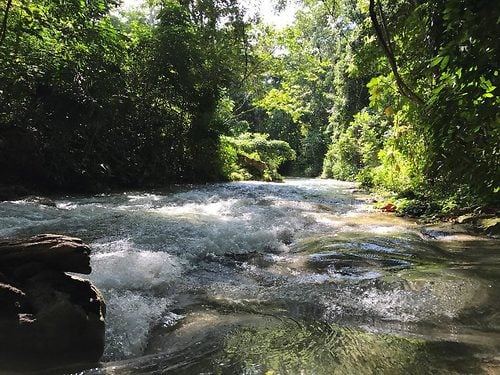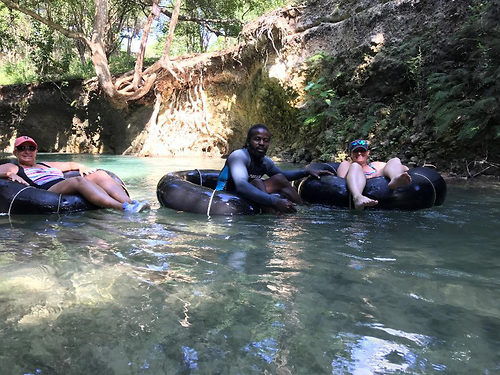 As we hung up our tubes, a quick time check reminded us that it was now 4 PM and that we had about two hours to get back to the ship, which included the 45 minute ride back to Falmouth. However, we were starving at this point and informed Carrey that we would very much like to stop for food, but take it to go. With that we headed to Scotchies, which Carrey coined as "Jerk Center," for some fuel for the ride back to the ship. I ordered a quarter pound of jerk chicken, a festival (Jamaican hushpuppy), rice and beans, which equated to $6. The food was excellent and we all quickly found ourselves thoroughly stuffed and snoozing on our ride back to Falmouth.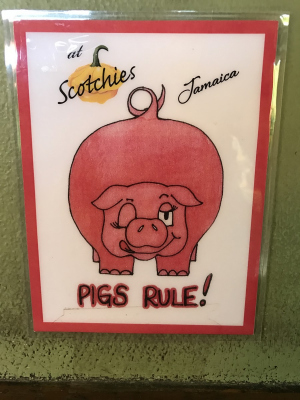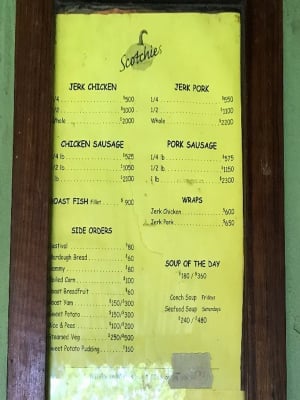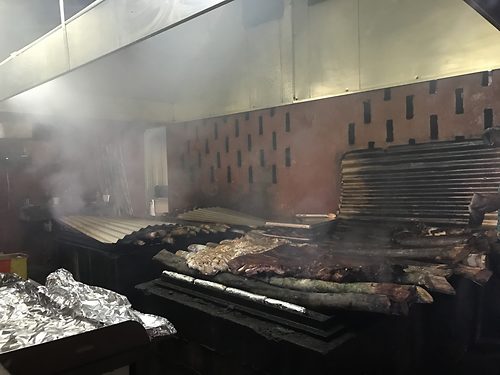 When I finally awoke, the Oasis was staring me in the face and I immediately turned to the clock to see that it was about 5:30 PM, which gave us about an hour before all aboard and clocked the tour at about six and half hours.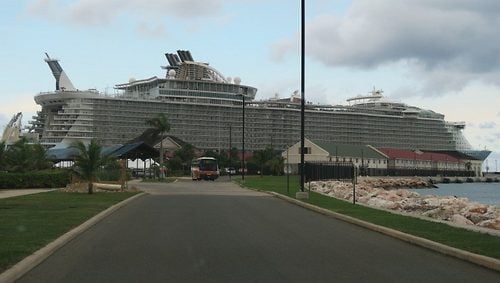 So now for my final thoughts. This tour currently sits at the top of my list with respect to excursions in the Western Caribbean ports of calls. The experience was top notch, from the locations visited (yes, even Dunn's River was fun) to each of the tour guides we had along the way only to be capped by a truly fantastic authentic Jamaican meal. In addition, if you recall this tour was only $100 for three stops and six and half hours of "personal" tour time…what a bargain! To think this was a port I was going to stay on the ship and potential miss this unforgettable experience…
For anyone that has not given Jamaica the time of day on recent cruises and feels that there are no excursions worth their time or maybe is concerned with the limited amount of hours in port, I highly suggest trying this tour and can almost promise you will not return with anything but a mind and camera full of memories.