In:
Royal Caribbean is celebrating Mo Farah's Olympic gold medal win by announcing that it will waive the entry fee for the Royal 5K race for anyone that books the Royal 5K cruise before August 17.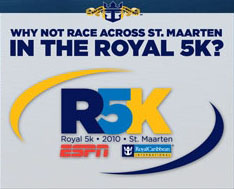 The Royal 5K will be held in Phillipsburg, St. Maarten on December 4, 2012 and is the second year in a row the race is being held.  The race is open to all those cruising onboard Oasis of the Seas and the entry fee is normally $25 to participate.
The special race coincides with a cruise itinerary dedicated to running enthusiasts that includes running themed activities, such as:
Social fun runs and beach workouts
Private meet-and-greet sessions with high-profile racing athletes
Seminars and lectures with high-profile athletes
Personal training tips from experts
Speed tests on the onboard running track
This new offer celebrates Mo Farah's gold medal performance in the men's 5K race that resulted in a time of 13 minutes and 41.66 seconds.  
Dominic Paul, Vice President and group managing director, Royal Caribbean Europe, commented, "Mo Farah's electrifying performance has inspired the runner in all of us. With interest in our Royal Caribbean Runners groups really taking off and the fitness facilities onboard our ships busier than ever, we thought what better way to show our support for Team GB than by waiving the entry fee for this year's Royal 5K race. From sports courts to surf simulators, making investments that get people active has always been a key part of Royal Caribbean International's business and we're thrilled to be paying tribute to one of our country's finest athletes in hopes of encouraging experienced runners and novices alike to join us on a running themed holiday at sea."