In:
For the first time ever, you can combine the Comic-Con experience with a cruise vacation onboard Royal Caribbean's Serenade of the Seas.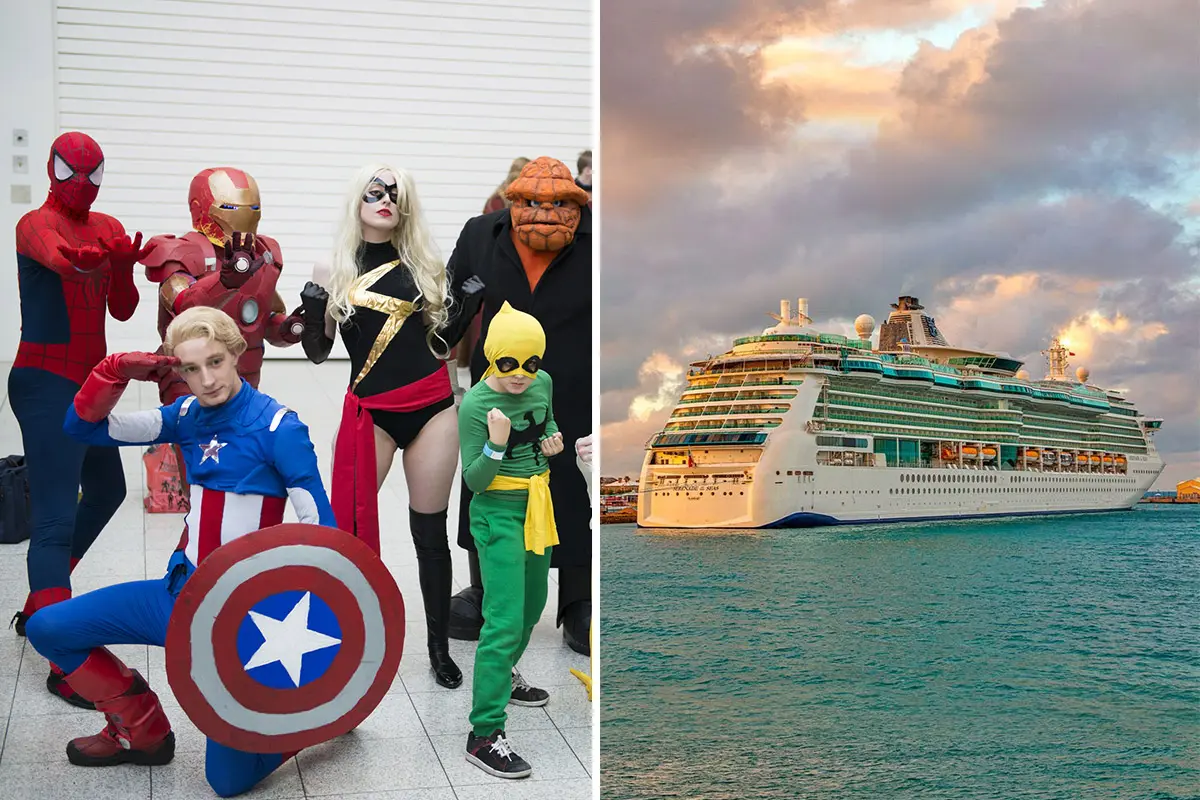 San Diego Comic Convention, the parent company of the international comic convention, and Entertainment Cruise Productions, who have previously worked on other cruise ship experiences like Star Trek: The Cruise, are working together to launch a full-ship charter Comic-Con convention at sea. 
Comic-Con: The Cruise will take place February 5-9, 2025 and sail from Tampa, Florida to Cozumel, Mexico. 
This is a one-of-a-kind experience, as the talent will be sailing, dining, and partying amongst passengers. Fans will be able to attend various panels and Q&A sessions, tabletop and video game competitions, karaoke, trivia, cosplay parties, and more.
There will be a different theme each night, with multiple different parties and events offered to cater to everyone. You can expect dance parties with DJs, concerts, shows, and more. 
Currently, staterooms start at $990 per person for an interior cabin based on double occupancy. A Royal Suite costs as much as $5,620 per person. 
If you are traveling solo, pricing starts at $1,240. This does not include an extra $200 that will be applied to cover port fees, taxes, and gratuities. 
Some cabins are able to accommodate three or four guests. They will not be subject to paying the same fare as the first two passengers. The rate for 3rd and 4th guest(s) in an interior room is $600, ocean view $740 for three and $1,000 for four, balcony $900, and $1,200 for suites.
The price includes all performances, parties, and events presented on the cruise. There will be some special Artist Hosted Events that require you to sign up and possibly pay an extra fee. 
Note that since this is a full-ship charter, standard Crown and Anchor benefits are not able to be redeemed. Points for each night sailed will still be earned, though.
In order to cruise, guests must be 18 years of age or older on embarkation day. Anyone who is between the ages of 13 and 18 must be accompanied by an adult 21 years of age in the same or connecting cabin. No passengers 12 and under will be allowed onboard. 
What is the ship like?
Serenade of the Seas is a Radiance Class ship that was originally launched in August 2003. She measures 90,090 gross registered tons and had a capacity of 2,476 guests. 
Onboard, you will find eight dining options to choose from, including the complimentary two-level Reflections Main Dining Room, Park Café, and Windjammer buffet. 
Additionally, there are five are specialty venues that have an additional cost: Chops Grille, Giovanni's Table, Izumi, Chef's Table, and Café Latte-tudes. 
Guests will also be able to enjoy the ten different bars and lounges. 
Prior to Comic-Con: The Cruise, Serenade of the Seas will be going on Royal Caribbean's first-ever world cruise. Beginning in December 2023, the voyage will last 274 nights and visit more than 150 destinations in 65 countries.