In:
Exploring the vast wilderness of Alaska can take you to so many places along the way, and Royal Caribbean offers one way to do in some serious style.
On a recent stop in Skagway, Alaska on a Royal Caribbean cruise, we tried out the Yukon Hummer Adventure so that we could not only see large swaths of Alaska and the Yukon Territory, but do it in a really fun way.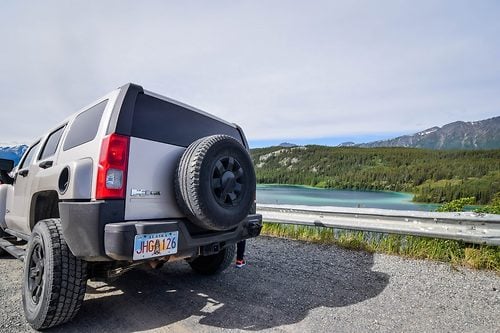 Description
The Yukon Hummer Adventure is a 4 hour tour that takes you from Skagway deep into the heart of the Yukon Territory in Canada.   Your group gets to drive a 4-wheel-drive Hummer H3 as part of a caravan that will see a lot of the countryside.
We booked our excursion directly with Royal Caribbean and took an early time to ensure we had time after the tour to explore Skagway upon return.  The tour cost us $152 per adult and $104 for our 7-year-old daughter.  We are pretty sure nearly all of that cost pays for the gas for the H3. 
A representative from the tour company will meet you at the end of the pier and provide van transportation to the tour departure point.  Here, you hop into a H3 (4 people per vehicle), do a quick radio check and set out on the road.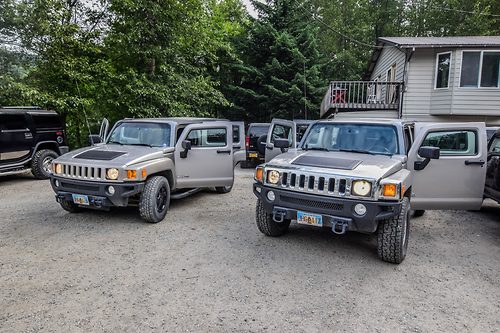 The Hummers provided had some mileage on them (149k miles on the one we drove) but were in good working order.  The cars were comfortable and have an automatic transmission.  There is also climate control and a sun roof.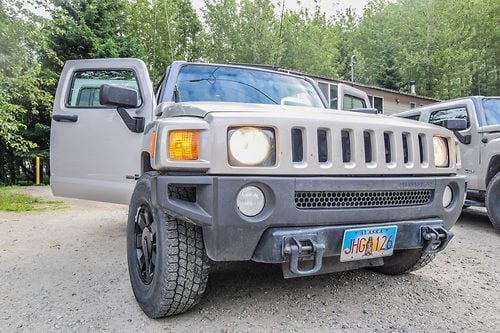 All guests planning to drive must be at least 25 years old, bring a valid driver's license and name of insurance company, and must sign a liability/insurance waiver.  
Each car has a two-way radio that you can use to communicate during the drive.  The tour leader drives first, which everyone in the group following.  The tour leader regularly comes on the radio to share driving strategies, point out animals, and provide history of the region, the gold rush, and what life is like there today.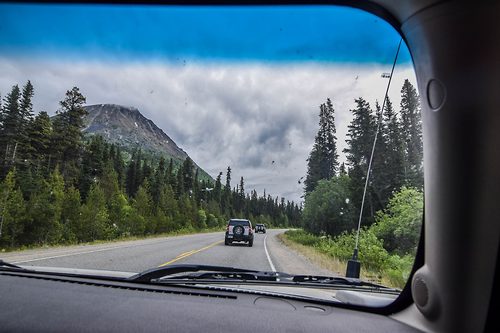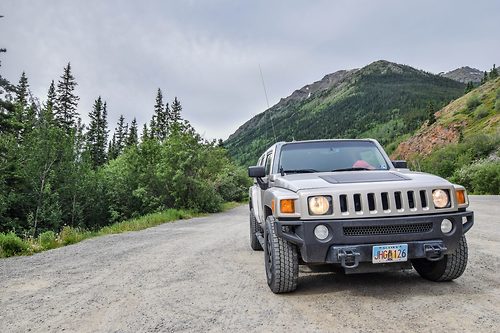 During the tour, you will reach White Pass Summit and pass through subalpine terrain, en route to the narrow Caribou crossing at the headwaters of the Yukon River and see Emerald Lake.
We made a few stops along the way, which include
The Yukon Territory welcome sign
Emerald Lake
Village of Carcross, Yukon Territory
The Alaska welcome sign (on the return trip)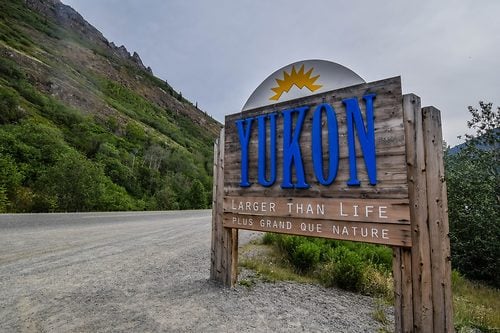 The exact route you go on will depend on road and weather conditions.  We also stopped to see a bear that was alongside the road.  We would have made more stops for wildlife, such as moose or porcupine, but we never saw any.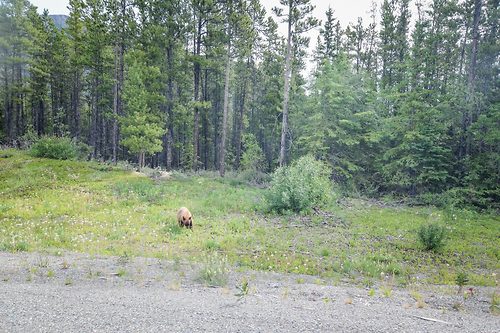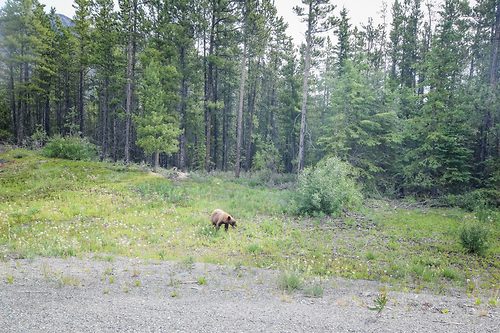 Since this excursion crosses the U.S.-Canadian border, guests must carry their passport, and if applicable, their visa.
Comments
We booked the Yukon Hummer Adventure because it allowed us to cross off two bucket list items: see lots of the countryside in and around Alaska, and drive a Hummer.  We certainly accomplished both.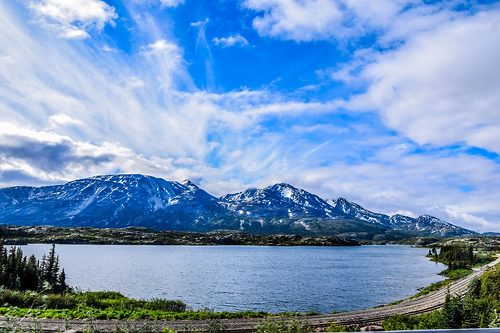 Much of the tour is conducted as you drive, and there is a lot of places along the way that you will see, but will not have time to stop at and explore.  In order to reach Carcross and Emerald Lake, much of the tour time is required in getting back and forth.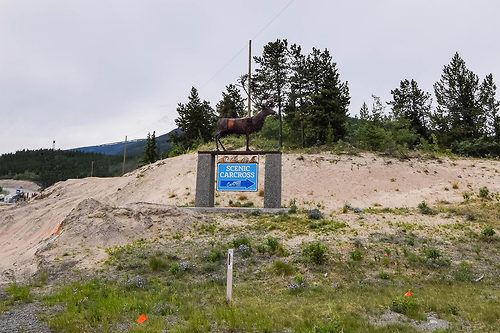 When you do stop, there are often beautiful vistas to enjoy and the kind of scenery you might imagine Alaska and the Yukon are known for historically.  I certainly would have liked to have made a few more stops on the way at other spots, but I did feel we saw a lot more of the Yukon than anyone else on similar tours.  Seeing the mountains, valleys, rivers and lakes, even at 55 miles per hour, is better than not seeing them at all.
Our tour guide briefed us early on the tour about what to do when we see a bear, and I was very happy we did find one along the way but that was the extent of the wildlife on the tour that we spotted.  Obviously which animals you see or do not see is left to chance, but it is worth noting that our driver was willing to stop for other animals if they were spotted.
Driving the Hummer was very easy, and as someone who does not know how to drive a manual transmission, it was simple enough to operate the Hummer.  If you can drive a pick up truck or mini van, you can drive a H3.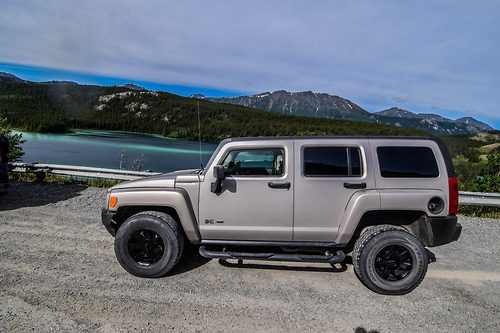 The best part of the tour is we covered so much ground and came across so many beautiful views along the way.  Being able to drive the H3 was also really fun, and I do believe half the appeal of this tour is you have to be excited to drive a Hummer in the first place. 
The two major stops along the way are Emerald Lake and Carcross.  Emerald Lake is a beautiful freshwater lake that is known for its intense green color.  It looks like it belongs in the Caribbean, and not in the sub arctic.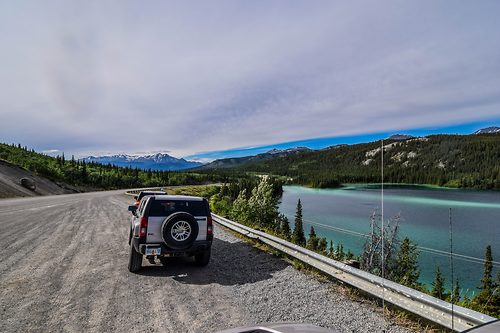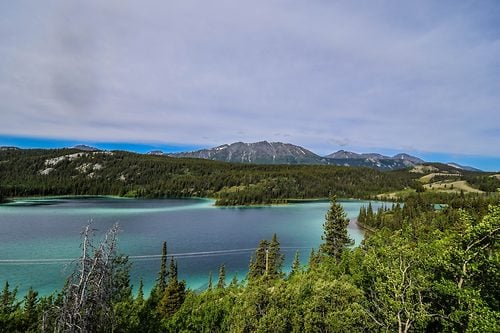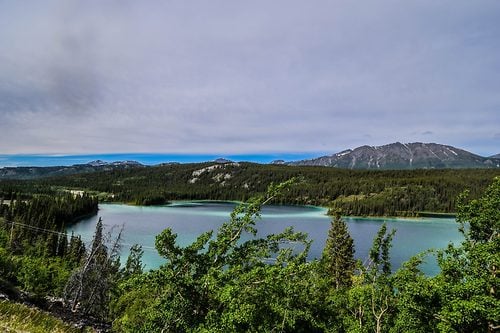 Carcross is a small village just before Emerald Lake and you will have your longest stop.  There was just enough time to use the restroom and grab coffee and a snack.  I would have loved to have had an additional half hour to explore the town a bit more.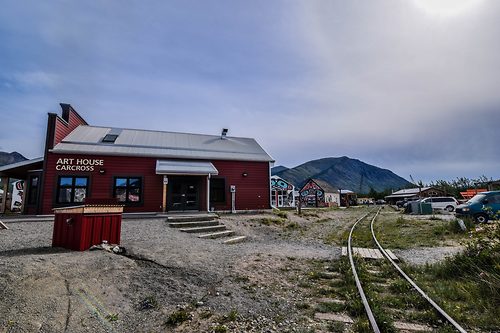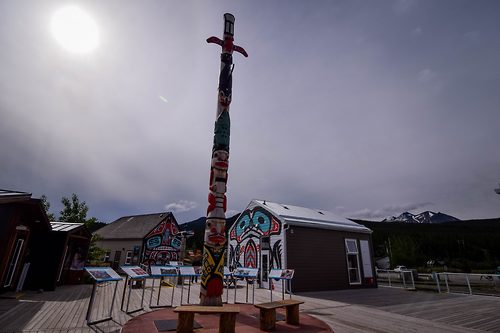 More time is really at the heart of my only complaint about the tour.  You spend a vast majority of the time doing exactly what the tour promises: driving a Hummer.  While neat and a great way to inflate your manly ego, I can think of 3-4 places I really would have liked to visit along the way.  It should be noted you can book a private tour with the tour operator and basically go wherever you want, as an alternative for those that also like the idea of exploring on foot and driving an awesome car along the way.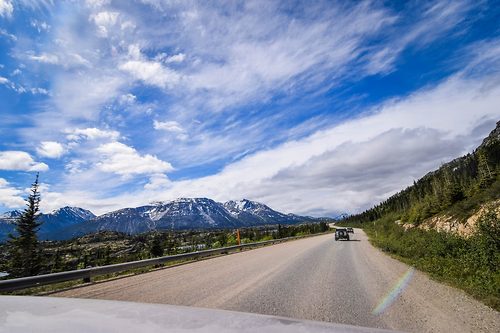 Our tour guide, Ben, was very helpful and conveyed the story of the gold rush and life in Skagway and the Yukon today.  Ben was insightful, knowledgeable and happy to help take photos at any stop.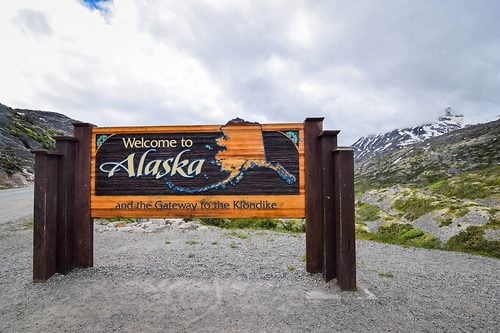 Overall, we had a great time seeing a lot of Alaska and Canada on this tour.  If the idea of driving a Hummer and exploring the Yukon sounds like a great combination, then this is the tour for you.
Cost: $152 per adult, $104 per child. Children must be at least 5 years old. Booster seats are available.