In:
Cruising in 2023 is mostly back to normal following the pandemic-induced changes implemented across the industry in 2021 and 2022. Pre-cruise testing has been almost entirely abolished, ships are sailing at full capacity, and new ships are being constructed.
Nonetheless, there are still a few new changes–as well as evergreen advice–to be aware of before you cruise in 2023. Remaining flexible with policy changes, purchasing travel insurance, and arriving at your embarkation port the day before your cruise begins are all just as important in 2023 as they were in previous years.
Here's our list of the top 23 Do's and Don'ts for your Royal Caribbean cruise in 2023.
1. DO remain flexible
Flexibility is key when it comes to planning a Royal Caribbean cruise. Itinerary changes, ship changes, and unexpected weather conditions can alter your vacation plans.
Whether you miss a port due to a storm, a show gets canceled, or your favorite specialty restaurant is fully booked, it's important to remain flexible.
Keeping an open mind when changes occur is essential to avoid a small change ruining your vacation. If your port stop in Mexico gets canceled, for example, consider splurging on something onboard (a spa treatment, perhaps?) instead of sulking in a pool chair.
Staying flexible ensures you can still have an enjoyable vacation even if unexpected changes occur.
2. DO book refundable cruise fare
If you're planning a cruise in 2023, be sure to book a refundable cruise fare, especially if the sailing is far in advance.
Refundable cruise fares allow you to receive a full refund of any deposit/money paid towards your vacation prior to final payment date. If you put down a $500 deposit on a cruise, for example, but later have to cancel the reservation, you'll receive the deposit back with no penalty.
Related: Royal Caribbean refundable versus non-refundable cruise fares
Non-refundable fares, on the contrary, do not provide a full refund of your deposit. Instead, you'll receive a future cruise credit in the amount of the deposit paid minus a $100 per person service fee on the canceled cruise.
3. DO purchase travel insurance
If you have a cruise booked in 2023, make sure to purchase travel insurance beforehand. Good travel insurance plans will cover trip cancellation, trip interruption, travel delay coverage, baggage delays, emergency medical coverage, onboard medical expenses, and other unexpected scenarios.
While it's always recommended to purchase travel insurance before a vacation, it's especially helpful on a cruise, as the onboard medical center is not covered under most insurance plans that work at home.
Related: Should you buy annual travel insurance plans?
4. DO the online check-in as soon as it's available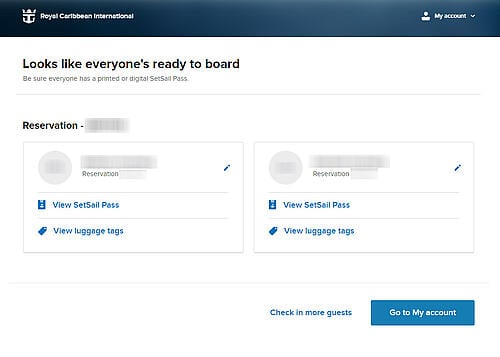 Royal Caribbean's online check-in opens 45 days before your departure date, and we recommend completing the process as soon as possible.
Checking in on the Royal Caribbean app or website allows you to get ahead of the game in preparation for embarkation day. You'll provide your documentation information, photo, emergency contact information, etc.
Most importantly, you'll select a check-in time which indicates when you can arrive at the cruise terminal on embarkation day. The earlier you check-in, the higher chance you'll have at scoring an early check-in time.
5. DO book with a travel agent
If you're booking a Royal Caribbean cruise in 2023, be sure to book with a travel agent. Travel agents act as your own personal expert on Royal Caribbean cruises.
Not only can they provide helpful information and resources throughout the booking process, but they have access to Royal Caribbean's best deals and offers. Plus, a good travel agent will not charge any fees for their services as they get paid a commission through Royal Caribbean.
Related: Top 5 things to look for in a good travel agent for your cruise vacation
6. DO know what's new for Royal Caribbean in 2023
Royal Caribbean is constantly innovating and building new projects, and there are several new offerings coming to the cruise line in 2023.
First is Hideaway Beach, an adults-only area of Perfect Day at CocoCay, which is set to open in late 2023. We'll also see the launch of a new Main Dining Room menu, construction finished on Icon of the Seas, and the launch of Royal Caribbean's first world cruise in December 2023.
Related: What's New and Coming to Royal Caribbean in 2023 & 2024
7. DO remember to do the muster drill
Royal Caribbean introduced their new eMuster safety drill in 2021, which allows guests to review safety information at their own time on the Royal Caribbean app prior to setting sail.
After completing the first two steps on the app, guests must visit their assembly station once onboard, where a crew member will verify you completed the briefing.
Everyone onboard must complete the muster drill before the ship can leave. Therefore, be sure to do this as soon as possible once onboard to avoid being the passenger preventing the ship from leaving!
8. DO confirm necessary documentation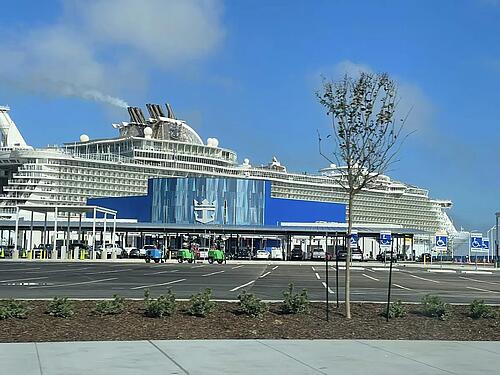 One common mistake far too many first time cruisers make is not understanding which documentation is required to board a Royal Caribbean cruise.
We recommend having a passport for every member of your travel party. If you do not have a passport but are sailing on a closed-loop cruise from the United States, you'll need the following documents:
State-issued ID
Official birth certificate
All required documentation can be found on Royal Caribbean's website here.
9. DO double check for any remaining Covid protocols and requirements
Compared to a year ago, Royal Caribbean's Covid protocols and requirements are extremely relaxed. In fact, only a few sailings still require a pre-cruise Covid test:
Cruises from the US and Caribbean that visit Colombia
Transatlantic cruises
Cruises from Australia
Protocols are always subject to change, though, so it's a good idea to keep up to date on any potential pre-cruise testing requirements for your sailing.
10. DO apply or renew your passport ASAP
While passport processing times are not as long as in 2021 or 2022, it can still take several weeks to receive a new or renewed passport.
We recommend that you apply for a passport/renew your passport with plenty of time to spare. Current processing times are 6 to 9 weeks for new passports (3 to 5 weeks expedited) and 4-5 weeks for passport renewals. These estimates do not include mailing times.
11. DON'T be surprised by last-minute policy changes
While it's unlikely that Royal Caribbean will reimplement Covid-specific policies like social distancing and mask requirements, it's always a possibility.
If a new variant or Covid numbers raise alarm, there's potential for the Covid protocols used in 2021 and 2022 to return on cruises in 2023. This is unlikely to occur, but remaining flexible in case of any changes is recommended.
12. DO book refundable hotels and airfare
Just like cruise fare, we always recommend booking refundable rates on pre-cruise purchases like airfare and hotel stays.
Refundable rates only cost slightly more than the non-refundable options, but provide flexibility in case of any expected situations like canceling your cruise or changing the day and time of your flight.
13. DON'T fly to your cruise port the same day it begins
One of the most rookie mistakes you can make while planning a Royal Caribbean cruise is to fly to your embarkation port the same day your cruise begins.
Weather and air travel is extremely unpredictable. Thunderstorms, staffing problems, tight connections, and hazardous winter conditions can easily cause you to miss a flight. Booking your flight the day before your cruise begins provides a little extra wiggle room in case of any travel mishaps.
14. DON'T wait to book pre-cruise purchases on the Cruise Planner
In the past year, Royal Caribbean has raised prices on many of the cruise line's most popular pre-cruise purchases. From drink packages to specialty restaurants and shore excursions, expect higher prices in 2023.
The Coco Beach Club at Perfect Day at CocoCay, for example, sold day passes for as little as $88 in early 2022. Today, on the other hand, you'll likely see prices closer to $200!
Related: Coco Beach Club: cost, tips & review
Because of these price increases, we recommend booking pre-cruise add-ons as soon as possible. This ensures you can lock in the lowest price possible. Plus, if you see that the price of a pre-cruise add-on decreased, you can easily cancel and rebook the purchase with no penalty.
Related: The Ultimate Guide to the Royal Caribbean Cruise Planner site
15. DON'T overlook the new Main Dining Room menu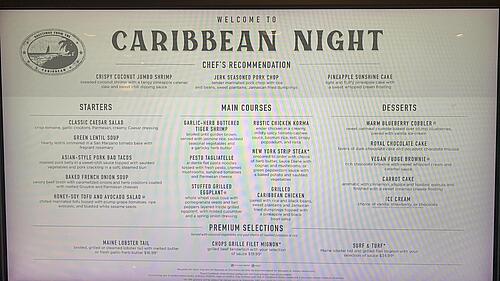 One of the most controversial changes coming to Royal Caribbean in 2023 is the cruise line's new Main Dining Room menu. This new menu will feature a themed cuisine each night and will stop offering the same classic dishes previously offered each evening.
Naturally, any change Royal Caribbean announces is met with criticism, and there seems to be a divide between cruisers excited about the new menu versus those against the change.
Related: Royal Caribbean will introduce new main dining room menu in January
Before criticizing the new menu, make sure to give it a try on your 2023 Royal Caribbean cruise. Several new dishes–such as the spaghetti all'arrabbiata or the chipotle-lime-crusted salmon–may end up being your new go-to items.
16. DON'T be surprised by Royal Caribbean policy changes
Speaking of the new Main Dining Room menu, don't be surprised if Royal Caribbean announces more changes in 2023.
Any current offerings and policies are always subject to change. 2022, for example, saw many policy changes, including:
Diamond Plus no longer allowed in Concierge Club
Daily drink vouchers changed from resetting at midnight to resetting at 5AM
À la carte restaurants can only be visited once per day with Unlimited Dining Package
Looking back at these changes in 2022, it's possible that additional policies may change, be added, or be removed in 2023.
17. DO consider packing for a cruise in a carry-on
Lost luggage is one of the worst mishaps that can happen en route to a Royal Caribbean cruise. If you're sailing on a short cruise–or are a light packer–consider bringing a carry-on bag to your cruise instead of checking in large suitcases at the airport.
Related: The Ultimate Cruise Packing List
You can fit a surprising number of clothes in a carry-on suitcase, and you can always do laundry halfway through your cruise if you run out of clean clothes. Plus–best of all–you won't have to worry about your luggage going missing while traveling to the cruise port.
18. DO expect higher prices than last year
Following the restart of the cruise industry in 2021, cruise fares were lower due to less demand, which continued into 2022. In 2023, though, don't expect to find cruise fare prices as low as the previous two years.
Related: How much does a cruise cost?
Luckily, there are still many ways to cruise on a budget, including staying in a lower category cabin, sticking to complimentary dining options, and exploring on your own in port versus booking an excursion.
Related: How to plan a Royal Caribbean cruise on any budget
19. DO look for last-minute cruise deals
While cruise fares are higher than last year, you'll still have the chance to find fantastic last-minute cruise deals. Last-minute deals can be found year round, but are most commonly found during non-peak times of the year.
Less busy months for cruises, such as January, September, and October, see less demand, thus opening up the possibility for last-minute deals. 
If you're looking to cruise on the cheap in 2023, make sure you know the ins and outs of finding last-minute deals:
20. DON'T expect less crowded ships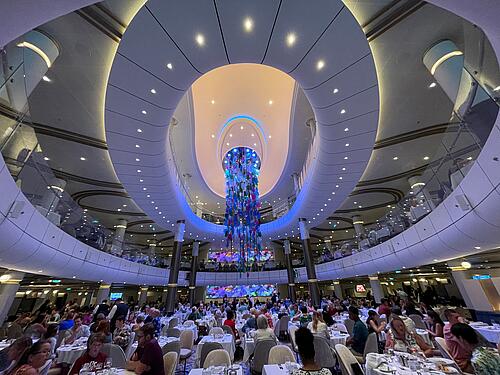 A year ago cruises were still operating at limited capacity, and it wasn't uncommon to feel as if you had the entire ship to yourself. Nowadays, however, this is not the case, and you can expect Royal Caribbean ships to operate near 100% capacity throughout 2023.
21. DON'T overlook Royal Caribbean's older ships
If you're planning a cruise in 2023 but aren't sure which ship to pick, don't overlook the older ships in Royal Caribbean's fleet. Older ships, while not as big and modern as the newest ships, offer their own set of benefits.
Whether cheaper cruise fares, more unique itineraries, or a relaxed atmosphere onboard, there are many reasons to book a cruise on Royal Caribbean's older ships.
For more tips and information about sailing on older Royal Caribbean cruise ships, start here:
22. DO expect ships in new ports
Several Royal Caribbean ships have been deployed to new homeports in 2023 whereas others will be cruising to new destinations for the very first time.
Harmony of the Seas, for example, will be homeported in Miami for the first time, whereas Brilliance of the Seas will offer cruises to Alaska.
Likewise, Wonder of the Seas will offer Caribbean cruises throughout the summer, a first for the ship as she spent her inaugural summer season in Europe in 2022.
23. DO understand the new à la carte dining change
Royal Caribbean added a daily limit to the Unlimited Dining Package at à la carte restaurants, and this is something to be aware of as you cruise in 2023.
For restaurants with à la carte pricing, each guest with an Unlimited Dining Package will receive a $20 food credit which can only be used once per day.
This means you cannot dine at Playmakers for lunch and dinner on the same day and have both meals be covered with your dining package. You can, however, dine at two separate à la carte restaurants on the same day (Playmakers for lunch and Portside BBQ for dinner), and have both of these included in your dining package.