In:
It's no secret that Royal Caribbean has been moving its ships from North America to Europe in large part to seek out the higher demand and bigger profits to be found in Europe.  The Los Angeles Business Journal is reporting that the real reason Mariner of the Seas is sailing to Europe after a short stint in Los Angeles is not to find bigger profits but because of the recent surge of violence in Mexico.
The widely publicized war between the country's federal government and its powerful drug cartels has led to nearly 30,000 deaths since 2007. And on the West Coast – where 90 percent of cruises depart for the Mexican Riviera and other points south – the number of passengers in the last two years has dwindled by 21 percent.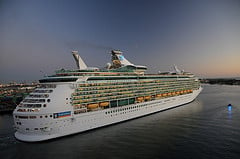 Royal Caribbean stands by its claim that the move to Europe is just for economic reasons and not because of the violence.
The Royal Caribbean cruise line, for its part, will say only that the decision is an economic one.
"We're looking to maximize our profits," said Harrison Liu, a spokesman for the cruise line, owned by Miami-based Royal Caribbean Cruises Ltd. "Both Europe and the Caribbean are hotter tickets than the Mexican Riviera, and there's a stable market out of Galveston."
Personally, I don't think the violence in Mexico helps the situation any, but given that so many other ships have left American ports for Europe, it isn't hard to believe that Mariner of the Seas is (pardon the pun) in the same boat.  Royal Caribbean isn't trying to hide the fact that they are chasing larger profits based on the numerous statements from Royal Caribbean in the form of statements to the press as well as blog posts.