In:
Whether you have a cruise coming up on Royal Caribbean's Navigator of the Seas, or you're curious what to expect on a ship like this, we have a first-hand look at what's happening onboard.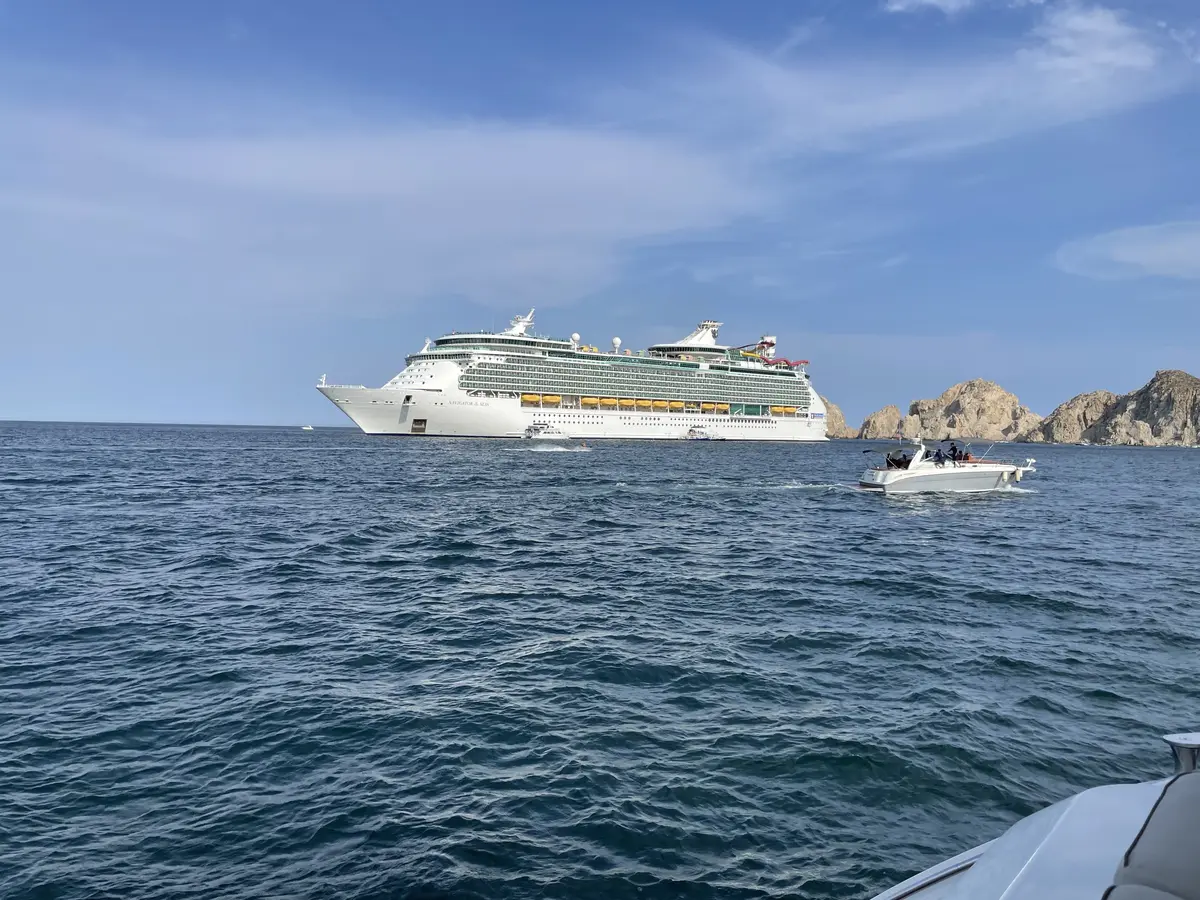 I recently boarded my first-ever cruise onboard Navigator to the Seas. Not only was this class of ship new to me, but it was also my first time sailing out of Los Angeles to the Mexican Riviera. 
Navigator of the Seas is a Voyager Class ship that was initially launched in 2002. Since then, however, she underwent the cruise line's Royal Amplification program and received $115 million in upgrades, meaning that if you sailed on her in 2018, you would have a different experience than you would if you sailed on her today. 
Here's what it is like to sail on Navigator of the Seas in 2023. 
Related: 23 Do's and Don'ts for your Royal Caribbean cruise in 2023
The boarding process
As soon as online check-in for my sailing opened, I was able to secure an arrival time of 10:30am. I knew that I wanted a full day to explore and orient myself with the ship, rather than board later in the day just to sleep in. 
Since I flew into LAX the night before, I stayed relatively close to the airport, meaning that I had about a thirty minute drive to the port, which is actually located outside of Los Angeles in San Pedro, California. 
Related: The costly cruising mistake newbies make planning their first cruise 
I was surprised to find that security was in tents outside of the physical terminal building. Plus, you go through security prior to getting your documents (i.e., passport or birth certificate) checked. 
After going through security, I was instructed to go inside of the terminal, where I was greeted by a port agent who proceeded to scan my Set Sail pass, take a photo of my passport, and update my security image.
After that, I had a brief wait before we were able to officially board the ship since there were other groups who had priority, such as suites, The Key, and Pinnacle guests. 
I was on the ship by 11:00am and opted to wait to grab lunch at the Windjammer after staterooms were ready at 1:00pm to avoid the rush. As someone who is used to sailing on Oasis Class ships, I prefer to skip Windjammer and go to Park Café for lunch.
On Navigator of the Seas, however, is this not an option, and waiting to go to lunch was the best decision because the buffet was not nearly as hectic as I had pictured it. 
Disembarkation
When, sadly, disembarkation day arrived, the process to get off the ship was seamless. I had a later disembarkation time of 9:00am; however, all groups were called by 8:45am.
I was able to get off the ship, grab my luggage, go through customs, and order an Uber in less than forty-five minutes. Plus, someone in my travel party had a birth certificate, so she had to wait in a separate line. 
Accommodations 
In January, I sailed onboard Liberty of the Seas and was a bit disappointed in how dated the staterooms were, so I did not have high expectations since I knew that Navigator is an older ship. 
While you could tell that my stateroom was older, as it lacked the modern finishes that the newer ships have, it was in relatively good condition. You could tell that it was older, as it lacked the modern finishes that the newer ships have. 
What was the most frustrating, however, was the lack of outlets. In my stateroom, there were only two, and both were located near the desk.
Thankfully, the charging cords that I had were long enough to reach both beds. Had I brought standard three feet ones, neither myself nor my travel companion would have been able to use our devices in bed! 
Despite staying in an interior cabin, which is often the smaller stateroom onboard any given ship, there was more than enough storage space for two people. Three people, however, would have been a tight squeeze.
Dining
It is no surprise that food onboard a cruise ship can be a hit or miss. That is understandable, though, as the team is trying to serve thousands of people within a few hours! 
While my favorite meal was lunch at Jaime's Italian, I was pleased with the quality of the complimentary options, too, including El Loco Fresh, which was my favorite poolside treat on sea days. 
The food in the Main Dining Room was better than when I sailed onboard Symphony of the Seas earlier this year. I had some of the same dishes and could definitely tell a different in preparation. 
Related: I tried Royal Caribbean's new main dining room menus, and here's what I thought
Out of all the menus, I was most excited for "Taste of the USA," as this menu was not yet available last time I did a weeklong Royal Caribbean cruise in February. 
As basic as it sounds, one of my favorite foods is macaroni and cheese, and the lobster mac and cheese did not disappoint. In fact, both myself and my travel companion, who is also a self-proclaimed macaroni and cheese connoisseur, agreed that we each could have ordered another. 
The Bamboo Room is a bar that is only available on two ships in Royal Caribbean's fleet: Navigator and Mariner of the Seas. As soon as you walk in, you are greeted by a sign that reads "It's Tiki Time." I loved the tropical vibe of this venue located in the heart of the Royal Promenade. 
It was a fun place to grab a refreshing cocktail and definitely makes this ship stand out amongst others. 
My Time Dining
For this cruise, I had selected My Time Dining versus a traditional seating. This meant that I was responsible for booking my dinner reservations each night or would be subject to whatever wait time there was when I arrived. 
Most nights, I made reservations for around 8:00pm, and when I got to the Main Dining Room on Deck 3, there was a line to both check-in for reservations and to secure a spot on the wait list. Regardless, we were seated in less than ten minutes with our reservations. 
The earliest that I ate was at 7:15pm, and I found that both lines were shorter. In fact, they were practically non-existent! If you did not have a reservation, you probably would have been seated in less than five or ten minutes. 
In terms of the service, we were seated with a total of three different teams. Every night, our service was concluded within an hour and fifteen minutes, with our conversations over dessert keeping us there longer. In theory, we could have quickly eaten dessert and gone elsewhere to enjoy our coffee. 
Entertainment
Personally, I find the entertainment on the smaller ships to lack in comparison to offerings on larger ships. There's nothing quite like AquaTheater shows or Broadway-style musicals while at sea!
For a Voyager Class ship, though, I found the options to be entertaining. None of the shows were over forty-five minutes, which was a good length. 
While onboard, I saw the ice skating show, original production that was a tribute to show girls, and The Quest. What I appreciated most about the ice skating show was that it did not try and stick to a plot and seemed to focus more on the skaters' abilities. Plus, the costumes got more elaborate as the show progressed. 
On the last night, I went to the farewell performance that featured a live band, comedian, and performance by the ship's singers and dancers; it was my favorite of the entire sailing! 
Finally, I found there to be quite a few live music options each evening, whether it be at Boleros, the pub, Schooner Bar, or Royal Promenade. 
Onboard activities 
There was enough to do onboard, from water slides to mini-golf, the resort-style pool deck, ice skating, rock walls, the sports court, and, of course, the entertainment.
I do not usually attend trivia; however, I went to general trivia the first few days. Perhaps I just do not have enough general knowledge, but I was stumped by many of the questions. My travel companion, however, said that it was not challenging enough. 
On the night of the 80s party, I went to attend the 80s dance class in the Royal Promenade; however, no other attendees showed up, and the event organizer eventually left. To be fair, it was at 5:30pm on "Dress to Impress" night. Had this program been in the morning, I think it would have been more of a hit. 
Normally, I prefer my cruises to have a even mix of port and sea days; however, I would have been okay with only two full days onboard Navigator! I think that would have given me enough time to experience everything that I would have liked to do. 
The limited amount of seating in the Solarium was apparent on the second sea day. The weather on the first was less than desirable (i.e., chilly and windy), so I opted to spend the majority of the day indoors. On our return to Los Angeles, however, the weather was extremely pleasant, especially in the Solarium.
I am glad that we staked out our chairs early in the morning and made ourself comfortable for the day. Those who arrived later in the afternoon were unable to find groups of chairs together, especially in the sun. This is not an uncommon cruise issue, though. 
Related: How to beat the chair hogs on your cruise ship
Onboard internet 
With download speeds of 140.1mbps upload speeds of 5.33mbps, the internet was above average in regard to what I have experience on other ships this year, including Symphony of the Seas.
I still had some issues sending and receiving photographs via iMessage; however, I have found that to be normal on most cruises. 
Ports of call
Cabo San Lucas
My previous trips to Mexico have been exclusively to Cancun, Cozumel, and Costa Maya, meaning that traveling to the Mexican Riviera was going to be a new experience for me! 
The last time I tendered to any port was in 2016 when I visited Grand Cayman on a Disney cruise, so I was unsure how the tender process would work onboard a Royal Caribbean ship. 
The night before we docked in Cabo San Lucas, which was our first port of call, I received a letter from my stateroom attendant with instructions about how to retrieve tender tickets; they were required to go ashore unless you had an excursion booked. 
Tickets were given out starting at 10:00am in the Main Dining Room on Deck 5. The earlier you lined up, the earlier you would be able to disembark. 
Around 1:15pm, the line to get off the ship was pretty long. People were crowding on Deck 2 waiting for their group number to be called. If getting off the ship early is important to you and your day in Cabo, it is advisable to get to the Main Dining Room at least thirty minutes prior to when they begin handing out tickets. Otherwise, you may find that you cannot get off the ship until over an hour after the ship docks. 
Mazatlán
In Mazatlán, I did a scenic boat tour that was booked through Royal Caribbean. Like with any cruise line sponsored excursion, I found it easy to locate the guide with the corresponding paddle in hand. Since the tour was less than tour hours, that meant that I had the rest of the day to explore the city center. 
Unfortunately, it was scorching hot. After less than two hours walking around, I was ready to return to the ship for lunch. My advise for Mazatlán, if going off on your own, would be to draft a plan prior to setting off. That way, you are not wasting time in the heat researching what you want to see. 
It was easy to reach the city center, though, as all you had to do was follow a blue line from the cruise terminal straight into the heart of the city. In total, the walk took around fifteen or twenty minutes. 
I ended up visiting a neat church that, supposedly, was partially funded by a wealthy Jewish donor. If you look up at the stained glass, you can see where the Star of David was incorporated as a token of appreciation.
Puerto Vallarta
An all-inclusive resort is the way to go in Puerto Vallarta, especially if you are looking for some time in the sun and/or beach. I visited Hotel Riu Vallarta, which was located about thirty minutes from the cruise port.
Note that transportation was not included and cost around $20 per person for the round-trip fare. I also discovered that wi-fi was not included in the rate; however, it was available for purchase. 
Check-in was simple and required handing the front desk a printed copy of the confirmation of our day passes, provided identification (i.e., valid driver's license or passport), and then receiving a towel card. Afterwards, the group was free to roam throughout the resort, whether that was staking claim to a chair on the pool deck or heading down to the beach. 
Since it was all-inclusive, all drinks -- both alcoholic and non-alcoholic -- were included, as well as food. At 11:30am, a small poolside buffet open that consisted of limited options, such as a burger, chicken, fries, and chili. At 12:30pm, though, an expansive buffet opened in the main resort. 
What I appreciated most was the fact that the staff was very attentive to everything going on. Whenever a child would try and sneak into the adults-only infinity pool, they were quick to blow their whistle and inform them that they had to go elsewhere. 
There was plenty for children to do, too, as they had their own dedicated pool area. In the afternoon, there was even a foam party for all-ages!
What it is like to sail from Los Angeles versus Florida
When deciding whether to cruise from Los Angeles or Florida, you should be aware of a few key differences. The first being that you will have fewer ship and itinerary options. From Port Canaveral, there are three Royal Caribbean ships deployed there in June, July, and August 2023: Wonder, Independence, and Mariner of the Seas. 
The more ships you have to choose from, the more itineraries you have to choose from, too. Between these three ships, you can take a cruise as short as 3-nights to the Bahamas or as long as 8-nights to the Caribbean onboard the world's largest cruise ship. Mariner of the Seas is even making a few trips to Bermuda! This also means you have more flexibility when making your travel plans. 
Currently, Navigator of the Seas is the only Royal Caribbean ship sailing from Los Angeles, meaning that if you are hoping for a 7-night cruise during a specific week, you may be disappointed to find the only options are 3- and 4-nights. 
In regard to embarkation, though, this means that you do not have to battle traffic from other ships. If you have sailed from Miami at any point in 2023, you know the frustration of arriving and sitting in traffic or waiting for an Uber to arrive on disembarkation day. When I got to the port in San Pedro, it was easy for my Lyft driver to pull right up to the terminal building. 
Overall, though, the cons of sailing from Los Angeles are minimal. Navigator of the Seas, despite her age, is in great condition and offers sailings to a beautiful ports of call that you simply cannot visit when departing from Florida.