5 things to love about Royal Caribbean's Navigator of the Seas
In:
Have you cruised on Royal Caribbean's Navigator of the Seas? It may not be the newest or largest ship in the fleet, but Navigator of the Seas is a fantastic ship that just got a major refurbishment in 2019.
Once onboard Navigator of the Seas, it is easy to see why this ship is a lot of fun. Here are five of the many reasons we love Navigator of the Seas.
5. Bamboo Room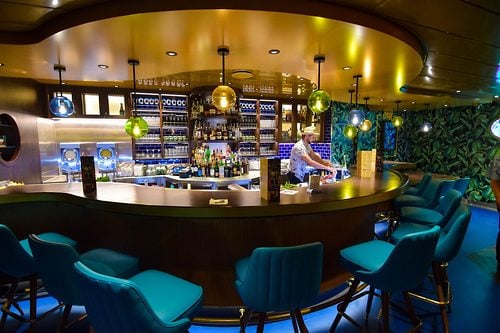 Featuring a Polynesian theme, the Bamboo Room is the perfect spot to chill and enjoy a cocktail or two.  Between the South Pacific vibe and creative cocktails, the Bamboo Room seems to always be a great spot for taking advantage of a drink package.
The Bamboo Room's menu of cocktails really stand out as special, and there is enough variety on the menu that you will almost certainly want to try as many as possible. There are even a few bites to eat too.
It is easy for many bars or lounges to look all too familiar, but Bamboo Room certainly offers that je ne sais quoi appeal.
4. Lime & Coconut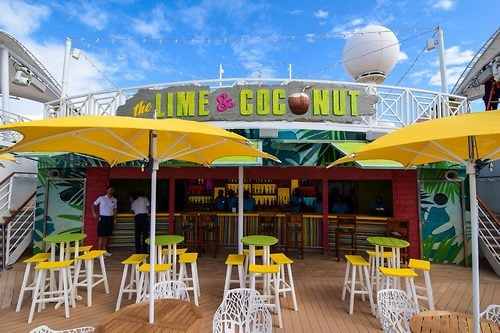 Speaking of places to have a good time, the revamped poolscape on Navigator of the Seas is headlined by the Lime & Coconut.  This three-level signature bar is a combination pool bar, party spot and place to be seen.
From its prime spot near the pool, the first two decks offer guests the perfect drinks fit for any vacation.  The third deck is a rooftop sun deck that is great at day or night.  In fact, Royal Caribbean designed this space to not just be a happening spot during the day, but at night as well. Nightlife on Navigator of the Seas is not limited to indoor spaces.
3. Family adventures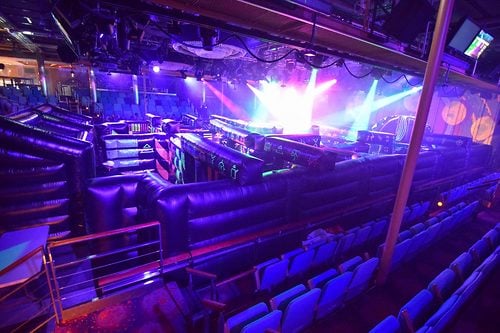 Without a doubt families will find lots to do on Navigator of the Seas.  Royal Caribbean redesigned spaces for kids and teens onboard.  This entails a reworked Adventure Ocean with plenty of space for free play fun, and a reimagined Living Room for teens with a backyard hideaway. 
If your family likes to try their skill, then head over to Studio B for a game of laser tag, where two forces face off in a battle for "Planet Z". 
Or, test your family's wit and determination with the escape room. You've only got 60 minutes to solve the mysteries of the latest Royal Escape Room challenge. A series of mind-bending puzzles and brain teasers must be completed before time is up.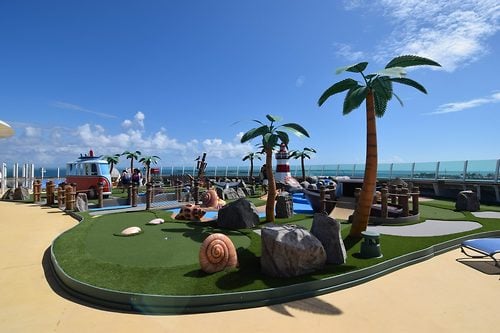 Be sure to also head up to deck 12 for a round of mini golf.  The course has been updated and features some fun challenges.
2. Specialty restaurants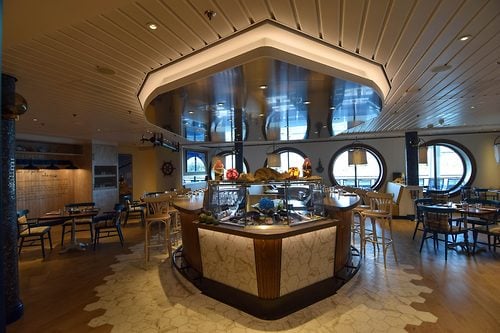 We love to indulge on any Royal Caribbean cruise with some great food, and Navigator of the Seas has plenty of it.  In addition to the terrific food included with your cruise, there are a number of great specialty restaurants to consider dining at onboard.
In 2019, Royal Caribbean added two new specialty dining options to Navigator: Hooked Seafood and Jamie's Italian.
Hooked Seafood serves up New England-inspired dishes in a casual eatery that features lobster, muscles, and lots of great seafood all around.
Jamie's Italian is not only the creation of celebrity chef Jamie Oliver, but it features a new menu to Royal Caribbean's fleet centered around rustic Italian recipes.
Love sushi? Then you need to try Izumi for some fantastic creations that rival any sushi you have had on land.
Chops Grille is known across the fleet for amazing steaks that are tasty, cooked to perfection and a fan-favorite restaurant.  A terrific date night spot to be certain.
1. Water slides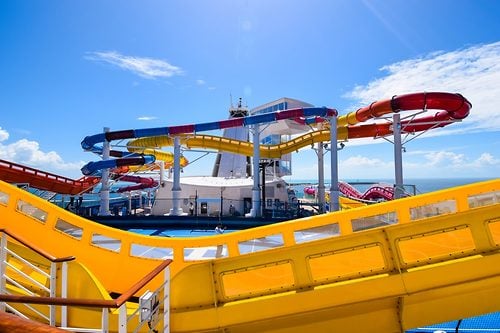 Without a doubt, the main attraction on Navigator of the Seas are The Blaster and Riptide water slides.  This water slide duo is going to be a must-do for anyone looking to cruise on Navigator.
The Blaster is Royal Caribbean's first aqua coaster, and it is also the longest water slide at sea.  You hop into a raft and race down more than 800 feet of dips, drops and straightaways that extend over the side of the ship.
Riptide is also new to Royal Caribbean, and is the cruise industry's only headfirst mat racer slide that finishes off with a a very, very wet.  Try to keep your eyes open for the views out the translucent tubes!
Your favorite
What is your favorite thing about Navigator of the Seas?  Is it on our list or do you have something you think is worth the cruise fare alone? Tell us about in this blog post's comments!