In:
Navigator of the Seas offers short cruise vacations to the Bahamas, and between its getaway sailings, recent ship wide update, and low price point, there is a lot to love about her!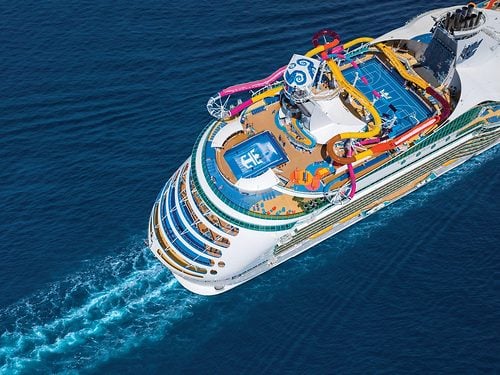 Weekend sailings, visits to Royal Caribbean's private island, water slides and great dining are just some of the fun things you can find on Navigator of the Seas.
If you have a cruise booked on Navigator, or are considering booking a cruise, here are my favorite things about this ship and tricks for making the most of your vacation!
Water Slides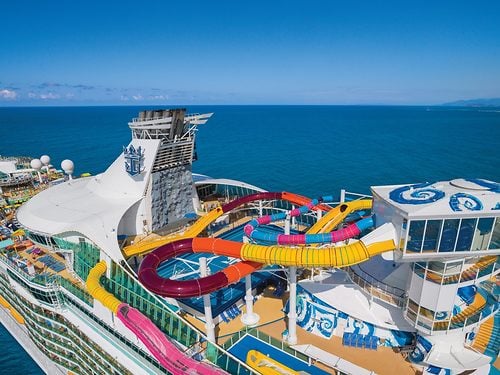 One of the new features added to Navigator of the Seas are the Blaster & Riptide water slides, and these are an instant hit with everyone.
Royal Caribbean has begun to embrace having water slides on their cruise ships, and these are two types of water slides not available on any other Royal Caribbean ship.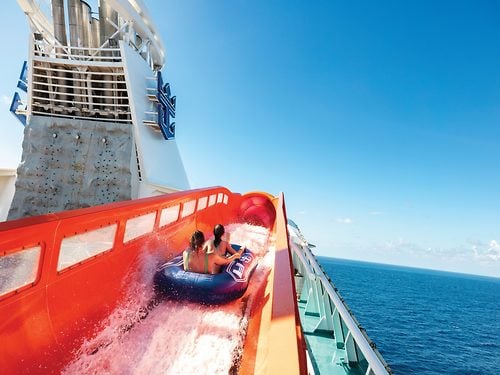 The Blaster is Royal Caribbean's first aqua coaster, and it is also the longest water slide at sea.  You hop into a raft and race down more than 800 feet of dips, drops and straightaways that extend over the side of the ship.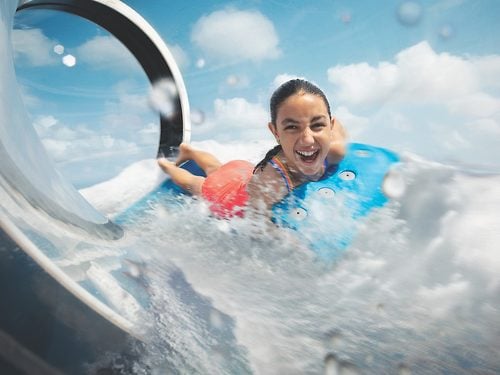 On Riptide, you can go on a headfirst mat racer slide that provides a completely different perspective on the way down. Just try to keep your eyes open the whole time!
Water slide tips
Pack your bathing suit in your carry-on luggage on embarkation day so that you can take advantage of the slide being open with much shorter lines.  Most guests do not have their bathing suit in those first few hours onboard, which makes this the best time to ride the slides with minimal waits.
Don't be afraid to say excuse me. The stairs leading to the top of the slides are shared between both slides, but often some guests will congregate together while waiting and block the way. Be sure to politely ask to move past them if you do not see the end of your line.
Bamboo Room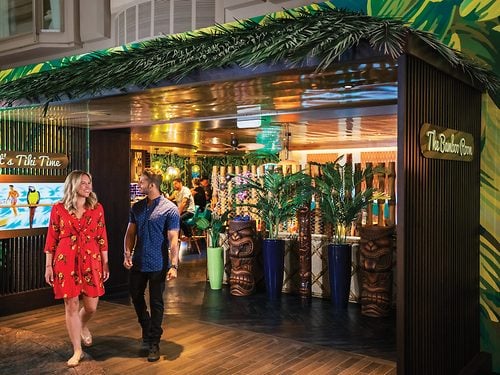 Tiki bars are all the rage, and Navigator of the Seas features the largest edition of the Bamboo Room onboard.
Serving a South Pacific vibe, the Bamboo Room offers a great variety of cocktails, many of which are unavailable anywhere else on the ship. In fact, there is a wide range of drinks to choose from.
There are even a few food items on the menu, if you choose to indulge.
The Bamboo Room is the perfect spot to meet friends and family for a pre-dinner drink, or round out your evening, and it really stands out from the usual bar and lounge scene onboard.
Bamboo Room tips
Ask the bartenders for suggestions. The cocktail menu has a lot to choose from, so do not hesitate to ask the bartenders and waiters for what they prefer or which beverages are the most popular.
Check out the decor. Being a tiki bar, the Bamboo Room has a lot of kitsch to it, including a parrot that appears periodically in the digital art.
Your drink package works here. Just like any bar or lounge, your drink package covers beverages ordered at the Bamboo Room!
Family fun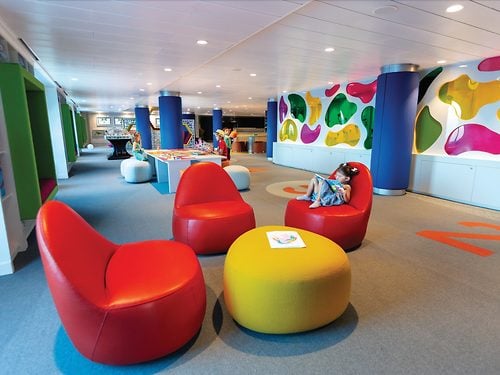 One of the areas Royal Caribbean targeted for updating on Navigator of the Seas in her 2019 refurbishment was the family areas onboard.
Adventure Ocean and the Teens Club have been transformed, with a new approach to these areas. Adventure Ocean has been reworked with more free play space. The Living Room (teens club) has been reimagined, complete with a backyard hideaway area. If you have younger children (under 36 months), there is a nursery onboard as well.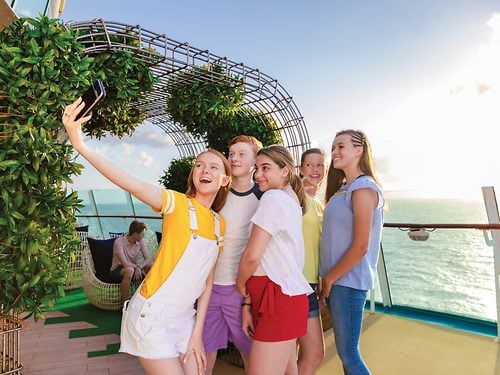 When the kids are not in the club, you can challenge them to a round or three of laser tag. Located in the ice skating rink, teams face off in the Battle for Planet Z. It is another complimentary offering, and a very popular sea day activity.
Navigator of the Seas also features an updated mini-golf course on deck 12 that is a fun challenge for all ages.
Family fun tips
Register kids for Adventure Ocean on the first day. There will be an open house held (usually in the early afternoon) of the first day of the cruise, so be sure to go up to meet the staff and meet the staff. Plus, it will save you time later.
Try mini-golf at night. Not only is it not nearly as hot during the evening, but a round of mini-golf after the sun sets is a great evening activity.
Specialty restaurants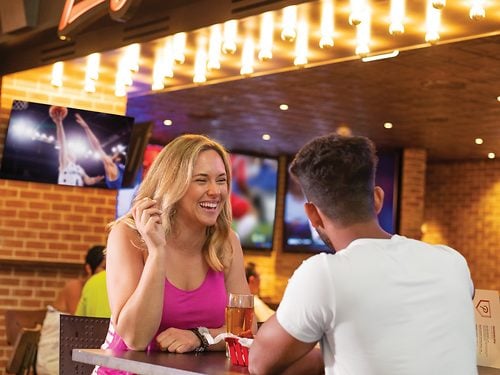 Navigator of the Seas features some of my favorite specialty restaurants on any ship! While there is plenty of great complimentary food onboard, sometimes you just feel like indulging a bit with something different.
Sushi lovers will really enjoy Izumi, which is among the most consistently good restaurants across Royal Caribbean's fleet. There is a good variety of sushi and Japanese specialties, including the popular hot rock options.
Jamie's Italian was added in 2019 and serves up an inspired menu of fresh takes on classic Italian dishes. The creation of celebrity chef Jamie Oliver, it is must-eat whenever I am onboard.
If seafood is more your thing, Hooked Seafood has a lot of compelling choices, including lobster, muscles and more.
Don't overlook the other great specialty dining on Navigator of the Seas, including Chops Grille, Playmakers Sports Bar & Johnny Rockets. Having all of this variety is one more reason why Navigator of the Seas stands out as a great choice.
Specialty dining tips
Buy a dining package. If you know you want to try more than one specialty restaurant, your best bet is to purchase a dining package.  Dining packages will absolutely save you money compared to trying to dine at the same amount of restaurants and paying the cover charge individually.
Try the sushi making class. A really fun activity offered onboard is the sushi making class.  One of Izumi's chefs takes you through the process of how to make a few different kinds of sushi rolls, and you get to eat all of your creations after! Be sure to come hungry, because it is basically a meal.
Escape Room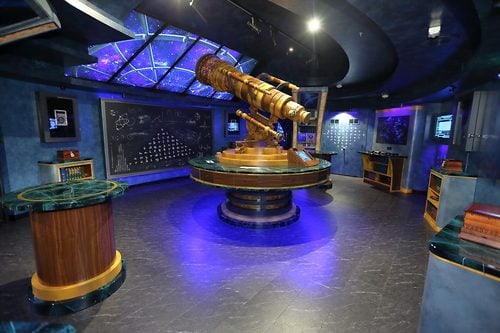 Royal Caribbean has been adding escape rooms to many of its cruise ships, and the escape room on Navigator of the Seas is a must-do!
The Observatorium is one of the most challenging escape rooms I have tried across the fleet. If you have never done an escape room, you have one hour for you and a group of other guests try to solve a series of clues, puzzles and patterns that will lead you to unlocking the solution to the larger puzzle.
I have found escape rooms to be a completely different kind of thrill, because it pits your wits against the clock to solve them all. You will have to work with your team to figure it all out, and the sense of accomplishment if you manage to escape in time is an amazing feeling.
Escape Room tips
Pre-book if you want to try it. Spots for the escape room go quickly, so be sure to pre-book it on Royal Caribbean's Cruise Planner site before the cruise.
Don't be shy. You will be grouped with other guests, but the key to beating the escape room is communication. You need to talk with each other, and in some cases, split up and assign tasks. They key is maximizing your time and having groups work together to figure it all out.
Lime & Coconut
The entire pool deck was revamped on Navigator of the Seas, and it is home run with all the changes that have been added, including the Lime & Coconut bar.
First and foremost, the pool deck has been re-done with casitas, loungers, more hot tubs and a very inviting poolscape. As soon as you see the pool, you know exactly where you will want to go everyday. 
The crown jewel of the new pool area is the Lime & Coconut bar, which is a triple level bar scene that is a combination of bar, party spot and place to be seen.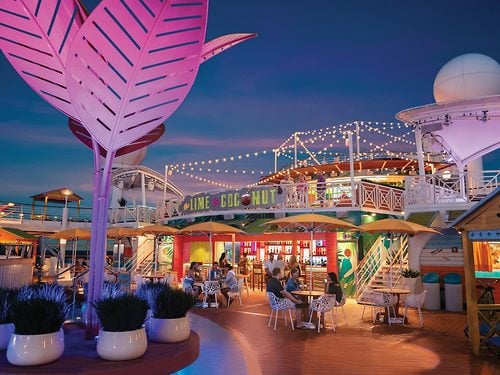 The first two levels of Lime & Coconut have their own bars, and the third deck is a rooftop sun deck that is great for relaxing, and chilling.
Pool deck tips
Get up early for a casita. Those awesome looking casitas are reserved early, so if you want one, set your alarm early and then catch up on sleep after you grab yours.
Watch the sunset from the Lime & Coconut. Royal Caribbean designed this new space to have a nightlife to it, and I think it has the best vantage point for catching a beautiful Caribbean sunset.
Try the signature drinks. The Lime & Coconut bar features its own selection of drinks not available elsewhere, so be sure to grab one of the menus and try them all (and they work with the drink package)!
Try El Loco Fresh. No day at the pool is complete without some grab-and-go Mexican food from El Loco Fresh. Located near the pool, it is easy to grab chips, quesadillas, tacos and more to bring back to your chair.
Perfect Day at CocoCay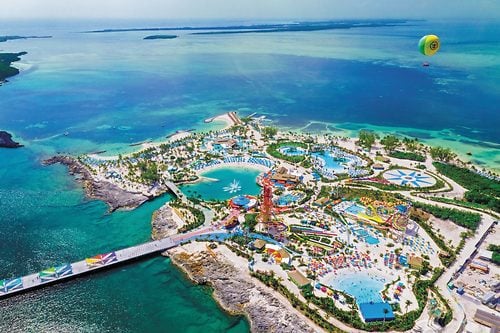 Sailings on Navigator fo the Seas will include at least one visit to Royal Caribbean's completely revamped private island in the Bahamas, Perfect Day at CocoCay.
While Navigator is where most of the focus is right now, CocoCay is worthy of booking any cruise and will become an absolute highlight of any sailing.
Your visit at Perfect Day at CocoCay can include time at the beach, pool, or water park, and you can tack on a zip line or helium balloon ride, fantastic dining or even a cabana or day bed.
All cruise lines throw out words like "paradise", but CocoCay really hits all the high-notes for a fun day.
Perfect Day at CocoCay Tips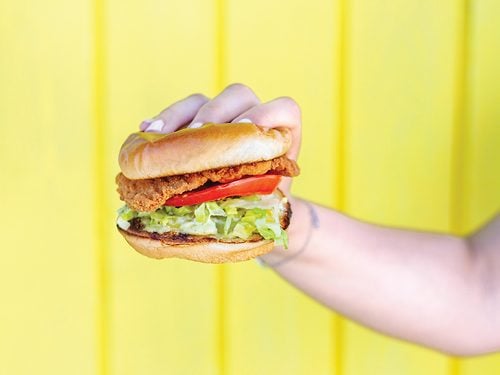 Check out our Do's & Don'ts of Perfect Day at CocoCay!
Plan what you want to do before the cruise. Like so much of Royal Caribbean, you stand to greatly benefit by pre-booking as much as you can. Many things sell out, and booking in advance will be cheaper than waiting to book onboard.
Don't skip the food. CocoCay does not have just typical private island food. There is a tremendous variety, and almost all of it is complimentary! Be sure to try the crispy chicken sandwich and mozzarella sticks at the Snack Shack!
Drink & WiFi packages work at CocoCay: If you buy an unlimited drink package or internet package, those benefits extend to your time at Perfect Day at CocoCay. It greatly enhances the value of these packages by having a full day of use here.