In:
Of all the Royal Caribbean specialty restaurants available, few have spread as far and as wide as Giovanni's Table has, especially given how relatively new it is to Royal Caribbean.
While aboard Brilliance of the Seas, I just could not resist the temptation to enjoy lunch at Giovanni's Table one more time.
I had no plans to dine at Giovanni's Table, but the tempting favorites along with the lower lunch price swayed my decision on one particular sea day.
Atmosphere
Located on deck 6, Giovanni's Table is across from the ever popular Schooner Bar.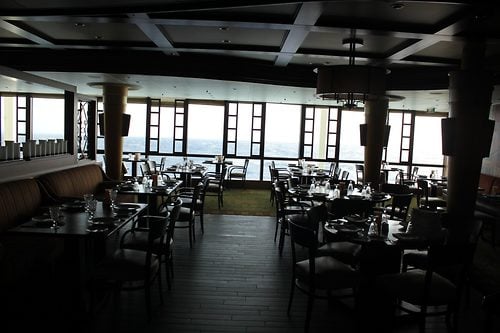 Walking in, the restaurant is rather large and offers seating in a variety of configurations.
The restaurant is essentially one large room, with windows making up one wall, that offer an unobstructed view of the ocean.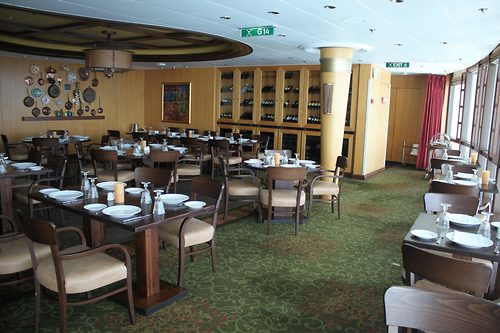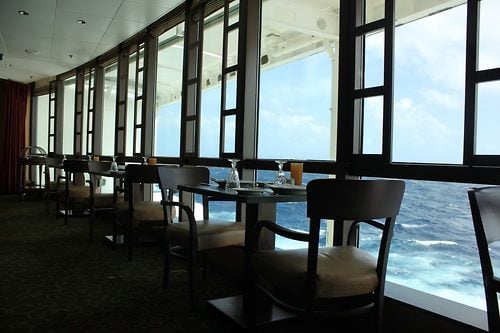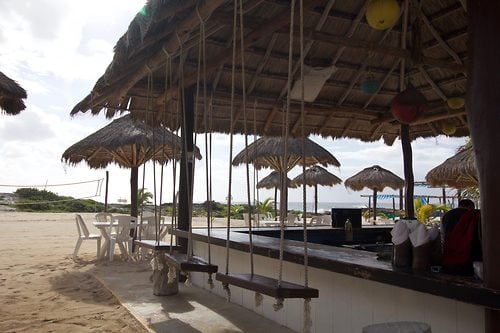 On our day to eat here, there were waves of 2-4 meters, so we certainly had some action to see.  Admittedly, these waves were also responsible for not having the largest of appetites with all of the motion.
Giovanni's Table will not win any accolades purely for its aesthetical looks, but it feels like a restaurant that is distinct from its surroundings and certainly more elaborately decorated than Rita's Cantina. 
Eats
It is no secret that Giovanni's Table is an Italian restaurant and there are plenty of Italian favorites to pick from on the menu.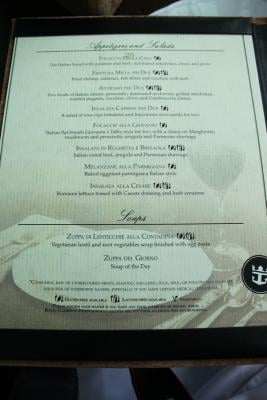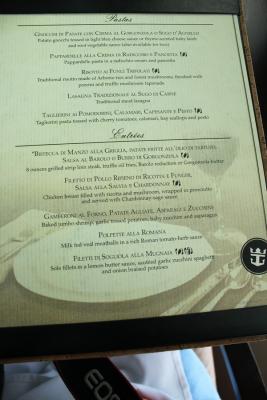 On my last visit to Giovanni's Table on Freedom of the Seas, I felt I did not do a good job ordering, so this time I would try something more on the "seafood spectrum" as means of correcting the experience.
Once seated, we were served complimentary bread and olive oil.  This is consistent with the every other Giovanni's Table I have dined at and having bread and oil is a standard practice among many Italian restaurants.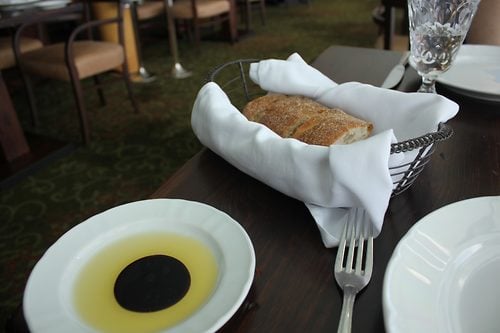 As I said earlier, the ship was rocking quite a bit so we ordered lightly.  
To start with, we shared an insalata caprese.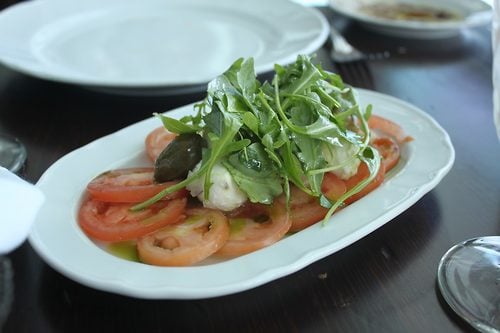 This is your standard tomato and mozzarella salad. If I can be picky, I would point out the tomatoes are the same previously frozen tomatoes served in the Windjammer.  Not the end of the world, but I was hoping for something fresher.
I also ordered the eggplant parmigiana.
The eggplant parm from Giovanni's Table is not breaded and is more of a baked eggplant than traditional eggplant parm.  Nonetheless, I would say this was the best eggplant parm I have had at Giovanni's Table in quite a while.
For our entrees, I ordered the sole filets, while my wife opted for the pappardelle pasta.
My fish was a lightly fried sole filet that was served on top of sautéed garlic zucchini spaghetti.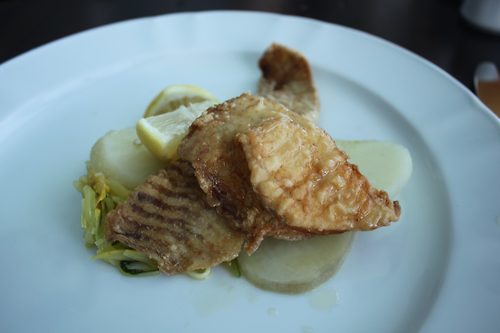 The fish was light and pretty good, but it was the zucchini that I really enjoyed.  Combining the zucchini and fish together was a real treat and if I were to order this again, I would ask for extra zucchini.
My wife's pasta came in a white cream sauce and the little she ate of it, she enjoyed (the motion of the ocean was starting to get to her by this point).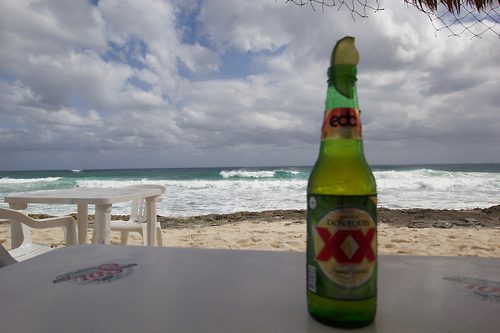 I sampled a bit of it too and thought the pasta tasted better than something out of the box.
Overall
Giovanni's Table on Brilliance of the Seas is a good option for those looking for Italian food that is more than just the typical pasta and sauce served in the Windjammer.
It is far from my favorite specialty restaurant, but the price (especially for lunch) makes it almost impossible to ignore. 
I will point out that when we dined there, there were perhaps six tables but only one waiter who also was serving as maître d'.  
Because of this, the service was extremely slow.  It did improve towards the tail end of the meal when more servers showed up to assist. 
Our overworked waiter was still quite generous, because he opted not to charge my wife for her meal because she barely ate it due to her not feeling well.  Definitely a welcome gesture and a credit to his service.
If you are asking, "should I eat at Giovanni's Table on Brilliance of the Seas," my advice is go for lunch on a sea day and take advantage of the lower cost and ease of which it is to get a table.  Stick with traditional Italian dishes and enjoy the view!
Giovanni's Table is open for lunch 12:00pm to 1:30pm and open for dinner 6:00pm to 9:30pm and we reviewed Giovanni's Table on Brilliance of the Seas.