In:
For Italian food, Royal Caribbean offers its specialty restaurant Portofino aboard many of its cruise ships.  We decided to try this popular alternative restaurant and see if this restaurant is worth checking out.
Portofino is featured on Royal Caribbean's Voyager class ships, Freedom class ships, Brilliance of the Seas, Jewel of the Seas and Serenade of the Seas.
Atmosphere
We ate at Portofino aboard Freedom of the Seas and compared to Chops Grille, located across the way near the Windjammer, Portofino is much brighter and seems slightly more open.  Where Chops has dark woods with light accents, Portofino goes for lighter colors all around and seemed less "dark" than Chops. 
The word "portofino" is actually the name of a small fishing village in Norhern Italy that is famous for its picturesque harbor and historical association with celebrity visitors.
Like Chops, the restaurant has two "rooms" that make up the restaurant.  The first room is where you enter and has tables lined up against the window for views of the ocean (assuming it isn't too dark to see outside) and the second room is more of a cul de sac, with tables arranged around the room.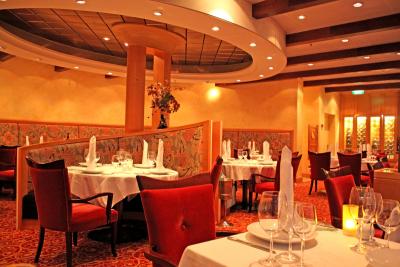 Eats
Portofino prides itself on Italian food, with a mix of classic dishes and some new things the chefs have come up with.  They aren't trying to change what we think of when it comes to Italian food, rather, they just want to provide quality Italian food that you can't find elsewhere on the cruise ship.
The menu at Portofino is simple, with an antipasti (appetizers) and pietanze (main courses) making up the menu.  All the food is referred to by their Italian names, although the descriptions for each item is sufficient to getting an idea of what the food is.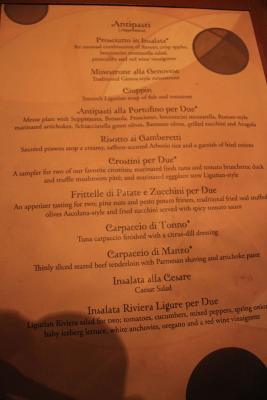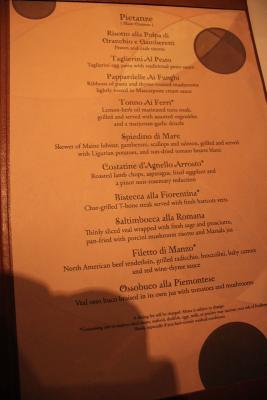 Like Chops, there's a bread appetizer that is served for everyone although there's a greater variety of breads and spreads to find.  I was very, very tempted to indulge myself here and try them all but I didn't want to fall for the faux pas of eating too much bread before my meal (thanks mom!). The spreads consisted of cloves of garlic, a pesto paste and Kalamata olive spread.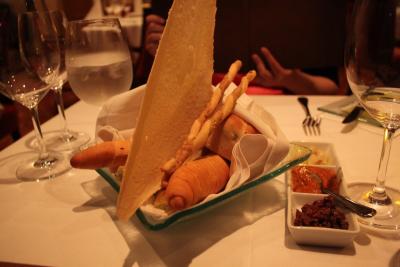 For our appetizers, I chose the minestrone alla Genovese along with the Carpaccio di Tonno (I just can't say no to tuna).  My wife opted for Insalata alla Cesare (Caesar salad) and Prosciutto in Insalata.
When I saw the minestrone soup, I was a little surprised because every minestrone soup I've ever seen comes in a tomato broth.  This was a clear broth and definitely not traditional.  That being said, it tasted wonderful and I could tell this was not soup from a can or anything else of that low quality.  I could taste the freshness of the ingredients and really enjoyed it.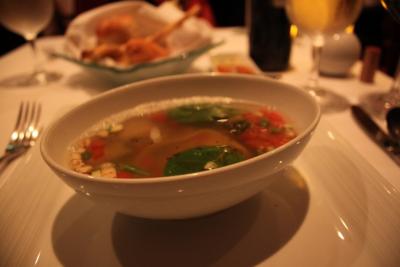 My tuna carpaccio was again, not what I was expecting.  Rather than deep red tuna, this tuna was might lighter in color and topped with oranges and a citrus-dill dressing.  It tasted good and I enjoyed it, although in this case, I think I prefer a more traditional tuna carpaccio but that's just my personal taste.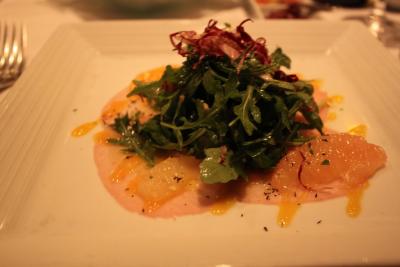 My wife started with the prosciutto and enjoyed the different take on her dish.  By now we realized the appetizers were not what you'd find at your local Olive Garden and that was a definite plus.  We may not have known what we were ordering, but every appetizer we tried was interesting and a welcome change. Her Caesar salad was probably the most "routine" appetizer we had.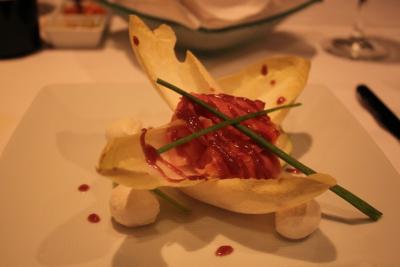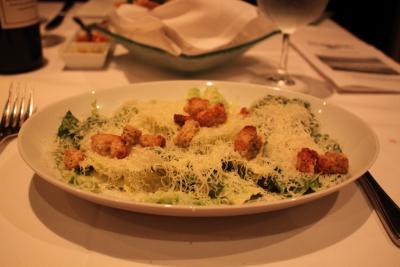 For our main courses, we went with the tonno ai ferri (I really, really can't say no to tuna) and the taglierini al pesto.
The tuna filet was great not just because of the tuna itself, but the marjoram-garlic drizzle and vegetables it came with.  When I combined it all, I really enjoyed the dish and wished I had more of it to eat.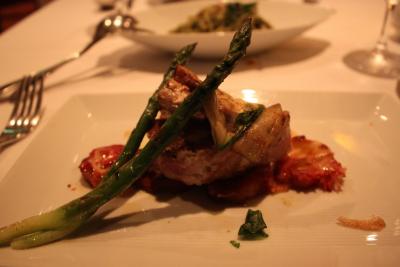 The pasta in pesto sauce was just plain good.  It's a classic Italian dish and I love having "safety dishes" to fall back on to use as a baseline of good food.  The pasta tasted fresh (no boxed stuff here) and the pesto sauce was quite good as well.  I'd recommend this for something to share among your group.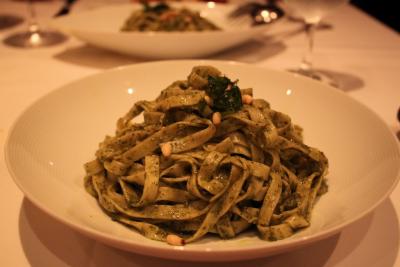 For desserts, the menu is fairly basic and offers some traditional Italian desserts to try.  Nothing jumped out at me, so I opted for the sampler so I could try them all.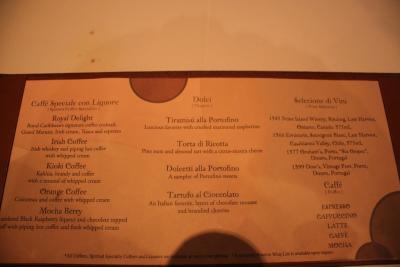 The dessert sampler offers four petit desserts to try and for me, it was just enough to get a sense of what they all were without committing to just one.  The chefs here aren't rewriting the book on Italian desserts, rather, it's simple yet indulgent choices.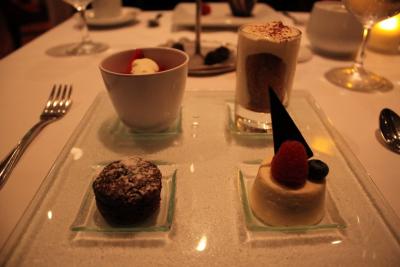 My wife was intrigued by the tiramisu and went with that.  From just presentation alone, it looked exquisite and after tasting it, it was pretty darn good.  It was really hard to go wrong with any of these choices.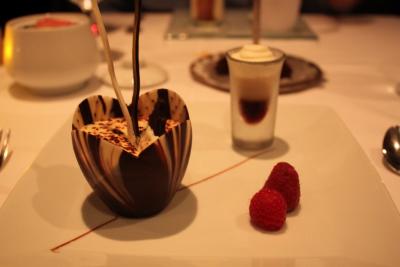 Overall
For the money, Portofino ($20 per person) is a great choice for a specialty restaurant.  The obvious comparison is between this and Chops Grille and given that Chops is $10 more expensive and the experiences between both, I really enjoyed my time at Portofino a little more.  It's not to take anything away from Chops, but if I could only eat at one specialty restaurant aboard Freedom of the Seas, I'd have to go with Portofino.
The other comparison that is easy to make is putting Portofino against Gionvanni's Table. Personally, I prefer individual portions to family style meals and the food at Giovanni's was definitely more traditional than Portofino.  Looking back at both meals, I'd have to lean towards Portofino for the edge it has in trying some new things, especially with my appetizers.
I felt like the quality of the food along with the "je ne sais quois" that the chef provides really made this more than just another Italian dinner.  With an interesting selection of traditional and new Italian dishes, you'll find Portofino is a specialty restaurant worth trying.
Portofino is open for dinner between 6:00 p.m.-10:00 p.m. and we reviewed Portofino aboard Freedom of the Seas.