In:
There are so many great places to eat at on Royal Caribbean's Allure of the Seas that it is easy to overlook some of them.  Johnny Rockets has been a staple of Royal Caribbean cruise ships since they debuted on Voyager of the Seas in 1999, and on Allure of the Seas, guests can enjoy a burger, hot dog or other classic American fare for just a few dollars.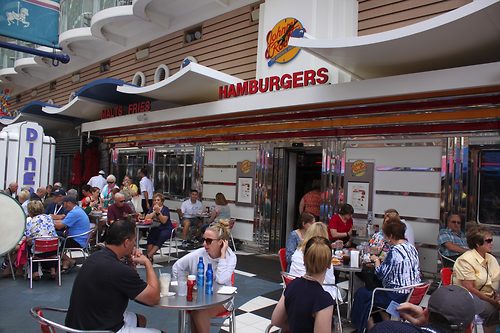 Johnny Rockets on Allure of the Seas is a specialty restaurant with a cover charge, that includes all food on the menu (excluding beverages).
The Johnny Rockets menu on Allure of the Seas is virtually indistinguishable from Johnny Rockets on other Royal Caribbean ships, but there are some Oasis-class differences that make it a different kind of experience.
Atmosphere
Johnny Rockets has become a fan favorite across all Royal Caribbean ships and on Allure of the Seas (and other Oasis-class ships), the Johnny Rockets experience is much larger (just like everything on this ship).
Unlike Johnny Rockets found on other Royal Caribbean ships, Johnny Rockets is set in the Boardwalk neighborhood and has a fairly large footprint.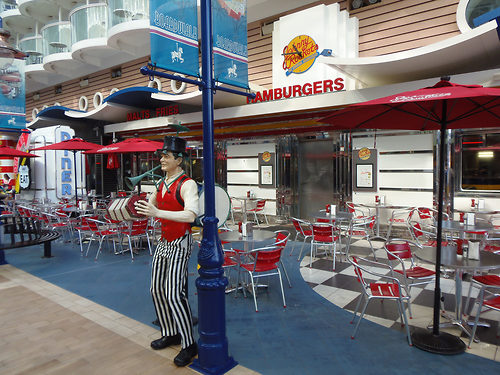 The iconic 50's-style diner is still there, but there is a significant amount of outdoor seating that greatly expands the restaurant's guest capacity.
The outdoor seating area features basic metal tables and chairs that surround the entrance to the restaurant.  
Dining outdoors gives guests the option of not just extra space, but a view of the Boardwalk and being able to enjoy the weather.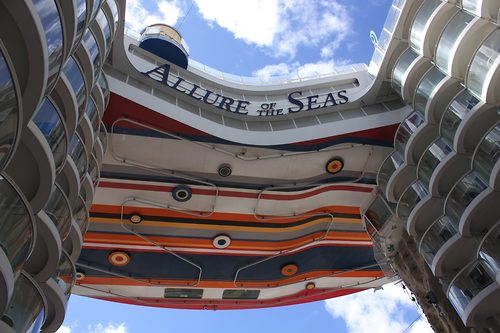 Inside Johnny Rockets, you have that classic diner feel that Johnny Rockets is well-known for and guests have come to expect.
There is seating inside Johnny Rockets in booths and at the bar, and more often than not, this is the most popular areas to sit inside.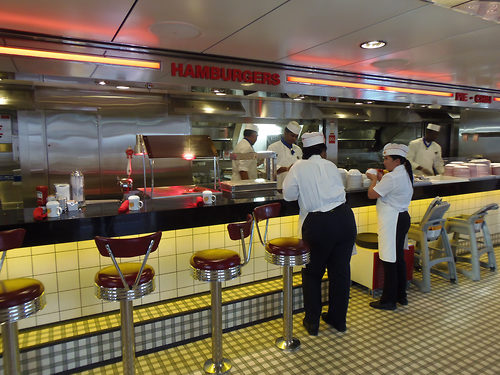 The nostalgia factor that Johnny Rockets brings is what many guests have come to enjoy about dining here.  The music of the 1950s and 1960s, the red and chrome motif and the wait staff that breaks into a dance every so often are all endearing parts of the Johnny Rockets experience.
Eats
Johnny Rockets on Allure of the Seas has two menus: breakfast and the day menu.
For breakfast, Johnny Rockets is complimentary for all guests, but lunch and dinner have a cover charge to them.
Breakfast is actually a great choice at Johnny Rockets because it is usually far less crowded than other places onboard and you can get a sit down meal here.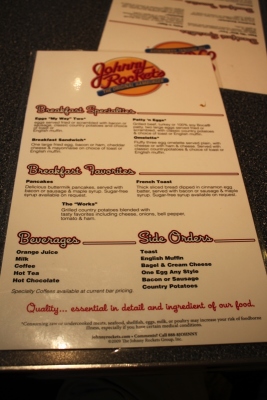 The breakfast menu consists of eggs cooked to your liking, breakfast sandwiches, French toast, pancakes and more.
Johnny Rockets is one of the few places on Allure of the Seas where guests can get custom made omelettes and that is a big deal (to me), because Royal Caribbean's mass-produced eggs are virtually inedible. 
The rest of the breakfast menu offers some good choices and it is classic American breakfast foods.  They may not be the best pancakes or French toast I have ever had, but they certainly taste good and considering they are complimentary, it is not a bad choice at all.
When the clock reaches the lunch hour, Johnny Rockets changes over to its more well-known menu and the $6.95 per person cover charge kicks in.
The cover charge includes the food only, with beverages costing extra.  However, it seems that getting a milk shake or cherry vanilla Coke is a must-do at Johnny Rockets.  Why? Well, it just compliments the food so well and is part of the experience.
Every table is served a plate of French fries and onion rings to start their meal with.  Royal Caribbean figures you are likely to want them anyway, so they just bring them out before you even order as a pseudo-appetizer.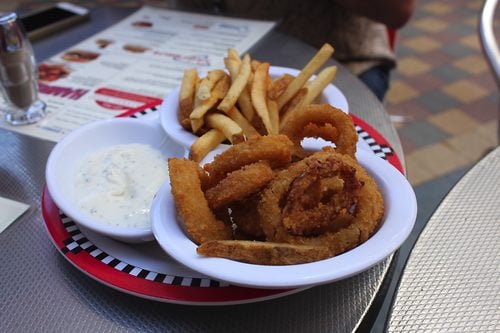 The service at Johnny Rockets can be somewhat slow, so these fries and rings are often a good way to avoid getting really hungry waiting for your main courses.
If you have been to a Johnny Rockets on land, the menu is similar to what you find there.  The Johnny Rockets at sea menu is not quite as large in terms of options, but all your favorites are there.
All of the food here is cooked to order, and for those looking for the best burger on Allure of the Seas, it is hard to beat these choices.
The burgers, hot dogs and grilled cheese sandwiches are all solid bets and given that all the food is included, this may be a great opportunity to try a few different options out to see if you like them.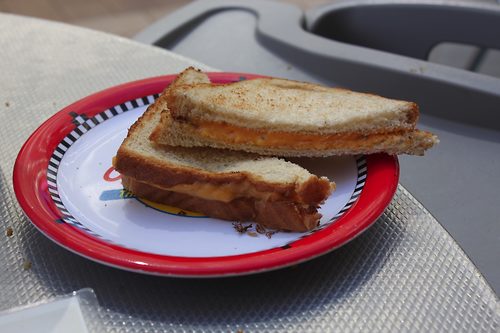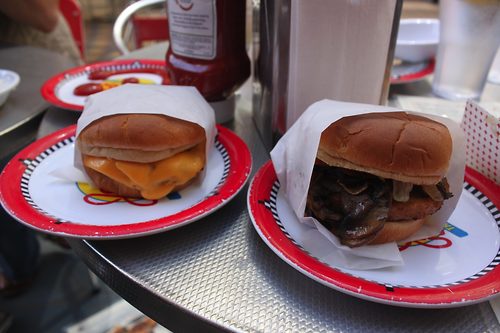 Overall
Johnny Rockets is just a fun spot that has earned its rightful place as a favorite among Royal Caribbean fans because it serves up really tasty American food that hits the spot as a snack or quick meal.
It is always interesting to eat at Johnny Rockets across various Royal Caribbean ships, but meals here tend to remain fairly similar and I think that is actually a good thing.
By far, if you are looking for a good breakfast spot, Johnny Rockets is a no-brainer considering it is complimentary. It is rarely busy for breakfast and the price is right.
Going to Johnny Rockets for lunch, dinner or something inbetween is never a bad idea. The worst thing I can say about Johnny Rockets is when they get busy, the service can take a long time.  Lunch on sea days are especially susceptible to this kind of situation.
If you are looking for arguably the best burger onboard Allure of the Seas, Johnny Rockets is the place for you. 
The thing about comfort food is it may not be the best thing you ever ate in your life, but sometimes you just need to indulge and Johnny Rockets is great for that.