In:
While onboard Royal Caribbean's Navigator of the Seas, my daughter insisted on having lunch at her favorite specialty restaurant: Johnny Rockets.
My daughter was drawn to Johnny Rockets' no-frills atmosphere that serves up some really tasty comfort food.  Burgers, hot dogs, fries and shakes are all available for a nominal fee.
With my daughter's passion for 1950's fare in mind, we re-visited Johnny Rockets on Navigator of the Seas once more to see how this favorite on land and sea holds up.
Atmosphere
Johnny Rockets on Royal Caribbean's Voyager- and Freedom-class ships are so similar, I would wager one could not easily tell the difference between any two of them if they were blindfolded.
That is not a bad thing, just a statement on the restaurant's consistency with its sea-based implementation.
Guests dining at Johnny Rockets will find the burger joint on the rear of the ship, up on deck 12.  It is located just before the sports deck activities.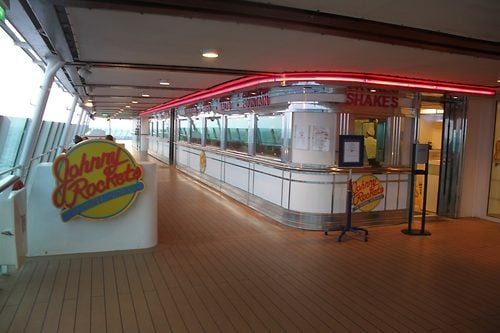 The restaurant is divided into an indoor dining area and an outdoor dining area.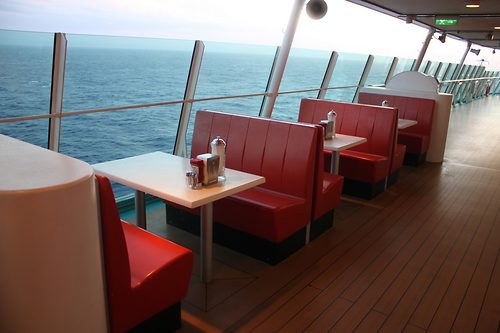 The indoor dining is very typical of any Johnny Rockets you may have been to on land, whereas the outdoor seating seems to be uniquely Royal Caribbean.  Depending on weather conditions, eating outside will either be greatly preferable or impossible.  It really depends on your tolerance for the conditions.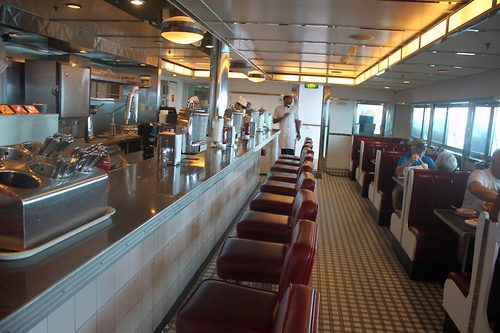 Given the climate controlled environment of the inside restaurant, it seems like most guests prefer to be seated there.
Once inside, you have a combination of booths and bar seating.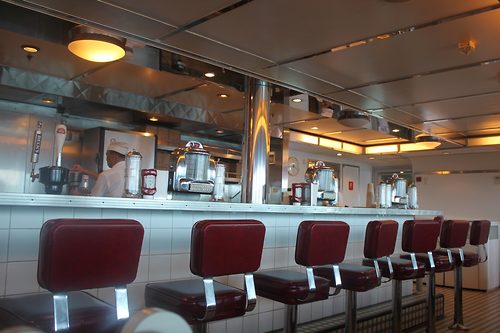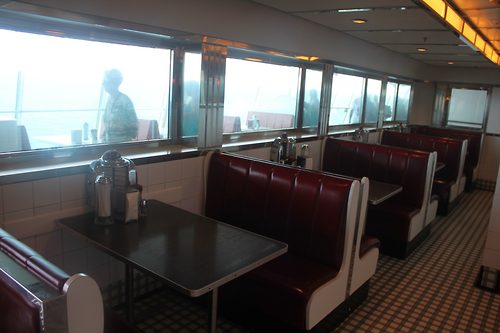 The restaurant is meant to evoke a 1950's diner feel, with plenty of chrome, red (p)leather and classic music tunes to hear.
Music is a big part of the experience at Johnny Rockets, with certain songs highlighted periodically throughout your meal, where the wait staff will get up and dance for your amusement.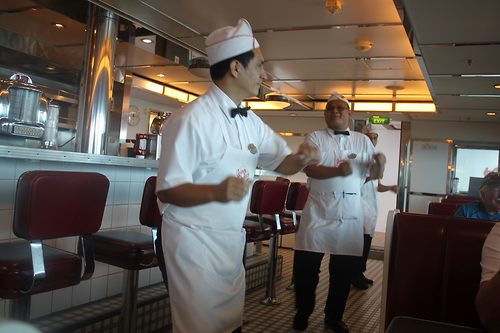 There are jukeboxes at every table, but they were not functional for our meal.  Quite frankly, I cannot recall a Royal Caribbean cruise on any ship where the machines actually worked.
One side of the restaurant has large glass windows, which gives a nice view of the ocean and other guests passing by.
Eats
Dining at Johnny Rockets is simply about enjoying classic American food: burgers, hot dogs, milk shakes, floats and the like.
Every meal begins with a plate of fries and onion rings.  These will be refilled as needed, provided you can make a dent in them.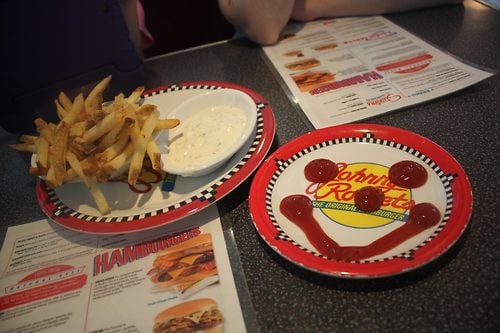 Johnny Rockets has a $6.95 per guest cover charge, and that cost includes all food and drink, minus milk shakes.  Soda is included in your cover charge, which comes in a variety of varieties and flavors.
My daughter absolutely loves their hot dogs.  I wish I could tell you why, but it is cooked well and not burnt (heaven forbid anyone that burns my daughter's hot dog) and seems to be her favorite.
I opted for the Streamliner, which is a veggie burger.  I have eaten many veggie burgers in my day, but Johnny Rockets' veggie burger is really quite good.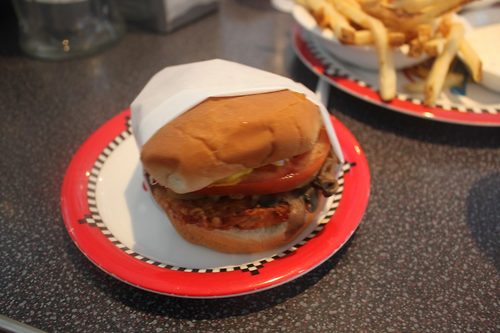 Top it with grilled onions and mushrooms and I presume this as close as we will all get to the feeling my daughter has when eating her hot dog.
My wife chose a cheeseburger and my youngest daughter gnawed on a grilled cheese.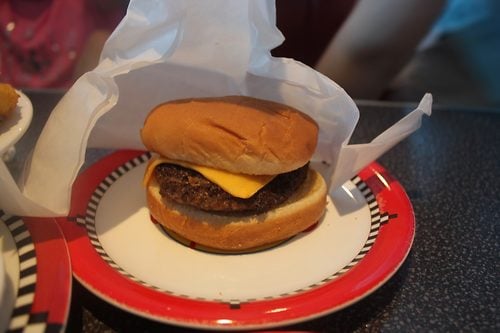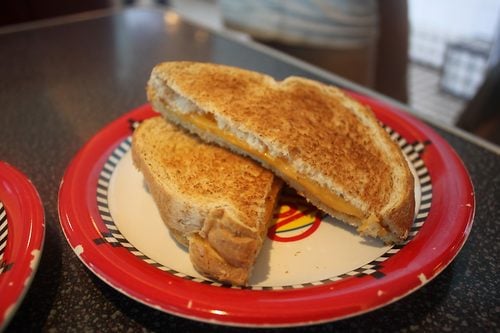 Both were great choices and essentially are good examples of why Johnny Rockets has been so successful over the years.
You can order as much food as you like from the menu, so feel free to go crazy with multiple entrees. 
The milk shakes are the real deal, with a combination of ice cream and milk that is stirred by machine.  That is important to note since many times ice cream in a cup is passed off as a milk shake.
Perhaps the one negative I can say about Johnny Rockets is regardless of how busy or empty the restaurant is, meals just take a while here.  Not certain why, but do not expect a 20 minute quick meal here.
Overview
The best reason to go to Johnny Rockets is the same reason my daughter wanted to go: sometimes, you just want a really good hot dog or burger.
At $6.95 per person, it is still a great value when you consider it includes all the food you can eat, as well as sodas.  A soda outside the restaurant would cost you about $2 each and there is no cherry or vanilla flavoring options.
The Johnny Rockets food will likely not "wow" you with flavor, but it usually hits the spot.  Once you find your go-to menu item, it is hard to go wrong.
The milk shakes are always great choices and when you combine a good shake, burger and some onion rings, you have the recipe for a pretty good meal.