In:
Many Royal Caribbean cruise ships offer guests the opportunity to dine at Johnny Rockets, a retro-inspired restaurant where you'll feel like you stepped back in time to an era of sock hops, soda fountains and drive-in theaters.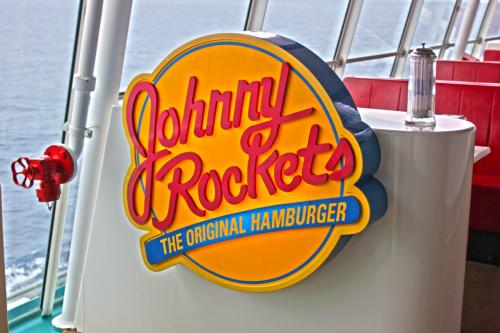 Johnny Rockets has been working with Royal Caribbean since 1999, when the first Johnny Rockets debuted on Voyager of the Seas. Since then, Johnny Rockets has spread to over a dozen cruise ships.
Atmosphere
When you step inside a Johnny Rockets, you will find a recreation of an American diner from the 1950's.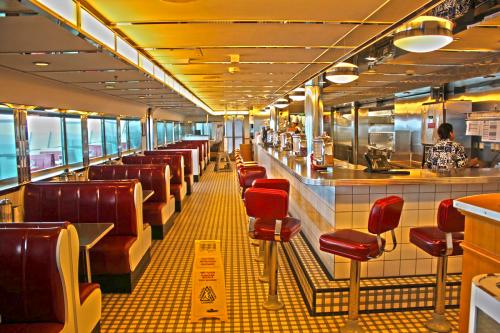 Johnny Rockets on Freedom of the Seas
Walking into the diner, you will find booths with red vinyl seats opposite a long counter of white tile with chrome trim.  You will hear music from the 1950's, 1960's and 1970's that play continuously. 
The crew members working at Johnny Rockets look the part as well, with their paper hats and long white aprons.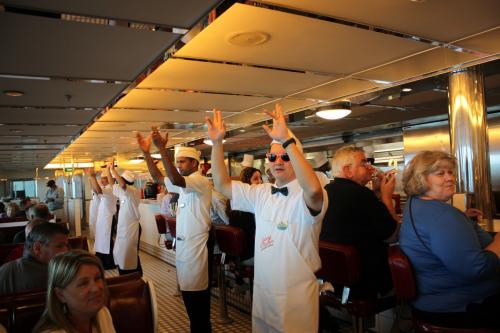 In fact, the crew members will stop what they are doing and jump into a line dance for certain songs.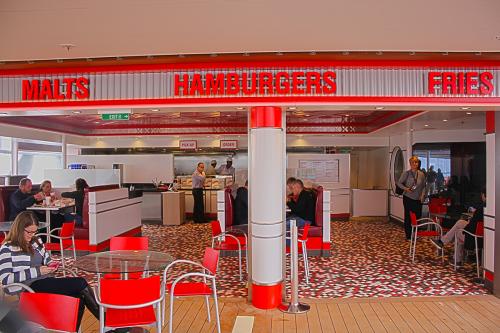 Johnny Rockets on Quantum of the Seas
On the Quantum class ships, the set up is more open.  Instead of an enclosed restaurant, you will find an open air restaurant on the pool deck where you place your order at the counter and then wait for your food to be prepared and can eat it in the restaurant or take it elsewhere on the ship.
Cost
On most ships, Johnny Rockets comes with a cover charge of $6.95 per person that includes most food on the menu  You will be able to eat as much as you care to order.  Milk shakes and other beverages come with an extra cost.  
On the Quantum class cruise ships, Johnny Rockets does not have a cover charge and instead has an a la carte menu, where each item on the menu has an individual cost.
Royal Caribbean Crown & Anchor Society members will often get a coupon to dine at Johnny Rockets, which is usually a free cover charge.
The basics
On ships that offer Johnny Rockets, when the restaurant is open, guests can go dine there at any time and will be seated on a first-come, first-served basis.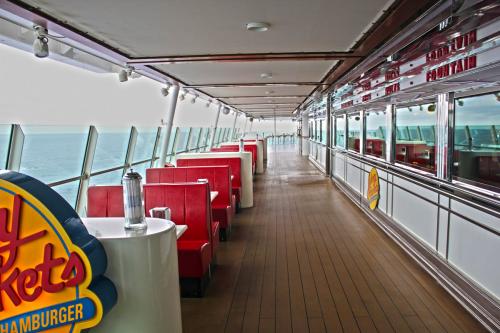 There is seating in booths, at the counter and also outside the restaurant (weather permitting). 
As you are seated, you will be handed a menu by your waiter and have a choice between hamburgers, melts, hot dogs, sandwiches, fries, onion rings and more.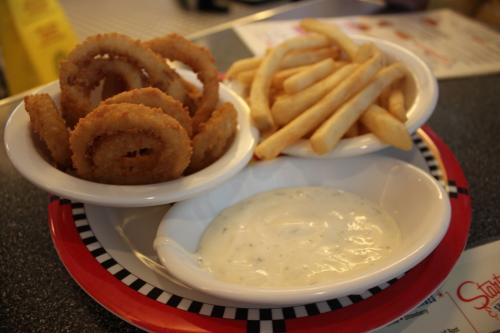 Each table is given a side of onion rings and french fries to start with, before your main courses arrive.
Breakfast too
On Oasis of the Seas and Allure of the Seas, Johnny Rockets is open for breakfast and it's complimentary.
For breakfast, Johnny Rockets serves up fried or scrambled eggs, breakfast sandwiches, pancakes, french toast, omelettes and more.
Juice, milk, coffee, tea and hot chocolate are included in the meal as well.
Ships with Johnny Rockets
Voyager of the Seas
Explorer of the Seas
Adventure of the Seas
Navigator of the Seas
Mariner of the Seas
Freedom of the Seas
Majesty of the Seas
Liberty of the Seas
Independence of the Seas
Oasis of the Seas
Allure of the Seas
Anthem of the Seas
Harmony of the Seas
Symphony of the Seas
Have you eaten at Johnny Rockets on a Royal Caribbean ship? Let us know in the comments!