In:
One of the oldest specialty restaurants on Royal Caribbean ships is Chops Grille, their steakhouse restaurant and today we are going to review this fan favorite location.
Chops Grille is featured on Royal Caribbean's Oasis class ships, Radiance class ships, Freedom class ships, Mariner of the Seas, Enchantment of the Seas, Navigator of the Seas and Splendor of the Seas.
Atmosphere
On Freedom of the Seas, Chops Grille is located near the Windjammer and looks like a typical upscale restaurant.  There are dark woods complimented by light beige accents throughout the restaurant.  Given the restaurant's smart casual attire, dining here definitely has the look of an upscale appearance.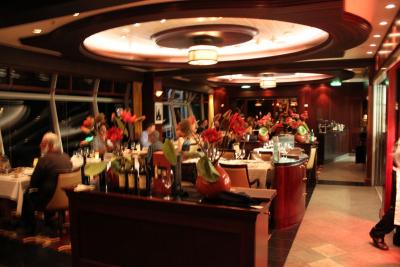 There are two main rooms, the first room when you enter the restaurant is the larger of the two and offers most tables a window side view.  Unfortunately since Chops is only open for dinner, there's usually not much to see given the glare from the lights inside (Chops is open during the day for high ranking members of the Crown and Anchor Society for use in the Windjammer so those people can benefit from the view).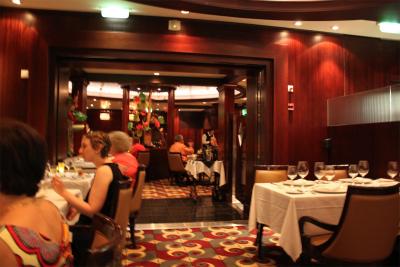 A second, circular room is attached to the main room and offers less windows but greatly expands the restaurant's capacity.  Neither room has a real motif or theme to it, it just looks, well, nice.
Eats
Chops Grille offers a fairly simple menu of appetizers, entrees and sides.  The appetizers and entrees are served individually but the sides are served family style. Given the serving size of the sides, it makes sense to share them although it does require some planning to ensure you don't over order.
When you are seated, you will receive a loaf of bread along with two spreads to try.  It's a good starter and the bread and spreads are great, but you're best served to save room for the food ahead rather than loading up on bread (sorry to sound like your mother).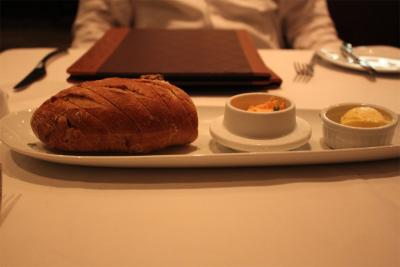 For our appetizers, we went with the Asian-Inspired Spicy Tuna and Not So Traditional Caesar Salad.  In Chops, you can order more than one appetizer or entree if you choose, although for this meal we were not as hungry as we could have been.  
The tuna was quite small and had I known how small it was going to be, I may have ordered a second appetizer.  Nonetheless, despite its small size it tasted quite good.  For sushi lovers, this starter will be perfect because of the rare cut of fish complimented by the unagi sauce (which to me, tasted like wasabi).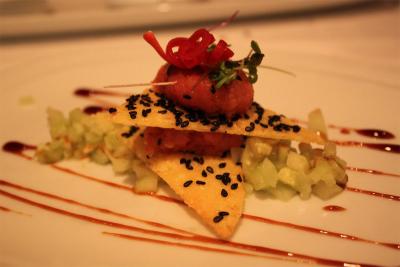 The Caesar salad, unlike the tuna, was massive in size and is served whole but the waiter will offer to cut it up for you.  The salad was tasty and  in the grand scheme of Caesar salads, was probably "above average".  The salad was also far more filling than the tuna.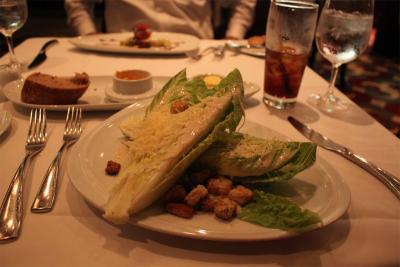 My our entrees, there's a few choices but considering Chops is a steakhouse, you'd be best served to stick with the steaks.  That's a personal philosophy more than anything, with the rationale that you stick with what the cook is best at and in this case, it's steaks.  My wife opted for the petit filet mignon while I went for the New York Strip.  When I went to order, the waitress tried to talk me out of the strip and instead order the filet mignon or the porterhouse.  I asked her why I should not order the strip and she told me the restaurant has gotten a lot of complaints from guests that the New York Strip is too tough and is often sent back.  I commented to her I found that amusing that the strip is a "problem steak" considering on the menu it is bolded with a large black box around at it.  At any rate, I ordered the porterhouse.
The filet mignon is about what you'd expect a filet mignon to be.  It's tender and flavorful and as soft a steak as you can find.  There's no question it's a good choice and considering each entree is the same cost to you, it's hard to go wrong with the filet.  I should mention my wife ordered her steak with bleu cheese on top, which is not standard.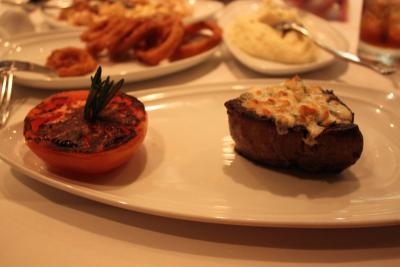 As you might expect, my porterhouse was massive.  The thing I do not enjoy about porterhouse steaks is there is a lot of "work" involved since I choose not to eat the fat and have to cut off the fatty pieces.  Of course, the chief benefit of the steak is its flavor and I did enjoy how good it tasted so it is a fair trade off.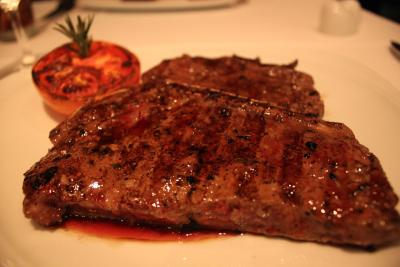 Chops Grille also offers for all their steaks various sauces to try including classic bearnaise, chimichurri sauce, green peppercorn sauce and cabernet reduction.  Personally, I'm of the opinion a steak should taste good on its own, but I did try the chimichurri sauce on the side.  I thought it was a nice change, but I think steak lovers will prefer their steaks to remain au natural.  You can, however, ask for the sauces on the side to try.
To say the least, both steaks were better than any steak in the main dining room and you could tell these were cooked to each guest's request, as opposed to mass-produced steaks.  I will be honest and say above a certain threshold I cannot tell the difference between a really expensive steak from a high-end steak house and a steak from Outback steakhouse.  They both taste good to me and these steaks were about what we expected.
The sides offered were better than we anticipated.  We chose three of them, the double whipped mashed potatoes, roasted potatoes with prsciutto and parmesan and the fried onion rings.  The onion rings were nothing special but both potato dishes were quite good, with my wife absolutely loving the roasted potatoes.  She specifically told me to convey in this review how amazing they were.  Do yourself a favor and order as many sides to share as you can, because they really make the meal.
We just had to try the desserts and I went with the red velvet cake and my wife chose the chocolate mud pie.  These desserts were very rich and very good. I ordered the red velvet cake simply to have a taste but before I knew it, I had eaten half the slice.  Saving room for either of these is a must-do.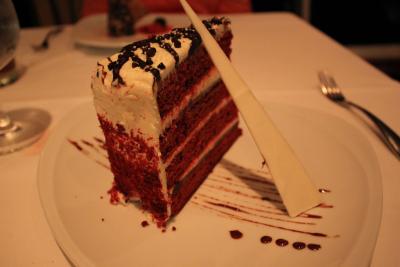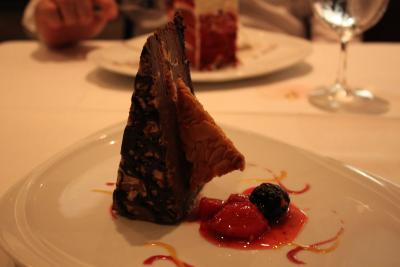 Overall
In terms of pricing, Chops Grille is a fairly expensive specialty restaurant with a per person cover charge of $30.  I think it really comes down to your personal preference if specialty restaurants on the cruise ships are worth the price.  For me and my wife, we paid $60 total, which if you factor in the cost of our dinner including appetizers, sides and desserts is still a better value than our local Outback steakhouse.  
Quality wise, their steaks are good, but maybe not the best I've ever had.  Certainly if you want a good steak onboard the ship, this is as good as it gets and when you try for the beef filets they have in the main dining room, Chops' steaks will seem like divine intervention.  The rest of the food (appetizers, desserts and sides) are good choices and all met or exceeded our expectations.
The bottom line is I enjoyed eating at Chops Grille for its good food, but I have reservations about the cost.  For a special night out, Chops is a good choice especially for people that really like steaks.  
Chops Grille is open for dinner between 6:00 p.m.-10:00 p.m. and we reviewed Chops Grille aboard Freedom of the Seas.