In:
Royal Caribbean has filled its Quantum-class cruise ships with a slew of specialty restaurant choices and among them is Royal Caribbean's flagship specialty restaurant, Chops Grille. 
Chops Grille has been a fan favorite choice for years and on Quantum of the Seas, we took the opportunity to see if this Royal Caribbean classic holds up on its newest class of ships.
On Quantum of the Seas, the restaurant features an updated menu that offers what you would likely find at any great American steakhouse on land.  There's a mix of choices that have been staples of the restaurant along with some new choices, most notably dry-aged steaks.  Dry-aged steaks are aged for nearly four weeks to enhance the flavor, tenderness and aroma.  Royal Caribbean is particularly proud to be offering dry-aged steaks first at sea and it's a tremendous addition.
Atmosphere
Chops Grille is located in the aft section of deck 5, near the Schooner Bar.  Despite being onboard the ship for a few days at the time we dined here, I still found myself wondering where exactly it was located.  Odds are you will not be passing it by often as you walk around the ship (unlike Jamie's Italian or Wonderland) but once you look it up on a map, it's simple enough to find.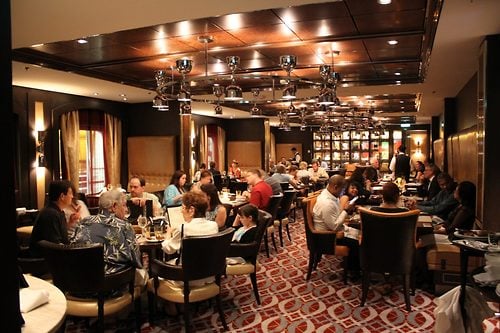 If you've been to any other Chops Grille on other Royal Caribbean ships, you will likely feel right at home at Chops Grille on Quantum of the Seas.  The restaurant's familiar use of browns, reds and yellows give the restaurant an "earth tone" decor.  I was pleasantly surprised to find the Chops Grille on Quantum of the Seas to be more well-lit than other restaurants I've been to.
Chops Grille has never had much of a real theme other than looking like a nice steakhouse.  You will find a large room with tables in the center and booths on the edges.  There's some good use of steel or aluminum lighting that seem like they were borrowed from American Icon Grill that give Chops Grille on Quantum of the Seas a little different touch.
For Royal Caribbean fans that been dining at Chops Grille for years, this restaurant will feel a lot like others you have been to.
Eats
Once you are seated, you will be served pretzel bread and butter, which is pretty darn tasty.  It's the kind of bread that you will eat more of it than you probably like because pretzel bread, when done well, is a tasty treat.
The menu at Chops Grille offers a wide selection of appetizers and for your entrees, there's plenty to choose from too.  
To start with, I opted for a Chops Grille classic: French onion soup. A microcosm of the difference between a specialty restaurant and the complimentary restaurant can be found in this soup.  At the Grande, there's a French onion soup served but the one at Chops Grille is far superior because of the ingredients used.  At Chops Grille, there's more cheese, thicker cut of onion and in general it just tastes better.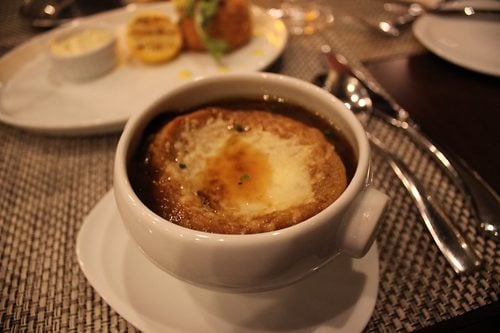 French onion soup at Chops Grille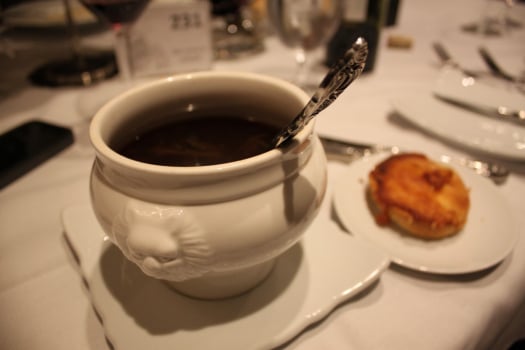 French onion soup at The Grande
We also ordered a few appetizers to share at the table, such as the charred beef carpaccio and crab and shrimp cake.  Both were tasty and light choices that we enjoyed.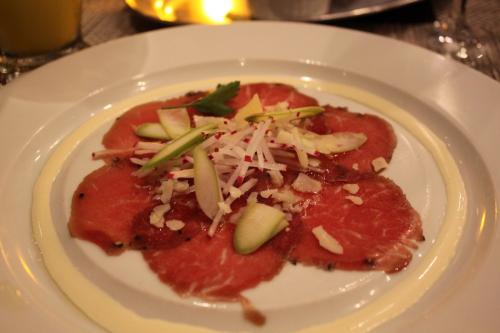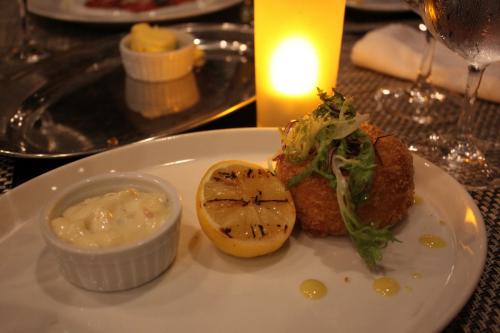 I mentioned earlier there are a lot of entrees to choose from but considering Chops Grille is a steakhouse, I feel obligated to choose a steak. Since updating Chops Grille's menu, Royal Caribbean offers a number of dry-aged steaks that have an extra cost in addition to other steaks that are included with the price of the restaurant.
I tried the dry-aged steak when I was on Navigator of the Seas and I'll be honest and say I really could not tell much of a difference between the dry-aged steaks and a less expensive steak.  Personally, my palette can appreciate a steak up to a certain level and after that, they all taste the same.  Clearly, I am not a connoisseur of steaks by any means.
We both decided to order from the regular steak menu.  I went with the "petite" New York Strip Steak (6oz) and my table mate opted for the "petite" filet mignon (6oz).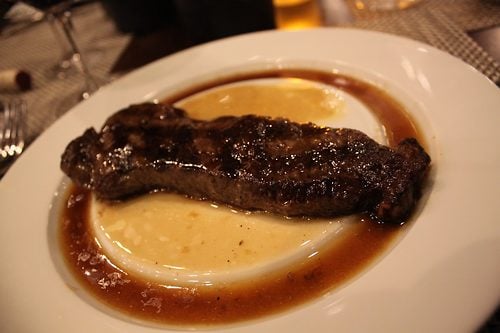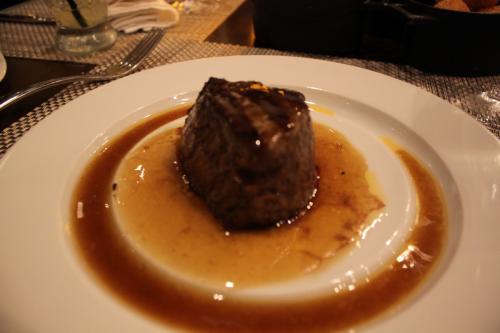 Both steaks tasted great and my only regret is I ordered too little steak.  I went with the petite cut because I always left the restaurant feeling stuffed but not the case this time!
I think we both agreed the steaks were great and by far it's the best cut of beef we had onboard the ship.  
The hidden gem of any Chops Grille visit are the sides. There side dishes are designed to be shared among the people at your table and they are generally really, really good.  So good that I leave some room for them because at my first few visits years ago, I would stuff myself before realizing the sides are so darn good.
We ordered gruyere cheese tater tots, roasted mushrooms, mashed potatoes and grilled jumbo asparagus.  All were quite good except for the tater tots.  The cheese gave it a very odd texture and next time I will go with the french fries instead.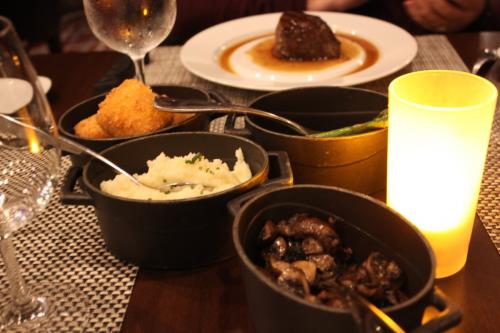 For dessert, I always order the same thing at Chops Grille and for good reason.  The red velvet cake is something I always pick and I've never been disappointed with it.   On this visit, the cake was as good as I remembered and I can continue to recommend it as a great choice.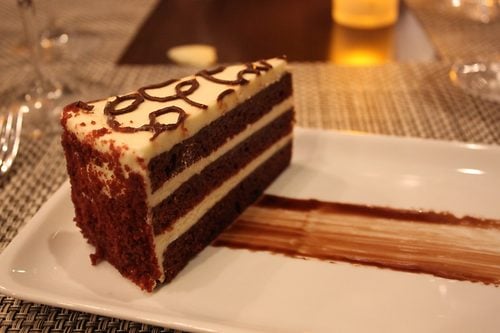 Overall
The reason I go to Chops Grille on almost every Royal Caribbean cruise I go on is because of how consistently good it is.  Some restaurants are a bit of a gamble in the sense that they can be hit or miss but Chops Grille has been always a good experience and on Quantum of the Seas, it's more of the same.
If you have dined at Chops Grille many times as well, you will find Chops Grille to be a familiar choice and very similar to other Chops Grille restaurants across the fleet.  If you're new to Royal Caribbean, Chops Grille is a solid choice for anyone that wants a really good specialty restaurant experience.  Great food, good service and a moderate cost are what you will find at Chops Grille.
There's many online that will debate the merits of the dry-aged steaks on the menu and if they are worth it.  If you want to sample the very best steaks out there, there's no question dry-aged are in style and perfect for you.  But if you just want a good steak without the additional cost, the steaks included on the menu will do you just fine.
I think on my next trip to Chops Grille, I will sample some non-steak choices just to mix things up.