In:
The AquaDome's completion was one of the biggest milestones of Icon of the Seas' construction.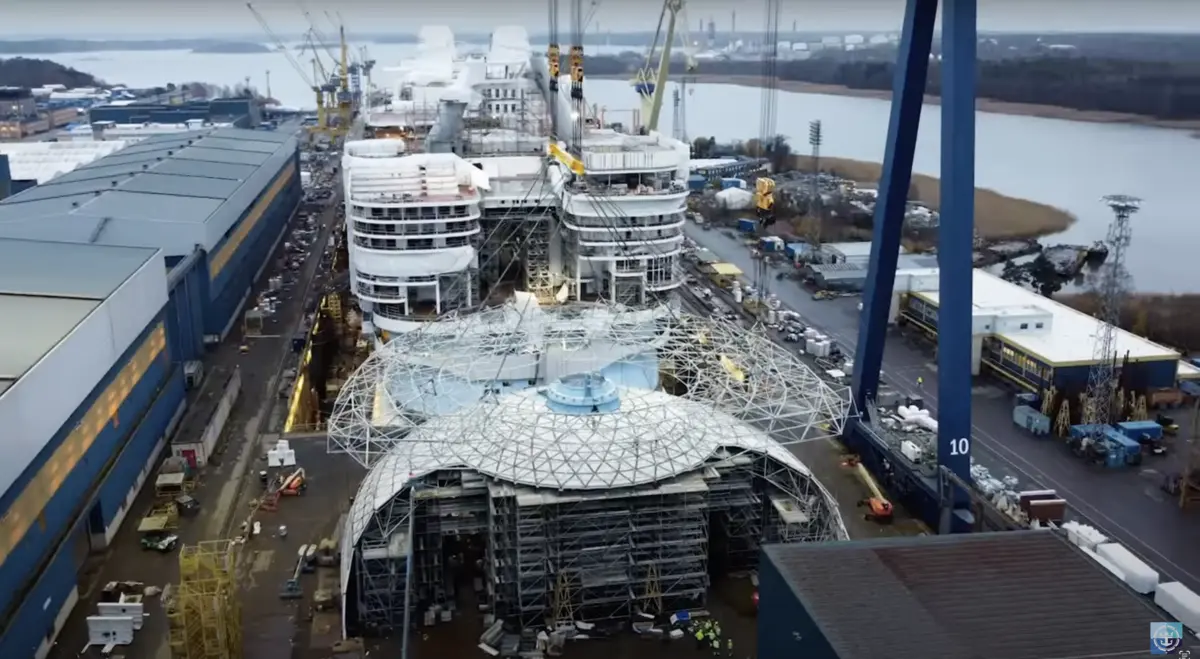 "I think it's been an amazing journey for so many of the engineers and architects and designers that we were able to produce this...I think it's testimony to the innovation and creativity of the teams," said Michael Bayley, Royal Caribbean International President and CEO. 
Encompassing more than 33,000 square meters and extending from Deck 14 to 20, the AquaDome neighborhood is truly one-of-a-kind. 
It took the team eight months to assemble the dome. Rather than work on it at the Meyer Turku shipyard, the dome was built off-site, so the forward of the ship could be completed simultaneously. 
The 367-ton AquaDome is comprised of 12 different modules that are made of steel, glass, and aluminum panels and took eight months to finish. 
54 cables were required to lift and attach the AquaDome to the spreader and an additional 12 to attach the dome back up to the crane. It was imperative that the crane operator place the dome in the precise location. 
Part of the process was also assigning an entire team just to monitor the weather! 
"All that hard work just came together," said Ellinoora Leino-Richert, AquaDome Project Manager at Meyer Turku.
"That's why all the tears [are] in my eyes and the incredible feeling that, 'Wow, we did it together.'"
The AquaDome is not only the jewel of the front of the ship, it's also a dedicated neighborhood for guests onboard to explore
The AquaDome won't just be home to the largest AquaTheater and waterfall at sea. During the day, it will be a relaxed place where guests can grab a bite to eat at the AquaDome Market, Royal Caribbean's first-ever food hall, or take in the 220-degree, wraparound ocean views.
You can also splurge on a specialty dining experience at Hooked Seafood or sip on a hand-crafted cocktail from Rye & Bean. 
At night, it will transform into a vibrant entertainment hub. There will be two different shows offers at the AquaTheater: Aqua Action! and Pirates vs. Mermaids.
You can think of Aqua Action! like an extreme sports show that will be action-packed. According to Nick Weir, Senior Vice President of Royal Entertainment & Royal Caribbean Productions, it's as close as you can get to a multi-million dollar action movie done live. 
It will incorporate Olympic-level high divers, skateboarders, aerialists, slackliners and synchronized swimmers. Additionally, the AquaTheater will feature brand-new technology, such as a double 3D flying system and robots doubling as diving boards and set creators.
Pirates vs. Mermaids is exactly what it sounds like. This family-friendly show will feature fun costumes and jokes for the parents. 
Related: Royal Caribbean unveils blockbuster show and entertainment lineup for Icon of the Seas
Icon of the Seas just finished her second round of sea trials, meaning she is one step closer to being delivered to Royal Caribbean
Icon of the Seas departed from Meyer Turku on October 29 for an eight-day stint at sea where the ship's noise, vibration, speed, fin stabilizers, automation, and main engine adjustments were formally tested.
"Building this ship is a challenging project, but I am proud of the shipyard workers and the fact that it is possible to build such a ship here at the Turku shipyard," said Tim Meyer, CEO of Meyer Turku in an interview given to YLE, Finland's national public broadcasting company.  
Even though Icon of the Seas is over 90% complete, there are some fome final touches that need to be made before she can be officially handed over to Royal Caribbean.