In:
I had a great first European cruise that took me to the Norway, and much of the week-long cruise exceeded my expectations.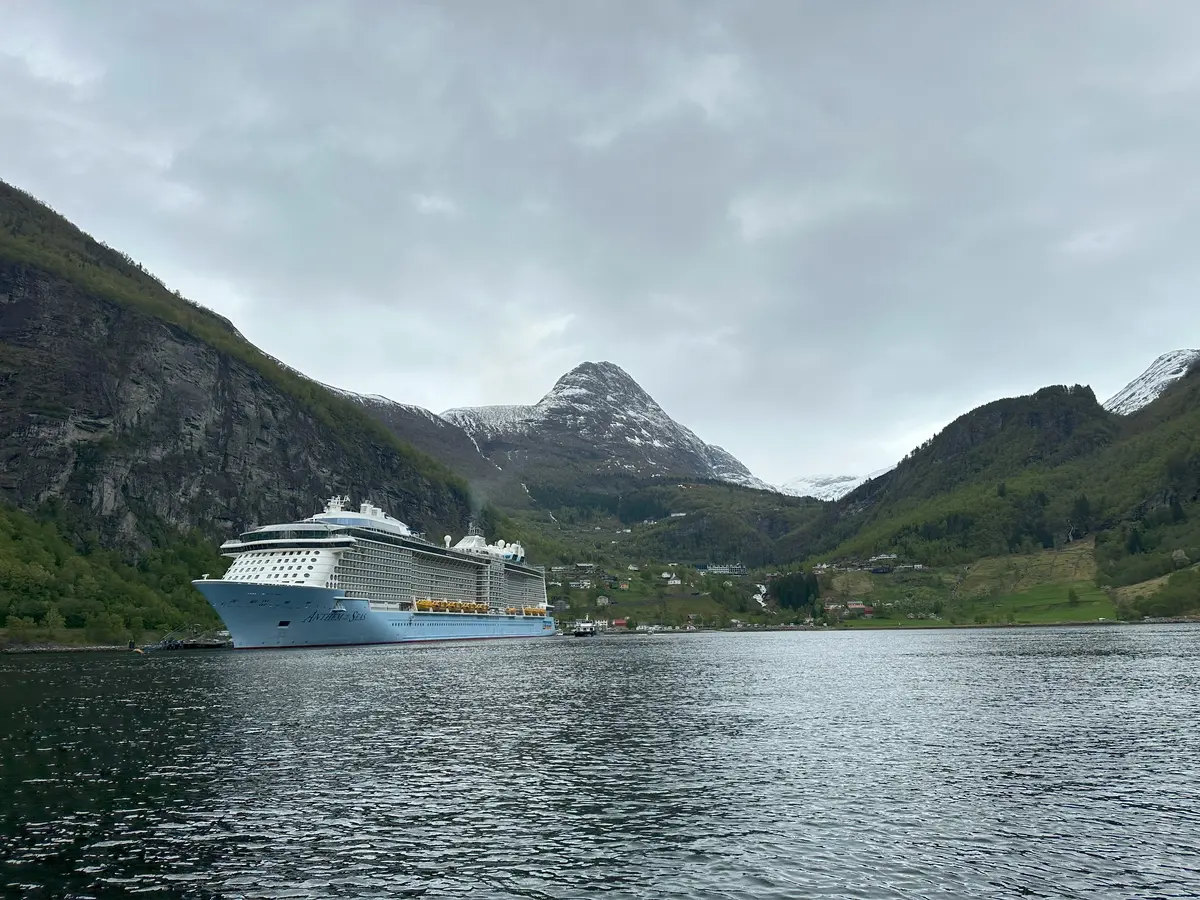 But like all things, hindsight is always 20/20, and if I were to do it all over again, I would have made a few changes to what I did on my first Royal Caribbean cruise to Norway.
With any cruise I take, I like to reflect on the decisions I made for how I could improve the experience going forward.  I certainly hope this is not my last cruise to Norway, so the next time I head there, I can apply these lessons.
Some of these mistakes and good choices are also more universal to other types of cruises, whether in Europe or the Caribbean.  So there may be opportunities for everyone to have a better future cruise experience.
The mistakes
Booked The Key
If you've read this site for any length of time, you know I'm not a fan of Royal Caribbean's VIP program, known as The Key.
In short, I think the benefits sound better than they actually are, and you're better off saving your money. 
However, I feel it important to re-visit certain programs, like The Key, because lots of things change with Royal Caribbean. Plus, I thought perhaps it might be a better purchase in Europe than the Caribbean.
Suffice to say, I came away with the exact same conclusion as before because the program is heavily front-loaded, meaning the bulk of the benefits are for the first day of the cruise.  Plus, the benefits that work for the rest of the cruise left me disappointed.
I could spend this entire article writing about my experience with The Key, but I'll sum it up as follows: many benefits you can achieve on your own without paying for The Key every day of your cruise (i.e. anyone can get early check-in if they plan ahead, you can book a Chops Grille lunch on embarkation day on your own, WiFi packages are cheaper on their own, etc) and the exclusive reserved times at popular attractions are always at inopportune times (either dinner time or too early in the morning).
The only reason I'd recommend The Key is if your cruise had a tender port, in which case being able to get priority for tenders could be really helpful.  On this cruise, we docked at each of our ports.
Not booking the electric car tour
I had a great time in Geiranger and found the scenery stunning.  In fact, it was the first port that I was really impressed with the landscape to the point I thought, "this is something I've never seen before".  
I booked a boat tour of the fjord, but I really wish I had booked one of the electric cars instead.
In Geiranger, you can rent a two-person tiny electric car that has a GPS system built in that offers tours of the surrounding area.  They look funny, but it's a super easy way to get around Geiranger.
There's two reasons why I was better off doing something on land, like a car rental.
First, your ship sails into the Geirangerfjord all morning and you don't get to the town of Geiranger until around noon. So as long as you can wake up and look outside before lunch, you'll see the same scenes the boat tours offer.  
The highlight of the fjord is the Seven Sisters waterfall, but it's so close to the town that you can sleep in and still catch it as your ship passes by the waterfall in the final hour of the sail-in.
Even if you do sleep through the entire sail-in and miss the fjord and waterfall, you can see it on the way out after your ship departs Geiranger!
The other reason I wish I had booked the electric car tour is the photo opportunities.
Depending on which length you book, you can drive up the mountain to Flydalsjuvet or Ørnesvingen view points.  These are the photos everyone wants on their Norway cruise.
To be clear, you could rent one of these vehicles on the spot without a reservation, which is what I ended up doing later in the day, but the problem is everyone wants to rent one in the morning and the lines can be long.
When I stumbled upon the rental, it was too late and there were two lines: one for people with reservations and one for people without.  I gave up on the line in the morning because people with reservations got priority.
I came back later in the day (around 4pm) and managed to get 1-hour rental, but I wish I could have done the extended tour to see more.
Booking Olden hike through the cruise line
I'm not a hiker, but I really enjoyed taking a hike to Briksdalsbreen glacier because it was challenging without being too advanced for a novice.
However, I really could have done this tour on my own without a formal tour.
Being my first Norway cruise and European cruise, I was a bit apprehensive about what to expect on my tours, and I relied heavily on Royal Caribbean's shore excursions.  I think a lot of cruisers feel this way when they aren't totally sure about what to do.
I'm fine skipping tours in cities when I know I can easily get around on my own, such as my day in Bergen.  But I wasn't totally confident in getting around Olden on my own, and booking a Royal Caribbean tour is easy.  
The glacier is located in a national park, and it's perhaps a half hour drive from where cruise ships dock in Olden.
Being such a popular activity and within close proximity to the port, there were a lot of transportation options to get there.  
While booking my excursion to Briksdalsbreen was quite easy with Royal Caribbean, I could have probably saved money by booking an independent tour to get me to and from the park.  
Not doing the sky walk excursion
The one time I had serious FOMO (fear of missing out) in terms of things to do on my Norwegian fjords cruise was when I saw photos from the people that did the Loen Skylift.
As I said, I really enjoyed my hike to the Briksdal glacier, but I think I would have rather done the Loen Skylift.
The Loen Skylift is located only 6 kilometers from the Port of Olden and takes you from the fjord to the top of Mt. Hoven (1011 meters) in only five minutes. 
At the top, there are amazing views of Mt. Skåla and Lake Lovatnet in the east, Jostedalsbreen Glacier and Olden in the south, and the Nordfjord in the west.
I could have seen the glacier, plus a lot more.
Relied on local food for lunch
I love being able to explore the places I visit on a cruise, especially the local cuisine.
In fact, whenever possible, I'll eat a meal in the place I'm visiting over back on my ship.  While the food is included back on my Royal Caribbean cruise ship, I like to immerse myself in the local culture if possible,
In the towns of Olden and Geiranger, the food choices were quite limited and I regret planning my lunches there.
If you're visiting a city, there's lots of choices, but some ports are quite small towns and don't have a ton of variety.
Of the food available in both Geiranger and Olden, it was primarily pizza, burgers, and pastries.  There's nothing wrong with those foods, but it's too similar to what I can get back on the ship.
In Olden, I found a cafe serving pomme frites, which I thought would be the same kind of Belgian fries I love eating at home. However, these were just microwaved french fries.
The next time I visit these towns, I'll plan to return to the ship for my meals.
Thinking I needed any cash
If you read my pre-cruise post about what I think I need to do on my European cruise to properly plan, I thought I needed to convert my U.S. dollars to local currency.  Not only was I wrong, but there's absolutely no need for any cash in Norway.
Every single vendor takes credit cards, and cash is almost non-existent.
Many Royal Caribbean Blog readers warned me that changing currency was a waste, so I didn't do it and I'm glad I didn't because I would have come home with foreign currency at a loss from the service fees associated with them.
Whether I was in England or Norway, there was no need for cash. Street vendors, gas stations, and restaurants all took credit cards.
Just make sure your credit card has zero foreign transaction fees.
Picking this particular itinerary
Don't get me wrong, I had a great cruise and visited some amazing places.  But in the grand scheme of Norway cruises, I think there are superior itineraries out there.
If you're looking through itineraries, I would point you towards one that visits places such as Flam or Stavanger instead of Haugesund or even Bergen.
My issue with Bergen was we were there from 7:30am to 2pm.  I hate these morning-only visits because so much is closed in the city before 9am, which means a lot of wasted time. Plus, the best (and warmest) weather arrives in the afternoon when it is time to leave.
Similar to how you can't see all of Alaska in one cruise, I suspect Norway may require at least two cruises to see it all.  But I also found in my planning some of the most notable spots were in ports we didn't visit.
Given the timing, this was the only itinerary I could pick that worked with my travel times.  And as I said, I really enjoyed this cruise and the places I visited.
But if I had the choice, I'd definitely consider other Norwegian fjord itineraries to be able to visit ports further north.
Things I did right
Booking a balcony cabin
It seems like the eternal debate of Interior vs Balcony staterooms won't be settled anytime soon, but I think spending extra for a balcony cabin on my Norwegian fjords cruise was worth the extra cost.
Since I was solo on this cruise, I would have usually skipped a balcony room and gone for an inside room because it wouldn't be necessary in terms of space.  However, being able to see the beautiful scenery from the comfort of my room was such a nice treat.
Given that the high temperatures each day was barely in the 50 degree range, many times I enjoyed sitting on my couch inside my room with a view outside via the glass balcony door.
When something caught my attention, or I simply wanted to peek outside, it was so convenient to go out and get a view from my balcony.
On the Geirangerfjord sail-in, I started out on the pool deck to see everything, but it was quite cold so I went back to my cabin.  Here, I could still get great views from inside my room. Plus, when we came to Seven Sisters waterfall, the ship spun around to ensure everyone got a view.
There's no doubt I could have saved some money by booking an interior cabin, but it also helped I was sailing in the shoulder season and the cost to upgrade wasn't much more to get a balcony.
Haugesund fjord tour
Our first port stop was in Haugesund, and I thought I made a mistake booking a fjord tour that was about 2 hours away by bus from the ship.  It turned out to be a great choice.
I booked the Åkrafjord and Langfoss waterfall excursion through Royal Caribbean, and it took us to Åkrafjord by boat.  With the sun shining, it was absolutely stunning to see.
The boat took us slowly around the fjord and right up to Langfoss waterfall.  We got so close the captain actually extended a bucket to get water from the waterfall for everyone to drink.
It was a picture perfect day, and that could have been enough for a great tour but then we had lunch.
I have to admit, I've found every single shore excursion lunch to be pretty terrible.  Usually it's disappointing, mass produced food that leaves you hungry until you get back to the ship.
On this tour, however, the food was really good.
We had lunch at a farm that was right at the shores of the fjord, and the family that owned this farm for centuries prepared all sorts of locally sourced food that was excellent.
We had salmon, goat cheese, breads, stews, and lots of other great eats. The matriarch of the family explained where each came from, and I was impressed.  
I then took my food to a table on the porch outside with a view of the fjord and I wish I could have brought back some food with me.
Bought European sim card
Being the geek that I am, I wanted to stay in contact even when not on a cruise ship, so I bought a sim card for my phone to use and it proved to be extremely helpful during my trip.
I purchased a e-sim from Orange Travel, which is a sim card provide that covers Europe. It worked in England, Norway, Finland, and many more countries too.
Because it was an e-sim, there was no physical card to use. Just pay for it, scan a QR code, and your phone is ready to go.  It comes with a local phone number and plenty of data to use.
The reason why this sim card was so helpful was when you were in port, you had great coverage to manage your day. Whether it was plugging in directions via Google Maps, messaging friends, or checking social media during some downtime, it was worth every penny.
Unlike Alaska, Norway has incredible cell coverage and it worked really well almost everywhere I went.  There was even cell coverage in the fjords!
Your thoughts
What do you think about the mistakes and successes from my first Norwegian fjords cruise? If you have cruised to or visited Norway, what mistakes do you feel you made? Any questions for those taking or considering a Norway cruise? Hearing feedback about your experiences is both interesting to us and helpful to other readers, so please share your thoughts below in the comments!