In:
Taking a Norway cruise means taking in the natural wonders that surround you, and you can experience both fjords and glaciers.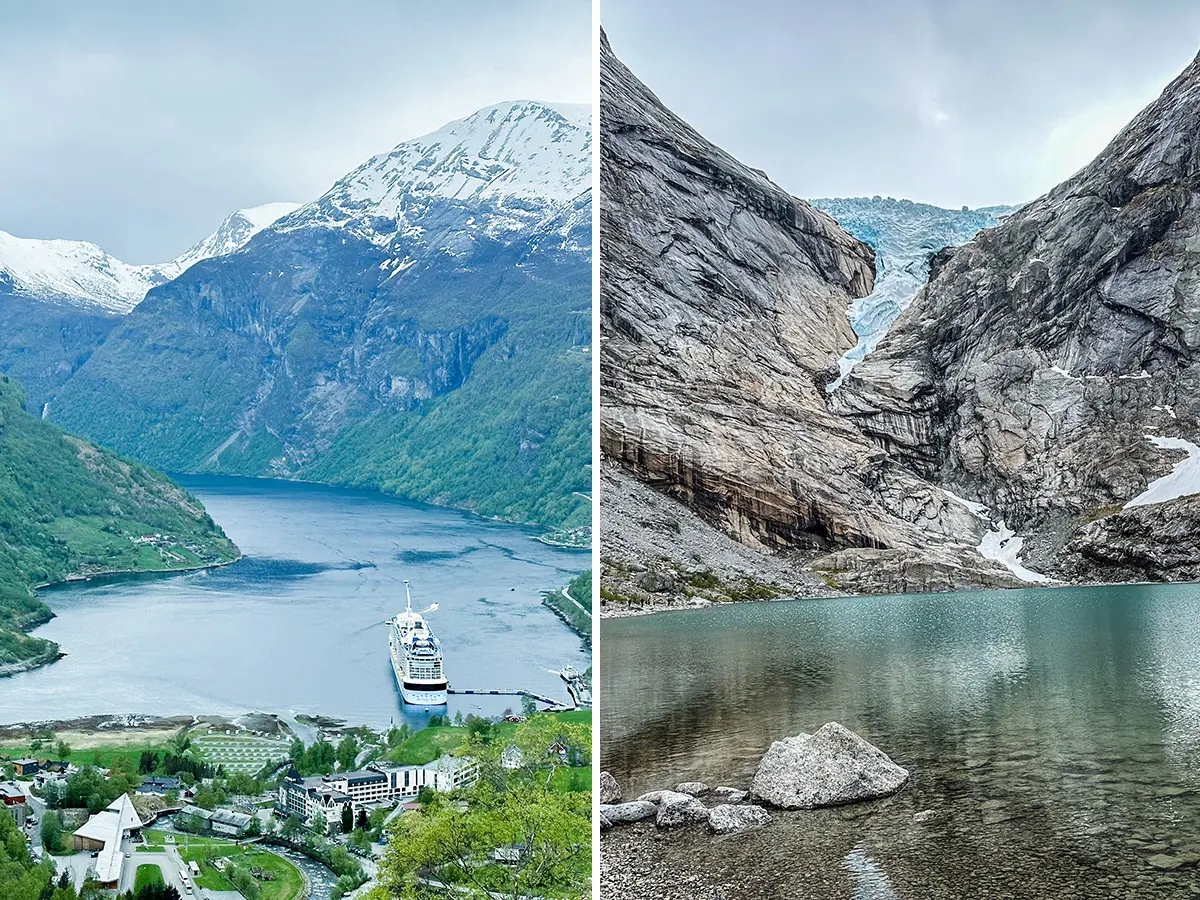 When I booked my first cruise to Norway, I knew my top priority was seeing fjords, glaciers, and the beautiful aspects of nature that come with that, including waterfalls, mountains, and even some ice.
When you visit some of the smaller towns, such as Geiranger and Olden, there really isn't much else to do other than explore nature.  There are a few shops and even fewer restaurants, but these aren't cities.  They are outposts that these days serve as a hub for tourist activity in the area.
On my Royal Caribbean cruise to Norway, we stopped at both Geiranger and Olden, and that gave me a chance to experience the very best of Norway's alluring scenery.
Geirangerfjord
Perhaps one of the most well-known (at least visually) fjords in Norway is in Geiranger.
The Geirangerfjord is a 20km-long UNESCO-listed fjord, with the town of Geiranger nestled at the end of it.
Your cruise ship sails into the fjord, similar to how an Alaska cruise might sail to see a glacier in Alaska. The start of the sailing takes place in the early morning hours, and culminates with seeing the Seven Sisters waterfall before reaching town.
The Seven Sisters waterfall is a series of waterfalls that start at a height of 410 meters and includes a freefall of up to 250 meters.
On our visit, there were only 5 waterfalls visible, but it's still incredible.
You'll get a chance to also see the fjord as your ship departs, but usually the ships take a different course than on the way in, so the best viewing is in the morning.
The sail in is quite close to the cliffs that make up the fjord, so it makes for easy viewing of the mountains and natural formations. 
Unlike Alaska, there are small villages and towns along the way.  There's even cellular phone coverage nearly the entire transit!
Once you get to Geiranger, there are a few ways to take in more views of the fjord.
The iconic photo everyone wants is from Flydalsjuvet, which is a few miles above the village. It's a walkable distance, but as you might imagine, up hill.
You could also rent small electric cars that can set two people for about $95 for an hour. 
I rented one to be able to get up to Flydalsjuvet after a day of walking.
There's also Dalsnibba viewpoint, which is even further up.  Many tour buses go here, or you could get an extended rental for your car to make it up to the 1,500 meter high vantage point.
Once you reach the top, you'll have an incredible view.  The photos look amazing, but to see it in person is something completely different. It's stunning, and I wish I could pull up a comfortable chair to sit there for a while.
If you go early in the season like I did, you might even find snow!
While Flydalsjuvet gives you an overview of the fjord, you'll want to see more of the waterfalls and the walls of the fjord up close.
A Rigid Inflatable Boat (RIB) boat offers a fast way to see it all, both in speed and duration.
A bit more than an hour long, you'll put on a windproof suit and straddle your seat as you are taken into the fjord to get up close to the Seven Sisters water fall.
Along the way, you'll get the perfect viewing point to on the water.
Royal Caribbean sells RIB boat tours, but if you search for the Geiranger RIB boat tours, it's going to be the same company that offers it and might be cheaper!
Seeing the fjord from above and at the water line really gives a sense of the scale and beauty that Geirangerfjord is known for. It's a must-see on any Norway cruise.
Briksdalsbreen
When your cruise ship visits Olden, you can take in a glacier at Briksdalsbreen.
One arm of the Jostedalsbreen glacier is viewable at Briksdalsbreen. Unlike some of the glaciers in Alaska, it's difficult to see much of the glacier due to how much it has retreated.
Before you make it to the national park to see the glacier, you'll drive through Norway's Nordfjord. 
The combination of the lakes and peaks that surround the glacier while you're in the park are incredible.
The glacier descends from a height of 1,200 meters into a scenic valley, where you'll also find waterfalls along the way.
To get as close as you can go to the glacier, you'll need to hike 3km.  It takes about 45 minutes to walk/hike to the glacier, and some parts of the trail are quite steep.
I am not a hiker, but I was able to make it.  The paths are well defined, and the steep parts have rails and rock steps to assist.  You certainly don't have to be a hiker to make it there.
Alternatively, there are "troll cars" that have a fee, but can take you about 90% of the way there.  
Once you make it to the glacier, you're greeted with a beautiful pond, with the glacier above it.
I found a large rock to sit on and took some time to enjoy the views.
The walk back down is quicker, and I found taking the troll car path was more direct and less steep.
Glacier vs Fjord: Which did I like better?
I'm grateful to have been able to see both natural wonders while in Norway, and with the added bonus of precipitation-free weather.
The view from Flydalsjuvet  of Geirangerfjord was incredible, and I think if I could magically transport myself to one spot in Norway, it would be there. 
Being that high up with the sweeping views below is surreal. I can only imagine how much better the view would be if it was a sunny day.
I enjoyed my hike to Briksdal, but the glaciers in Alaska are certainly larger. This may be partly due to how much Briksdalsbreen has retreated in recent years.
If your Norway cruise brings you to Geiranger and Olden, be sure to prioritize seeing both the glacier and fjord because how lovely they are to see in person.  Photos and video just don't do it justice.