In:
The cost of a cocktail on your cruise will probably be a bit higher on your next sailing.
Guests sailing on a variety of ships are reporting seeing the average price of a signature cocktail up from $13 to $14 per drink, before gratuity.
The exact cost of a cocktail depends on a few factors, such as the type of liquor, but Royal Caribbean had priced many of its drinks on its menu at $13 per drink for a few years.
For years some ships had cocktails priced at $12, while others had them at $13. Since cruises restarted in 2021, the price stabilized across the fleet at $13.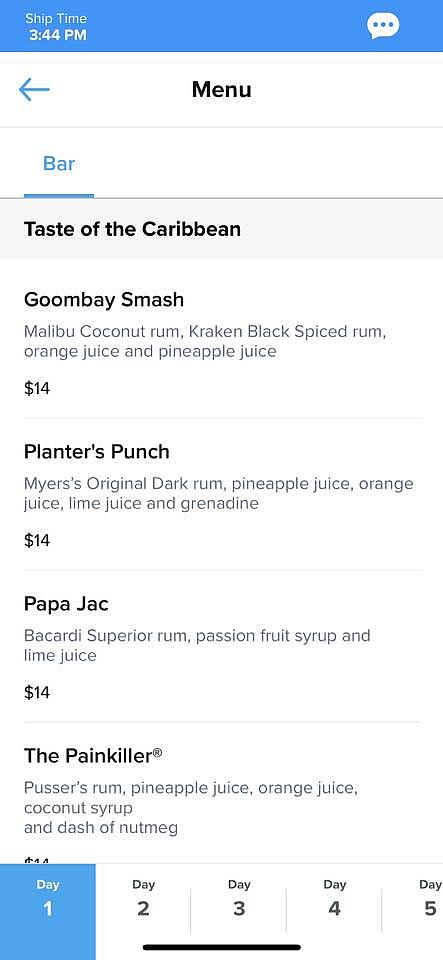 Certain drink menus are now showing a $14 drink cost on sailings that have departed over the last few days. An automatic 18% gratuity will be added to that cost for drinks purchased a la carte.
In case you're wondering, the price of a beer is listed at $7.49 for domestic beers and $7.99 for imports. Red Stripe will cost you $8.25.
Many wines by the glass are still around $10-14 per glass.
While the individual Royal Caribbean drink prices have gone up by a dollar, your Royal Caribbean drink package benefits have also gone up to match it.
Guests who have gotten letters from Crown and Anchor Society with their Diamond benefits noted their vouchers now cover drinks in value up to $14.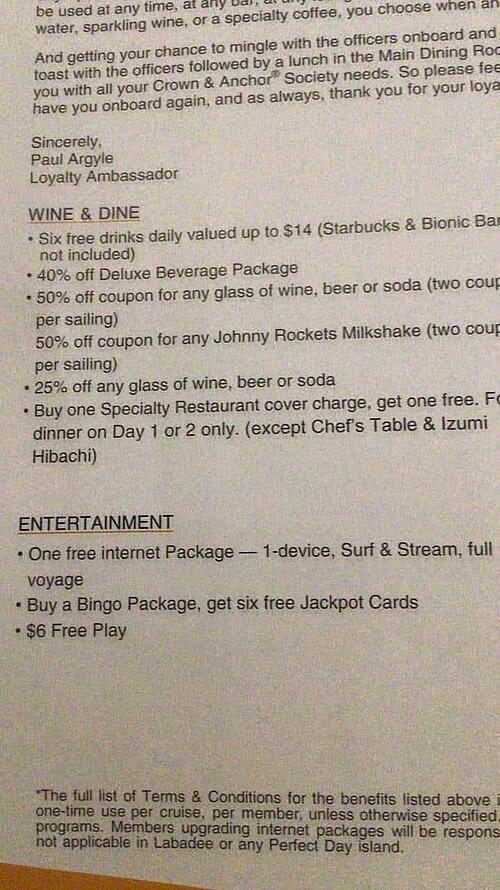 Many cruisers opt to purchase an unlimited drink package to help control drink prices while onboard.  For a flat fee, you can enjoy all the beers, cocktails, juices, sodas, premium coffees and teas, and bottled water you want.
The cost of a Royal Caribbean drink package will vary from sailing to sailing, and ship to ship.
On average, the Deluxe Beverage Package (unlimited alcohol package) will cost somewhere between $65.00 - $90.00 per person, per day for a drink package when purchased onboard.
Read more: How much is the drink package on Royal Caribbean?
While the overall cost a drink package isn't necessarily cheap, a lot of people like the fact a drink package offers fixed costs and convenience of being able to order drinks anytime they see fit, without concern of running up a big bill or being stuck with a drink they do not like.
Still cheaper than a lot of places on land
If paying $14 for your next pina colada sounds like a lot, you may feel a little bit better knowing a cocktail on a Royal Caribbean cruise ship is likely cheaper than a lot of other tourist destinations.
Walt Disney World charges anywhere from $17 - $20 for a margarita at its La Cava del Tequila bar in Epcot. A Star Wars-inspired specialty cocktail at Oga's Cantina in Hollywood Studios will run you $17 or $18 (not counting the Yub Nub $45 cocktail).
If you visit the Hard Rock Cafe in New York City, you'll pay $14.75 for a Classic Caribbean Mojito, and $15 for a Cosmopolitan.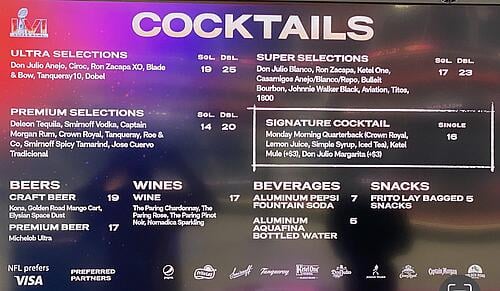 At the Super Bowl earlier this year, the signature cocktail, "Monday Morning Quarterback," cost $16.
How to save money on drinks during your cruise
While Royal Caribbean's drink packages are quite popular with guests, they do require a moderate amount of drinking every day of your cruise to make the investment worthwhile financially. For those that do not want to drink quite that much every day, there are a number of alternative strategies to the drink package that can still save you some money. 
Bring wine
Did you know that Royal Caribbean allows guests to bring up to two bottles of wine per stateroom on their Royal Caribbean cruise?
Each bottle of wine may be up to 750ml in size and should be brought on in your carry-on luggage. Do not put the wine in your checked luggage.
Wine lovers will be able to bring a couple of bottles of their favorite wine on their cruise at a savings compared to purchasing the wine onboard.  Moreover, bringing your own wine means you will save money on your total bar tab during your cruise.
My favorite aspect of bringing your own wine is if you do not finish the bottle of wine, Royal Caribbean can store the wine for you and deliver it another restaurant at that time.
Look for drink specials onboard
One of the best ways to get a deal on a cocktail is to order the drink of the day.  The drink of the day is a select cocktail that changes every day, which has about a 20% discount on it and is available from most bars onboard.  
You can just ask the bartender or waiter what the drink of the day is and take advantage of those savings.
To find drink specials, consult the Cruise Compass for some advertised deals, as well as walk around bars and look for posted signs.
Get free drinks
Free drinks on Royal Caribbean? Yes. Seriously!
Believe it or not, there are ways to get free drinks on your Royal Caribbean cruise.  Granted, there is no way to effectively drink all day like this, but any free drinks you can get are less drinks you have to buy!
One of the best ways to get free drinks is by being a Crown and Anchor Society member.  Diamond level and above members are eligible for free beverages each day.
All Crown and Anchor Society members will have special coupons pre-loaded on their SeaPass account that provide deals like Buy One, Get one beer, wine or soda by the glass.  In addition, Royal Caribbean holds Crown and Anchor Society events onboard for members, with complimentary cocktails served.
Free champagne can also be found at select events, including art auctions, Captain's Welcome and during holiday celebrations.
Drink in port
There is no question you will save money by drinking at the ports of call you visit compared to onboard.
Bars and restaurants at the ports your Royal Caribbean ship will visit regularly offer cheaper drink prices for beers and cocktails and that can mean big savings if you can wait to enjoy some drinks when on land, compared to on your ship.
Depending on your itinerary, this strategy may be more lucrative than others, but it is a good way to indulge in your favorite mixed drink or cerveza for a lower cost.