In:
Once you start cruising frequently, it's easy to forget how it feels to go on a cruise for the very first time. From formal dinners in the Main Dining Room to the spectacular shows you see onboard, your first-ever Royal Caribbean cruise brings memories you'll cherish for a long time.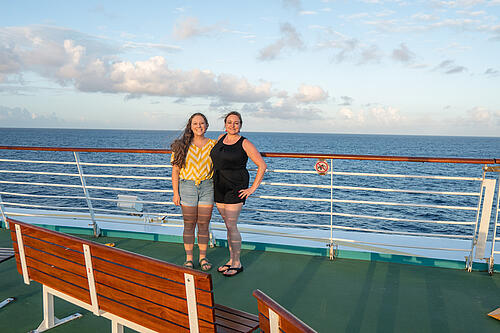 One of my favorite parts of working for Royal Caribbean Blog is cruising with friends and family, most of whom are first-time cruisers. Hearing their thoughts about the cruise experience is always interesting, whether it's the surprise at realizing they can order unlimited items off the menu or their reaction to the World's Sexiest Man Competition on the pool deck.
I recently took my cousin Keli on a cruise on Liberty of the Seas, and I sat down with her to see what she thought—the good and the bad—about her first Royal Caribbean cruise.
Staff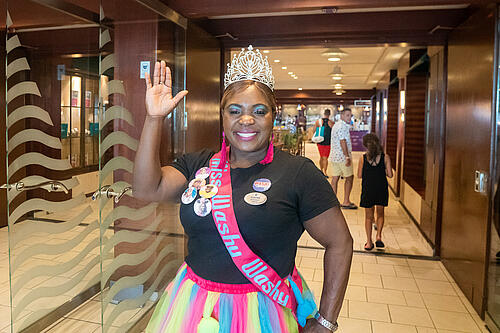 First-time cruisers are often impressed with the level of service on a Royal Caribbean cruise, especially if they've never experienced an all-inclusive style of vacation before.
"As far as customer service goes," Keli mentioned, "it was far better than anything you get on land. Everyone was so happy. After learning they live on a ship for a long time, to keep up that energy and cheerfulness is amazing!"
Her favorite staff members, though, were the "Washy Washy" workers in the Windjammer Cafe. As you enter the buffet, these crew members encourage all guests to wash their hands through song, dance, and cheers.
"God, those ladies! They're the best thing ever. Far better than any experience on land."
Food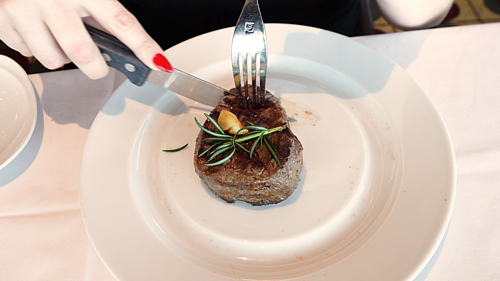 Food is synonymous with a Royal Caribbean cruise, and I was interested to see how Keli felt about the variety of food available onboard.
Right off the bat, she exclaimed that "I was literally never hungry." This could not be more true, as we indulged in a variety of cuisines in the Main Dining Room, Windjammer, and Chops Grille during our sailing.
Breakfast was Keli's favorite, and when asked about her favorite dish onboard, she immediately answered with "French toast, for sure!" I certainly agree with Keli, and you'll never find me skipping breakfast on a Royal Caribbean cruise.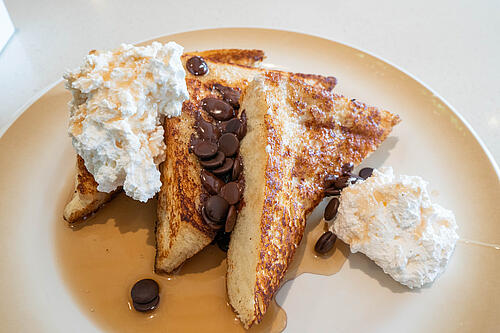 As far as options, Keli appreciated how a buffet provides a way to try foods you wouldn't normally try, and that there were a lot more dinner options than she initially thought.
I think this is a huge benefit of the cruise experience, and I've definitely expanded my palette on a cruise far more than I ever would on land. Being able to try new dishes without worrying that I'll have to pay for something I don't like enhances the dining experience on any cruise.
Time in port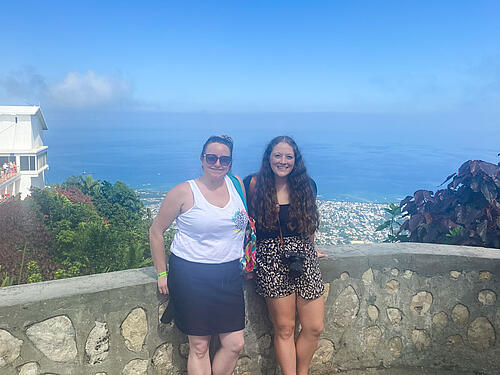 Our first surprise on our cruise was a last-minute itinerary change. As we entered the cruise terminal, we received a paper detailing a schedule change due to a storm. Instead of the Bahamas itinerary we originally planned for, we would be setting course to the Dominican Republic.
As a first-time cruiser, Keli had no idea an itinerary could change. "That was super surprising," she mentioned. "I didn't know that they could just send you somewhere different."
Luckily we took our itinerary change in stride and we were beyond excited for our day in the Dominican Republic.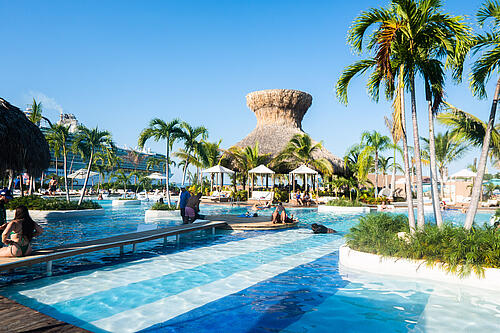 Puerto Plata's cruise port is brand new, and the facilities within the port itself can keep visitors occupied for a full day. From a large pool to several bars and restaurants, I was impressed with the space, but was interested to hear what Keli had to say about this port.
"The port itself was gorgeous. If I couldn't speak Spanish (which I can't), leaving the port by myself would have been a little intimidating. Even if I didn't feel comfortable doing that, staying at the port would have been gorgeous. The free pool was amazing and they had all those really cool bars. I would have been satisfied just staying at the port all day."
Related: 7 things I did right (and 3 mistakes) on my recent cruise ship port day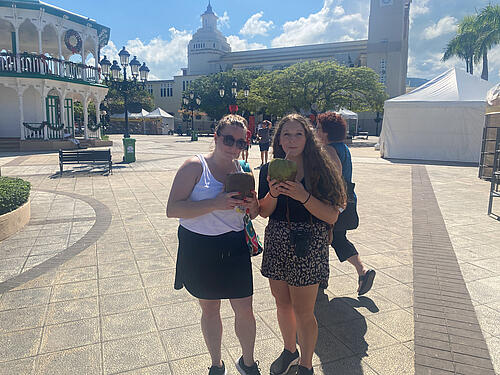 This was Keli's first time out of the United States. I've always thought cruises are a nice, stress-free vacation for those new to international travel, and Keli's comments reinforced this opinion.
She mentioned how choosing a cruise for her first international trip was great due to the structure of the vacation.
"It's a little less intimidating than going off by yourself. When you go to the port, you can be as involved or uninvolved as you want in the country. It's not like they drop you off at the curb and say 'See ya!'. You can go galavant by yourself or stay in the port."
Do cruises spend enough time at each port?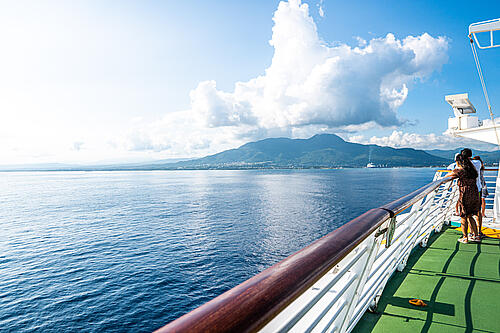 A common concern of new cruisers is that they won't have a lot of time to spend in port. To make the most of our few hours in the Dominican Republic, we hired a private taxi driver for the day. I asked Keli her thoughts on the time we had in Puerto Plata.
"I felt like we had a good amount of time. We went and saw a lot of the local stuff but then were still able to spend time at the port. Without the guide, I think we would have spent a lot more time finding our way around, so I think that was really helpful. Since we were able to get a local guide, we were able to come back and relax before we got back on the ship."
Cabin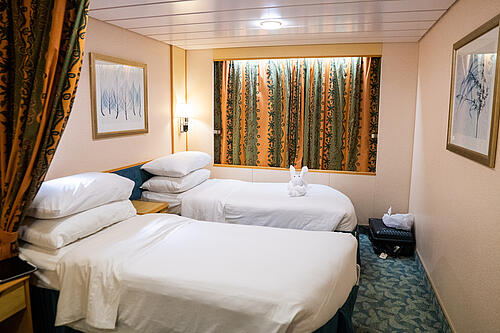 I decided to upgrade our cabin at the last minute from an interior to a spacious ocean view balcony room. Not only would this provide more room in our cabin, but it would be a nice way to kick off Keli's first cruise.
Related: I spent $250 to upgrade my cruise ship cabin: Was it worth it?
"The cabin was bigger than I expected because we upgraded our stateroom. I was a little concerned about being in an interior room, so I'm glad we had the window. I think the window was really beneficial. In the future, I would definitely book one with a window or I would love to have one with a balcony. A balcony would be amazing!"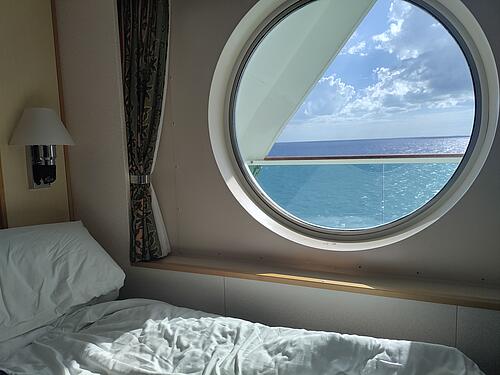 If there's anything I've learned about cruising with first-timers, it's that they're often worried about feeling seasick. When I initially upgraded our stateroom, I realized our cabin was far aft and was nervous we would feel too much movement in the room.
Keli, too, was nervous, but she mentioned how "The dramamine worked well. I was surprised I enjoyed the ship rocking at night when I was going to sleep!".
If you're traveling with first-time cruisers, be sure to pack motion-sickness remedies in case anyone in your travel party is nervous about feeling too much movement.
Overall experience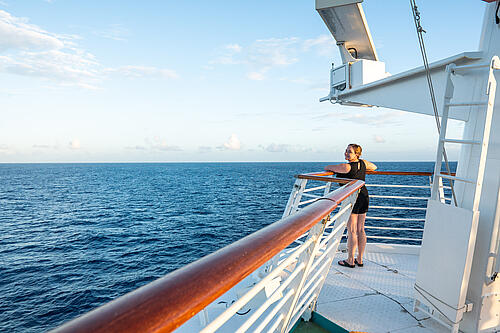 I asked Keli if there's anything she would change about her first cruise. Other than wishing she knew Spanish for our time in the Dominican Republic, she mentioned how she would have researched more had she not been cruising with me.
"Because I was going with you, I didn't research anything! However if I was going to go by myself I would research the itinerary better."
Researching your cruise ship, itinerary, and what's offered onboard is definitely a helpful tip for any first-time cruisers. Knowing the ins and outs of what to expect both onboard and in port can ensure you don't run into any surprises along the way.
Related: What to expect on your first cruise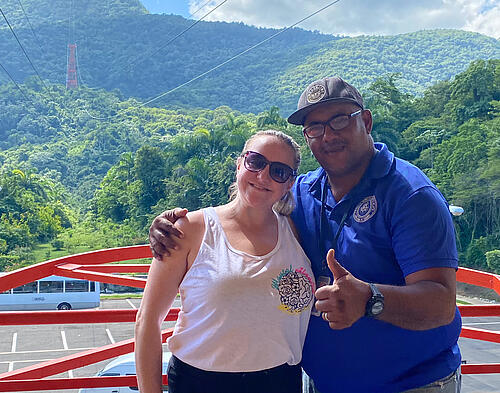 Finally, I was curious about Keli's favorite aspects of her cruise on Royal Caribbean. 
"My favorite thing was being on the tour with Ramon (our private taxi driver) in Puerto Plata. That was the best! My favorite thing on the ship was karaoke 100%. It was one big party. You had kids and elderly people and everyone in between having a good time. That I loved."
Cruising solo can be fun, but I always enjoy my cruise experience more when sailing with friends and family. Taking first-time cruisers onboard helps me to relive the "WOW" feeling I had when stepping onboard a Royal Caribbean cruise for the first time, and that was the case during my four nights onboard with Keli.
If you're traveling with first-time cruisers (or are planning your first-ever cruise!) check our our helpful tips and tricks: