In:
Whether dipping your toes in crystal-clear water or tasting local street food, there's no doubt that visiting new ports on a cruise ship is exciting. Many cruisers, though, find themselves in one of two situations: satisfied with the activities of their port day or wishing they had done something else.
I recently spent a cruise ship port day in Puerto Plata, Dominican Republic, a place I had never been to before. I knew little about the port prior to my arrival, but I was determined to make the most of my port day by experiencing the country's culture, cuisine, and historical sites in just 7 hours.
From marveling at the port's mountainous scenery to observing local lifestyle at the city's public square, I was satisfied with my day in port when I returned back to the ship later in the day.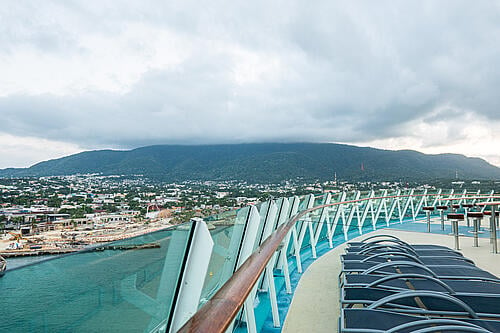 No matter how much research you do ahead of time, however, you're bound to make a few mistakes along the way, and I definitely did.
Here are the top 7 things I did right (and 3 mistakes I made!) on my recent cruise ship port day.
Staying flexible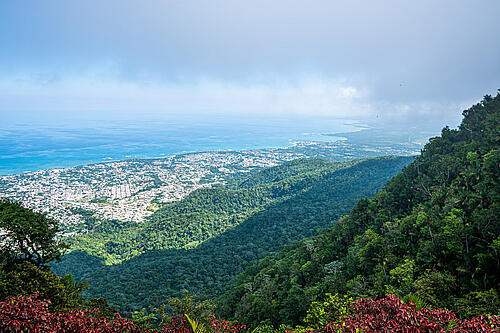 The first thing I did right was staying flexible.
"No refunds!" was what I heard as I entered Port Everglades on embarkation day. A worker was handing out a sheet of paper to every guest, and I'll admit I was a bit nervous about what it might say.
Tropical storm Nicole was approaching the Bahamas, and I had doubts our Bahamas & Perfect Day cruise would go ahead as scheduled. I was bringing my cousin Keli on her very first cruise, and I wanted her to have the best experience possible. I was nervous the paper might say we had all our stops canceled.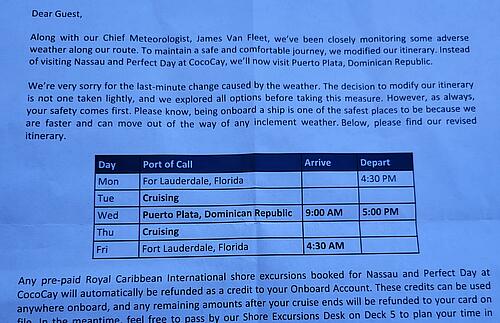 That wasn't the case at all, though, and we learned our ship would be sailing to Puerto Plata, Dominican Republic instead of the Bahamas! While I could have been upset that our itinerary wouldn't go as planned, I was excited.
I had never been to the Dominican Republic before, and it was such an unexpected change that I couldn't wait to see what Puerto Plata had to offer.
After talking to a few other guests, I realized some passengers were upset their plans did not go forward as planned. It's always important to remain flexible when traveling, but especially on a cruise, so be sure to make the most of whatever unexpected changes may arise.
Not booking a shore excursion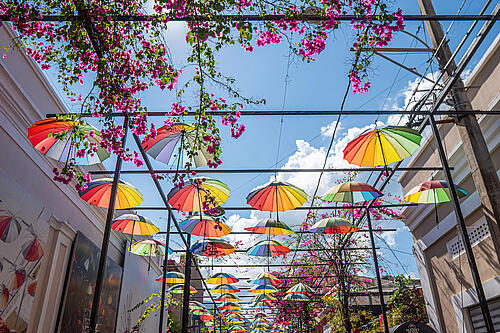 While I've booked Royal Caribbean shore excursions in the past, I much prefer exploring independently. Even though organized tours can bring you to a port's highlights without worrying about any logistics yourself, I find that the cons outweigh the pros.
Whether waiting for guests on the tour who are running late, being forced into sales pitches at tourist shops, or traveling in a group of 30+ people, I've almost always regretted when I've booked organized shore excursions over exploring independently.
Instead of a guided tour, we traveled around Puerto Plata with a taxi driver for the day for the same price a group tour would have cost. We were privately escorted to some of the port's top sites, including Puerto Plata's cable car and the Centro Histórico district.
Exploring without the hassle of traveling with a large group enhanced our port experience immensely.
Researching the port in advance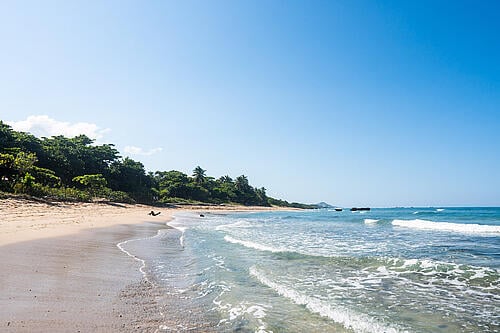 Because our cruise itinerary was not originally supposed to visit Puerto Plata, I knew very little about the Puerto Plata cruise port when I boarded Liberty of the Seas. I had two days to become acquainted with everything the port has to offer.
I watched YouTube videos, read articles, and spoke to a few friends who had visited Puerto Plata in the past. This was beyond useful for giving me a better idea of what to expect, deciding what I should do and not do, and creating a general plan for my port day.
One of the most important details I learned, for example, was that taxis are expensive in Puerto Plata. If I hadn't read this, I probably would have experienced stronger sticker shock when I was quoted $70-100 for a taxi for the day.
It's always helpful to research a port before arriving to become acquainted with the port's offerings and the local area. I'm 100% certain that one of the reasons we had such a wonderful day in port was due to the research I did ahead of time.
Leaving the immediate port area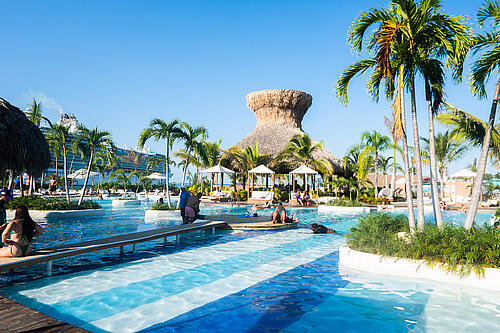 The Taino Bay cruise port in Puerto Plata is one of, if not the best, port area I've experienced thus far. It's nearly brand new, immaculately clean, and has more than enough to keep you busy for a whole day.
Some of the port's highlights include a large swimming pool, chic bars, and restaurants.
Don't get me wrong; I enjoyed the port's facilities and we even spent the last hour of our day hanging out in the port's large pool.
However, I came to the Dominican Republic to discover the country outside of a gated port area, so I'm glad we ventured off into a more authentic part of the city.
Hiring a local guide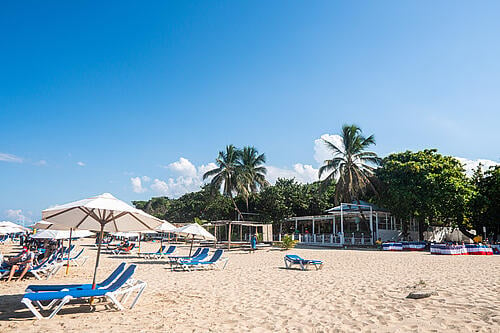 We ended up spending the majority of our port day with a guide and he was fantastic—although we didn't expect to have a guide in the first place.
In order to get to many of the city's top attractions, I had to take a taxi. In Puerto Plata, however, taxis don't just drop you off at one location. Your taxi driver stays with you the entire day, waiting for you at each location to take you to the next.
For $100 a day (plus a tip), we were escorted around Puerto Plata by Ramon, a local man who was determined to show us the best that the port had to offer. He has been working as a guide in his country for over ten years and already had a tentative itinerary set which we could customize to our liking.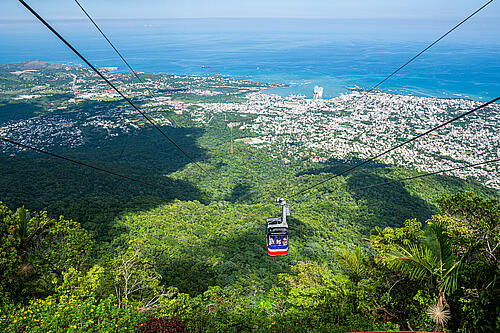 Although I usually prefer exploring on my own, it was a nice change to not have to worry about a single thing while in port. Ramon knew where to bring us, what to show us at each location, and he shared insights to his country and city along the way. 
Considering Royal Caribbean was offering shore excursions for $50+ per person in a large tour group, spending $50 per person on a private guide for five hours seemed like a pretty good deal.
Trying local cuisine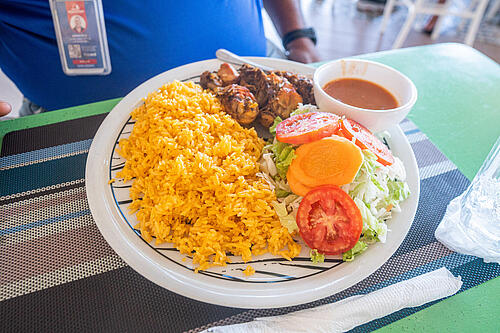 I am always shocked to hear that some cruisers won't spend a single penny on local cuisine while in port, instead opting to head back to their cruise ship every day for lunch.
While I understand that there is food you already paid for onboard the ship, I believe tasting local cuisine is an important part of traveling to new locations. Whether conch fritters in Nassau or tacos in Mexico, trying local cuisine is a must for me in any cruise port.
Our guide brought us to Cosita Rica, a waterfront restaurant serving local cuisine for lunch. Trying Dominican food was high on my list, and we enjoyed a meal of fish, chicken, rice, habichuela (beans), empanadas, and tostones (plantains).
I love the included food on a Royal Caribbean cruise, but how many times do I have the opportunity to eat traditional Dominican food near the beach in the Dominican Republic?
Planning a variety of activities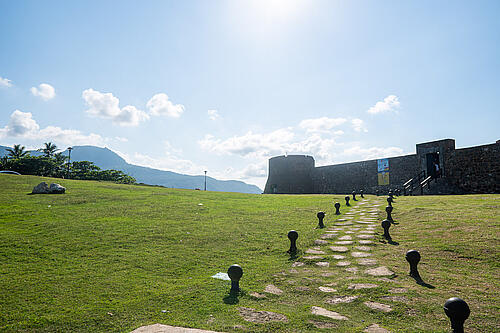 I could have easily spent my entire day in Puerto Plata lounging on a beach chair and sipping cocktails, but I'm sure glad I didn't. I love the beach, but there were so many activities available in Puerto Plata that I couldn't pass them all up in favor of a beach day.
There's nothing wrong with spending 8 hours on a beach chair, but I knew I wanted to experience culture, food, scenery, and the beach in just one day.
We planned our day as follows:
Part One: cable car ride to Isabel de Torres National Park for scenic views and nature walks
Part Two: walking and shopping in Puerto Plata's historical district
Part Three: lunch at a waterfront restaurant followed by a walk on the beach
Part Four: exploring the Fortaleza de San Felipe
The combination of these activities made for a busy yet insightful day in port, and I'm glad we chose to experience multiple types of activities in one day as opposed to choosing one thing over another.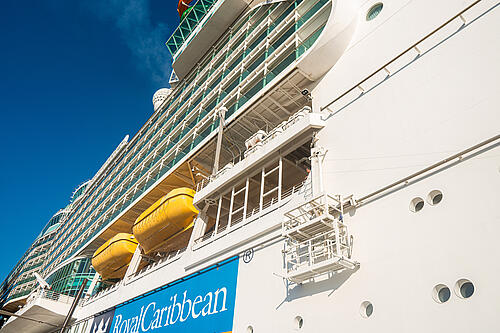 Now that we've learned about the 7 things I did right on my recent port day, let's take a look at our biggest mistakes of the day.
Leaving a cellphone in a taxi
At the end of our port day, our driver Ramon dropped us back off at the Taino Bay cruise port and we said farewell.
Two minutes later, my cousin Keli realized she left her cellphone in the back seat of his car. While I had no doubt that our friendly guide Ramon would return her phone, I was nervous he wouldn't realize it was in his car until we had already left Puerto Plata.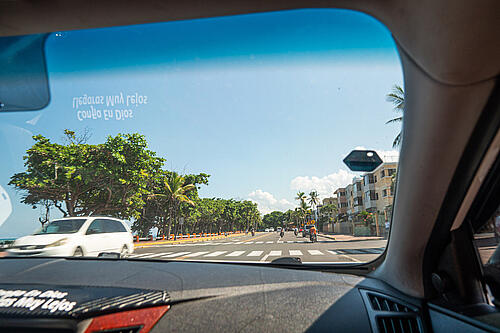 Luckily I had gotten Ramon's phone number earlier in the day, so myself and a few workers in port tried calling his phone, but it appeared to be off. We kept trying to call until a few minutes later when Ramon appeared on his motorbike to return Keli's phone. Phew!
While this may seem like a rookie move, it's easy to get distracted when exploring a new place for the first time. Be sure to always check to make sure you didn't leave anything behind.
Not trying more variety of local foods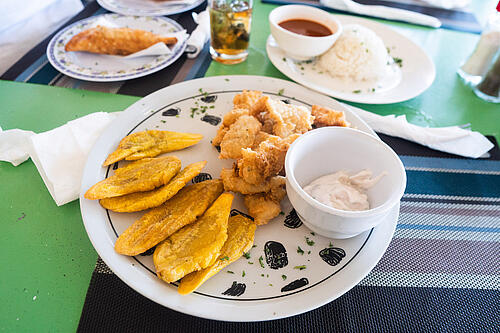 Looking back at our day in Puerto Plata, one other change we would have made would be to try more local cuisine. 
While we had a fantastic lunch by the beach, it was undoubtedly a restaurant catered almost exclusively to tourists. I'll admit I didn't let our guide know I would rather eat at a hole-in-the-wall local joint, but I found myself wishing I tried food from a variety of spots in Puerto Plata.
Whether a street food stall or pastry shop, it would have been nice to see what local food can be found in the city outside of tourist-centric restaurants.
Plus, we certainly paid more for our lunch than food we could have found at a non-touristy restaurant. Although I don't necessarily regret eating at the tourist restaurant because the food was delicious, I wish I could have eaten where local Dominicans eat as opposed to just tourists.
Not staying more hydrated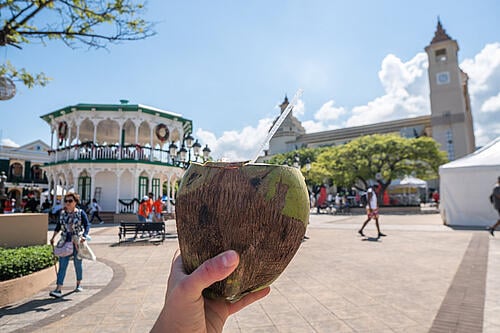 Our day in Puerto Plata was gorgeous with sunny skies and warm temperatures, but we did not drink nearly as much water as we should have.
Staying hydrated is always important, but especially so when exploring a tropical destination where you will, most likely, be constantly sweating!
With all the excitement of discovering Puerto Plata, we forgot to stay hydrated and found ourselves parched later in the day. Luckily, a fresh coconut water saved the day.
Be sure to always keep a water bottle in your daypack to stay refreshed throughout the day to avoid any problems down the line.
More shore excursion tips & tricks: