In:
All this week, we are helping first time Royal Caribbean cruisers with all aspects of the cruise vacation.  Check back every day for a new post aimed at those who are new to Royal Caribbean!
Royal Caribbean has a large fleet of cruise ships and quite often new cruisers are attracted to the world's largest cruise ships, the Oasis class.  
Whether you are sailing on Oasis of the Seas or Allure of the Seas, here is what you need to know about these ships if you are new to cruising.
The ship is big but easy to navigate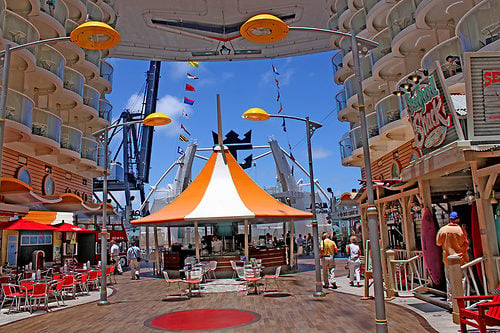 Yes, Oasis of the Seas and Allure of the Seas are the two largest cruise ships in the world (as of the writing of this blog post) but that does not mean these ships are impossible to navigate.  
Despite their size, Royal Caribbean designed these ships to be easy to get around.  Each ship has 7 distinct neighborhoods that have their own look and feel.  The neighborhood concept makes getting around easier because areas of the ship do not blend into each other.
One of the best things you can do once onboard these ships is walk around and explore.  There is a ton to see and do on the Oasis class ships and beyond just knowing where everything is, there is lots to discover.  Art, activities, live music, decor and more are in all the neighborhoods.
Embarkation day is a great time to just walk around the ship and explore because it is the one day of the cruise where there is not a ton of activities going on. 
Here are some areas you will definitely want to explore early
Central Park
Boardwalk
Take a spa tour
Walk the Royal Promenade
Find Adventure Ocean (if you have kids)
You will discover a lot more but just finding these handful of areas onboard will be a good starting point.
 Also be sure to explore these areas at night too.  Places like Central Park and the Boardwalk literally transform when the sun goes down and can be great spots to sit and enjoy the view.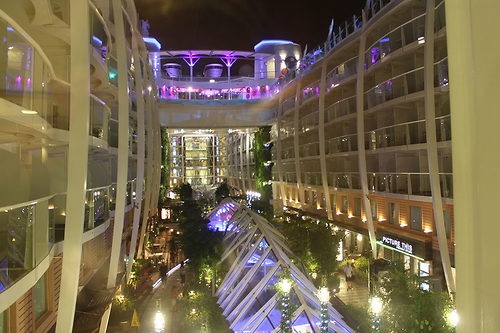 Don't miss the shows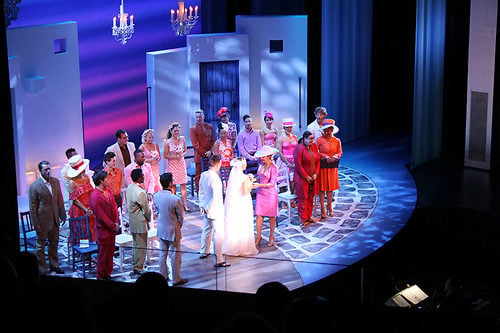 The entertainment on Oasis of the Seas and Allure of the Seas are really hard to beat and Royal Caribbean has put on them some of the best shows you will find across Royal Caribbean's fleet.
Even if you aren't "a show person", Royal Caribbean puts on some impressive entertainment that caters to a lot of tastes.  You will find Broadway shows, ice skating, water shows and a whole lot more!
Speaking of Broadway, each ship has their own Broadway show.  Oasis of the Seas is showing Cats and Allure of the Seas is showing Mamma Mia!.
By far the Broadway shows and the shows in the Aqua Theater stand out as must-see entertainment on either ship.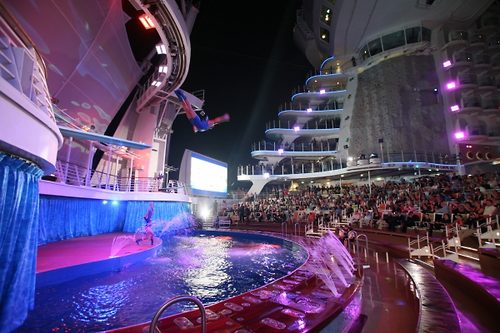 One important tip if you are new to cruising is on Oasis class ships you can book your entertainment in advance from the comfort of home.
Select shows offer the ability to book reservations in advance via Royal Caribbean's web site.  Don't worry, there is no cost to do this, but we recommend booking any entertainment you can in advance to avoid lines at show time.
All you have to do is go to My Cruises and then log in (register an account if you have not done so already).  Then find your cruise reservation and go to the Cruise Planner.  A few clicks later and you should be able to reserve your entertainment.
Keep in mind that reservations for entertainment is usually available for booking 64-60 days in advance of your cruise.  Check our planning timeline for more information on when things like entertainment can be reserved.
There are a lot of specialty restaurants (and you should try some of them)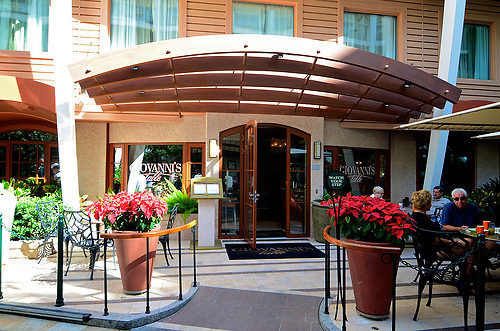 There are plenty of complimentary restaurants to eat at on your Royal Caribbean cruise but you should really consider dining at some of the specialty restaurants available onboard.
Specialty restaurants are restaurants where there is an additional charge to dine there.  Usually, there is just a cover charge that includes the cost of the meal and gratuity, although some restaurants are priced a la carte too.
The reason you want to try some of these specialty restaurants out is because of the wide variety of really good food they offer.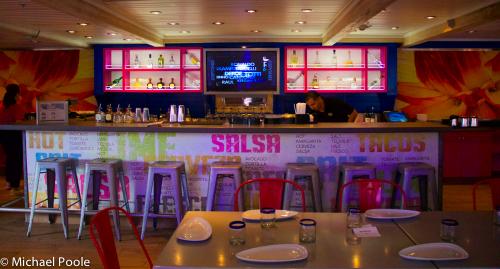 Sushi, Italian, American, Mexican and more are available at these restaurants on Oasis of the Seas and Allure of the Seas.  Either browse their menus online or walk by the restaurants during your cruise and check out what they offer.
Remember there are some good ways to save money off the cost of specialty restaurants, so there is no excuse to pay full price!
What would you recommend to someone going on Oasis of the Seas or Allure of the Seas? Share your tips in the comments!